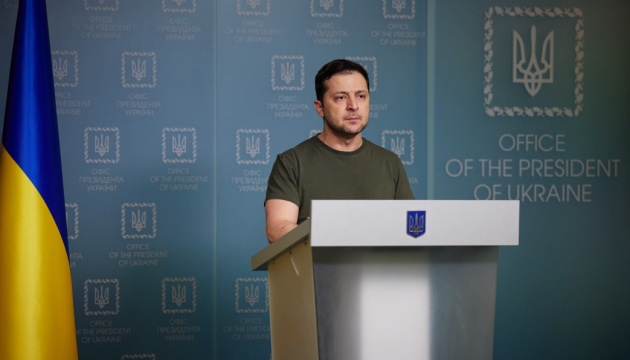 Ukrainian President Volodymyr Zelensky's address to European Parliament
President Volodymyr Zelensky of Ukraine has addressed the European Parliament.
Thank you very much! Ladies and gentlemen, you know, in recent days I don't know how to greet anyone. Because I can't say "Good morning," or "Good afternoon," or "Good evening." I can't, and this is absolutely true because every day, that day is definitely not good for some, that evening is the last one for some, every day. I'm talking today, now, about my citizens of Ukraine, who are defending our walls and freedom at the cost of their lives.
I'm very glad that what I saw here is this unifying mood. I'm glad that we have united all of you today – the EU countries, but I didn't know that it would be at such a price. And this is a tragedy for me, a tragedy for every Ukrainian, a tragedy for every state.
You know, I don't speak from, I don't read from papers because the papers are gone from my country's life. All of this is real, including these dead bodies, this is real life. And you know, I believe that today we sacrifice for values, for rights, for freedom, just for our desire to be close, just like you, like everyone else, we sacrifice our best people: the strongest, mightiest, most extraordinary Ukrainians.
And we very often like to say that we will all win, and I'm very glad that you are not only talking about it, but also seeing it. And we will all win for sure, I'm positive. There is such an expression: "Ukraine is choosing Europe." That's what we've been aspiring to, what we've been going, and still going toward. And I would very much to hear from you something addressed to us: "Now it's Europe choosing Ukraine."
I have a couple of minutes to talk to you because there are small strikes and missile attacks. This morning was tragic to all of us. Two cruise missiles hit Kharkiv. The city, which is near the border with Russia, where there have always been a lot of Russians and they have always been friends, there used to be very warm relations, there are more than 20 universities there, it was and is the hub hosting the largest number of universities in our country. The youths there are bright, smart, always gathering for all holidays in our country's largest square. Freedom Square. Also, this is the largest square in Europe. And this is true, it's Freedom Square. Imagine this: in the morning, two cruise missiles hit Freedom Square. Dozens of casualties. So this is the price of freedom.
We are simply fighting for our land and our freedom, and believe me, despite the fact that all the big cities of our state are now under blockade, no one will penetrate our freedom and state. Believe me. Every square today, whatever it is called, will be referred to as Freedom Square. In every city of our state. Nobody will break us, we stand strong, we are Ukrainians.
We want our children to live on. It seems to me that this is fair. Yesterday, 16 children died. And again, President Putin will say that this is some kind of an "operation," and that they are bombing only our military infrastructure. Where are our children? At what military plants do they work? Which rockets do they operate? Maybe they drive our tanks? You killed 16 children!
We have very motivated people, very much. We are fighting for our rights – freedom and life. And now we are fighting for survival, and this is our main motivation, but we are also fighting to be equal members of Europe. And I think today we are all showing that we are. With us on board, the EU will definitely be stronger. Without you, Ukraine will be lonely. We have proven our strength, that we are at least the same as you. Prove that you're with us. Prove that you are not giving up on us, prove that you're truly Europeans, and then life will beat death, and light will beat darkness.
Glory to Ukraine!