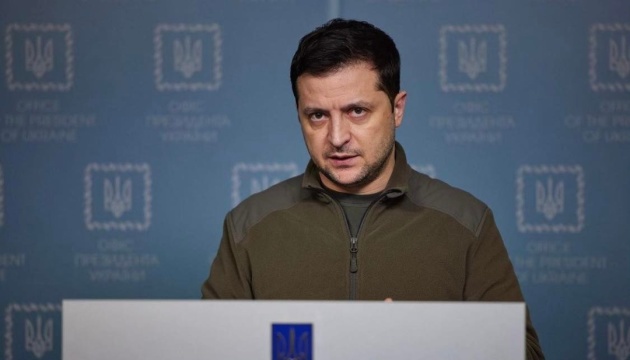 President: Kharkiv and Kyiv are enemy's main targets
Kharkiv and Kyiv are currently the main targets for the aggressor state of the Russian Federation.
"Kharkiv and Kyiv are the most important targets for Russia now. Terror is aimed at breaking us, breaking our resistance. They are advancing on our capital, as well as on Kharkiv," President Volodymyr Zelensky said in his address, an Ukrinform correspondent reports.
The defense of the capital is a key priority for the state today, he stressed.
"In all cities, Ukraine must do everything possible to stop the enemy. The military and civilian authorities of each city are responsible for this. But Kyiv is special. If we defend Kyiv, we will defend the state. Kyiv is the heart of our country. And it must beat. And it will beat for life to win!" the President said.
As reported, President Volodymyr Zelensky appointed General Mykola Zhernov as Head of the Kyiv City Military Administration during the war. Vitali Klitschko remains the mayor of the capital.
Russian president Vladimir Putin declared war on Ukraine on February 24 and launched a large-scale invasion. Russian troops have been shelling and destroying key infrastructure facilities. Missiles hit residential buildings.
Martial law was imposed in Ukraine and general mobilization was announced.
Ukraine officially filed a lawsuit against the Russian Federation at the UN International Court of Justice in The Hague.
The Armed Forces of Ukraine, with the support of all Ukrainian people, courageously resist the Russian aggression.
ol