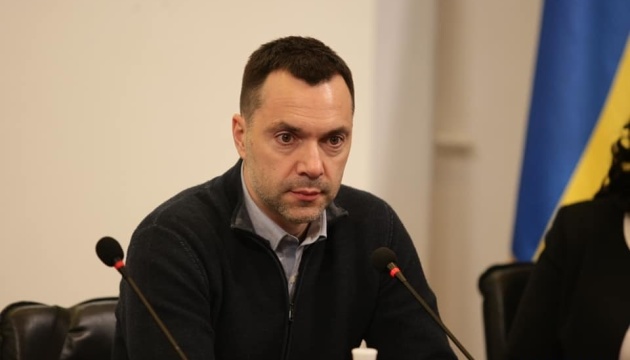 Ukraine leadership, Armed Forces controlling situation in Ukraine - Arestovych
The military and political situation around Ukraine remains controlled by the Ukrainian leadership and the Ukrainian Armed Forces.
Oleksiy Arestovych, a freelance adviser to the head of the Ukrainian President's Office, said this at a briefing on Tuesday, March 1, according to an Ukrinform correspondent.
"The military and political situation around Ukraine remains under the control of the leadership of Ukraine and the leadership of the Armed Forces of Ukraine," he said.
Arestovych said that this morning one of the hottest spots in Ukraine is the city of Kherson, where single groups of enemy infantry tried to enter the city. According to him, now the Armed Forces, other military formations, the city's territorial defense are destroying the enemy.
He also recalled that this morning the enemy launched a single artillery strike at the building of Kharkiv Regional State Administration, adding that the size of possible losses is being clarified.
In addition, he noted that small arms fire and artillery clashes were recorded in Mariupol.
On February 24, on the instructions of President Vladimir Putin, Russia launched a war with Ukraine. For the sixth day in a row, Russian troops are shelling and destroying key infrastructure, with missiles hitting apartment buildings. Martial law was imposed in Ukraine and general mobilization was announced.