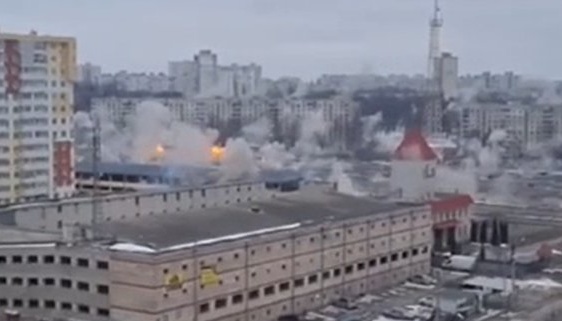 Russian invasion update: Russian invaders blow up substations in Kharkiv
The situation regarding the Russian invasion
Russian military blow up substations in Kharkiv, causing problems with electricity and water supplies.
"Now they start to blow up our substations. Some districts have been left without electricity, there are problems with water supply and heat," Kharkiv Mayor Ihor Terekhov told one of TV channels, an Ukrinform correspondent reports.
According to him, the substation of JSC "Kharkivoblenerho" was damaged as a result of the evening shelling. Electricity and water supplies have been temporarily suspended in some buildings in Slobidsky, Nemyshlyansky, and Industrialny residential districts.
The mayor stressed that public utilities are doing everything possible to restore the damaged facilities.
According to him, people are under the rubble of buildings as a result of the shelling of the city, they are being rescued.
"No one in the city of Kharkiv could have imagined even in a nightmare that Russian troops would fire on civilians at their homes. What I see with my own eyes is a crime against the whole world," Terekhov stressed.
As reported, on February 28, 11 people were killed and several dozen people were wounded in a missile artillery shelling of Kharkiv. As a result of the shelling, 87 houses were destroyed.
Russian president Vladimir Putin declared war on Ukraine on February 24 and launched a large-scale invasion. Russian troops have been shelling and destroying key infrastructure facilities. Missiles hit residential buildings.
Martial law was imposed in Ukraine and general mobilization was announced.
Ukraine officially filed a lawsuit against the Russian Federation at the UN International Court of Justice in The Hague.
The Armed Forces of Ukraine, with the support of all Ukrainian people, courageously resist the Russian aggression.
Photo: city.kharkov.ua
ol