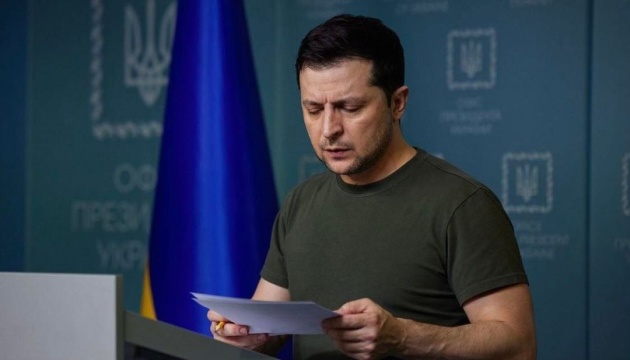 Zelensky on Ukraine-Russia talks: There is currently no result we would like to see
Commenting on the talks between the Ukrainian and Russian delegations, President of Ukraine Volodymyr Zelensky noted that there is currently no result we would like to see.
The Ukrainian leader made a comment during an evening address to the nation on Monday, an Ukrinform correspondent reports. https://t.me/V_Zelenskiy_official/755
Zelensky recalled that the first round of talks between Ukraine and Russia took place on February 28 at the initiative of the Russian side. The President of Ukraine stated that these talks took place against the background of bombing and shelling of Ukrainian territory.
"The synchronization of the shelling with the negotiation process was evident. I believe that Russia is trying to put pressure in such a simplistic way. Don't waste your time. We do not accept such tactics. Fair negotiations can only be hrrlf if one side does not hit the other side with rocket artillery right as the talks are ongoing," the Head of the Ukrainian state emphasized.
He said that currently, no result has been achieved that Ukraine would like to get. According to Zelensky, Russia has stated its position. At the same time, the Ukrainian delegation voiced counterpoints to end the war.
"We have received some signals. When the delegation returns to Kyiv, we will analyze what we have heard and then we will decide how to proceed to the second round of talks," the president of Ukraine concluded.
As reported, on February 28, the Ukrainian delegation met with the Russian counterparts on the Ukrainian-Belarusian border near the Pripyat River. The key issue of talks was the immediate ceasefire and withdrawal of Russian troops from Ukraine.
Adviser to the Head of the Office of the President of Ukraine, Mykhailo Podoliak, who took part in the meeting, said that the Ukrainian and Russian delegations discussed during the negotiations a number of priority topics and are now traveling to their respective capitals to consult on further decisions. In addition, according to him, the parties discussed the possibility of holding a second round of talks in the near future, where the discussed topics will see specific development practices.