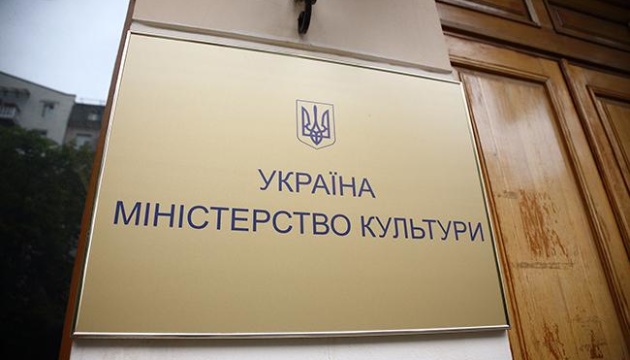 Ukraine demands cultural sanctions against Russia
The Russian Federation has willfully and maliciously violated existing international standards and agreements. Together with current political and economic sanctions, as well as a ban to compete in sporting and other international events, we call for sanctions that would limit Russia's presence within the international cultural arena.
Russia is effectively a totalitarian state, and too often it uses culture tool picked from its state propaganda toolbox.
For the sake of Ukraine, and to uphold and preserve the principles of peace and order, we are calling for the international cultural community to:
1. Cancel all projects which involve the Russian Federation, including projects implemented with Russian money.
2. Suspend the operations of all Russian cultural centers located in partner countries.
3. Remove Russian nationals from the supervisory boards and cultural partnerships, cancel sponsorships, and withdraw organizational support.
4. Ban Russians from competing in international competitions (e.g., the Eurovision ban), and from participation in international exhibitions, forums, and other cultural events, including:
a) contemporary art exhibitions and fairs, such as the Venice Biennale, Art Basel, Documenta, etc.
b) the Cannes Film Festival, Berlin International Film Festival, Venice International Film Festival, and other high profile film festivals.
c) the Salzburg Festival, Avignon Festival, Arena di Verona Festival, and other musical and theater festivals.
d) international book fairs, including the Frankfurt Book Fair, London Book Fair, etc.
5. Stop covering Russian culture in the media.
6. Pull out of partnerships with all artists and entertainers who openly support Russian President Vladimir Putin and his actions, as has already been exemplified by the Munich Philharmonic, Teatro alla Scala in Milan, the Royal Opera House in London and a string of other theater companies.
We, Ukrainian artists and cultural activists, highly value the stance taken by some Russian cultural influencers who have openly condemned the Russian aggression and military action against Ukraine. Art has always remained at the forefront of humanitarian values. We strongly believe that culture cannot be subservient to political propaganda, instead it should be utilized for developing critical thinking and promoting dialogue.
The Russian Federation is a rogue state. Russian culture, when used as propaganda, is toxic! Don't be an accomplice!
The signees:
Oleksandr Tkachenko, Minister of Culture and Informational Policy of Ukraine
Galyna Grygorenko, Head of the State Agency of Ukraine for Arts and Artistic Education
Volodymyr Sheiko, director of Ukrainian Institute
Oksana Lyniv, conductor
Pavlo Gudimov, curator, founder of Art center Ya Gallery
Marta Trotsiuk, founder of Gallery 101, Head of Gallerists Association
Artem Braichenko, Head of Kyiv Secretariat, Project Director, The British Ukrainian Society
Kostyantyn Shumsky, gallerist
Olesya Domаradzka, gallerist
Sergiy Savchenko, gallerist
Vlad Troitsky, director, founder of «GogolFest»
Svyatoslav Vakarchuk, musician, «Okean Elzy»
Maks Yakover, founder of Big City Lab
Oleksiy Botvvinov, musician
Valentyn Vasyanovych, film director
Olga Plyska-Pasichnyk, opera singer
Andriy Bondarenko, opera singer
Andriy Kurkov, writer
Andriy Yurkevych, conductor
Irma Vitovska, actress
Natalia Vorozhbyt, film director
Natalya Pasichnyk, musician
Serhiy Zhadan, writer
Valentyn Sylvestrov, composer
Oleg Sentsov, film director
Nariman Aliyev, film director
Kateryna Gornostai, film director
Pavlo Makov, artist, represents Ukraine on Venice Biennale 2022
Tamara Trunova, theater director
The list is being constantly updated.
You can also sign it here