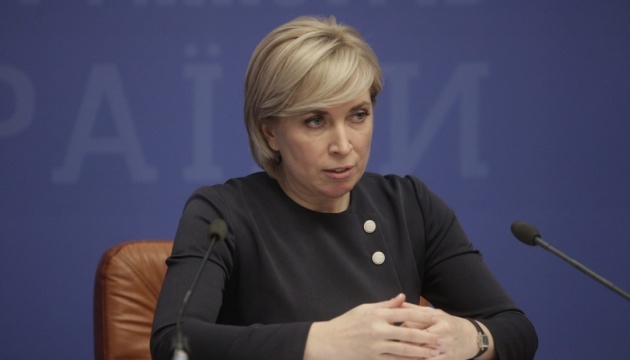 Russia fires on women and children evacuating through humanitarian corridors – Vereshchuk
The wounded were reported as the Russian aggressor has been firing on women and children who evacuate through humanitarian corridors.
"Russia is firing on humanitarian corridors, in spite of everything, ignoring our requests to allow for the evacuation of women, children, orphans, and people with limited mobility. As a result, there are wounded civilians," Deputy Prime Minister – Minister for Reintegration of the Temporarily Occupied Territories of Ukraine Iryna Vereshchuk said, the Ministry's press service informs.
It is especially horrible as these people once considered Russians their brothers and sisters, said Vereshchuk.
"They are shocked by what is happening, by the way they come under ruthless and unashamed fire from Grad systems. I know what a wound it is for them, what a pain. We will go through all this together, and they understand that. And they really want to live in their country, have shelter, confidence in their safety, understand that they will never be killed by Russians or other enemies," said the minister.
According to the Office of the Ukrainian Parliament Commissioner for Human Rights, the enemy is destroying houses, hospitals, kindergartens, and schools with unprecedented brutality.
In particular, a child was killed and four others (two children and two adults were injured) in the artillery shelling of the Okhmatdyt Children's Hospital in Kyiv. A Russian sabotage-reconnaissance group shot a car on Olena Teliha Street in Kyiv, with a family with three children inside. The girl and her parents died, two other children are in critical condition in hospital.
According to Commissioner Denisova, the enemy shelled an ambulance near Kherson, burning a driver and a wounded Ukrainian soldier.
In the Okhtyrka district of Sumy region, Russian tanks shot down a bus with civilians. The Russian military do not let ambulances go. General practitioners walk to an outpatient clinic to provide medical care to the victims.
Ukrainian Parliament Commissioner for Human Rights Denisova also informed that Russian military fired on the car of a citizen journalist near the village of Zelenivka in Kherson region. As an artillery shell hit a high-rise building at 40a Buchma Street in Kharkiv, a woman was killed and 60 people in the basement were rescued by the State Emergency Service of Ukraine.
It is noted that a bus, which came under fire from the aggressor's troops near the village of Volokhiv Yar in Kharkiv region, 5 people were killed and 6 more were injured.
After heavy artillery shelling, 47 civilians were taken to Mariupol hospitals, including 17 people in critical condition. In Vasylkiv, Kyiv region, the enemy fired on an orphanage.
Russian president Vladimir Putin declared war on Ukraine on February 24 and launched a large-scale invasion. Russian troops have been shelling and destroying key infrastructure. Missiles hit residential buildings.
Martial law was imposed in Ukraine and general mobilization was announced.
Ukraine officially filed a lawsuit against the Russian Federation at the UN International Court of Justice in The Hague.
ol