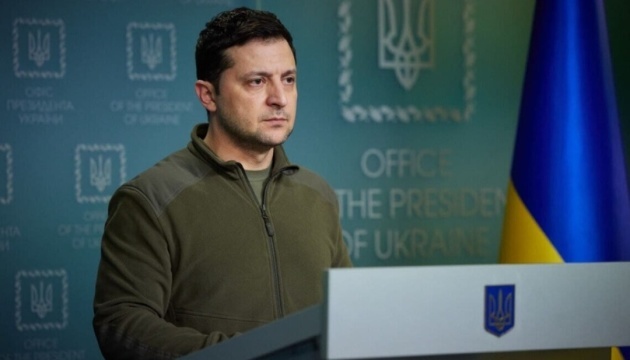 Zelensky on Prypiat talks: Chance to stop war, albeit small
President of Ukraine Volodymyr Zelensky stated that he did not harbor high hopes over the outcome of the meeting of the Ukrainian and Russian delegations, but agreed to hold it, as even the slightest chance should be taken to stop the war.
Volodymyr Zelensky said this in his address to the nation on February 27, Ukrinform reports.
"Alexander Lukashenko asked me to have the Ukrainian and Russian delegations meet on the Pripyat River. I emphasize: without any preconditions. I will say frankly, as always: I do not really believe in the outcome of this meeting, but let them try. So that no citizen of Ukraine would have any doubts that I, as president, didn't try to stop the war, even when there was a chance, albeit small," Zelensky said.
The president stressed that while the Armed Forces are defending the country throughout the territory, the president, the head of the President's Office, the prime minister, and the commander-in-chief remain in their offices.
"We will all defend our state, our borders. We must act pragmatically, together with you all, to achieve our goal. And our goal is our territorial integrity. You have seen our position 100 percent. This is unconditional protection of national statehood," he said.
As reported, following a phone call between President of Ukraine Volodymyr Zelensky and Belarusian leader Oleksandr Lukashenko, it was agreed that the Ukrainian delegation would meet with Russia, without preconditions, on the Ukrainian-Belarusian border near the Pripyat River.
According to the press service of the Ukrainian President's Office, Lukashenko guaranteed that "for the time of arrival, negotiations, and departure of the Ukrainian delegation, all aircraft, helicopters, and missiles deployed in the Belarusian territory will remain on the ground."
Earlier, former Minister of Defense of Ukraine, head of the Center for Defense Strategies Andriy Zahorodniuk said that there is a high probability that in the near future the self-proclaimed government of Belarus will decide on the participation of the Belarusian armed forces in the Russian war against Ukraine.
On February 24, Russian President Vladimir Putin announced the beginning of the invasion of Ukraine. Martial law was imposed in the country and general mobilization was announced.