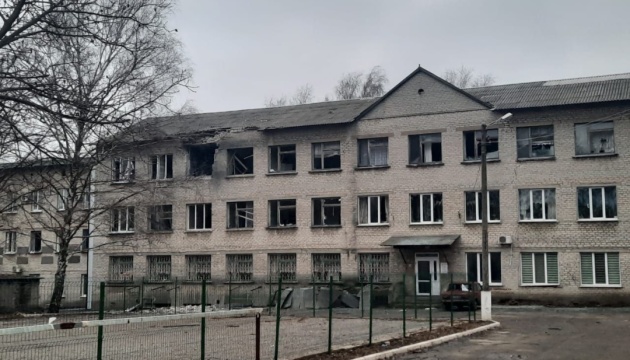 Russian invasion update: Volnovakha town on verge of humanitarian catastrophe
The situation regarding the Russian invasion
The town of Volnovakha, Donetsk region, is on the verge of humanitarian catastrophe.
"The Russian army has been bombing the town for the second day in a row, leveling it to the ground. Private houses and apartment blocks, infrastructure facilities, and a hospital were badly damaged by the occupiers' shelling (a Russian shell hit otolaryngology department and maternity welfare clinic). People stay in basements all the time. The town is actually blocked by the enemy: it is impossible to evacuate the population or even bring people bread and water. There is no electricity and no possibility to restore it," Head of the Donetsk Regional State Administration and Military-Civil Administration Pavlo Kyrylenko posted on Telegram.
Kyrylenko urged international humanitarian organizations to help the town.
"Russian troops must stop shelling and enable the legitimate Ukrainian authorities to help the population and prevent a humanitarian catastrophe!" he emphasized.
As reported, Volnovakha town in Donetsk region is under Ukrainian control. According to Mayor Tetiana Ihnatchenko, the situation in the town is extremely difficult. The shelling is ongoing for the second day in a row.
Russian president Vladimir Putin declared war on Ukraine on February 24 and launched a large-scale invasion. For the fourth day already, Russian troops have been shelling and destroying key infrastructure. Missiles hit residential buildings.
Martial law was imposed in Ukraine and general mobilization was announced.
According to the Ministry of Defense of Ukraine, Russia lost 4,300 servicemen over the three days of the war.
Ukraine officially filed a lawsuit against the Russian Federation at the UN International Court of Justice in The Hague.
ol