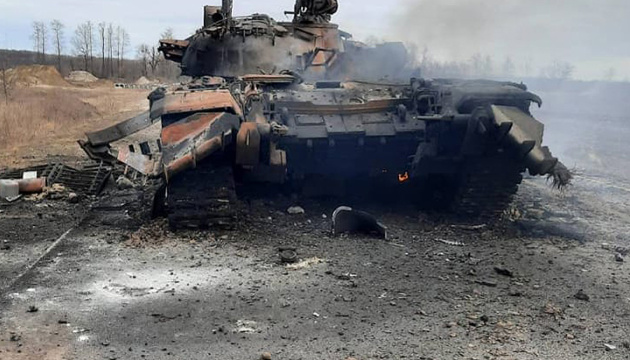 Russian invasion update: Artillery destroys Russia's Group V in Kyiv region
The situation regarding the Russian invasion
Ukrainian artillery completely destroyed the so-called Group V of the Russian military in Bucha town, Kyiv region.
"On the approaches to Kyiv, in the town of Bucha, more than 100 units of enemy equipment were destroyed. Glory to our military!" the State Service of Special Communications and Information Protection of Ukraine posted on Telegram.
On February 27, the Ukrainian military announced a search for a column of enemy vehicles marked with the letter V and moving towards Kyiv.
"These are especially dangerous terrorists who arrived in Ukraine with a special mission. The equipment is moving towards Kyiv. It is very important. We appeal to all citizens of Kyiv region and Kyiv! Everyone, who saw, recorded, knows the location of this column, must urgently provide data to Ukrainian defenders, or, if possible, prevent their further movement," the Interior Ministry urged.
The war in Ukraine has been ongoing for four days. On February 24, Russian president Vladimir Putin announced the beginning of the invasion of Ukraine. Martial law was imposed. President of Ukraine Volodymyr Zelensky signed a decree on general mobilization.
ol