Marta Kostyuk, one of the world's strongest junior tennis players
I'm proud of Ukraine, I read Thackeray's books, I adore Vakarchuk, I love New York, and I dream of Wimbledon
23.02.2018 11:48
Ukrainian Marta Kostyuk is one of the world's strongest junior tennis players, the winner of the Australian Open Junior Championships in 2017, a girl who caused a sensation at this season's Australian Open tournament among adults, having overcome three qualification rounds and having become the youngest player to reach the third round of a Grand Slam since 1996 - the era of Martina Hingis, a prominent Swiss tennis player. She later made her debut as Ukraine's No. 1 in the Fed Cup. No tennis player has even shown such high results at age 15.
Q: Marta, you are from a tennis family, and your mother, Talina Beiko, was a Ukrainian champion. In what age did you start playing tennis? Do you remember when you played the first game?
A: I took the tennis racket when I was very few years old. I do not even remember that. My mom says that I was four at the time. It seems like I always wanted to play and I always knew that I would have good results.
Q: Tennis is a complex technical sport, and it's hard to get pleasure at a young age. Was it love at first sight, or it came later, under the influence of your parents?
A: My parents have never influenced me in this matter. I just liked everything that my mother did, so I wanted to do the same. I rarely lost when I was a child, and I am trying to keep this tradition now. Of course, if a child does not do well in sport, then it's hard to fall in love with it. But I always did well, so there were no reasons not to love tennis.
Q: How did you cope with that?
A: In addition to tennis, from the age of 4 to 11 years, I was engaged in acrobatics three hours a day. I spent one hour on tennis. It turns out that I had more acrobatics. And I had all the strength to do it.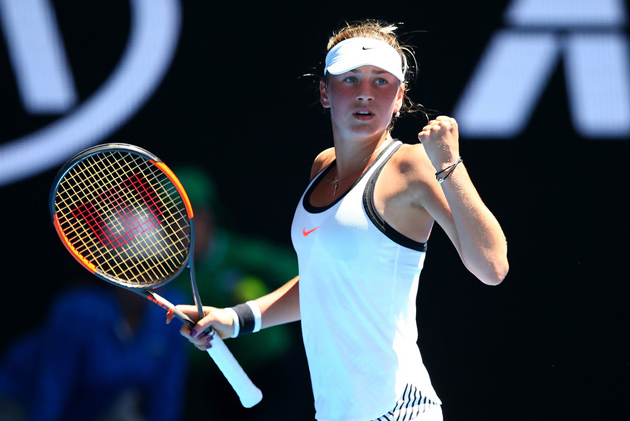 Q: How many hours a day do you work out now?
A: About six hours a day. This is the entire training process, including physical training. That is, on-court training and physical training. I have already got used to that.
Q: What is harder - emotional or physical stress?
A: The main thing for me is not to be exhausted emotionally, so I recover after every match emotionally, rather than physically. I believe that physically I am capable of great endurance, there are almost no borders. There has been no case when I was out of strength at all, even after very difficult matches. I am convinced that emotions are more important in tennis.
Q: Is it difficult to maintain good relations with the mother when she is your coach? A coach should be demanding and sometimes strict, but a mother is still a mother.
A: The problem is that she is demanding. My mom played tennis and she knows how hard it is, so she cannot feel sorry for me. Other moms who are not in this sport feel sorry for their children, saying they work so much and they need to have a rest. I'm not one of them, and I have always been a little bit upset. I do not remember what kind of relations we had when I was 5-7 years old, but now we have a full understanding.
Q: There are currently very tight restrictions on the part of the International Tennis Federation and the Women's Tennis Association regarding the number of tournaments in which juniors may play until they reach a certain age. Do you feel any restrictions or, in your opinion, this is enough?
A: It seemed before the Australian Open that I did not have enough tournaments. For some reason, I was sure that I would lose a lot of matches and that every tournament would count, and it will be difficult, that is, I will play under pressure.
We even wanted to appeal to the International Tennis Federation, so that they could soften this restriction rule somehow, because it was unpleasant for us juniors. The problem is not only in the number of tournaments, but also with wild cards (an opportunity for somebody to play in a competition when they have not qualified in the usual way). There are very few of them.
Now that, after Australia, I have jumped very high in the rating and I know that this year I will participate in Grand Slam tournaments, I will play calmly.
Q: But this restriction is dictated by care for the health of young players so that they do not overload themselves with excessive number of tournaments.
A: I'm thinking that if I had no restrictions right now, I would play a lot of tournaments and I could have really been injured. For example, such stars as Catherine Bellis (the United States) or Belinda Bencic (Switzerland), when they were over 18, began to play at all tournaments in a row - and this "killed" them. That is, at first they were restrained, but then, when they lifted restrictions, they began to play like "crazy" and sustained injuries. It seems to me that balance is needed here.
Q: Which tennis players of your age do you see as major opponents at crucial stages of the biggest tournaments in the past few years?
A: When I played in the U14 group, there were a lot of cool girls among us. Tennis players born in 2002 were considered to be the strongest in the world. Over time, their number decreased, but, as my mother says, the greater competition, the greater the number of cool players. I have played a lot of very difficult matches with very strong rivals and now I understand how good it was that we were so many. Which of my peers will continue playing? I think these are Whitney Osuigwe (the United States), Bianca Andreescu (Canada). Those who are already in the top 250 are Amanda Anisimova (the United States), and Anastasia Potapova (Russia).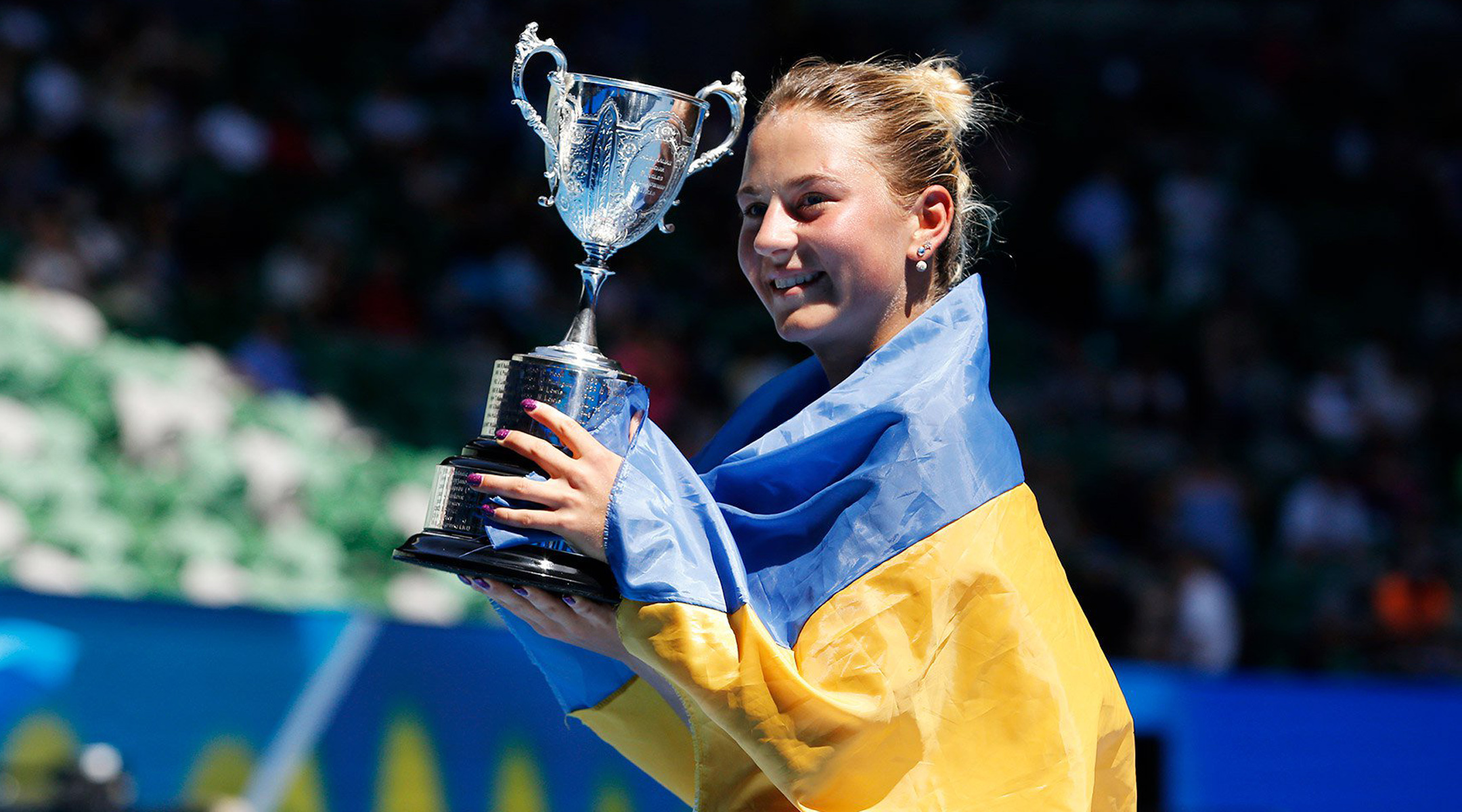 Q: It's going to be a tough competition, isn't it?
A: There are many strong girls in Ukraine. I saw a list of those under the age of 18 in the world ranking. I think, Dayana Yastremska and Katarina Zavatska will continue playing. Someone is already in a high position, for example, Andreescu or Anisimova, but someone else is just starting. Let's see.
Q: Which Grand Slam tournament would you like to win first as an adult?
A: Either Wimbledon or Australian Open. It seems to me that everyone wants to win Wimbledon. This is the most prestigious tournament. I won my first junior Slam title at Australian Open, and I also played at the first adult Slam very well.
Q: You are a universal player, but more attacking. What kind of court do you prefer most?
A: All of them, including grass, clay, and hard courts. I can play well on all surfaces. Earlier, I liked only clay surface, then hard surface, but now I cannot decide. I can play very well everywhere.
Q: A great number of tennis players, even top ones, when they walk out to a court, begin to "work," whereas you "play." On the other hand, you are very emotional. Are emotions an obstacle to some jerks during the match?
A: For such jerks, I need to recover psychologically. Previously, everything was much worse than it is now. I was crying and the racquets were flying – there was everything. Now I am emotional, but within some limits, it was terrible before. I do not even want to mention (smiles).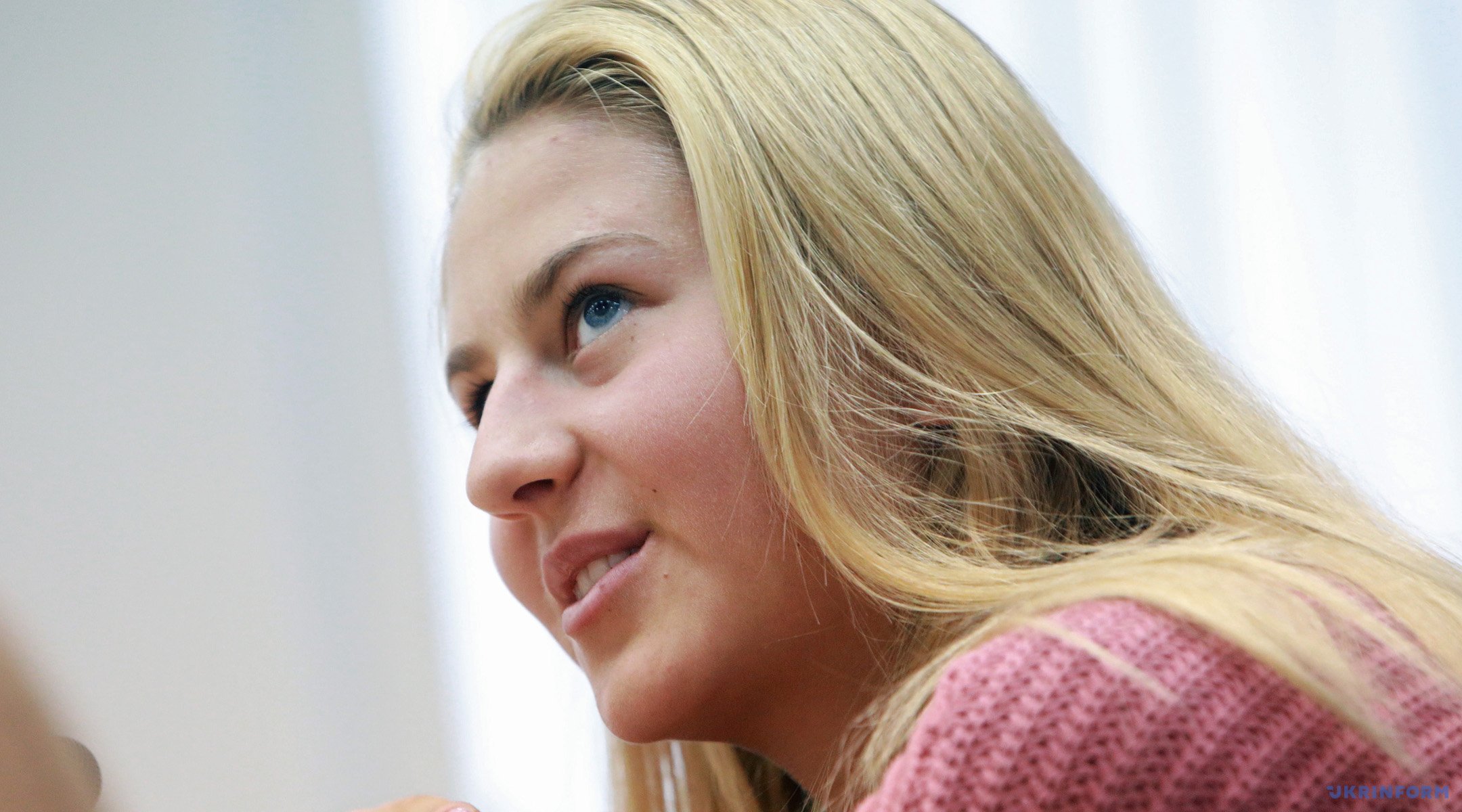 Q: Marta, those who follow you love your game, because you're active on the court. It's not fun to watch mechanical players. Tennis really lacks such stars as John McEnroe. It would be desirable that no one breaks you, so that you keep your own style.
A: Thank you. I think they will not break me. First, I have no warning about behavior, I constantly improve it. At some point, of course, I need to look at myself more critically, but there is no need to change something drastically.
Q: You demonstrated your leadership qualities during the Fed Cup, when you, the No. 1 in our team, had to play Daria Gavrilova (Australia) from the top 30 and Ashleigh Barty (Australia) from the top 20. You have shown yourself to be a fighter like a real leader of the national team. Tell us about these matches.
A: I was already tired enough and we changed the surface, it was grass. The legs get very tired on the grass, and we had to train a lot to get used to it, and we had little time. In the match with Gavrilova I had some strength, but when I walked out against Barty, I had no strength at all. I come out against players from the top 20, but I still cannot resist them psychologically. My mom says that I had a chance, but I say that I did not have a chance. However, it was very good experience, and then, after my match with Barty, we supported Nadiia Kichenok (Ukraine). We lost then in the doubles, but we played very well.
Q: Ukraine's national team in Australia, on the unusual surface for itself - the grass, battled the most powerful squad of the Australian team, having lost only a crucial match on the basis of singles meetings. Ukraine lost the doubles match, in which you did not participate. Perhaps if you took part, then it would be possible to change the situation and create a true sensation. Which top players would you like to play to check yourself? Which leaders of modern women's tennis would it be fun to play?
A: I would like to play with Simona Halep (Romania). I think it would also be interesting to take on Serena Williams (the United States), but when you are hammered by Elina Svitolina (Ukraine), then you do not really want to be hammered again by someone else. I still do not see myself struggling with these tennis players. I would like to struggle with them later.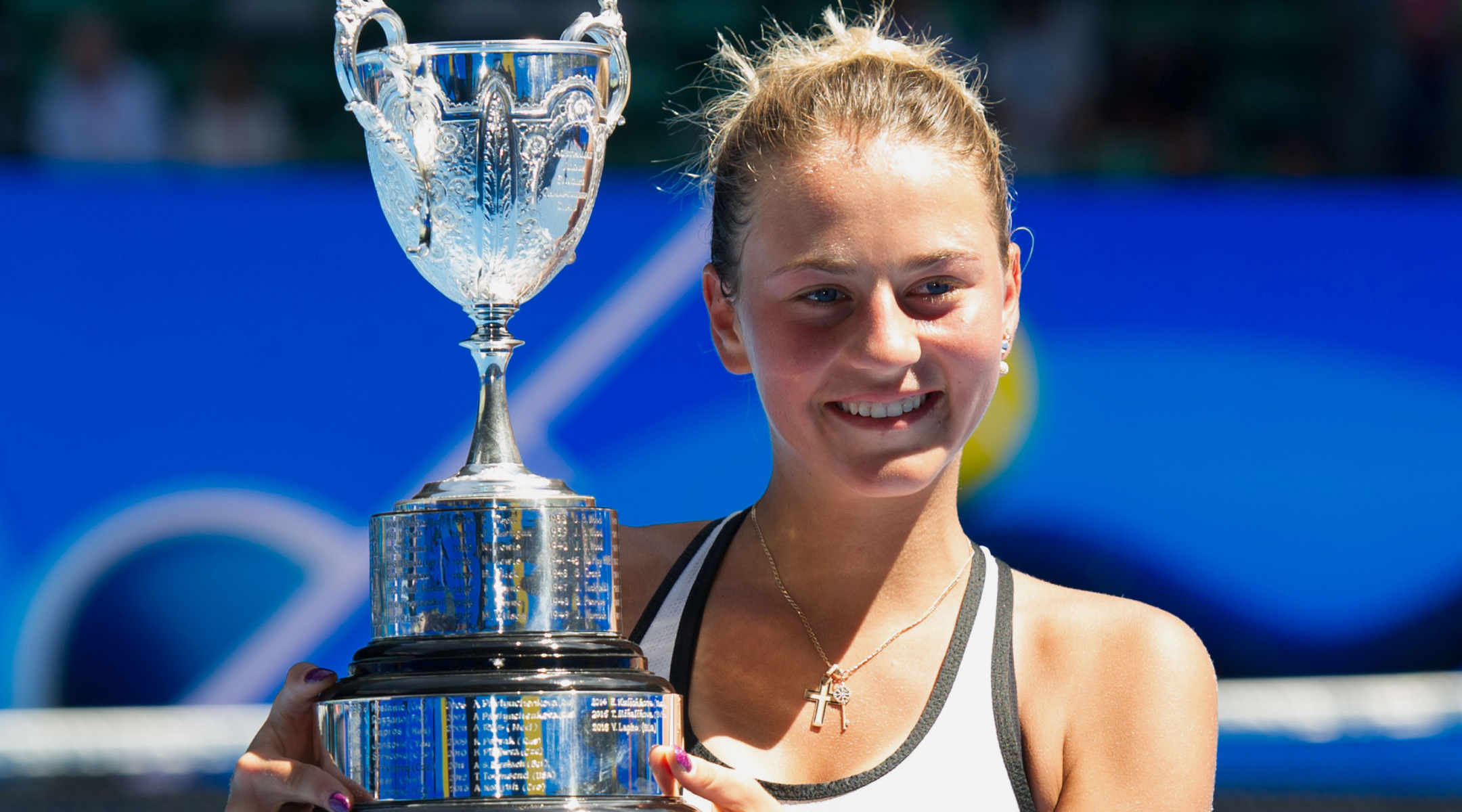 Q: You are a modern girl, you train up to six hours a day, but, like other teens, you live in the world of such temptations as social networks and gadgets. How do you manage to focus on the most important thing, rejecting everything that distracts your attention?
A: Earlier, I could use my mobile phone during training sessions, as well as during tournaments, when I sat on the court, waiting for my opponent, but my coach Ivan Ljubicic stopped it – I cannot take the mobile phone 15 minutes before and 15 minutes after the match. I agreed, because he is authoritative for me, and I continue to follow this instruction. Some time ago, I really had a problem, I spent a lot of time in the phone, and it happened exactly at Wimbledon, my mother even took my phone away. The problem was even deeper, not only in the phone itself, but in how I communicated with other people, how I behaved myself, this is interconnected.
Then my mother took my phone away for three days, and it was hard. Then she often took it and it still happens now, but it's not so critical.
At first it irritated me, but gradually I was freed from dependence, and I can say that this is easier to live like this. I realized that life without a phone is actually very interesting and rich.
Q: How do you manage to combine six-hour daily training with schooling?
A: It is very difficult. I study externally. When I have a training process, I, in principle, have time to do my lessons, but when I have a competition like Australia, I'm so tired that I just do not have the strength to do anything else. Now I'm at home, but I'm busy all day: some things, interviews, and acclimatization – I fall asleep at nine o'clock. Therefore, even at home I do not have time to do my lessons, but I try to do it. I read a lot, earlier I had more time, even in the autumn, now it's not the case, but I have to finish school.
Q: What do you like to read?
A: I love some real life stories. My favorite book is John Green's The Fault in Our Stars. I adore it. I finished it in two or three days. It was so interesting that I was reading even during training sessions when I had a rest. The last but one book that I read was Thackeray's Vanity Fair. I also love Sophie Kinsella, I read her books a long time ago, maybe two years ago, but I read almost all the books of this author. This year she published a new thing - I really want to read it.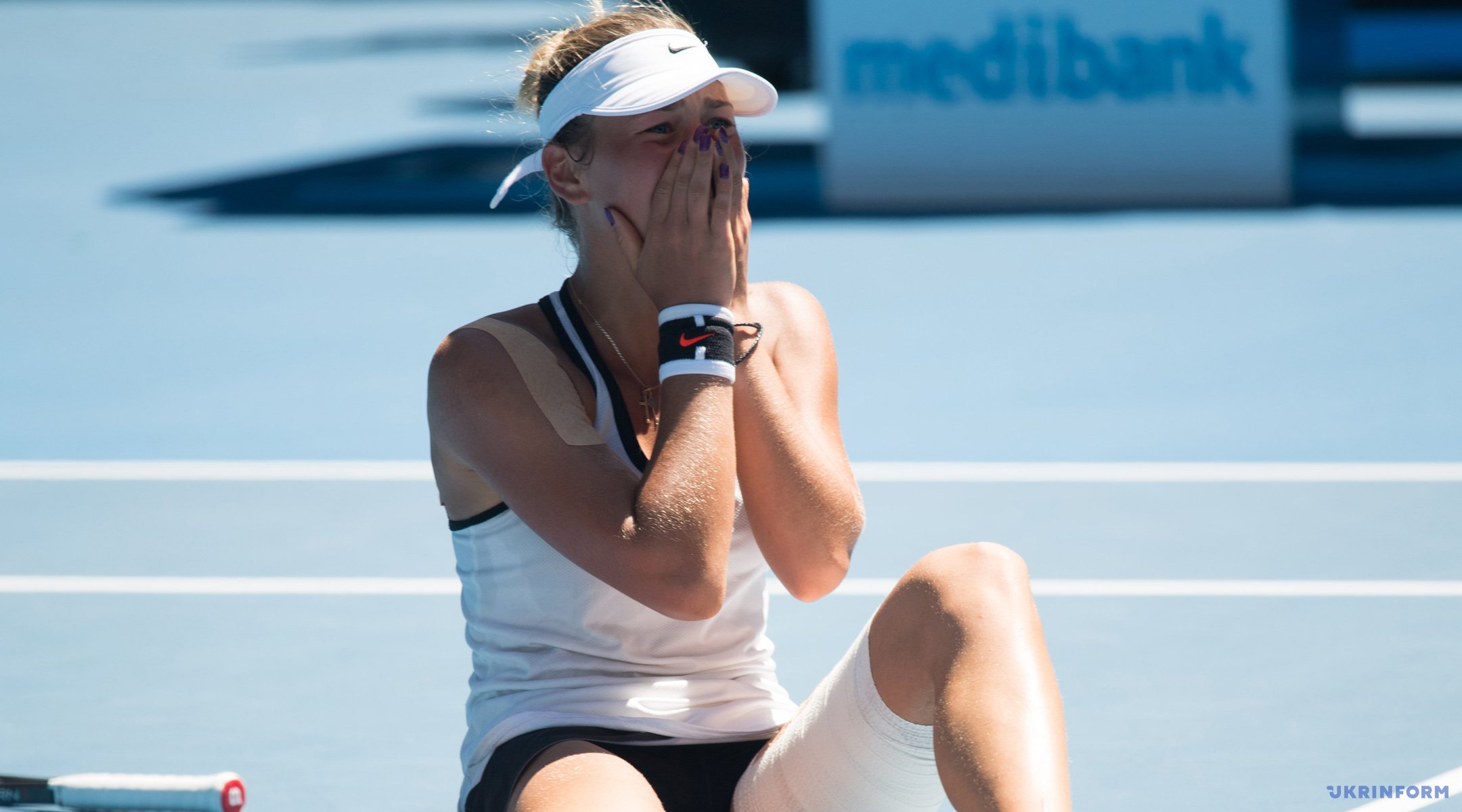 Q: You know, reading Thackeray's books at age 15 costs a lot. Not every girl can read and understand his books.
A: I was very curious, although I read it for a long time - probably for six months. When my mom recommended this book to me, I read half a book within a week and then, as usual, I had no time due to tournaments and training sessions. All the time I postponed this for a while, and I have just finished it. It's a little bit complicated psychologically, but very interesting and very vital.
Q: Do you like cinema?
A: I like cinema, especially comedies, but now all the comedies are all the same, I do not understand this humor. There are several American comedies that I really like, which are really funny, and they might be funny because of being dubbed into Ukrainian.
I love cinema, but I rarely go to cinema. I use to visit the cinema in Croatia. It's very weird, because there are films in English with Croatian subtitles, I understand Croatian, but it's hard for me to read, so I watch films in English.
Q: How many languages can you speak?
A: I speak Ukrainian, Russian, and English. I can also speak Croatian. I studied French at school and underwent training in France. I could have forgotten something, but I can understand a lot and can use some simple phrases. I really want to learn Italian.
Q: What kind of music do you listen to?
A: I love different music, but mostly pop. In principle, I listen to all genres. I love Ukrainian singers, particularly Tina Karol, Vakarchuk.
Q: How many countries have you visited?
A: About 50, I think. I counted 37 countries one-and-a-half years ago, but now there are more of them, perhaps about 50.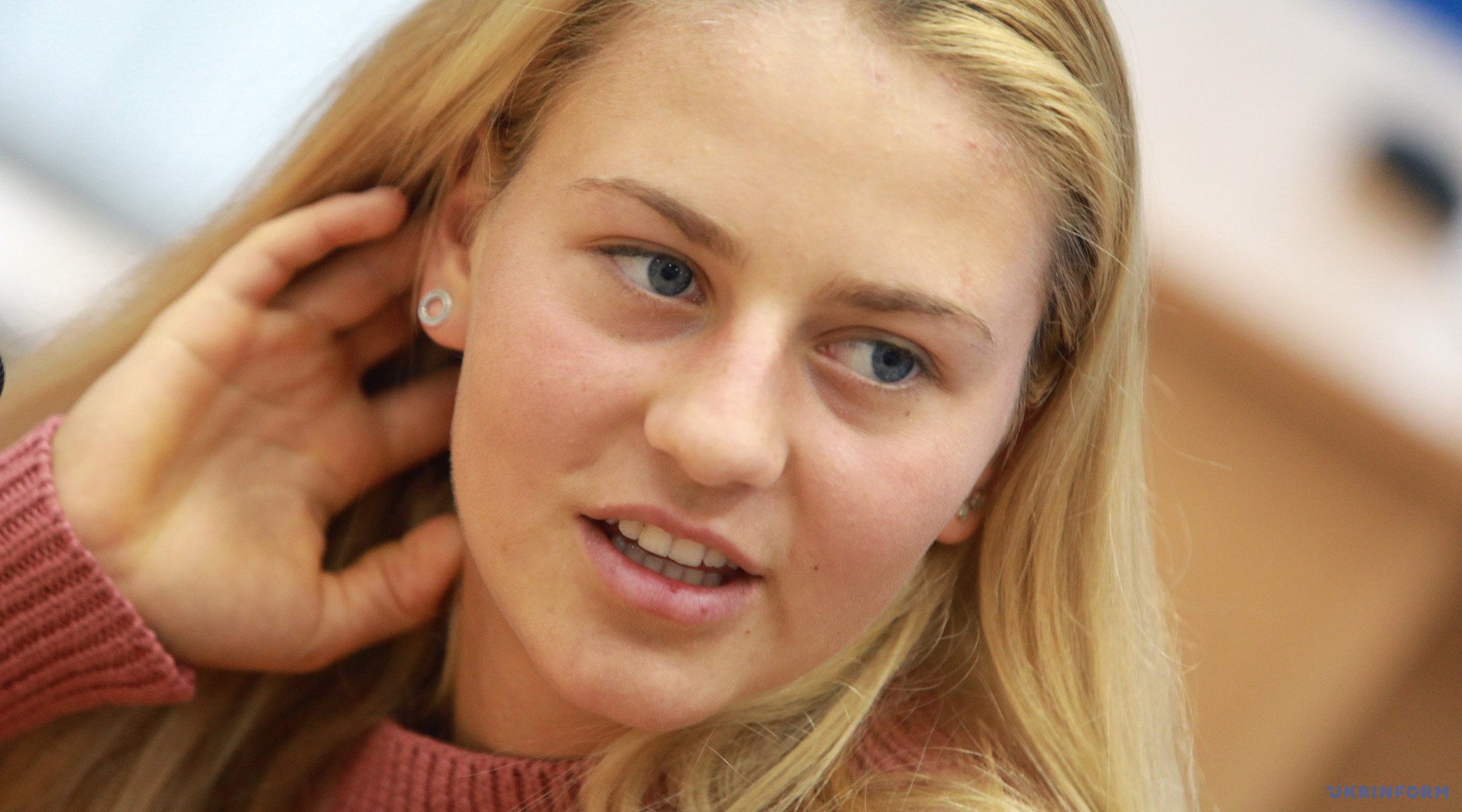 Q: Can you name three countries that impressed you the most?
A: I was most impressed by New York, my favorite city. Other prominent places, perhaps, include Paris - Eiffel Tower, Louvre, and Notre Dame. That is, I like all countries in my own way. As for people, I really like Australia. In Monaco, it's very good to live.
China is another planet for me. There are other people, language, food. I ate rice and fish there for ten days. When I came back from China, I said that I would never eat rice in my life (laughs).
Q: Do you have pets?
A: I have a cat and a dog. I love dogs more, but we have a very cool female cat, so she's an exception.
Q: You have an older sister who studies in the U.S., and a younger one. Do you have time for communication with them?
A: Yes, I do. I see my older sister very rarely, I miss her very much. We communicate, but it's difficult because of the difference in time, especially when I was in Australia. Here it's a little easier, but still difficult. Our family did not get used to being together. We do not even have lunch and dinner together.
Q: What does Ukraine mean to you?
A: I like to perform under our flag. I like to represent Ukraine in the world. I'm proud of my country, it means a lot to me, but it is still not quite known to many people. So I especially like to open it to others. It is a great pride and honor for me.
Liubov Baziv. Kyiv