Svitlana Berezina, Director General of Directorate of Strategic Planning, European Integration of Ministry of Veterans
We are forming the Institute of Veteran's Assistant based on the experience of the United States, Britain and Croatia
03.07.2023 15:58
After the victory, Ukraine will become a country in which at least 1.5 million of our fellow citizens who have gained experience in combat will require special attention and care. Obviously, family members of such veterans and families of fallen soldiers will also be in the focus of special priority care of the state, which means several million more people. During the brutal war, many of our defenders lost their homes and jobs due to the occupier's actions and the destruction of production and business by the war, their physical and mental health changed, and in some aspects they became completely different in personality. Therefore, at the state level, taking into account the demand already existing in the country and the world experience we know, there is a need to establish and develop a virtually new service (profession) with a powerful social function. At the initiative of the Ministry of Veterans, the institute of a veteran's assistant is being introduced in territorial communities as part of the system of transition from military service to civilian life. This project will start on July 1, 2023, in accordance with the CMU Resolution "On the Implementation of a Pilot Project on the Introduction of the Institute of Veteran's Assistant in the System of Transition from Military Service to Civilian Life" in a pilot mode in Lviv, Vinnytsia, Dnipro and Mykolaiv regions. We talked in detail about the essence and prospects of this initiative with Svitlana Berezina, Director General of the Directorate of Strategic Planning and European Integration of the Ministry of Veterans
EVERYONE WILL HAVE THEIR OWN INTEGRATION CASE
- Ms. Berezina, tell us who is a veteran's assistant and what is their mission?
- The main task of community representatives who will serve as veteran assistants will be to provide comprehensive assistance and help defenders in their full adaptation to peaceful life: from establishing everyday life and family understanding to employment, implementing their own business projects, learning new skills, rehabilitation and treatment, legal protection, and globally, working in the context of a dialogue between a particular veteran and his or her community of residence, workforce, and the state as a whole. Also, members of veterans' families, families of fallen (deceased) war veterans, and families of fallen (deceased) defenders of Ukraine will be the object of this specialist's professional care.
All communication of the veteran's assistant and work with the target audience is organized in the format of a service to support the transition of servicemen to civilian life on a peer-to-peer basis. After all, the circle of assistants will be formed from among veterans themselves who have some experience in post-war integration, or from their family members who have already tried their own ways to help with the adaptation and socialization of their relatives who have returned from war.
- And why didn't they start such an institution earlier, since the war really started in 2014?
- Of course, there were problematic aspects in the context of returning military people from war or service to normal life before. However, they were dealt with at different levels and with varying degrees of success by volunteers, non-governmental organizations such as veterans' hubs, law enforcement agencies, and the social security sector. But there was no unified system of targeted support on the ground, no defined standard. Before the full-scale aggression, there was no such significant demand for such services. Nor was there the huge expected number of veterans who would come to us in the near future, after the victory over the aggressor. The projected demand and the burden on the social security sector were the primary reason for the creation of veterans' assistants' offices.
The current format was suggested to us by the experience of our partners. In the pilot project of introducing the institution of a veteran's assistant, we used the best practices of countries such as the United States, the United Kingdom, and Croatia. The quite representative veteran corps of these countries has similar experience in solving various problems and challenges, from which we could borrow some solutions that have been tested in practice.
For example, in the United Kingdom, some local councils with a large number of veterans have appointed separate contact officers whose main responsibilities are to meet the needs for specific services, communicate with veterans, the Ministry of Defense, public and private sector service providers, and maintain web pages and information portals. In the United States, service delivery is coordinated at the state level through state-level Veterans Affairs Offices and networks of Veterans' Representatives.
The principle of targeting such a service is that there are certain standards, but there is no single solution for everyone. There are many scenarios - equivalent to the huge number of veterans, our heroes, we are waiting for. We should accept them with dignity. And each of them will have their own case of integration into civilian life. Some will need to retrain, improve their skills, some are planning to move to another region and no longer want to work as a lawyer, but dream of farming. Some need to bring their family back from abroad and provide them with a decent standard of living, and then find a high-paying job. And someone will need a prosthesis, and more than one, and expensive rehabilitation.
- And someone will not want anything...
- We predict that there will be many more such stories caused by post-war stress and apathy, and we will need to work with them. It is in this scenario that the proactive work of veteran's assistants will come to the forefront to pull former defenders out of prostration or depression as soon as possible. And here, the involvement of families and communities is essential.
A "CIRCLE OF TRUST" AND PROFESSIONAL SUPPORT CAN HELP FIND A WAY OUT OF MANY PROBLEMS
- It is known that former military personnel and combatants are not in a hurry to ask for help, especially with psychological problems. Perhaps, there is no firmly established culture of seeking help and its perception as normal. Will veteran assistants be able to speed up the formation of such a culture?
- Yes, we know and see such challenges. And the unwillingness of combat veterans to improve their mental health is present even among many veterans in countries where progressive models of work and correctional programs have long been in place. But we will also strive to reach the minds of our clients through their families - wives, husbands, parents, etc. - and convince them to seek treatment from certain specialists. In other words, we will form a "circle of trust" that will help veterans find a way out with the help of professional support. And someone who has gone through a similar experience himself will be able to recognize these kinds of problems in a person returning from the front or service very well. He or she will know the right words and will inspire trust because he or she is a fellow soldier or a family member of a defender.
- So we are talking about the multifunctionality of such a position?
- Yes. First of all, the veteran's assistant will be engaged in screening monitoring of target groups of citizens who will fall under his/her care. He or she will then have a clear understanding of the range of benefits or assistance that his or her client needs, and will create personal cards with "request passports" for the clients.
- How many communities in the designated regions have joined the project and what should they prepare for?
- So far, almost 40 communities have joined the pilot. And communities can still join. For example, some Amalgamated territorial communities (ATCs) from Poltava and Odesa regions have applied to organize the work of veteran assistants in village councils at their own expense, and we only need to provide them with professional training.
First of all, each territorial community should understand how many people and what specialties among their countrymen will be demobilized after the end of hostilities. The ATCs should be aware of when they will arrive, what problems these people have that are already known and need to be addressed, including prompt support from a veteran's assistant. From the first day the defenders return from the front, we should take care of their quality integration into communities, families, and our economy at both the micro and macro levels.
The administrative centers of communities should establish a service office for veterans' affairs as a legal entity under public law. Such an office can also be created jointly by several ATCs in accordance with the Law on Cooperation of Territorial Communities.
Based on the results of the pilot project summarized by the Ministry of Veterans, the final model of the veteran's assistant institute will be implemented on a national scale.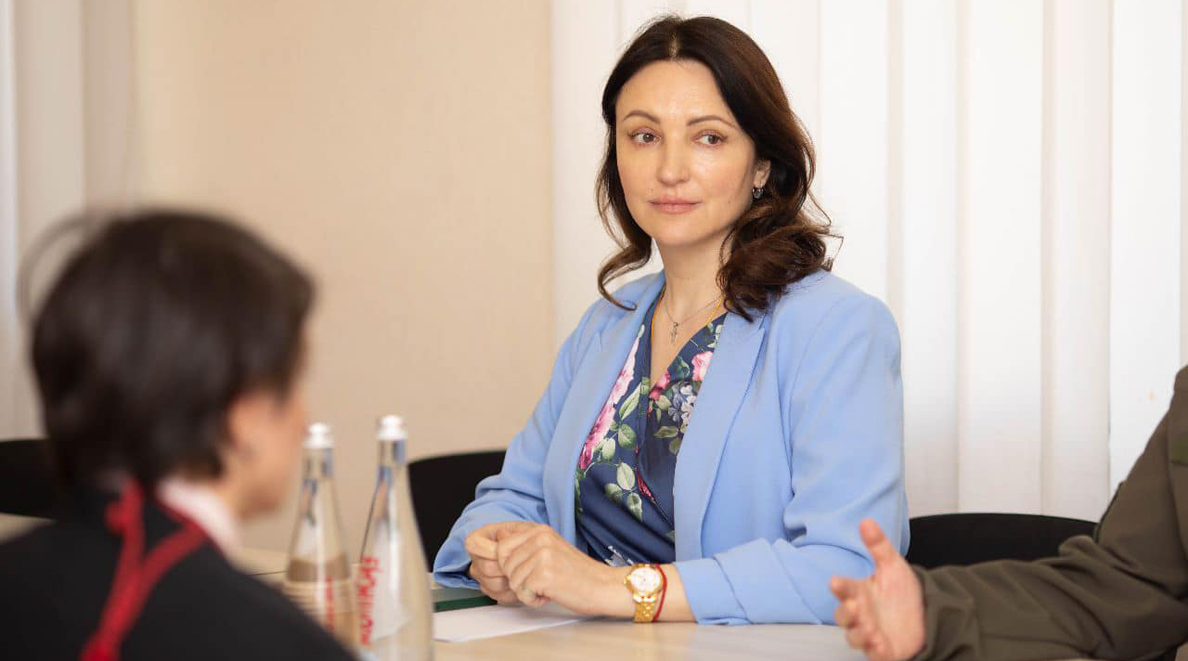 COMMUNITIES WILL KNOW WHAT KIND OF TARGETED SUPPORT THEY NEED AT THE STAGE OF DEFENSE SERVICE
- Why is the introduction of the veteran's assistant institute directly linked to the system of transition from military service to civilian life, and what place does it play in it?
- This was immediately clear. Our initiative is a combination of the experience of international partners, taking into account Ukrainian realities, which was then formalized into the political will of the Government and the launch of a pilot project. In fact, this tool is becoming one of the main parts of the mechanism of transition from military service to civilian life.
- Is it necessary to prepare the defenders at the stage of their service to interact with the office of the veteran's assistant, and what is happening now in this context?
- The system of transition from military service to civilian life has not yet been finalized. However, it is known that a year before demobilization (discharge), military personnel will be surveyed, with questions such as "in which community do you plan to live?", "what kind of professional activity do you want to pursue?", "do you need medical care and to what extent?", "do you want to get a new profession and education?", etc. The necessary questionnaire has already been developed. This way, we will have a complete picture of the initial data on the person who is leaving the service.
Such a survey will be conducted among this category of servicemen in an electronic format. The procedure will take place on the basis of the E-Veteran information portal. Based on this information, an individual trajectory of work with a particular veteran will be formed. It will include, among other things, a list of suggestions and advice, as well as the rights and benefits that a veteran can use, taking into account his or her personal situation, and how and where to apply. The veteran will receive this package before returning home.
We are currently cooperating with the territorial centers of recruitment and social support [former military enlistment offices] in terms of information exchange. In general, there is a serious task to synchronize the registers - ours and the Ministry of Defense - for effective cooperation and implementation of veteran policy objectives. The Armed Forces of Ukraine are aware of our pilot program and will disseminate information about the testing of the veteran's assistant institute on their resources.
- How will veterans and families of the defenders, including those who died, be able to find their assistant and receive assistance?
- The basis for providing personalized coordination support is an appeal (application) from the relevant categories of citizens to a veteran's assistant or a service office in the community. Veteran assistants will also act proactively, offering assistance on a proactive basis, encouraging cooperation.
Applying for the services of a veteran's assistant is not a one-time event when the Defenders return to their communities. It is possible to apply in a few months or years, as soon as the needs of such citizens change and they need some help again. For example, under the terms of the budget program of the Ministry of Veterans, not only veterans but also their family members can retrain at veterans' development centers at public expense.
THE STATE HAS ALLOCATED UAH 50 MILLION FOR THE PILOT STAGE OF LAUNCHING VETERANS' OFFICES.
- What sources will pay for the work of veteran assistants and what are the criteria for their success?
- The number of veterans' assistants during the pilot project in certain regions cannot exceed 400 people. At the current stage, more than UAH 50 million has been allocated from the state budget for their work. Development partners, including the United Nations Development Program with funding from Sweden, are also providing resources.
One veteran's assistant will be able to provide services to support the transition to peaceful life to no more than 100 project participants. A maximum of 20 veteran assistants will work in one service office. Currently, the salary of an assistant will be an average of UAH 16,000.
The veteran's assistant will report on his or her work to the head of the service office, who will report to the regional military administration (RMA). In turn, RMAs will inform the Ministry of Veterans. The evaluation criteria will include quantitative and qualitative indicators of timeliness, accessibility, accuracy, and compliance of the support service with the needs of the pilot project participants.
- How to become a veteran's assistant, what are the requirements for candidates and the rules of competitive selection?
- Selection to the corps of veteran assistants, a new administrative and service reality in the activities of territorial communities in the near future, will be carried out on a competitive basis using digital tools.
A candidate for a veteran's assistant can be a citizen of Ukraine, a war veteran, a family member of a veteran, an injured participant of the Revolution of Dignity, a family member of a deceased veteran, a family member of a deceased defender or defender of Ukraine who speaks Ukrainian, resides in the community where the recipients of the relevant social support also live, has an education not lower than a junior bachelor's degree, and is registered in the Unified State Register of War Veterans and has a taxpayer registration number. And most importantly, he or she has the strength to become the center of veteran life in his or her local community.
A candidate for the position of veteran's assistant submits an application in electronic form for participation in the competition exclusively through the E-Veteran information portal.
The selection of candidates for veteran's assistants includes software testing and an interview conducted by a commission formed by the self-government body with the involvement of psychologists.
- How and where will veterans' assistants be trained?
- After the successful competitive selection stage, candidates for the positions of veteran assistants will undergo specialized training. A three-week course is envisaged in veteran development centers at designated higher education institutions. So far, there are two types of training programs developed in partnership with the Ministry of Education. This is training of trainers for trainers, i.e. training of teachers who will train veterans' assistants in a seminar format with the support of international partners. And the second is training for the assistants themselves. This training is scheduled to begin on August 1, 2023.
Later, the specialists will be employed in a service office for veterans' affairs in one of the regions participating in the Ministry of Veterans' project.
Hennadii Karpiuk, Kyiv
Photo by Dmytro Martiuchkov