Serhiy Ryzhenko, Director of Dnipropetrovs'k Regional Hospital
We have two to three days to stabilize the soldiers who were wounded on the battlefield
14.06.2023 18:40
We meet with Doctor of Medicine, Professor, Honored Doctor of Ukraine and head of the Mechnikov Regional Hospital at his workplace. A few hours before this interview, about 70 wounded soldiers were brought to the hospital.
But at 8:30 a.m., there is not a single hint that Mechnikov has had a difficult night. Every employee is calmly doing his job.
Serhiy Anatoliyovych meets us after an important meeting. We shake hands, get to know each other, and he suggests that we put on gowns and go to the intensive care unit so that we can see everything with our own eyes.
We go in, and there are no free beds in the department. All the patients are serious. The first one is a fighter named Ruslan. He lost his arm in a battle, his whole face is covered in bandages.
"Everything will be fine. You are almost breathing on your own. You're doing great," the doctor tells the guy.
He approaches the second man and asks where he is from. The man says he is from Zhytomyr region.
"I guess I won't have a leg?" the soldier asks Serhiy Anatoliyovych.
"Take your time. We will do everything we can. The main thing is to survive, and we can make a new leg," the doctor tries to reassure him.
And this is how his every working day begins. Then the doctor greets the new shift of nurses with his fists. In the corridor of the institution, he meets with the volunteers who help him and thanks them.
We have a few minutes for the interview. While we are talking, he invites the photojournalist to take a couple of shots from the operating room, where they are saving the life of one of our soldiers.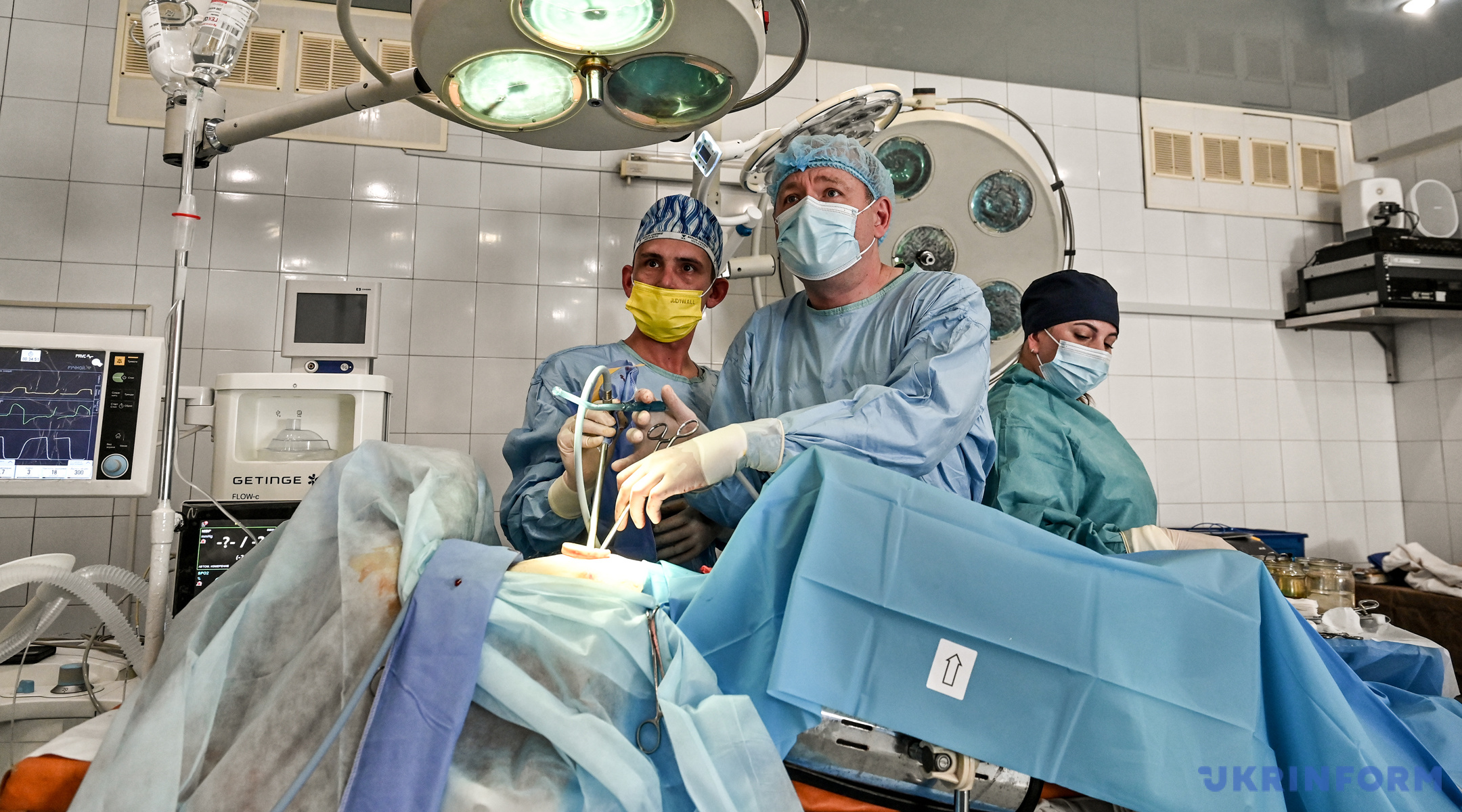 A SOLDIER'S LIFE IS MORE IMPORTANT THAN A PROFESSOR'S OFFICE
- Recently, it was officially announced that a rehabilitation center for wounded soldiers would be set up at Mechnikov Hospital. How distant is this prospect?
- It has to be done by the end of the year, because there are thousands of fighters who lost their arms or legs in the war and need rehabilitation. Today they are sent all over the world or just to other cities in our country to secure their future. And what is the future? For a person to be able to walk or move independently, to meet the most basic needs and live in a family. All the guys who have been treated at our hospital have severe injuries. There must be support, sometimes it is lifelong, and this must also be understood.
- Why is it important that such a center should be based at Mechnikov?
- Some people think that rehabilitation is a sanatorium option. But it does not work. Where a person has undergone surgery, there is a department head, a doctor who actually performed the surgery, and they should give recommendations on rehabilitation and what function they think needs to be restored. But for some reason, we think that it is necessary to send the patient to the forest where he will walk. This is stupid. Only in specialized centers with a CT scanner, MRI, psychologists, and professors should functions be restored. You saw Ruslan in the intensive care unit. He has no arm, nothing left of his face. Only his eyes, because he was wearing glasses. His bones, jaw, and cheeks have already been "reassembled".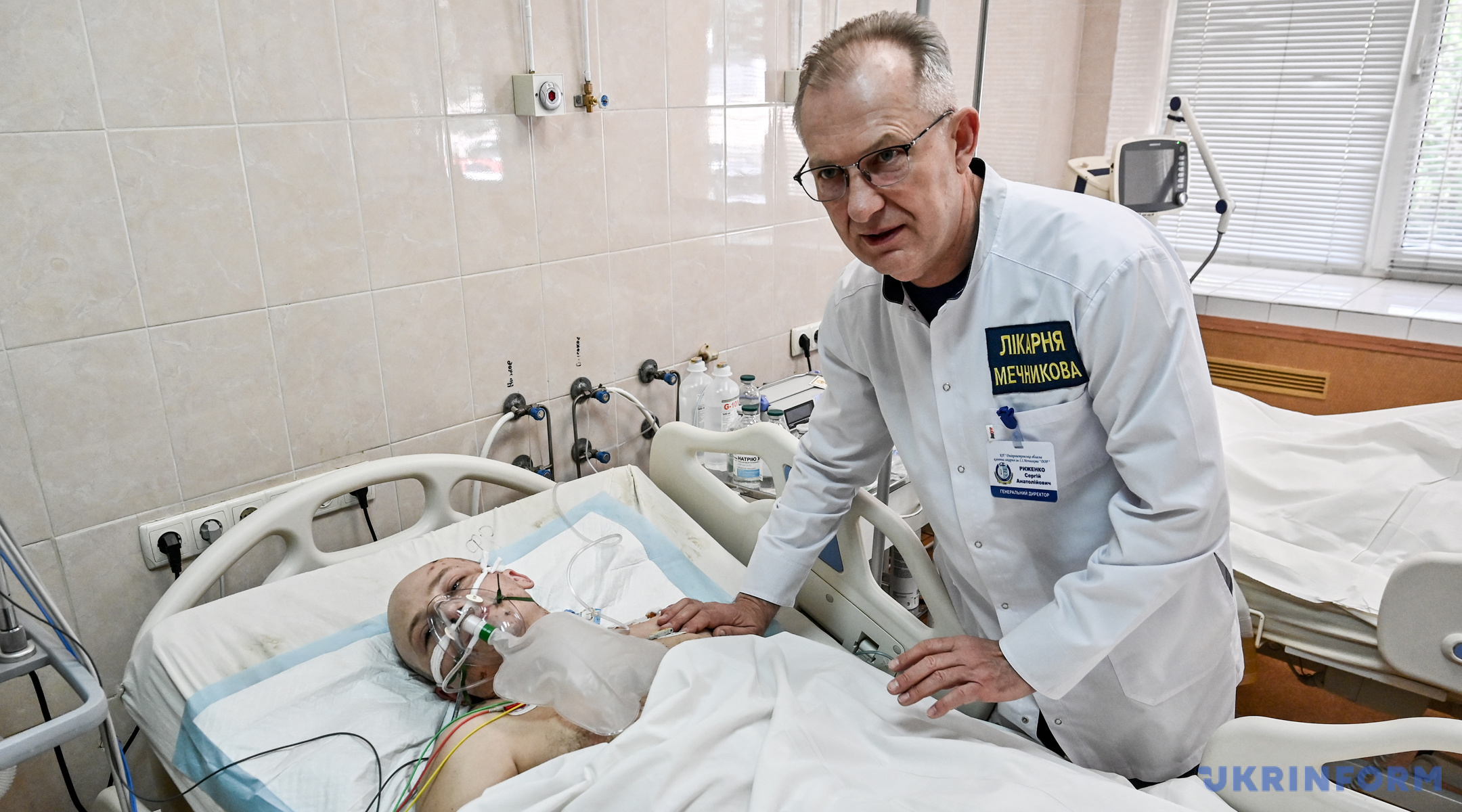 - And all this in one night? In a few hours, to be exact?
- Yeah. Several operations were performed. He came to us in the evening [on the eve of the meeting]. And here is the arm. For the prosthesis to work functionally, he needs to maintain mobility in his arm. He needs to start early preparation for prosthetics and exercises after the amputation. If there is no preparation, the remaining part of the arm will just hang, and he will not be able to do anything until the muscles recover, and they die within a few months. If the neuromuscular system does not work, it does not matter whether the hand is large or small, if it loses its functions, it is almost impossible to restore them to the extent necessary for prosthetics. Early prosthetics are needed. So instead of receiving it, he will go to a sanatorium, walk in a wheelchair and wait for other specialists to take care of him? That's why I insisted on having the center here.
- Is there space for this?
- Yes, we do. We used to have departments on the third floor. But I believe that today a soldier's life is more important than a professor's office. This is the time.
In a year, a thousand people will be able to pass through the center. And they will receive the help they need to restore the functions lost during the war.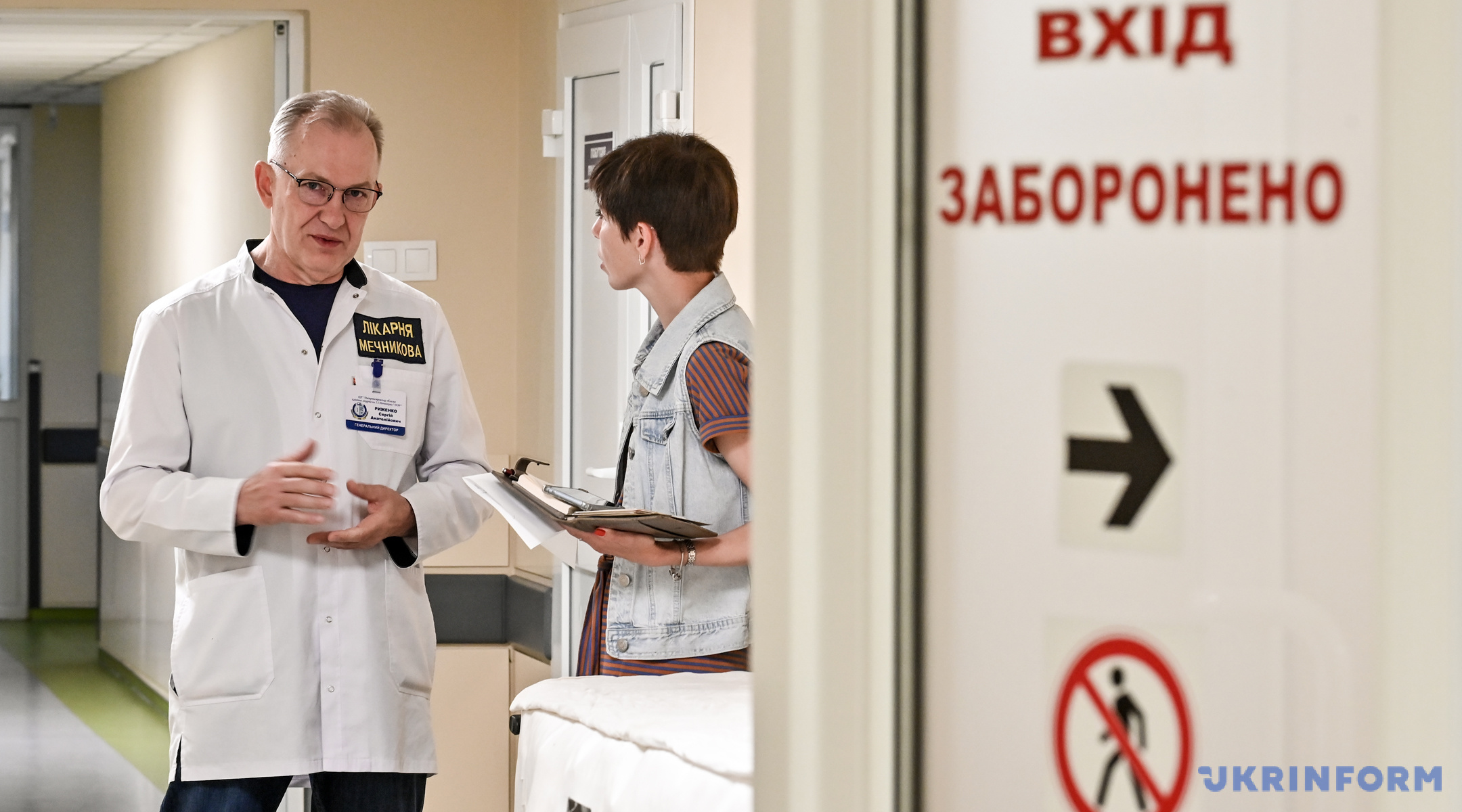 - How many people work at Mechnikov Hospital today?
- The team consists of 2500 people. We have 1500 beds, and every day someone arrives and someone leaves. These are people from different regions (Kharkiv, Zaporizhzhia, Donetsk, Luhansk). They come to us for their last hope.
- Isn't 1500 patients more than the norm?
- Of course, it is. There are no offices of heads of departments, nurses, doctors. There are wards. For example, I don't have my own office. I hold all my meetings here, in the conference room, and we communicate with you here as well. My workplace is an office with two other doctors. This is a position.
FOREIGN DOCTORS LEARN FROM UKRAINIAN COLLEAGUES HOW TO SAVE THE WOUNDED
- Do you recall the most extreme conditions you had to work in?
There are many of them. Today is also such a day. About 70 patients have been admitted, 50 of them are on lung ventilators.
The intensive care units are constantly working. Each employee has their own work schedule. When a fighter comes to us, we immediately write the number on his arm, if he has one. If not, then on the chest. Then the person goes to the operating room, where there is a CT scanner and so on. We have two days to recover, and then the wounded go for further evacuation.
We have two additional operating rooms equipped with everything we need, ready to receive the most difficult patients, and we have artificial lung ventilation devices set up.
- Your hospital started saving soldiers when no one else had such experience...
- And now they are learning from us. Australians, Americans, and Germans work here, and they learn from us.
- How did this become possible? You yourself said that there is no such thing as a miracle, that experience and knowledge are important.
- 100%. Intuition is also important.
- So how did you achieve the fact that foreign colleagues are now coming to you?
- First, they come to study to be ready in case of war. You can't learn this at university. We learned how to help people in peaceful conditions, but wounds sustained in war are "a little bit" different. They are dirty, they cannot be sewn up immediately, they need to be prepared and there are a lot of parts.
The foreign doctors we have work as assistants. They learn what we have already gone through. We have experience that we have gone through ourselves. We have treated a huge number of patients, and over 95% of them survived.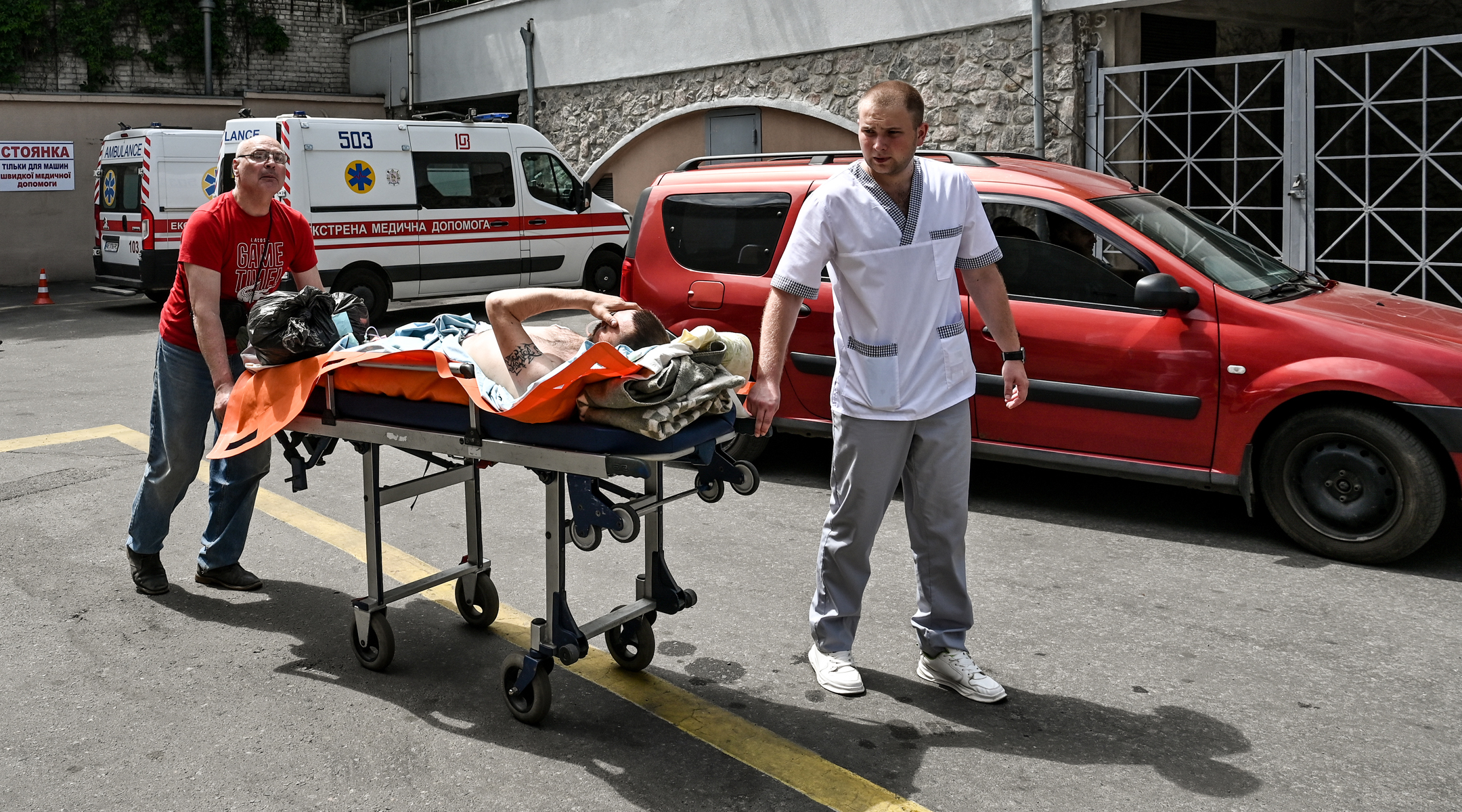 - How many wounded were admitted during the war? How many of them were saved?
- Almost 20,000 people, and more than 95% of them survived. This is an extremely high number. Today we have 4.89% of the dead. When people tell me that this is a super result, I always answer that if you convert the percentages into numbers, understand the number of people, you will get a figure that you would not want to hear.
"ONE-ROOM" APARTMENT IN THE WORKPLACE
- How prepared was the team to work in the war? I'm not talking about 2014, when most people thought the war was "somewhere," but about the period of full-scale war.
- What we see at our hospital is not something you can see at every frontline position. The doctors we work with see hundreds of wounded.
I would not like to talk about how many doctors could not stand it and left. The workload on people is insane.
- How do you cope with it?
- I live in the hospital, I don't go home for months. We have 100 anesthesiologists and surgeons, and they are here with me. Now it is important for doctors to understand that their work is paid for. Yes, they don't have much time to spend money now. We have a doctor, a young guy who has not left the hospital for more than six months. He is a traumatologist from God. He was a little overgrown, and had let go of his beard. And then he got a girlfriend. She's also from our team, so he did his hair and cleaned up his appearance. He performs eight surgeries a day.
Sometimes we perform up to 10 surgeries on one wounded man, but the National Center for Healthcare does not understand how this is possible. But I repeat, the main thing now is to save the lives of soldiers, and for this we need to stimulate doctors.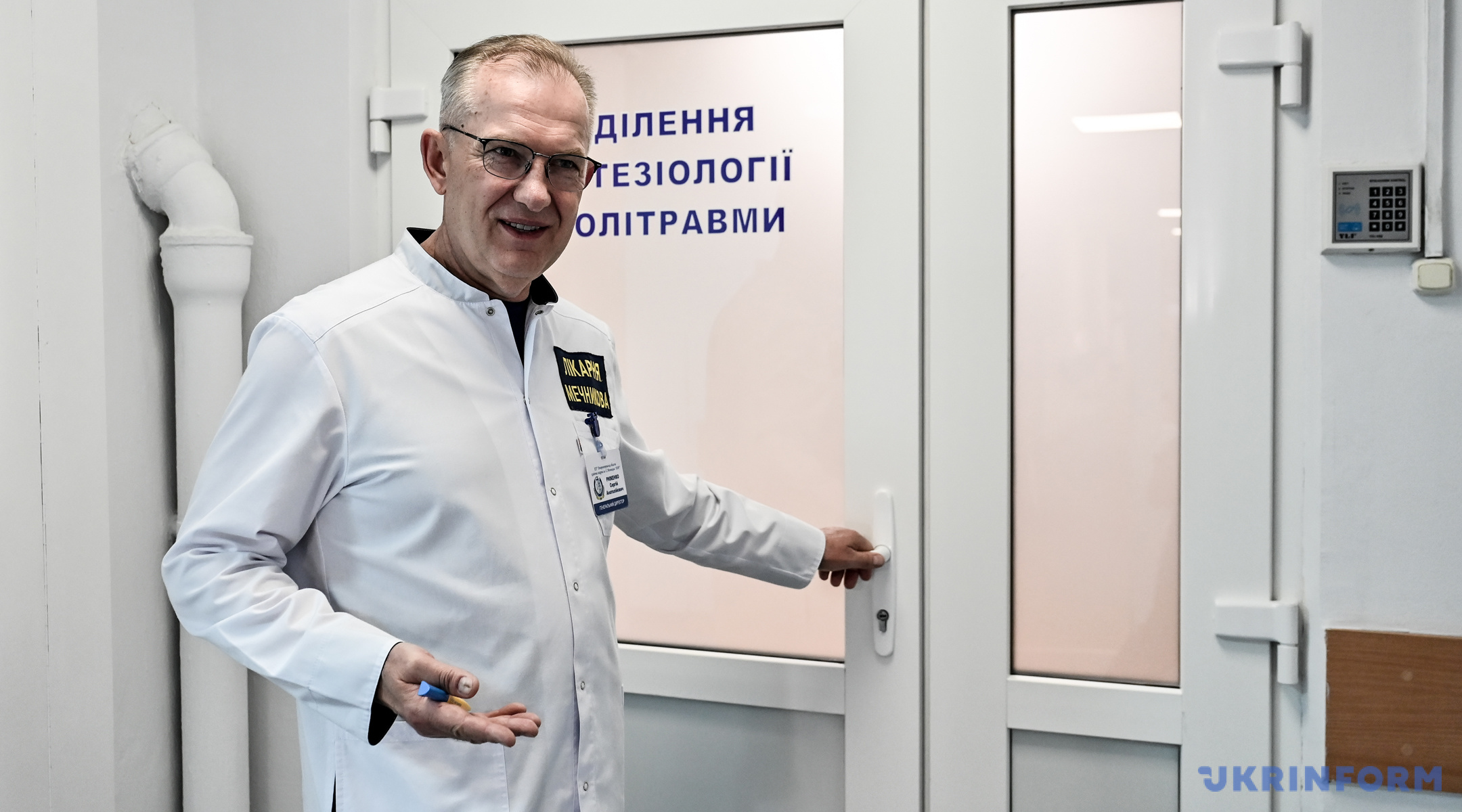 (Meanwhile, we leave the conference room. Serhiy Anatoliyovych wants to show us how the wounded are being evacuated. While we are walking, he stops and opens the door to one of the rooms. There is a sofa there. He says that this is his "one-room" apartment, where he has been living for several months.)
KNOWING EVERY FIGHTER
- Is it a standard situation for your hospital when relatives do not recognize and patients themselves cannot tell you anything?
- As a rule, people come to us with documents. There is a small percentage of those without documents. However, there was a case when a man did not recognize his wife. It happened during a rocket attack on the Dnipro River. If not for the phone she was wearing and the earrings... He came in, looked at her and said: "No, that's not her". He just couldn't recognize her. The body was so mutilated, there was a thick layer of construction dust, pieces of the body were just torn out. Such was the force of the blow.
- Is the patient's first meeting with his family difficult?
- I try not to do it. There are deputies.
- When do you communicate with the wounded soldiers who come to you from the front? Today, for example, we saw how you were talking.
- About 3-4 hours after they were wounded, they are already with us, and I talk to them. I know each of them. Every single one of them. 70% of the wounded who come to us do not speak because of the severity of their injuries.
- How long have the wounded been staying with you?
- Earlier, when we started accepting them in 2014, we used to say that the patient needs to sit down or stand up, and then we can think about sending them for further treatment. Now it is enough for them to talk. We have 2-3 days for stabilization and then evacuation. The flow is big. There are no places in the intensive care unit.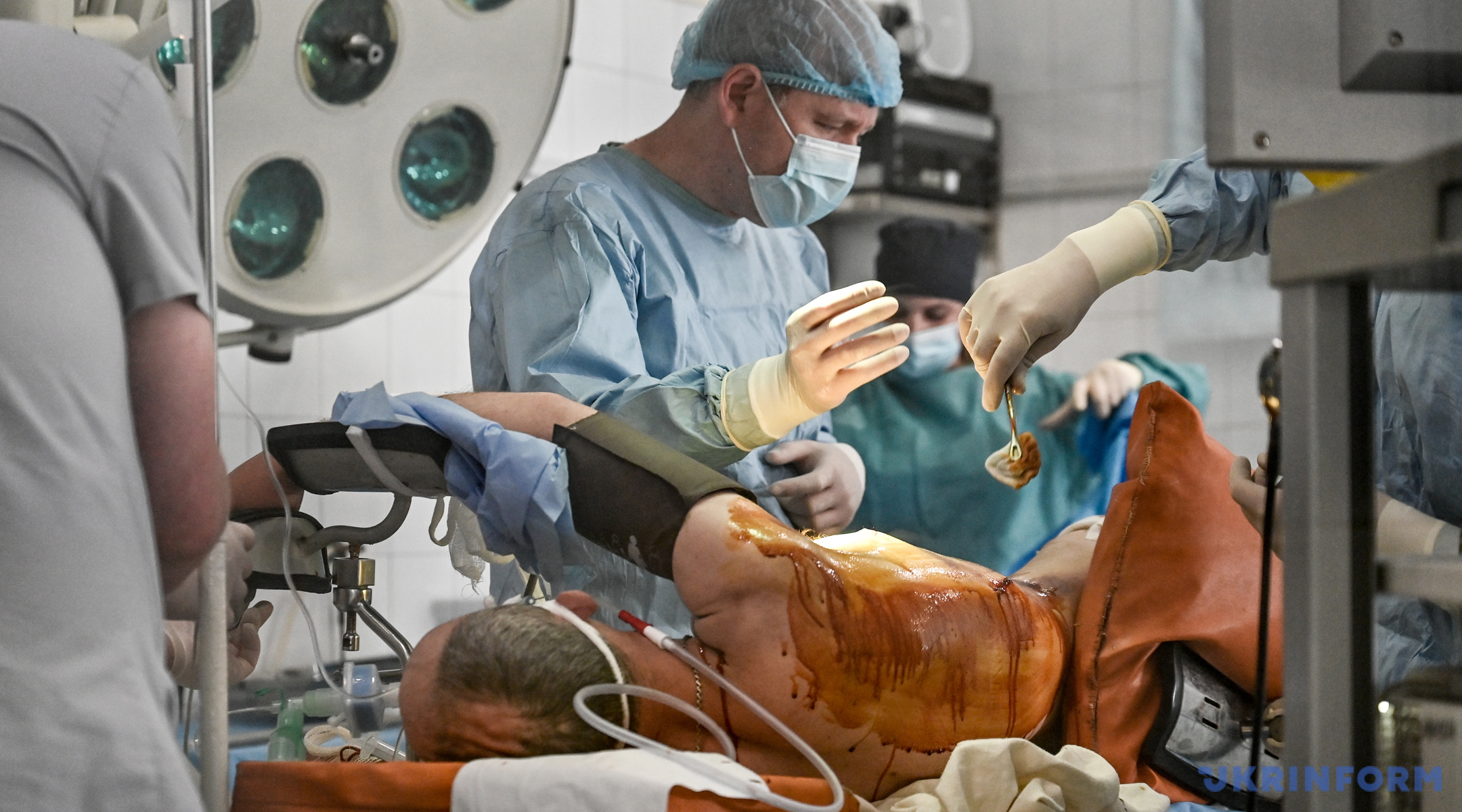 - When civilians arrive, injured by rocket attacks...
- This is the worst thing. It is easier for the military, they are at war. When it's civilians, it's a tragedy. Then everyone is looking for their loved ones.
- Who helps the hospital?
- The authorities, volunteers. They help a lot, but volunteers cannot keep a ship like Mechnikov's hospital afloat.
We have taught our doctors to speak out loud about what they need. This is necessary to do their job well and save lives.
- What would not have happened if not for the war? Well, for example, the experience that the team has now. And what else?
- There is no rest day or night. We are overwhelmed with work [gestures above his head].
- This is a doubtful advantage.
- It is a very big plus. The downside is when no one needs you. I once had a period in my life when I was out of work for a month and a half, and I know this feeling very well.
- You are a doctor and you have to save any person who needs it. Even if it is an occupier. Did you have to save them? And how do you feel about them?
- Yes, I have. Once we provided medical care to a 19-year-old boy. He was shaking all over. Maybe he thought he would be tortured here, I don't know. Both his legs were broken. We approached him and said we would do everything we could. He was stunned.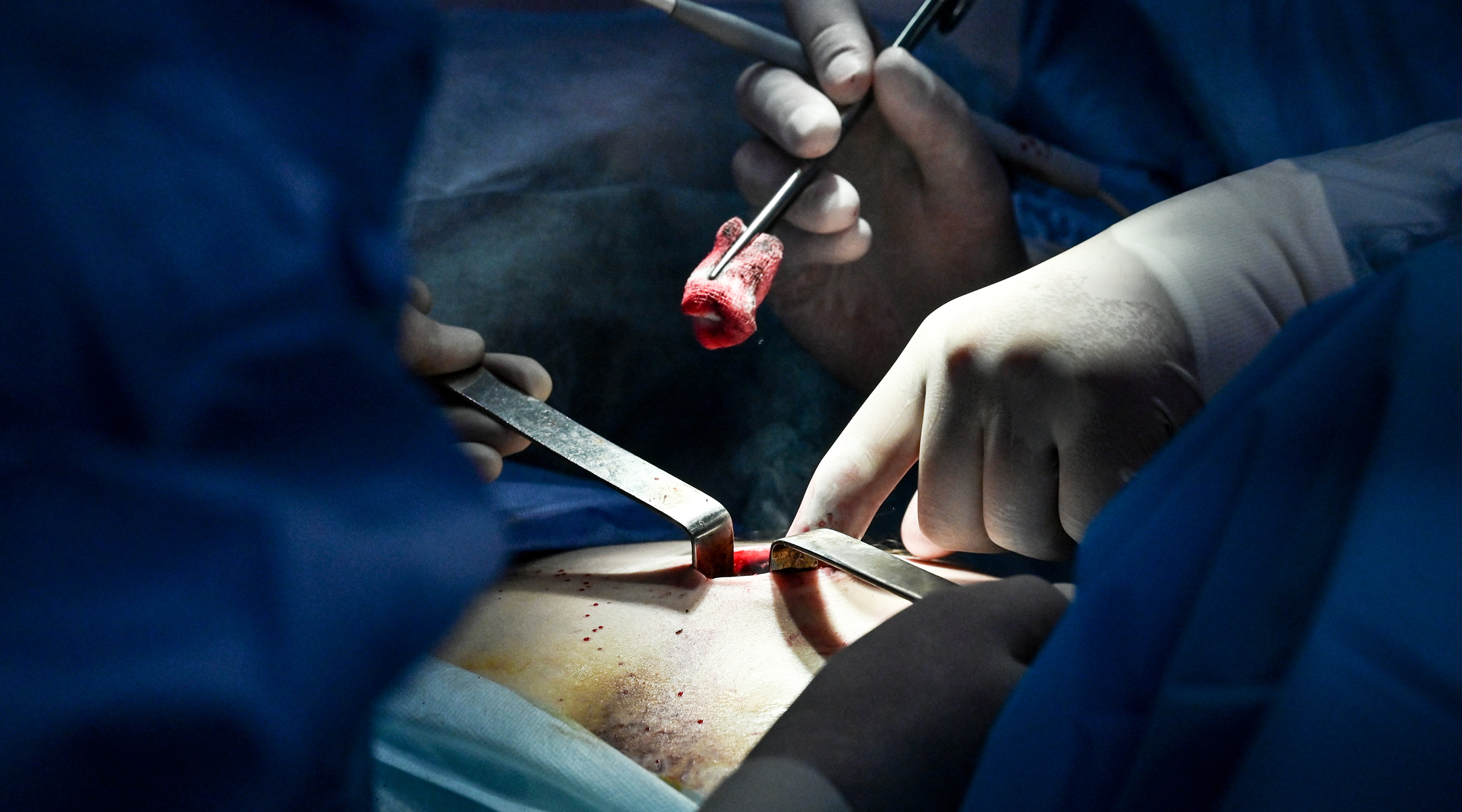 - As a doctor, you have to do this, it is your duty. How difficult is it from a human point of view?
- It's not difficult. We do our job, and the court should be somewhere else. We try not to think about it. Prisoners used to be brought to us. If we show emotion to everyone...
EMOTIONAL FACEBOOK
- It's hard to shock and surprise you, but perhaps you can recall a case?
- A man was seriously injured. The cervical spine was damaged. His arms and legs do not work. His girlfriend said she would take care of him like a child. She realizes that he will not walk and will not be able to do anything. The wedding was in the intensive care unit. He has lived for several months now, although there were almost no chances at all, and this is incredible.
- Are there any patients with whom you keep in touch after their recovery?
- Musa Nayyem wrote a letter of gratitude [he asked that this letter be brought to him]. Most people think that this is how it should be. They don't think about what would happen if they were brought to some other non-specialized hospital, where there is no neurosurgery, no equipment. They do not think that their lives would have ended there.
- Your Facebook is like a book. Do you manage it yourself?
- Yes, I do. I even have witnesses.
- Have you ever thought of publishing a book based on these posts?
- I'm even ready to provide advisory support if you take it on [he's talking either jokingly or seriously].
- How did you come up with the idea or desire to make such posts? In them, you tell horrible things, but you do it in a way that makes you want to read them.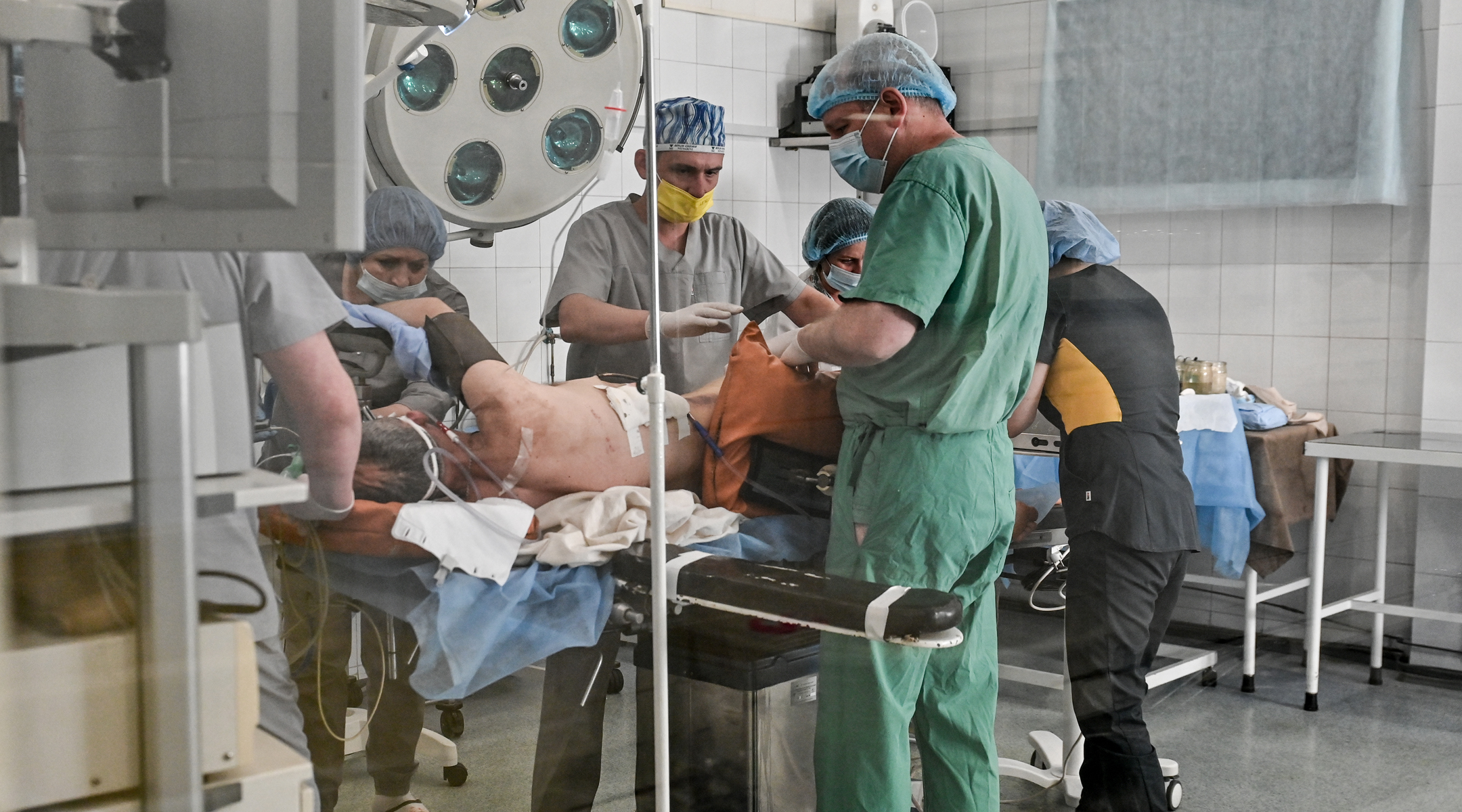 - These are emotions that not everyone understands, unfortunately. When I spoke at a meeting in 2014 and told about it, many people did not believe me, they thought I was making it up. But then our hospital received 3000 people.
- Now it's 20,000 people. How do you choose your stories?
- Sometimes you think it's over, he won't survive. And he clings to life. Out of hundreds of stories, I choose the one that touched me. Today, we received 70 people and I didn't choose a single story. They are all difficult. But they are all equally difficult [but he did post later].
Now I remember a story when a guy's legs and arms were torn off and he lost his eyes. His wife came to him. He started writing letters to her with a stump in the air. He couldn't say anything because the tube was sticking out. A story? A story.
- When were you on vacation?
- I don't remember. It was a long time ago. We don't talk about it now.
EVERYTHING FOR THE HEROES. IT'S AN ATTITUDE
We are walking down the hospital corridor, and Serhiy Ryzhenko gives me a letter that Musa wrote to him.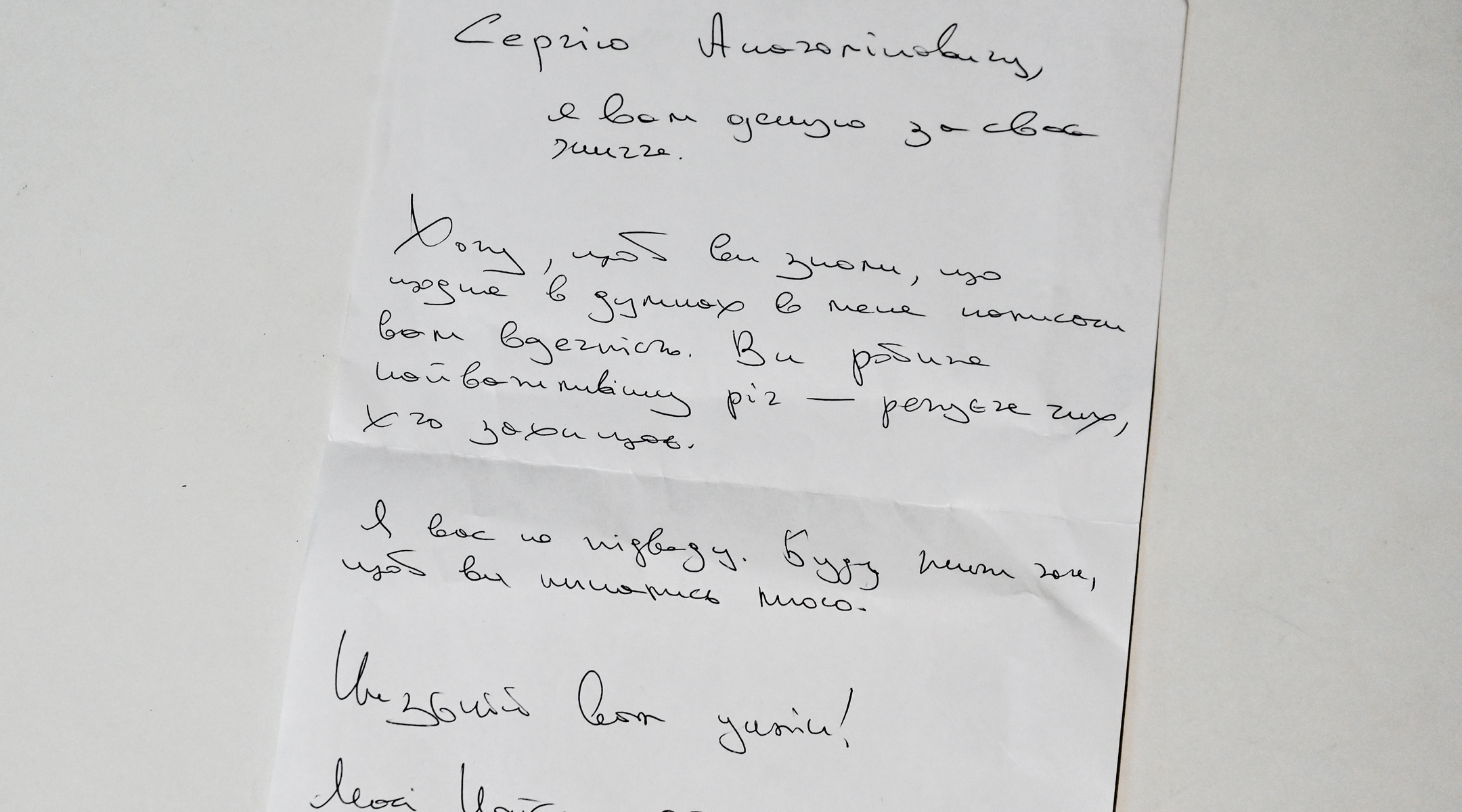 - Are these letters a kind of reward for you?
- I think so. I have about 300 such letters.
- What do you dream about as a doctor?
- I dream that we have a good healthcare system. I sometimes ask for help from volunteers, various organizations, and government officials. And then I read that equipment or medicines were given to Ryzhenko. It's not for me, it's for the patients, the hospital. But they write that they gave it to Ryzhenko. I want everyone to understand how important it is to provide hospitals with timely supplies. If there are no medicines, equipment or anything else, the patient will die, and that's it.
- History does not tolerate conventions, but still, what if you won the election in 2020 and became the mayor of Dnipro?
- Thank God I didn't become mayor... (laughs). I just don't have time for that, and I love my job - saving people.
- We have a battle flag that goes with us to the front line. Leave an inscription as a memento.
- I have a doctor's handwriting. Maybe someone will write it and I'll sign it (joking). Keep in mind that I write in a big way [and write on the flag].
- What did you write?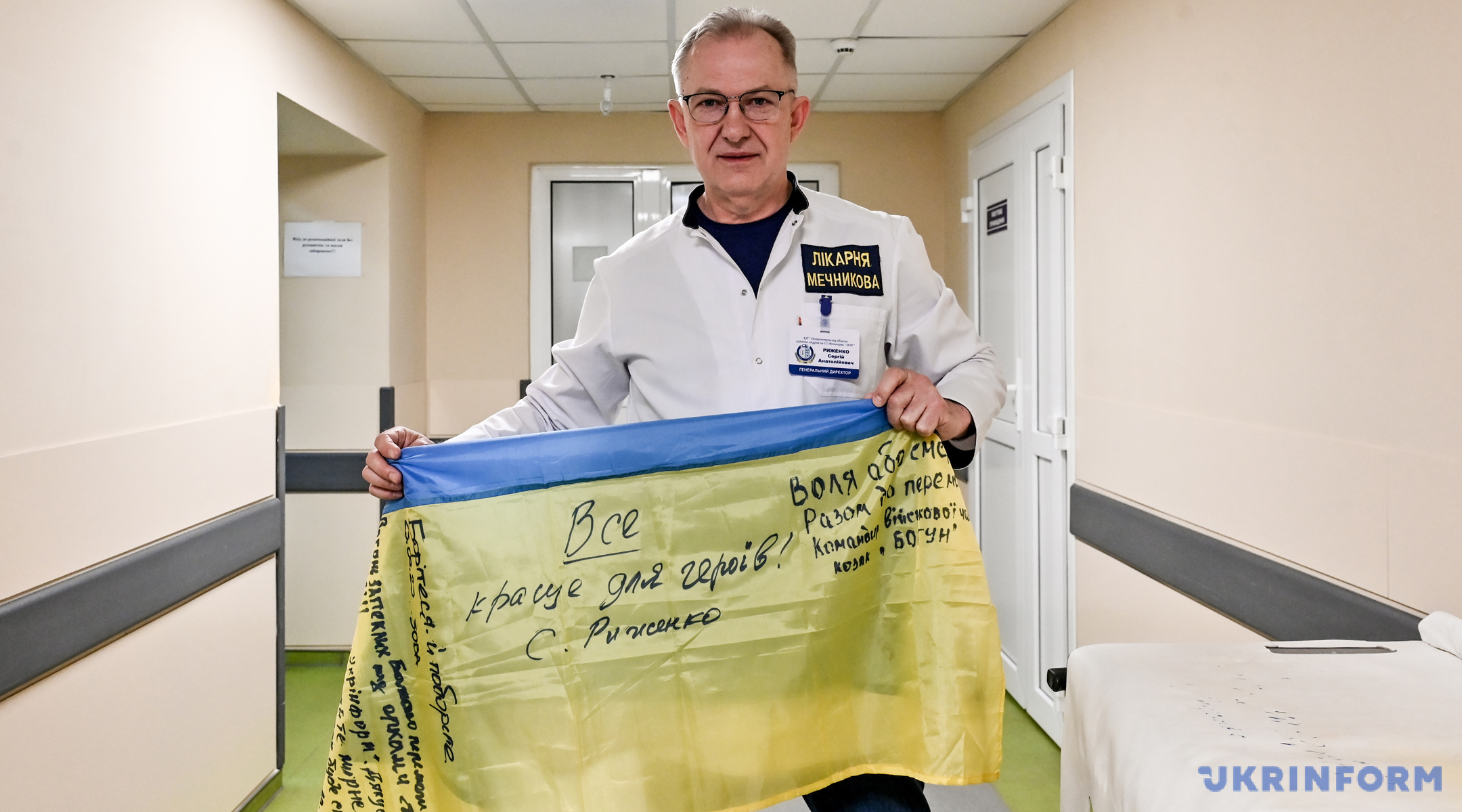 - The best is for the heroes!
- Is this a motto?
- It is a position.
Olha Zvonariova, Zaporizhzhia-Dnipro
Photo by Dmytro Smolenko