Peter Langstraat, lawyer of family members of MH17 Flight victims
To protect some witnesses, even the court does not know their names
16.06.2021 16:40
A regular court hearing in the MH17 trial will take place in the Netherlands tomorrow. The hearing on the merits began on June 7. During the first four days of hearings, photos and videos of Buk surface-to-air missile system were presented in court, judges read out testimonies of secret witnesses, who saw how the system was installed, and recordings of telephone calls of four defendants – Russians Igor Girkin, Sergey Dubinskiy, Oleg Pulatov, and Ukrainian citizen Leonid Kharchenko who fought on the side of "DPR" – were heard.
The MH17 case files consist of 65,000 pages. Lawyers have access to the case and have studied it well. Instead, their clients – family members of MH17 Flight victims – found out a lot of new things during the first four days of hearings. Some information was very difficult to perceive emotionally, in particular regarding the procedure for identifying the remains of the dead at the military base in the Dutch city of Hilversum, as well as the dissection and examination of the bodies of the dead with fragments of a missile that hit the passenger plane, causing the death of 298 people.
The prosecution and Oleg Pulatov's lawyers are expected to speak in court on June 17-18.
On the eve of the court hearing, Ukrinform talked to the lawyer of victims' family members, Peter Langstraat. He has been taking on the MH17 case since September 2014. In his Rotterdam office, an entire closet and two desks are covered with documents and files of the investigation into the tragedy.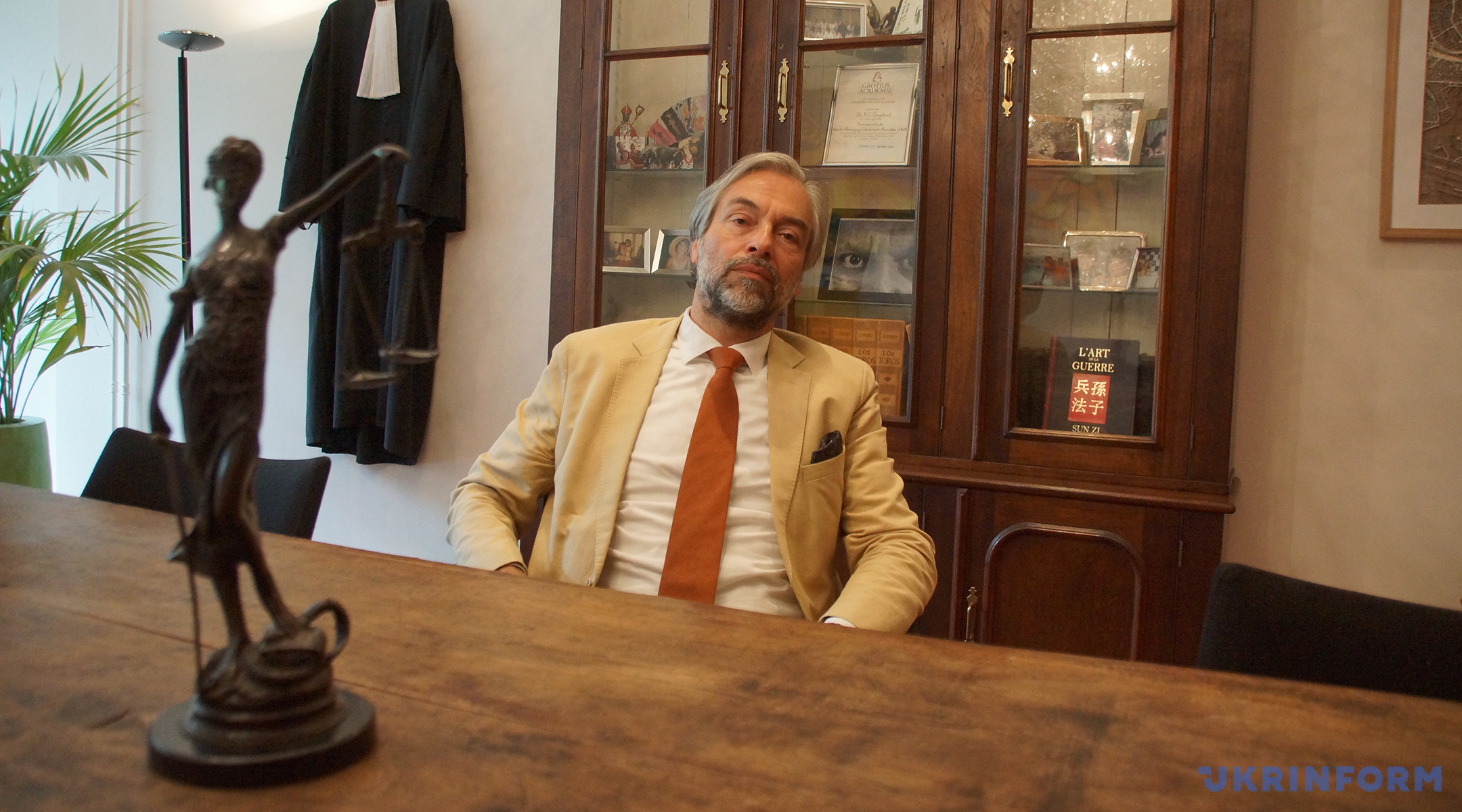 CLASSIFIED CASE FILES
Question: Mr. Langstraat, what is your impression of the first four days of hearings? Which of the files presented was new, shocking information made public for the first time?
Answer: For us, it was not much news but for the family members it was emotional sometimes, hearing about the metal parts in some bodies and seeing the images again of the crash-site after the downing.
Question: What impressed you personally the most during these four days in court? Have you examined all 65,000 pages?
Answer: First of all, the most impressive thing was that the court was able to summarize, make this fantastic summary – 65,000 pages of case files. This is a really big advantage – to be able to do this in a clear format because some parts of the case are very complex, but they managed to explain almost everything to relatives and people involved in the trial in a fairly understandable form. Nothing new was for us, we know the case files.
Question: Do you have access to all 65,000 pages of the MH17 case files?
Answer: Yes, I have. We received case files that were classified. We could not share all the files we received with our clients, the relatives of the victims, but we were able to discuss the case in general terms. So there was nothing new for us, while the relatives of the dead found out some new details. Some points were very impressive, in particular the procedure for identifying the remains.
Question: Did you know anyone on board the MH17 Flight?
Answer: No, I do not know anyone who was directly on board but, as I said, this is the largest attack on the civilian population of the Netherlands since World War II. And everyone, including me, knows someone who knows someone whose neighbors were affected by this tragedy. It has spread throughout Dutch society, but personally I don't know anyone. This also makes it easier for me to do my job because when you are directly involved in a tragedy, such as losing a friend or being a relative, your emotions run high. And it complicates everything because as a lawyer you always have to be at arm's length to keep a clear head. For example, here is the chair I'm sitting on now: one of my clients was sitting on it. This man lost not only his son but his entire family. When you talk to such clients, of course, you are overwhelmed with emotions.
Question: But I sometimes see emotions on your face and other lawyers' faces in the courtroom.
Answer: Yes, because you know the atmosphere in the courtroom. I think that it will be especially powerful and emotional in September when 90 relatives of MH17 Flight victims will appear before the court for three weeks. It will be really difficult even for us. There may be some moments when we will have to keep emotions under control, and this is not always easy. But it's part of our job, I've been in it for 32 years, I'm trained a little bit. Strong emotions are always inherent in any serious case involving physical or moral injury when someone receives disability or dies and you talk to relatives. But MH17 trial is very special, because it is multiplied by 298 and, therefore, it cannot be compared to other cases.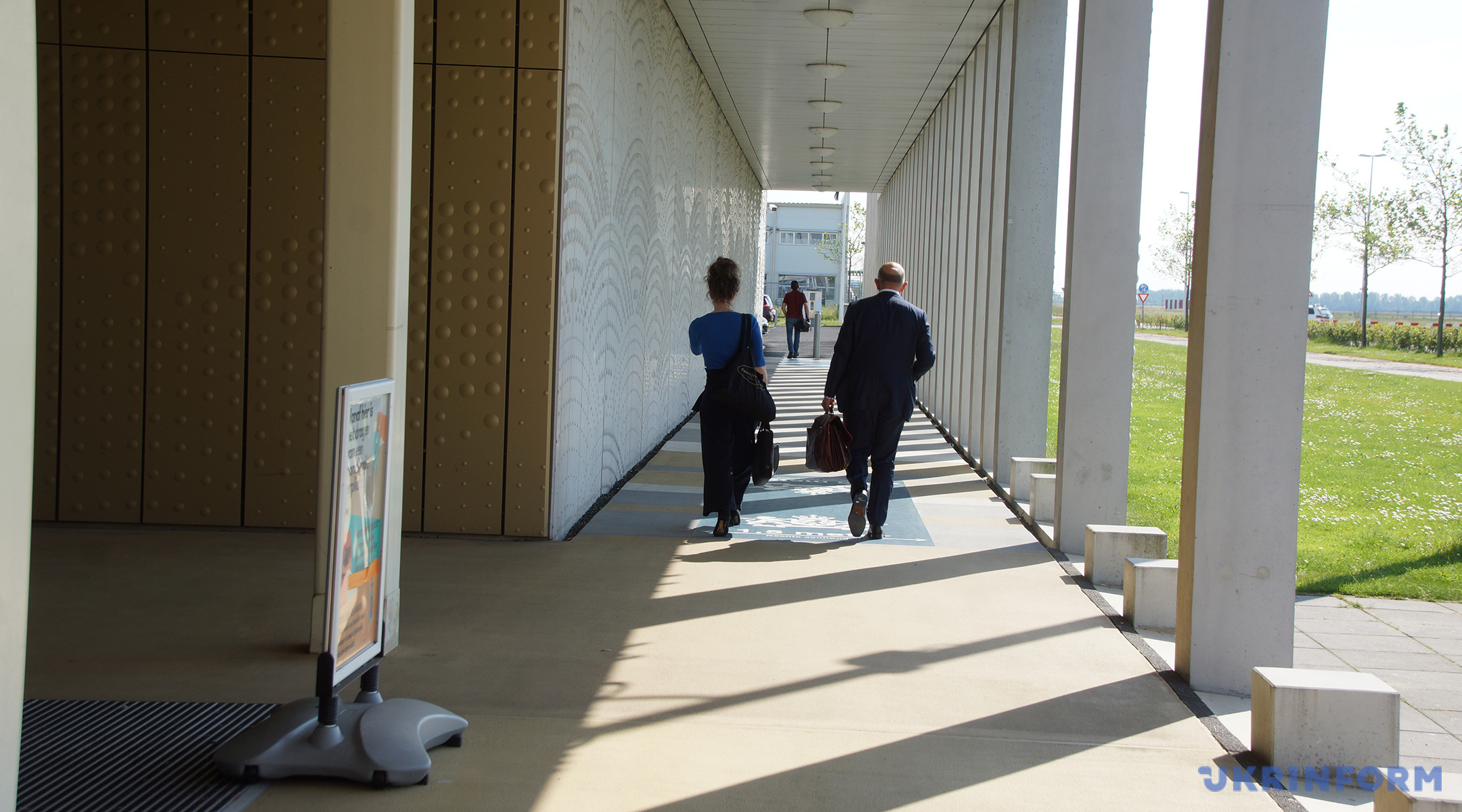 WITNESS PROTECTION
Question: During these days we could also hear that there are witnesses who saw Buk, saw how this system was installed. What about these people? Where are they? And will we see and hear them one day in the courtroom? Witnesses are classified, but can they, for example, appear in court as shadows with altered voices?
Answer: As you have heard, in order to protect some witnesses, even the court does not know their names because, as you know, they are in danger. So they were questioned by an investigating judge, but it is very unlikely that we will see these people in court.
Question: Do you know anything about the information that these people allegedly now live in the Netherlands?
Answer: No, we do not know anything. They are under the protection of a special program, that's all we know. What this program is exactly, where they are, whether their names have been changed – we do not know. And it is good that we do not have any information about it, because if we had such information, this program (witness protection) would fail as there is a real threat for these people, it is obvious.
EARPHONE HELMETS
Question: What do you know about the Buk system crew? Will the investigation focus on who these people are? Will they be tried?
Answer: The investigation continues, we know this from the district attorney. But the longer it takes the less likely they are to be brought before the court. What we know from the witnesses they had helmets with "ears" typical for the Russian military and some said they even spoke with an accent from Moscow.
Question: Currently, the consideration of MH17 criminal proceedings against four persons is ongoing at the Schiphol Judicial Complex. However, new names of those involved in the tragedy appear from time to time. Will there be trials against other people – those who, in particular, directly pressed the button and gave the order?
Answer: I think we need to be realistic: the longer it lasts, the less likely it is that new suspects will be brought to justice. Of course, since we only have general information from the district attorney, this is the only guess for us, but sometimes you can hear something in between, and for us there is no indication that new suspects will be brought before a Dutch court. This is very disappointing. Who were the people who pressed the button? Russian military? Who sent them? What were their orders? Was that a mistake? If it was a mistake, why did they make it? You have all these questions. And, of course, it would be great for the families of the victims to get answers. The longer it lasts, the less likely it is that people involved directly will be taken to a Dutch court.
Question: In your opinion, was it a mistake?
Answer: According to those pieces of information, in particular, the published audio recordings, we may think it was a terrible mistake.
REPRESENTATIVES OF DEFENDANT PULATOV
Question: What do you think about the Dutch lawyers who represent one of the four defendants, Oleg Pulatov? Are they involved in the process to have access to the case files so that Russia, in turn, has the access to the case files through them?
Answer: We don't know what communication they have. They represent Mr. Pulatov – that's all we know. But we do not know what part of Pulatov's file was transferred to the people in power in Russia. There is a lot of speculation about this. But we also discussed this with the relatives of the victims, and we are glad that they are there, because you can imagine what kind of trial we would have without them. Now there is an antagonist in the trial, a lot of details, we focus on every emphasis they make. On the one hand, the relatives of the victims are sometimes a little bit angry with these lawyers because they prolong the case, file petitions that do not matter, it causes some irritation. But on the other hand, they say: "We are glad that you are here because though it is not a full-fledged trial now, the defendants are not present in court, but it is still closer to a full-fledged trial."
Question: Could you be Pulatov's lawyer?
Answer: It is impossible for me because I am not a criminal lawyer, I do not have the relevant experience and knowledge. I am a personal injury lawyer. This is also the reason why we have criminal lawyers whom we have asked to join our team because they have the relevant knowledge of criminal law. So, first of all, I couldn't do that. To be honest, if you are a criminal lawyer in the Netherlands and have nothing to do with family members or people, who knew the family members of the victims, then the case seems big and reputable, you are in the spotlight every day, but also each of your mistakes will be in front of the camera. So it is a big responsibility for them.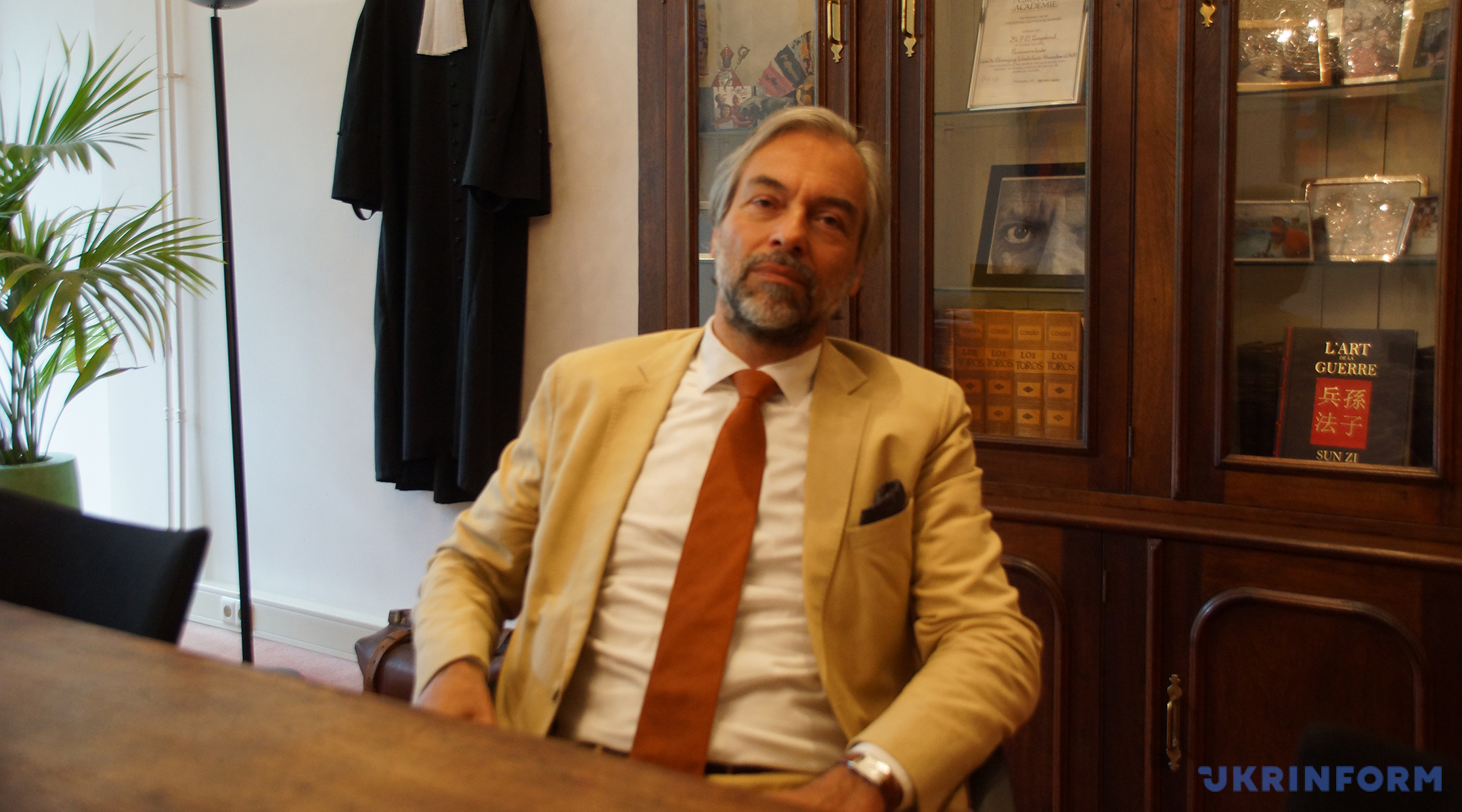 ECHR TO HOLD HEARINGS IN NOVEMBER
Question: After the tragedy, the family members of MH17 Flight victims appealed to the European Court of Human Rights, accusing Russia of human rights violations. When will the ECHR hearings take place?
Answer: The ECHR hearings were postponed to November 24, 2021, but that is the combined case of the Netherlands and Ukraine against the Russian Federation and will only be about formal legal issues, mainly admissibility [of the case for consideration].
Question: Is there a risk that the ECHR will not consider the case on the merits? It may rule that the lawsuit should be primarily filed in Russia as according to the procedure when you sue a country, you must first exhaust all legal remedies in that country.
Answer: There is a certain risk because of the rule of "exhaustion of domestic remedies". However, there is no possibility in the Russian Federation in a criminal procedure to hold the Russian Federation accountable. And more practical and realistic: it is very unlikely that any judge in the Russian Federation will rule against the government in a case like this. Last but not least: no lawyer in the Russian Federation will be willing to start such a procedure against the Russian state.
Question: How do you estimate the role of Ukraine in this tragedy?
Answer: Well, some say the tragedy was caused because Ukraine did not close the airspace. Some victims of the tragedy victims are still angry about that. But a recent investigation instigated by our parliament did not lead to that conclusion.
Question: How many lawyers are involved in the MH17 trial? How many of them are in the Schiphol Judicial Complex and in the ECHR?
Answer: The team has six personal injury lawyers and two criminal lawyers for the criminal trial. For the procedure at the ECHR, the team consists of one personal injury lawyer and three other lawyers, specialized in human rights. So the total team is 11 lawyers.
Question: How do you assess the trial in the Schiphol Judicial Complex and how many years can it last? In your opinion, will there be a trial against those who pressed the button, gave the order, and against Putin? Who do you think is responsible for delivering Buk to Ukraine?
Answer: As said, a verdict in the criminal trial will be probably delivered in spring next year. I don't think the persons who fired the Buk missile will be brought before the court. All evidence points to one direction: the Russian federation delivered the Buk missile and the necessary military personnel to the separatists in the East of Ukraine.
Question: When, in your opinion, a judgment on four defendants will be delivered?
Answer: I expect a decision somewhere between March-June 2022.
Iryna Drabok, The Hague
Photos courtesy of the author