Anastasiya Yevchenko, director, screenwriter and actress
My spiritual mentor is Salvador Dali; my next play will be based on his book
08.08.2020 09:43
The world has changed dramatically because of the pandemic. We can even assume that our reality looks like a script for a classic film with an engaging and unknown ending for both the director and the audience. Many famous film festivals have been canceled or postponed indefinitely. Online festivals are luckier in this way, one of which is the American "Top Shorts," that has been held in Los Angeles for several years.
This year, among the winners of the festival, were a young Ukrainian director Anastasiya Yevchenko, with her debut short film "If We Had Tomorrow." In her first big interview, Anastasiya spoke about her childhood; studying in the United States; shooting of the short film at home and its world premiere in Milan; a soldier of the Russian-Ukrainian war, who played the leading role in the film; love of theater and cinema; surrealism in her creativity; reaction to haters on social networks; and the desire to glorify Ukraine around the world.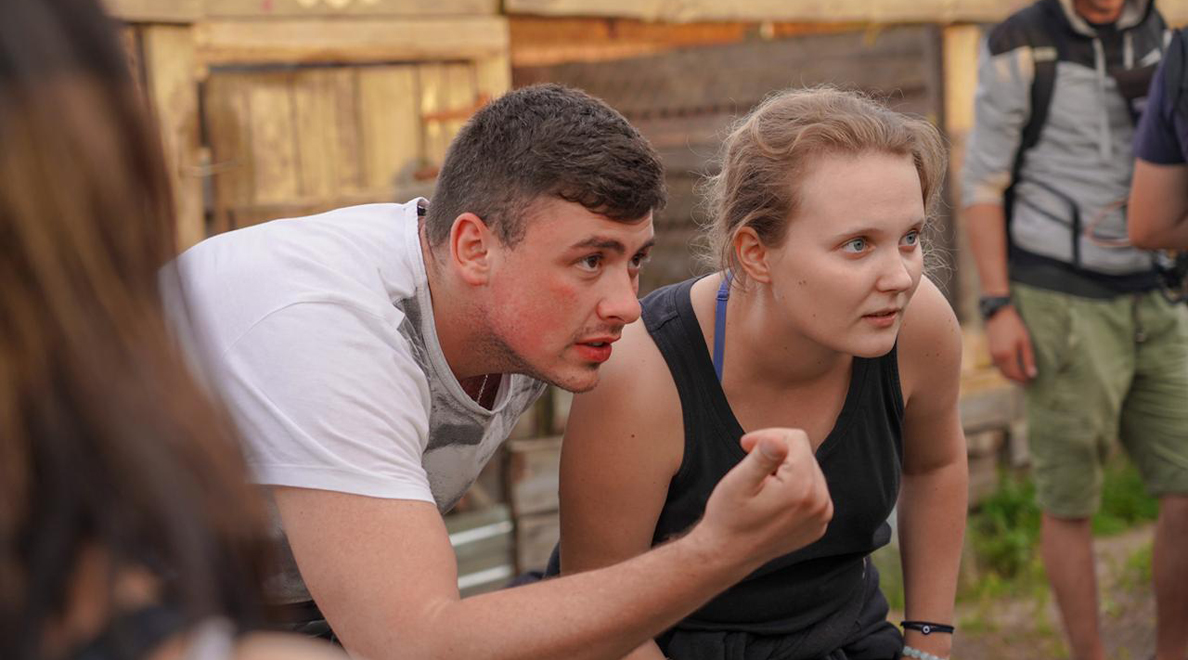 PARENTS ALWAYS SUPPORTED MY DESIRE FOR CINEMA AND THEATER DURING THE SCHOOL AGES, BUT THEY WERE REALLY SURPRISED WHEN I DECIDED TO DEDICATE MY LIFE TO ART.
- You are a young Ukrainian director, screenwriter, and actress born in Kyiv, in an intelligent family. Please tell me about your childhood.
- First of all, I would like to mention that since my childhood, my parents always supported me. I have studied at the children's show theatre "Chunga-Changa" here in Kyiv on Prorizna Street. It was there when my love for acting, theatre, and cinema began. When I was graduating from high school, there was a choice to be made: which University should I choose? My parents thought I should choose something "serious" and apply to a "business" major instead of acting, but I managed to convince them, so they supported my choice in acting. However, somewhere in the middle of my freshman year, I realized that I like acting, but my heart belongs to directing.
- So, you want to say that you didn't have any generation gap with your parents? I know that very often, parents are rather skeptical about a child's desire to make art.
- Oh, yes. At first, they didn't take it seriously. They supported my desire to be creative at school, but they were really surprised when I decided to dedicate my life to art. Undoubtedly, I managed to convince them, and now I am very grateful for this strong support from their side.
AMERICAN EDUCATIONAL SYSTEM IS PAYING A LOT OF ATTENTION TO THE ABILITY TO FORM A STRONG OPINION AND DEFEND IT AT ALL LEVELS.
- At 18 years old, you entered New York University, where you still study filmmaking and production. I think that sometimes you communicate with young Ukrainian actors and producers. What do you see in common and different in the Ukrainian and American approaches to creativity?
- Unfortunately, I cannot say for sure, since I haven't studied at Ukrainian universities. But I can refer to my peers' experience and my personal experience of studying in middle school. The main difference is that in America, from the first classes in freshman year, they immediately teach you and tell you how to do research properly and not just read one article on Wikipedia or limit yourself to only one book. In-depth research is crucially important for actors, throughout the preparation stage, because you have to clearly understand your character before going on stage or before filming. The ability to form a strong opinion and defend it at all levels is an essential component of any good artist. The professors are practitioners themselves. They know what is happening in the industry and always share their practical knowledge and experience. I should also say that the American education system makes it possible to search for 'who you are' and your true passion. For example, even if you have a medical degree, you can take business or even acting classes simultaneously, and you don't need to re-apply or change your major. I have my major in theatre and two minors in producing and filmmaking. And I am very grateful to the University for this opportunity.
I HOPE THAT UKRAINIANS WILL BE ABLE TO SEE OUR MOVIE VERY SOON.
- In May, Los Angeles hosted an online film festival called "Top Shorts," and your debut movie won an award. Tell us about your feelings when you saw your name among the list of winners?
- Of course, I didn't expect that. But it certainly wouldn't have happened without our fantastic, amongst whom we had an incredible DOP Eugene Kirey, our production designer Nadya Jupiter. Also, also my deepest gratitude to my co-producers Sergii Sushon and Patritsiia Kuznietsova. And, of course, a BIG thank you to everyone who believed in this film and helped this project to happen. Our film has already 14 awards. I think it's a pretty good start. Right now, we are looking forward to the film's Ukrainian premiere because it is exciting to find out what our viewers will say about the movie.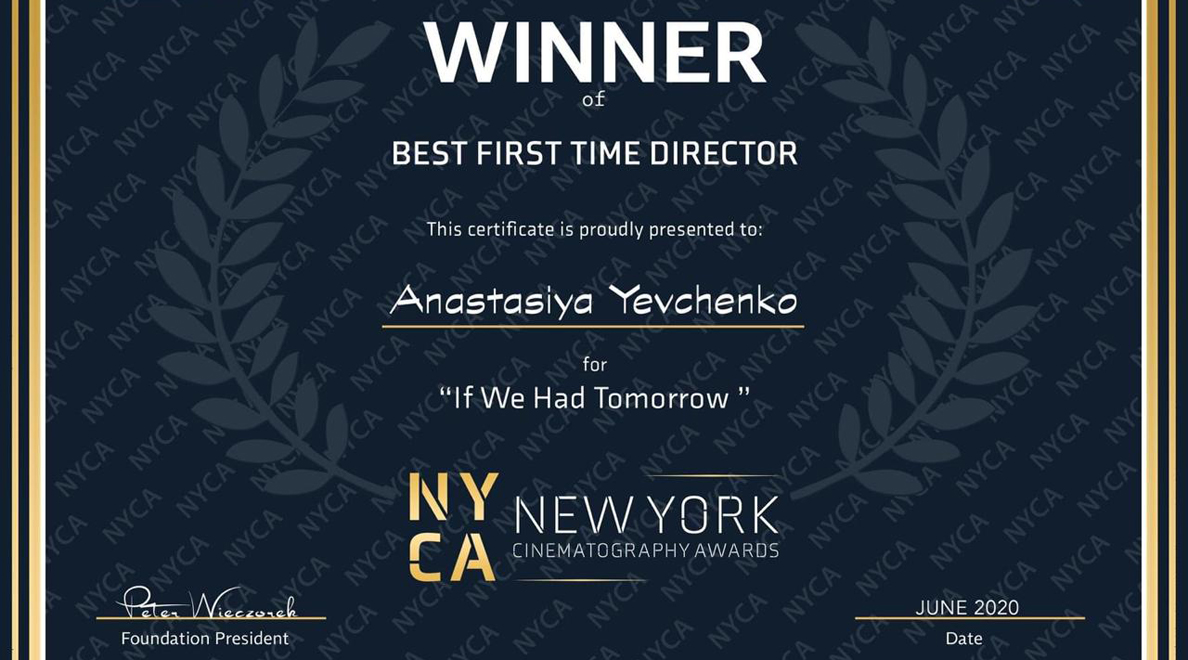 - Due to the pandemic, almost all Ukrainian film festivals are either postponed or held online. When will the Ukrainian audience be able to see your film? Maybe you know an approximate date?
- Unfortunately, there is no exact date yet, but we have submitted our film for various Ukrainian film festivals and still waiting for a response. I really hope that the Ukrainian premiere will be very soon. It would be wonderful if the premiere will be live, but even if it is online, we will be thankful and glad.
- If not a secret, which Ukrainian festivals did you apply?
- We have submitted our film to various Ukrainian film festivals: "Molodist", "Odesa", "Lviv Wiz-art." All these festivals are held in different cities of Ukraine.
IN OUR FILM, THE WAR IS SHOWN THROUGH A SURREALISTIC LENS. THE FILM CAUSED A MIX OF REACTIONS AMONG THE UKRAINIANS IN ITALY.
- How different is the audience in the USA and Ukraine? Maybe you have seen any difference in the perception of your film?
- Frankly speaking, I have not yet received any direct feedback from the Ukrainian viewers, but we have already shown our film at the General Consulate of Ukraine in Milan. In my opinion, the film received some positive reactions from the viewers. Everyone was surprised that the war was shown not through its hostilities and military action, but through the surrealistic lens, so the images caused quite controversial feelings. It was really interesting to hear the opinions of our Ukrainians in Italy. Unfortunately, we haven't had our public screening in Ukraine just yet, because the film is still continuing its festival history. There will be screenings in Ukraine very soon, and after that, I will be able to make more extensive feedback.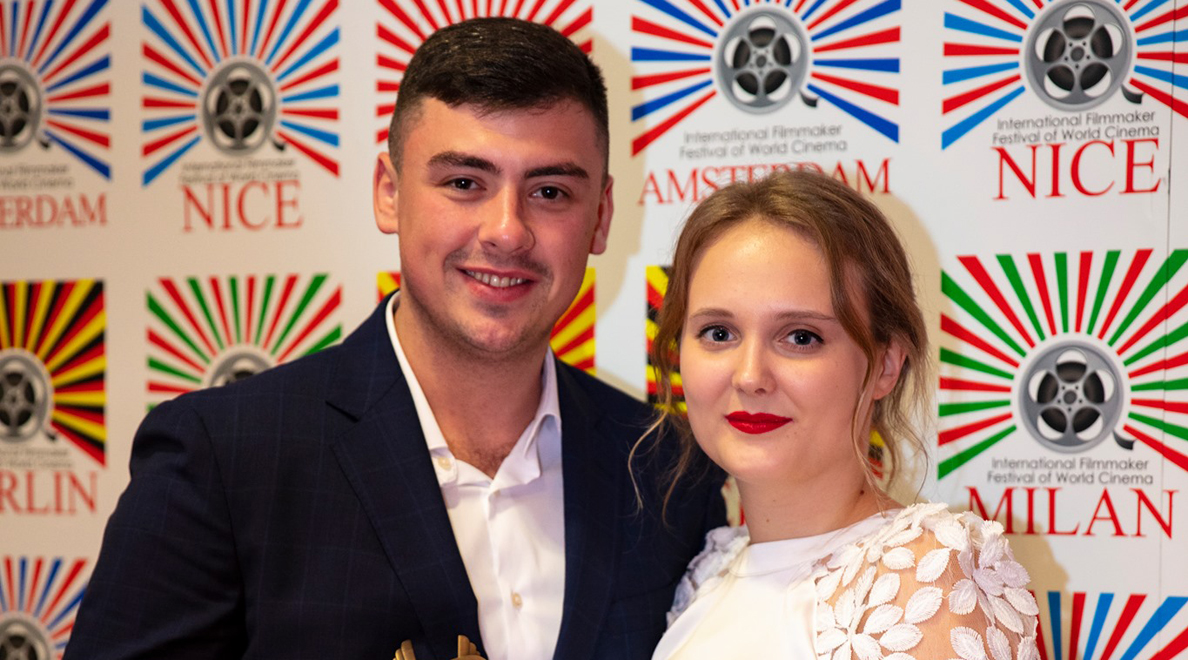 - Most of the festivals are quite expensive for ordinary Ukrainians. Do you plan to lay your film out for public access?
- Of course. However, first, we need to finish our festival journey, maybe then we will do a joint screening with other Ukrainian short films, and only after that, it will be possible to upload it on the Internet.
WE HAD ONLY THREE SHOOTING DAYS IN THE HEAT OF 40 DEGREES.
- The film was shot in Ukraine in July 2019. Tell us about the filming process and some curious moments that happened during the filming process?
- Well, we had three shooting days. The shooting was quite difficult because almost everything was filmed outside under the 40 degrees boiling sun.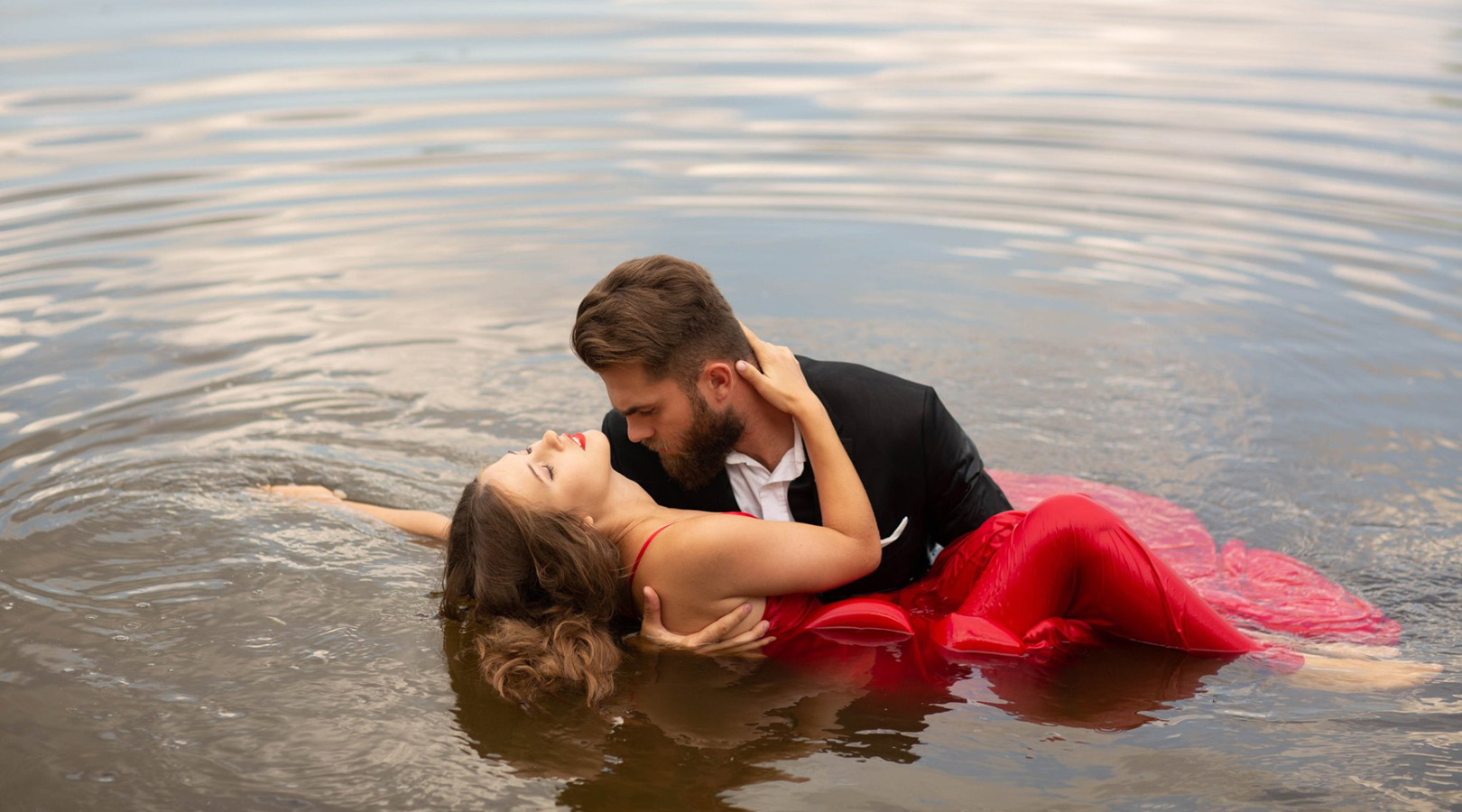 Furthermore, it was pretty funny when we were filming our "passionate" dance in the lake - our actress was bitten by a leech. But do not worry, no one got hurt, but it was hilarious indeed. While we were filming the scene in the trench, a mystical story happened: we saw many hot air balloons in the sky, and we were just about to shoot our hot air balloon scene the next day - a coincidence!? Do not think so! When we were filming a scene in the lake, we saw a family coming to us: mom, dad, and a boy. They had a lot of toys and a mattress in their hands. Our administrators thought that they had just come here to rest and politely asked them to leave, and then it turned out that this boy was our actor, so we almost lost our actor. As I said before, it was very hot, and the only place with air conditioning was the toilet, so we had a lot of fun when the crew members would advise each other to go to the bathroom, where they will see a pleasant «surprise».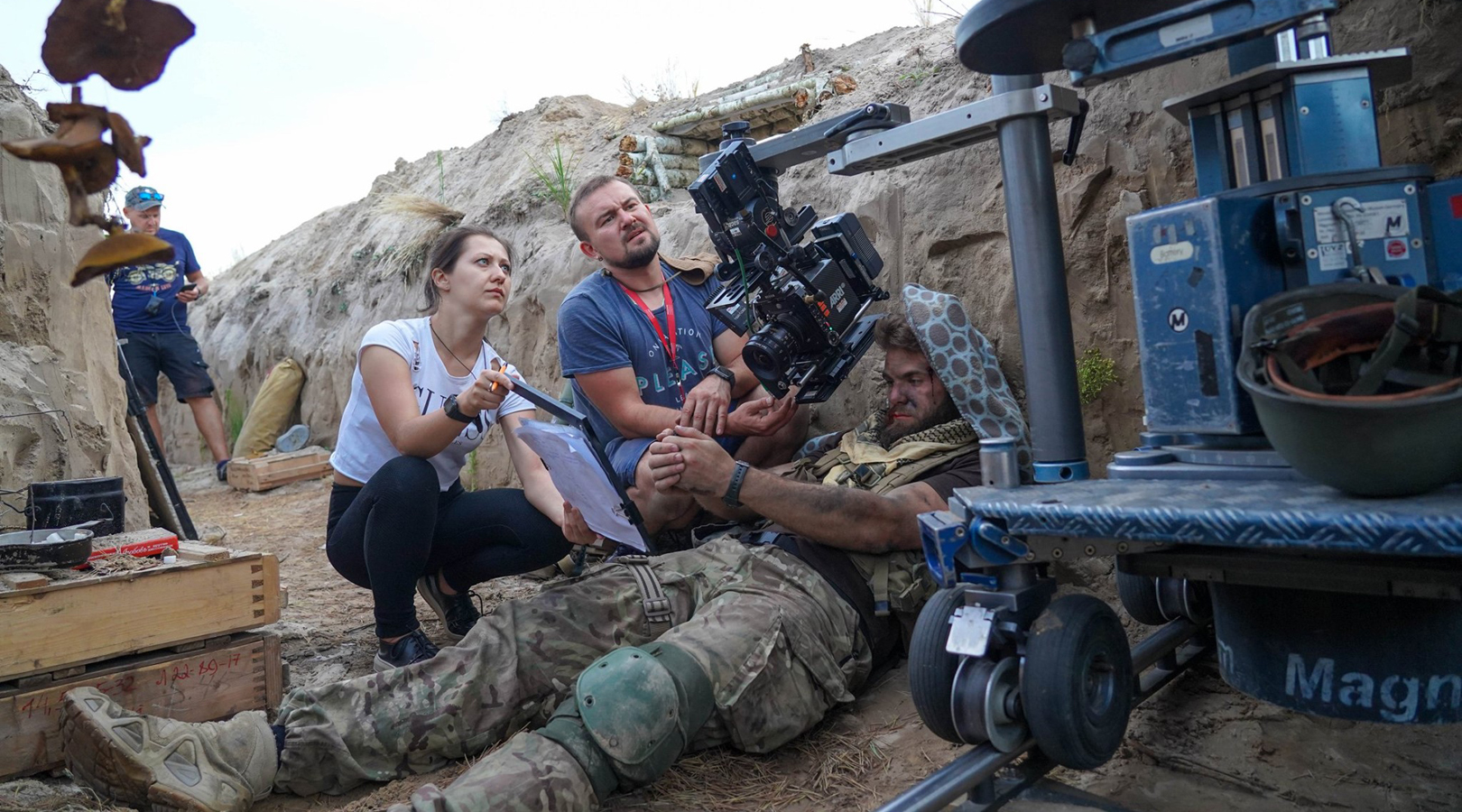 It should be noted that we had real difficulties with our music. Just imagine, to fit the deadline, we managed to record a beautiful jazz composition in one day. We were lucky to find «Na Hati Records», where the owner of the studio Oleksandr Sadovets gathered incredibly talented musicians, who immediately recorded it. By the way, this music was a perfect match for our hot air balloon scene.
I THINK WE WERE THE FIRST ONES IN UKRAINE TO LIFT THE BATHTUB IN THE SKY ATTACHED TO A HOT AIR BALLOON.
- You talked about the bathtub and the balloon. Did you really take a bathtub and attach it to the hot air balloon, lifting it to the sky?
- Yes, we really did it. There were no stuntmen. Of course, close-ups and medium shots were filmed using green-screen, but the moment when they fly to the sky was shot live. We lifted the actors just a little bit, but the hot air balloon pilot Volodymyr Yashchurynskyi and our production designer Nadya Jupiter were lifted up high. The hot air balloon was held with special ropes so that it would not fly away, but during post-production, we removed them. I don't know if anyone else in Ukraine did it, but it seems that we were the first to do it.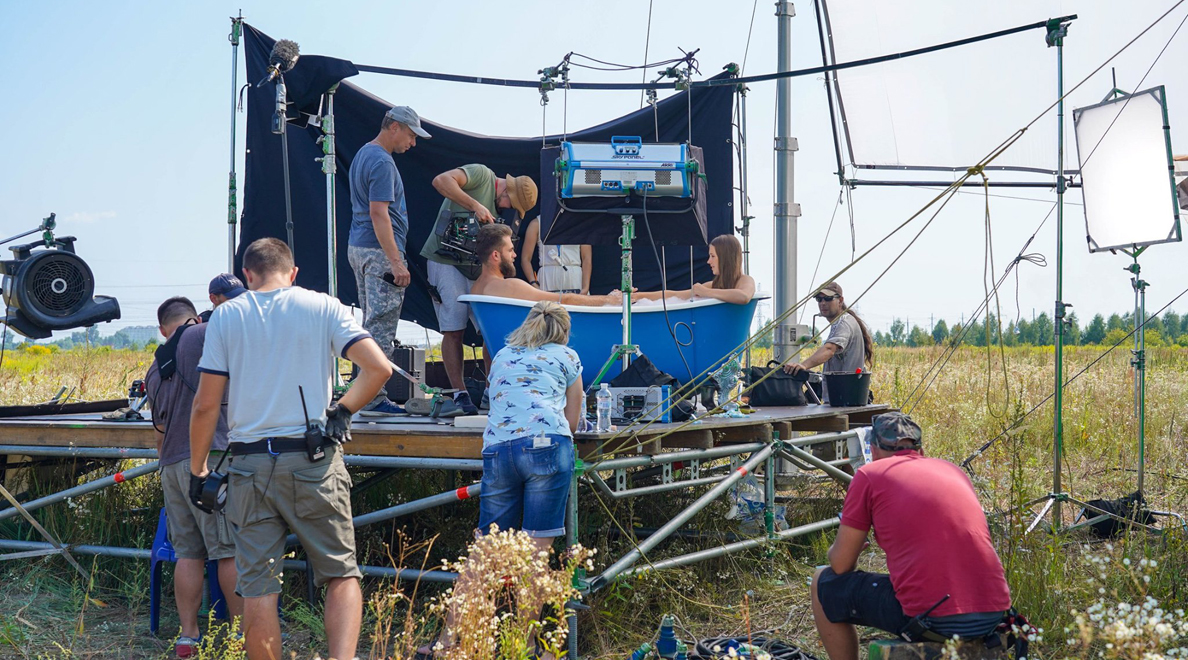 OUR LEAD ACTOR IS A FORMER SOLDIER OF THE RUSSIAN-UKRAINIAN WAR.
- Undoubtedly, art is multifaceted and is not limited to one meaning, especially surrealism, where everyone has to see something special, but I really want to know about the main idea that you put into this film.
- The film is entirely open for any personal interpretation. The film is based on the Russian-Ukrainian war, but itself it is not about the war, because we don't show any military action. Our film is about choice and the corridor of opportunities, where the main character (soldier) chooses which door to open. And war is an obstacle to a happy life and even to the existence of these doors. Our lead actor is a former soldier of the Russian-Ukrainian war. Despite the fact that Oleksii Oleksyuk was not a professional actor, we had a great collaboration. I am convinced that we have a high-quality product. Talking about hidden meanings, I would prefer not to express my own opinion about my projects because it can affect the viewer's perception. There are many symbols and hidden meanings in this film - from the elements to the doors' colors. The film begins and ends with fire. The bathtub & hot air balloon scene is an example of fire and air merging and creating a new family and life in the water. Fire – man, air – woman, water – child, earth – dog. I won't say anything else - otherwise, the film won't be exciting to watch.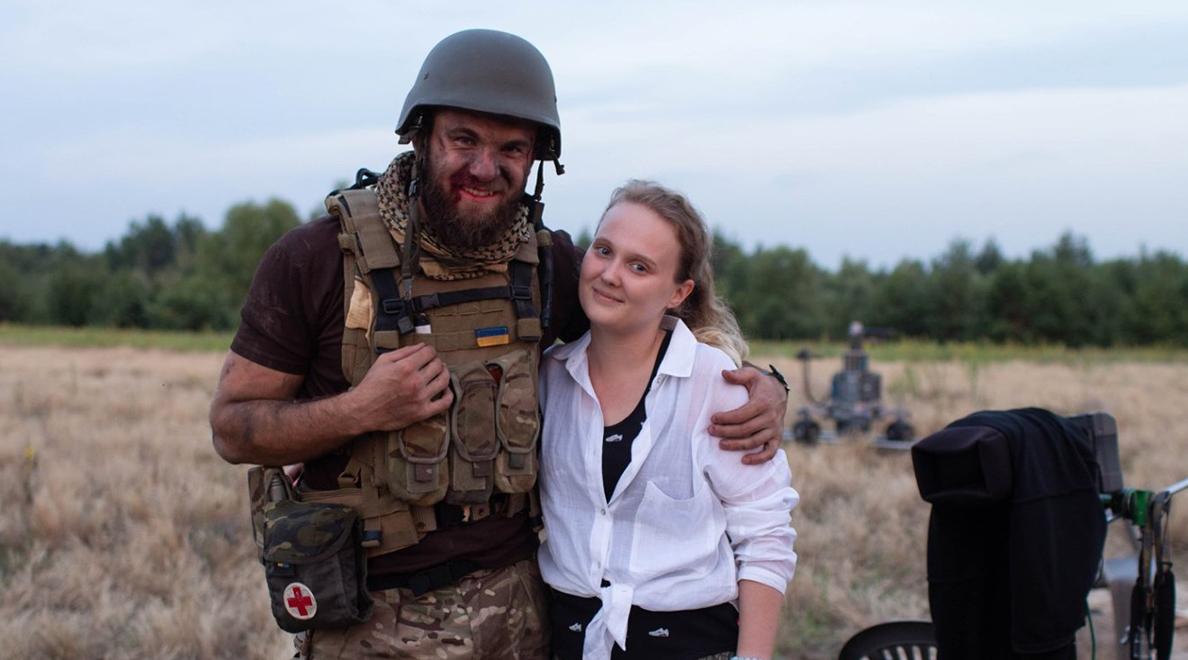 ON THE 6TH OF JUNE, I STARTED WRITING THE SCRIPT, AND ON THE 25TH OF JULY, WE BEGAN FILMING.
- How long does it take to write a screenplay for a film?
- It really depends. There is an interesting story when two years ago, I went to my family friends in Philadelphia, that's where this idea first came to me. A year ago, I was in London and went to the Dorothea Tanning exhibition, where I saw the painting "Birthday". In the background of the canvas, there was an endless corridor of doors, and I really liked it. After that, I tried to put the puzzles together in my head, how everything is interconnected in our world. Then, on the 6th of June, I started writing the script, and on the 25th of July, we began filming.
I LIKE THEATRE BECAUSE EVERY MOMENT THERE IS UNIQUE, AND THE SPECTATOR BREATHES THE SAME AIR WITH AN ACTOR. ON THE OTHER HAND, CINEMA CAPTURES THAT MOMENT, AND IT CAN BE WATCHED REPEATEDLY, THUS RECOGNIZING AND REVEALING VARIOUS DETAILS.
- You are only 22 years old, and you are already writing screenplays, producing, and directing. It seems to me that it is quite challenging to develop well in several directions at once. Where exactly do you see yourself in the future?
- I'm primarily a director. I also write and enjoy producing and sometimes think about acting. Earlier I was tormented and felt that I had to choose between film and theatre. But now I realized that this is not the case. Cinema and theatre - they are both similar but also very different. I like theater because this moment will never happen again, and the audience breathes the same air with the actors. The film is interesting because it captures this moment forever, and then we can watch it and constantly see various details that we did not notice before. Therefore, I decided not to choose between them, but to develop in two directions simultaneously. For example, I do one project in the cinema, then return to the theatre and back. I want my career to be a combination of cinema and theatre. And now, I started working on a project related to theatre. The Gala-Dali Foundation and Peter Owen Publishing House gave me theatrical rights for Salvador Dali's novel "Hidden Faces" ("Visages cachés"), that is why I am wearing this mask today. I am planning to stage an immersive theatre based on this novel here in Kyiv this fall. At the moment, I am just doing research and will soon start writing this play.
I LOVE UKRAINE, AND I WANT THE WHOLE WORLD TO KNOW ABOUT MY MOTHERLAND.
- With your background in America, please tell me how difficult it is for young and creative Ukrainians to realize themselves there?
- It is quite difficult to say because I am making my first artistic and professional steps in Ukraine, even though I am still studying at NYU. Creativity has no boundaries. I would love to work in Ukraine, Europe, America, Asia, and etc. I love Ukraine very much, this is my homeland, and I really want the whole world to know about our country. It is also crucial for me not only where, but also with whom I work. After all, film and theatre are collaborations. And the team is significant, not only professionally, but also in terms of human attitude and interactions. There are many professionals in Ukraine who can work as a team because they really believe in what they do. The whole team was «on fire» because everyone believed in this film and was interested in its quality.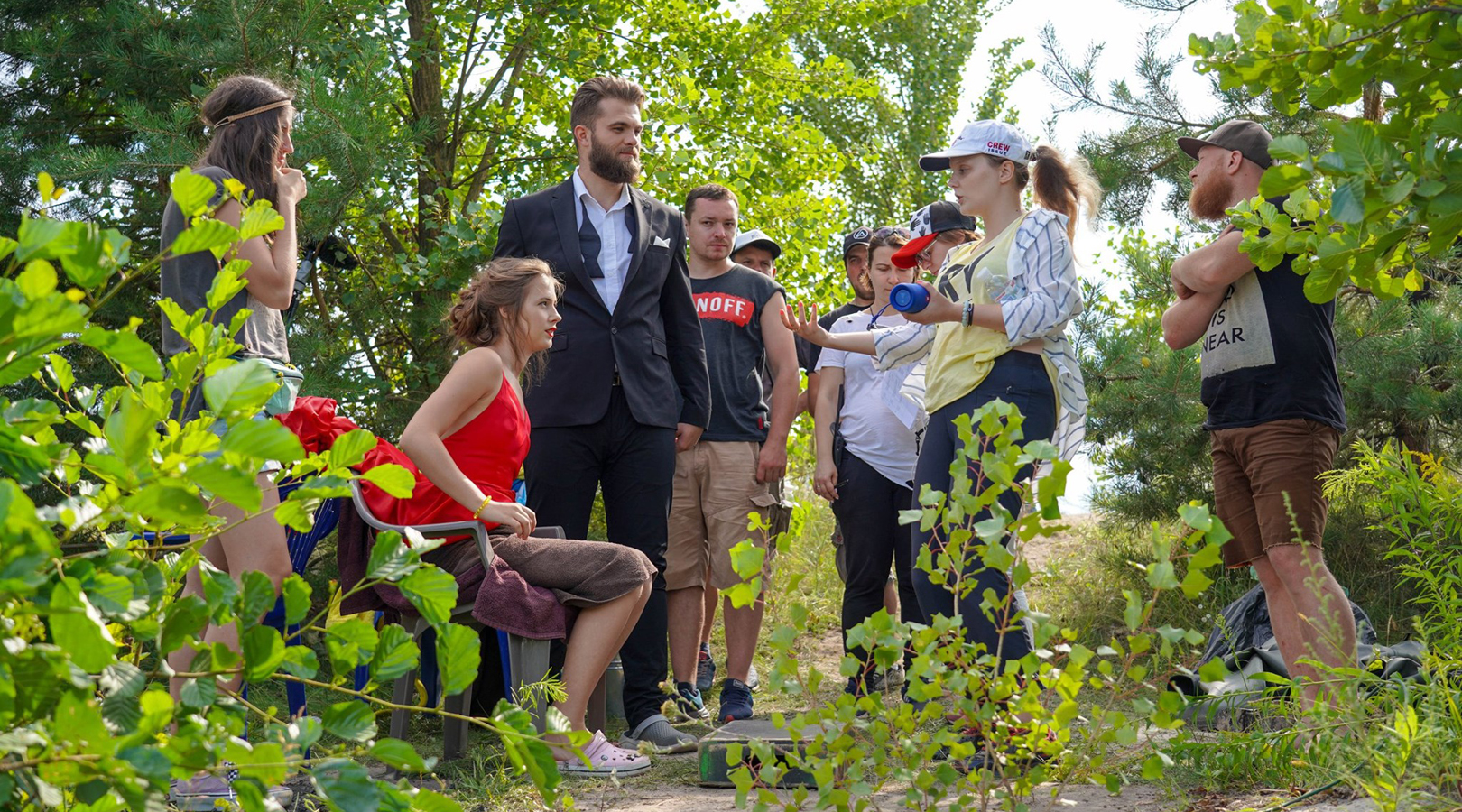 UKRAINE HAS ALL CHANCES TO BECOME A CENTER OF WORLD THEATRE AND CINEMA, BUT WE SHOULD NOT BE AFRAID TO EXPERIMENT AND SUPPORT OUR WORK.
- What do you like about the modern Ukrainian cinema and theatre?
- I really liked the movie "Hutsulka Ksenya". In fact, there are many successful and independent projects in Ukraine now. I would like to see the theatre productions of the "Young Theater" and the "Misanthrope Theater," but I don't have enough time, because of work, but as soon as I have free time, I will go to these theatre productions. Additionally, I believe that we have catastrophically few contemporary playwrights (based on whose plays at least some of the productions in our theatres should be staged). The success of London, the capital of theatre, lies in the fact that they value and stage classics, but also they do not forget to experiment, support, and stage the works of new/contemporary playwrights. For example, Sarah Kane, Caryl Churchill, or Harold Pinter, Duncan Macmillan. Support is essential for young artists. In London, there is a theatre for every taste, which will make even the biggest theatre-haters if not fall in love with theatre but at least get interested. I hope that soon in our theatres, there will be Ukrainian and foreign classics and the names of new successful modern playwrights. Ukraine has all chances to become the center of world theatre and cinema, but we should not be afraid to experiment and support our work.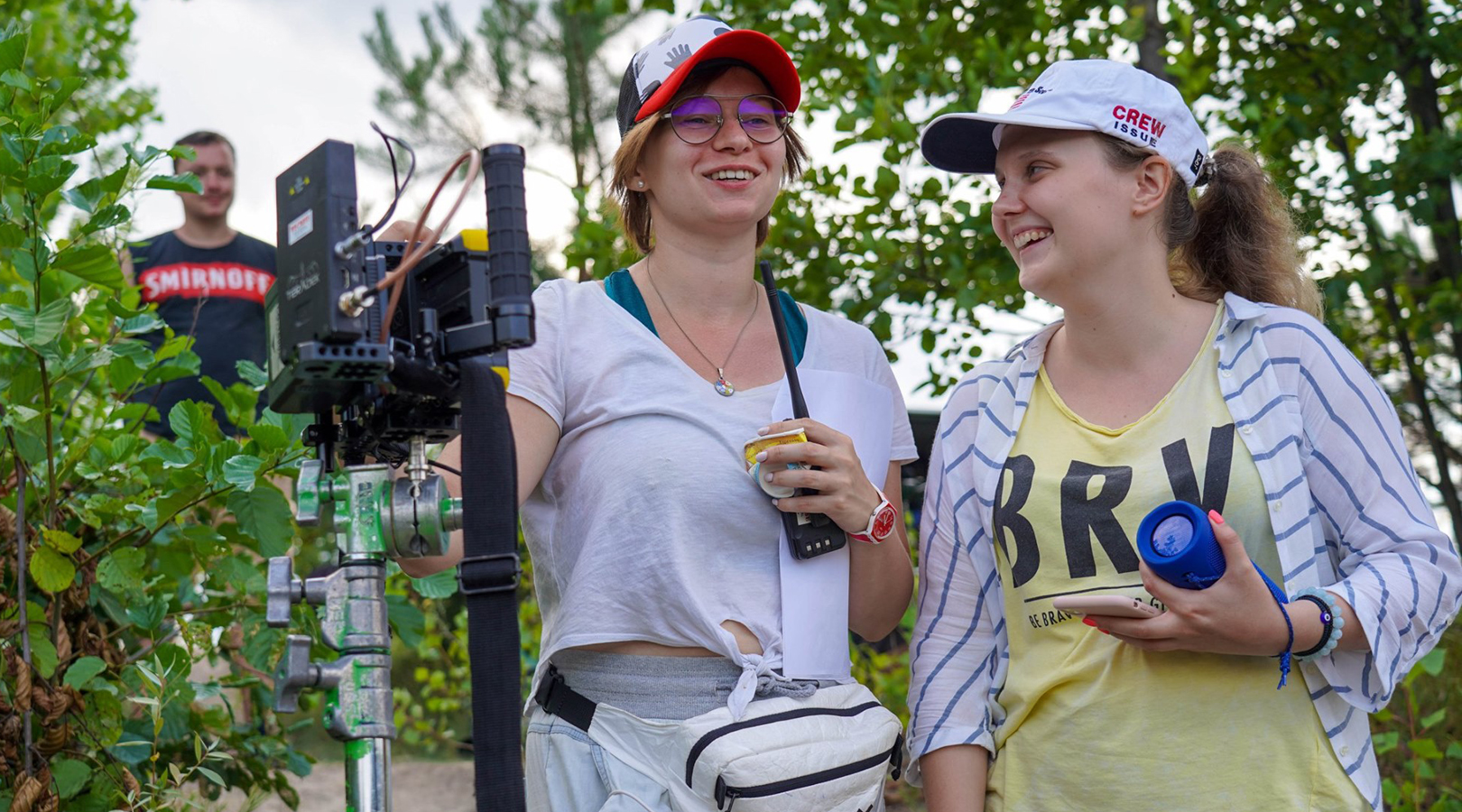 MY NEXT PLAY WILL BE BASED ON THE BOOK OF DALI.
- Tell us more about your mask, which, as I understand, has become an integral part of your style.
- In the US and UK, I saw incredible immersive theatrical performances and thought it would be interesting to create it in Ukraine. By the way, my spiritual mentor is the father of surrealism - Salvador Dali. I have recently read Dali's only novel called "Visages cachés" ("Hidden Faces"). I think this book is extremely relevant now because we all have to cover our faces during the pandemic. My next play will be based on his book. I really want the audience to become an integral part of this future theatre production. I hope that in November, the audience will see this play I am currently working on. I really love theatre, and I think that it can and should be different.
- Imagine that the order to wear protective masks is canceled, will you continue to wear it?
- Of course not. I don't always wear this mask; it's just now it is part of my image/style. I wear this mask for inspiration and complete immersion. Only yesterday I finished studying the full biography of Dali, while I simultaneously read four more books about the artist.
IT IS IMPORTANT TO CREATE RELEVANT PROJECTS THAT WILL HAVE A DIRECT CORRELATION WITH THE PRESENT.
- So project about Salvador Dali is currently the main one for you, but maybe there are some other projects you are working on now?
- I continue to promote the film "If We Had Tomorrow", and I am working on the play based on Dali's book. I want to collaborate with directors from other countries. In fact, I have a lot of plans. Now I'm writing scripts for two feature films. It is important to create relevant projects that will have a direct correlation with the present.
- Do you plan to return to Ukraine after graduating in the USA?
- I want to work both in Ukraine and abroad. I would like to meet new people and to collaborate with directors all around the globe. I don't want to create any boundaries for myself.
EVEN THE MOST NEGATIVE REACTION IS A GOOD REACTION BECAUSE THE WORST THING IN OUR PROFESSION IS THE INDIFFERENCE FROM THE AUDIENCE.
- You are now just at the beginning of your career; nevertheless, you have already achieved some success. So what can you wish young Ukrainian filmmakers who are at the beginning of their creative career?
- You are right. I am only at the beginning of my journey, and I am not sure if I am in a position to give advice. I can only share my philosophy and say that you need to always move forward no matter what - even if they tell you "this is nonsense", "you are crazy", or "you won't succeed". Try not to listen to these people and move on. Even the most negative reaction is a good reaction because the worst thing in our profession is indifference from the audience. Art is exciting because, through art, you reach and talk to people on an international language, show your thoughts, and raise topical issues. There are no boundaries for creativity, and we need to experiment and try something new.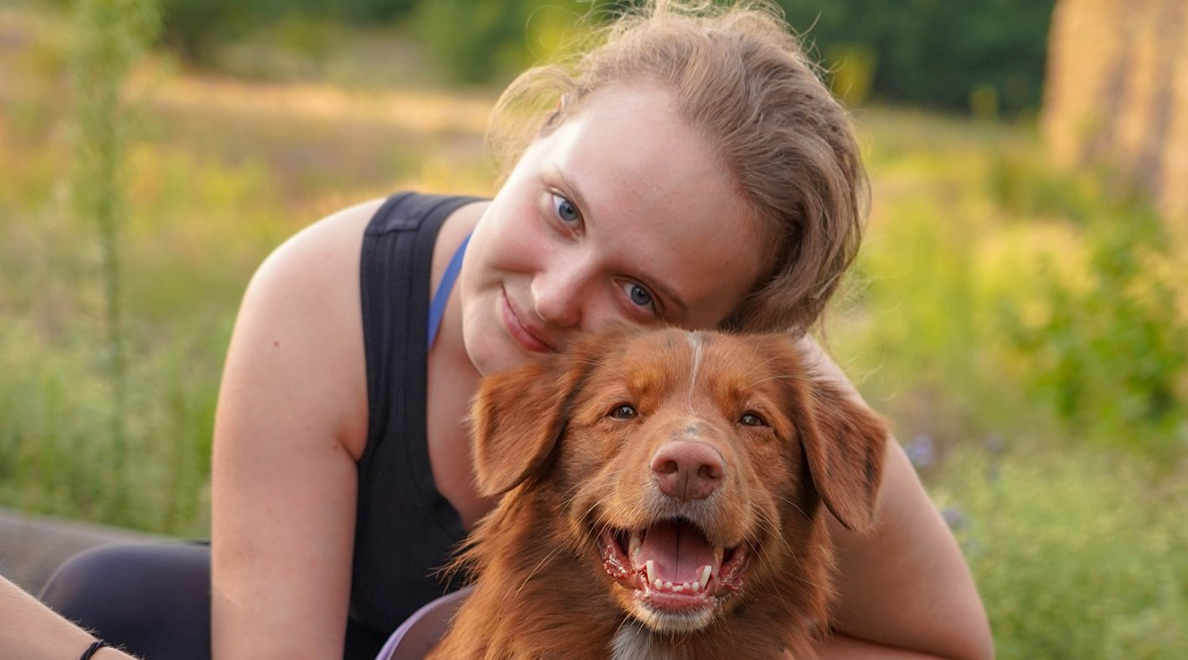 NOW I TRY NOT TO ARGUE AT ALL BECAUSE EVERYONE HAS THEIR OWN OPINION AND VISION.
- Are you not afraid of negative comments on social networks?
- Once, I tried to argue in the comments on Facebook, which did not lead to anything good. Everyone is entitled to their own opinions.
- If it is not a secret, what was the cause of your argument on Facebook?
- We argued about the title's translation of our film from English into Ukrainian. The original title of our film is "If We Had Tomorrow" and we decided that in Ukrainian it should be called "Якщо Було Завтра". The film is surrealistic, so it should have such a mysterious title as if someone deliberately made a translation error. Many people wrote that the title's translation was totally wrong. They said: "did you translate it using "Google Translate"?" At first, I decided to argue, but then I realized that everyone has their own opinion and vision, so now I try not to argue with anyone at all.
- I also have short blitz questions. You can answer just in two or three words.
- Fellini or Parajanov?
- Fellini.
- Ray Bradbury or Lina Kostenko?
- Lina Kostenko.
- Okean Elzy or Red Hot Chili Peppers?
- Oh…You cannot ask a question like this! You are breaking my heart! But ok, Red Hot Chili Peppers.
- Pierogi or BigMac?
- Of course, pierogi!
- Sopilka or banjo?
- Sopilka.
- Kyiv or New York?
- Kyiv!
Oleg Davydenko, Kyiv