Svitlana Krysa, head of consular section at Ukraine's Embassy in Poland
Ukrainian migration to Poland has increased fivefold since 2014
05.07.2019 09:40
A significant increase in the number of Ukrainian migrants in Poland over the past few years has had a significant impact on the work of Ukrainian consulates operating in the country.
Svitlana Krysa, head of the consular section at the Ukrainian Embassy in Poland, spoke in an interview with Ukrinform about new challenges facing Ukrainian consular offices in Poland, reasons for the dissatisfaction of Ukrainian citizens, and algorithms for action in different situations.
UKRAINIANS IN POLAND: MORE MEN THAN WOMEN
Question: Ms. Consul, the number of Ukrainians in Poland has sharply increased over the past four to five years. Do you know how many Ukrainian citizens can stay in Poland today?
Answer: Indeed, since the beginning of 2014, there has been a sharp increase in the number of Ukrainian citizens staying in Poland. Before 2014, their number was estimated at about 320,000. Now, according to unofficial figures, it is one and a half million people. If we talk about official statistics, according to the Polish Office for Foreigners, 196,000 residence permits have currently been issued to Ukrainian citizens. This is quite a lot. It is also worth noting that 90% of all official residence permits were issued by the Polish authorities to Ukrainians.
Q: What is the social portrait of a Ukrainian migrant in Poland?
A: These are Ukrainian citizens who perform physical work. They are engaged in construction and repair work, in the transport sector, agriculture, the tertiary sector, at factories and plants. In general, there is probably no industry in Poland where Ukrainians would not work. There is also a small percentage of Ukrainian citizens working in the field of IT technologies, at higher educational institutions, and in the field of medical services.
Q: Surveys show that there are slightly more men among Ukrainian labor migrants in Poland than women – about 60% to 40%. What does it show?
A: Indeed, there are more men than women in Poland now. Before 2014, the greatest number of those who arrived in Poland were women who worked in the sphere of care for elderly persons and young children. Now there is more work for men. These are jobs of drivers, builders, craftsmen, because these are largely male professions.
Q: The number of Ukrainian citizens in Poland has increased by about five times over the past few years. So, probably, the number of challenges has also increased?
A: Yes, the number of consular acts in the consular offices of Ukraine in Poland has significantly increased. If we take the consular section of the Ukrainian Embassy in Warsaw, almost 3,500 consular operations were carried out in 2014, whereas in 2018, this number sharply increased to almost 18,000, that is, by five times. An increase in the number of consular acts was also recorded in other Ukrainian consular institutions - in Krakow, Gdansk, and Lublin. Some 8,500 consular acts have been carried out in Warsaw over the first six months of this year, which is 10% more than in the same period last year.
Q: And what consular acts are by far the most popular in Poland?
A: Consular registration. This is due to the introduction in November 2018 of changes to the Customs Code of Ukraine regarding the order of import of foreign registered vehicles into Ukraine. Now the transit procedure has been canceled, and there;s only the procedure for import of vehicles with foreign registration in the mode of temporary import. The right to import a vehicle for 60 days during a year in Ukraine is enjoyed only by those citizens who own a car and are in the consular register. This is why consular registration is the main consular act in Poland.
Q: What is its share?
A: Sixty percent of the total number of all consular acts.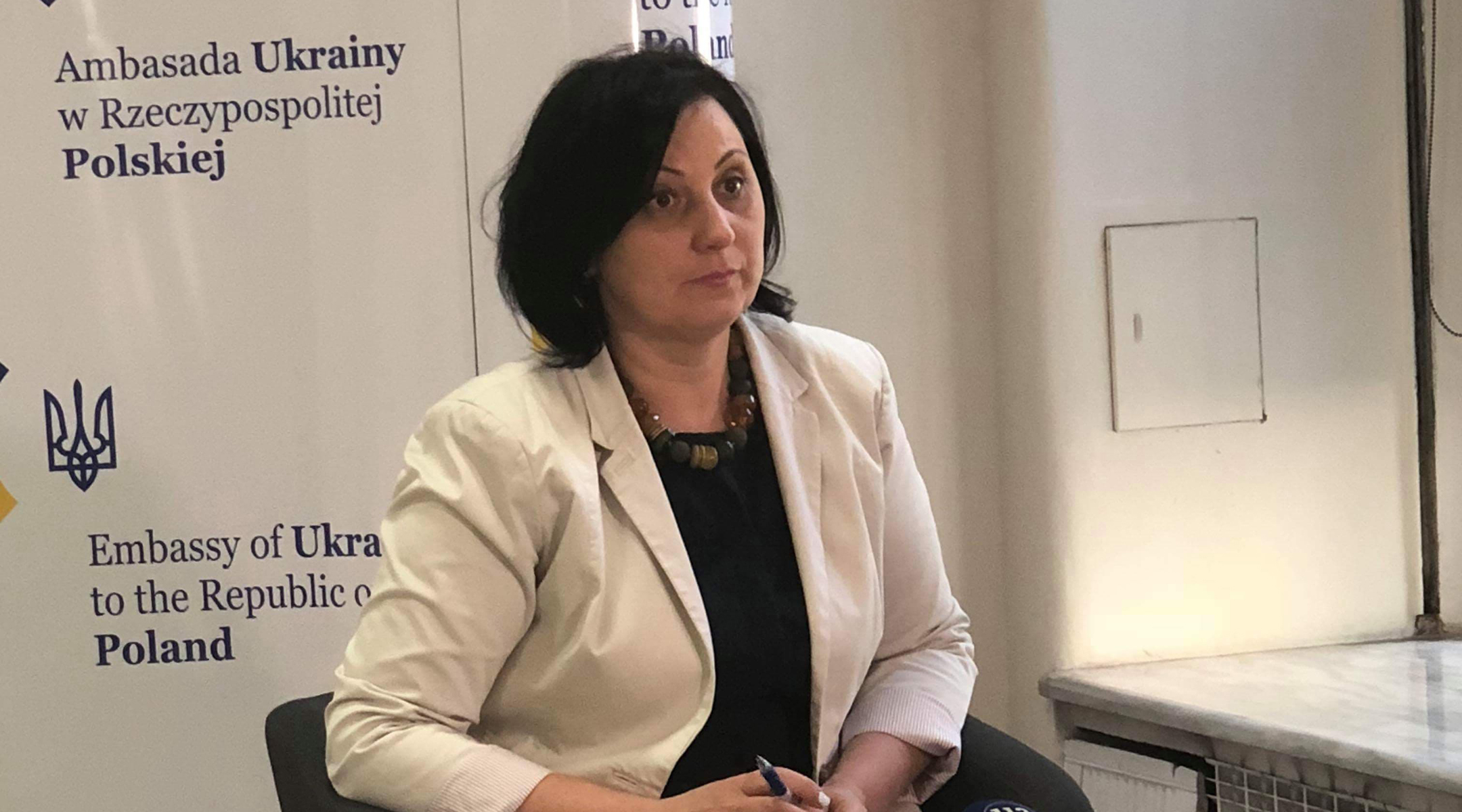 LACK OF CONSULS AND CONSULATES
Q: As a matter of fact, after the introduction of these amendments to the Customs Code of Ukraine, queues outside Ukrainian consulates in Poland of those who would like to apply for urgent consular registration have sharply increased. How did you manage to cope with this?
A: Before the New Year's holidays, queues have sharply increased due to changes in the Customs Code. The queues reached up to 400 people per day, people were registered throughout the day, lists were drawn up, people were on duty. So it could not continue like that as there are other types of consular acts that could not be carried out, since 98-99% of the acts concerned consular registration.
In this regard, it was decided to introduce an electronic queue by prior electronic registration. Not all people are satisfied with this now since 1.5 million Ukrainians in Poland are serviced by only 15 consuls in four consulates throughout Poland. In the working day, 110 people are received via an electronic queue in Warsaw, and 60% of them come for consular registration. We also introduced a very convenient procedure - the possibility of sending documents for consular registration by mail or courier. Thus, a citizen saves time and money to be spent on arrival at a consular establishment. Sometimes it is up to 1,000 kilometers in both directions.
In Warsaw, the consular section has small premises and a small number of employees. Our citizens will be satisfied only after an increase in the number of consular employees and consulates of Ukraine in Poland who could have received more Ukrainian citizens every day.
Q: How is the issue with an increase in the number of Ukrainian consulates in Poland being resolved?
A: Over the past two years, the Ministry of Foreign Affairs of Ukraine has proposed increasing the number of officials, in particular at the consular section in Warsaw, opening a new consulate general in Wroclaw and changing the status of a consulate in Gdansk to a consulate general. This would help better meet the needs of Ukrainians living in Poland and change the limits of servicing the consular districts. However, this depends not only on the Ministry of Foreign Affairs but also on the Presidential Office, the Cabinet of Ministers and the Verkhovna Rada that have to decide on the opening of these institutions, allocate funds for this and increase the number of employees. Parity should be preserved between the number of migrants and the number of consuls in the country, as it is difficult for 15 Ukrainian consuls in Poland to service 1.5 million Ukrainian citizens. In the near future, it is planned to move the consular section of the Ukrainian Embassy in Warsaw to new, larger premises in which it will be possible to receive 50 more people every day.
Q: People complain that to solve a certain issue, they often need to drive even a few hundred kilometers to the nearest consulate. How is this problem being solved?
A: In February 2016, on the basis of the honorary consulates of Ukraine, we introduced the on-site provision of consular services to citizens in the most distant cities. In Poland, in addition to four consular establishments, there are 12 honorary consulates. Of course, they have completely different functions as they are not professional consular offices. However, they have the right to provide advice - and it's good. For example, in Poznan, Zielona Gora, the consulate receives people two or three days a week, and Ukrainian citizens can receive information there about the procedure for consular registration or getting a passport, registration of a child by a citizen of Ukraine, and carrying out notarial acts.
Consular services are provided by visiting consuls from Warsaw in Poznan and Zielona Gora on a monthly basis. Each time we receive more than a hundred people per day. It is convenient for people.
In Wroclaw, on-site consular services are provided by Ukraine's Consulate General in Krakow even twice a month.
Q: Ukrainian citizens often complained during the recent presidential election that queues at the polling station in Warsaw and in some other cities were very long. There was even a proposal for electronic voting abroad so that everyone could vote. Is this problem being resolved somehow?
A: Two rounds of the presidential election have really shown a high turnout. Warsaw saw the highest activity of Ukrainians over 28 years of existence of the consular establishment of Ukraine. Over 4,000 Ukrainians voted at the polling station during the first and second rounds. We turned to the Central Election Commission and proposed the introduction of electronic registration and the possibility for Ukrainian citizens living abroad to vote via the Internet. A similar request was also made by MPs and public organizations. Therefore, we hope that in the long run, it will be done.
Yuriy Banakhevych, Warsaw