Ola Melzig, Technical Director of the Eurovision Song Contest 2017
I'm 100 percent sure that everything will be ready in time
03.04.2017 17:43 1445
Today more and more people are talking about organizational problems, and about a conflict with Russia that negatively affects the image of our country in preparations for the main song contest of 2017 – Eurovision, which is to be held in Kyiv. We visited the main venue of the contest, namely, the International Exhibition Center (IEC) and checked the process of preparations and an atmosphere. Altimeters, cables, hanging structures that will carry pyrotechnics, light, stage scenery, and so on. The lift works right up to the ceiling. The carrier is moving, and the conveyer is out there. Here there will be a stage, stands, and areas for delegations... And in early May, everything will be filled with a holiday atmosphere, the Eurovision Song Contest! It's the IEC where nine shows will take place - 6 dress rehearsals, 2 semi-finals, and the Grand Final on May 13.
Journalists, only very few of us who've received an opportunity to exclusively visit the two pavilions of the IEC, are offered to wear helmets. We're instructed, warned of the compliance with safety rules on the construction site which is under guard. And we're informed that on April 8 the entire facility, the ICC, will be under guard.
We are the guests on this site. And Ola Melzig, the Technical Director of the Eurovision Song Contest 2017, is the chief here for us today.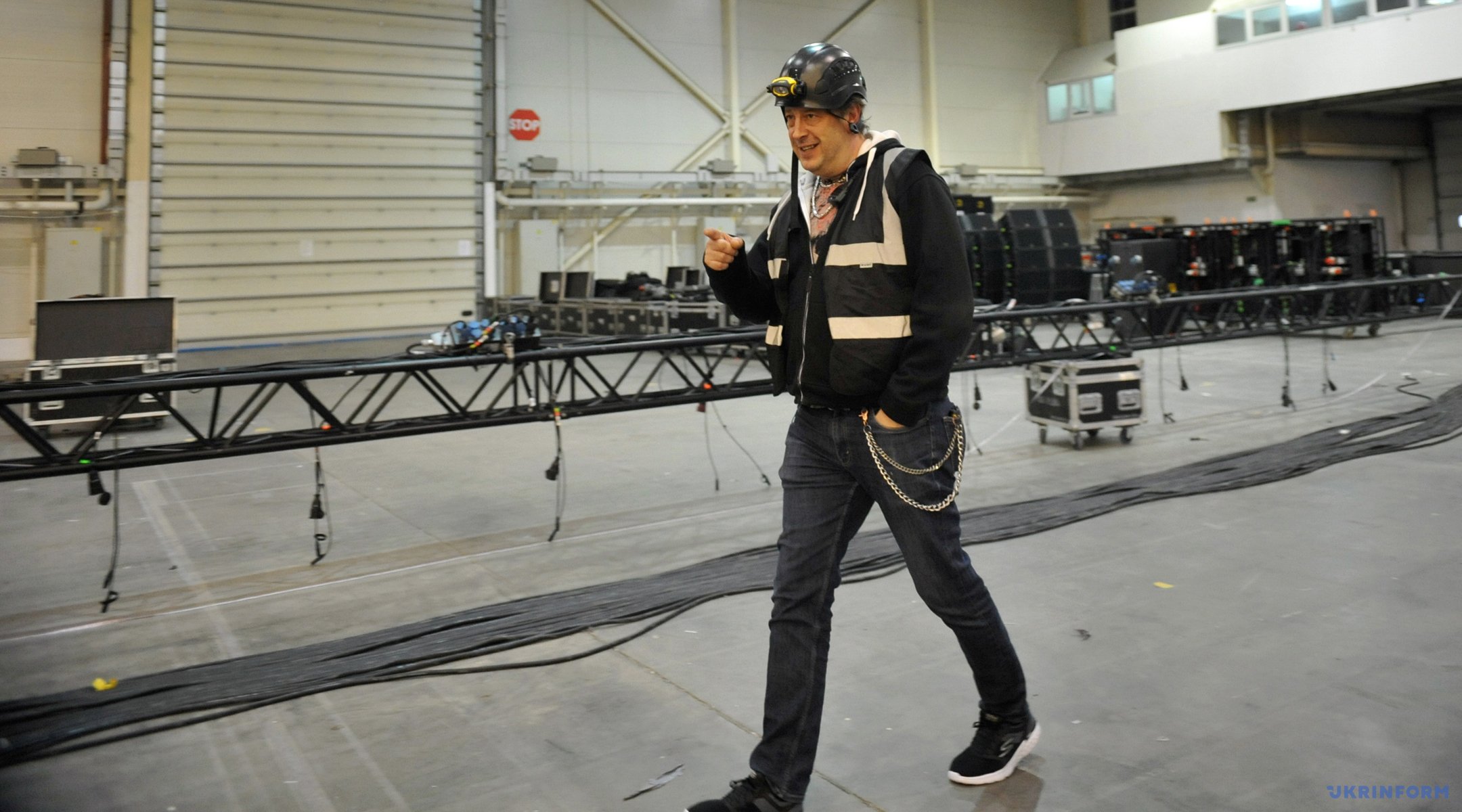 "Welcome to the IEC," he invites us before a press briefing starts.
IT'S THE FOURTH EVROVISION THAT I'M HEADING UP IN UKRAINE
- Now we are very concerned about the workload. Everything must be ready for productions, for the event-2017. We are in good shape. Everything is going almost according to plan. But, as always happens with such large productions, we should understand that it's necessary to be flexible and adjust to the situation.
- How many people are already working here? How many people will work? Who are they?
- Now about 200-250 people are working here. The slogan of Eurovision is "Celebrate Diversity". And this is exactly what we show with our team. This is an international team; it consists of Ukrainians, Swedes, Germans, Dutch, Finns, New Zealanders, Americans, etc. We have a very large and diverse team, and our team is growing day by day. The first part of the team has already arrived from Belgium, it will set the stage.
Currently, our goal is to be ready for technical rehearsals on April 16 and 17. These rehearsals are usually needed so that to understand that everything works properly, that everything is properly connected.
On April 20, we start the rehearsals with doubles. This means that now we are looking for local talents to replace real artists during these rehearsals. Within four days we will hold rehearsals with all the light, with all the cameras, with all the sound.
Following this, for six days we will rehearse the opening, interval-acts and the show. And on April 30, our delegations will finally arrive with real artists who will be able to begin their rehearsals.
This means that we're facing many long and busy days. But it's very cool and very fun.
- Have you ever been to Ukraine?
- This is the fourth Eurovision Song Contest that I'm heading up in Ukraine. The first was in 2005. And there were Junior Eurovision Song Contests in 2009 and 2013. I have a lot of friends here who know well how to head up Eurovision. It's very important for me. Because it's a great team work and these are huge forces on the both sides: both local and foreign.
- How long have you been staying in Kyiv this time?
- Approximately from January I've been moving there and back, I'm supervising the process. And I've been staying here for already 10 days all the time.
I'M 100 PERCENT SURE THAT EVERYTHING WILL BE READY iN TIME
- Are you pleased with the pace of work? Are you sure that everything will be done in time?
- I'm 100 percent sure that everything will be ready in time. I'm pleased with the pace we now have. Of course, there are things that could be accelerated. In general, we all perfectly understand how difficult it is to make an event of such a level. And we are moving at a good pace.
-Can you tell the date when everything is to be ready for Eurovision?
- Yes. It's May 20 (laughs).
- Where will the equipment, the stage, etc be delivered from?
- As for the equipment, it's a mixture of the Ukrainian and international equipment. It's because each of our international contractors has a partner in Ukraine, and therefore they cooperate and bring what they need to bring from abroad, and use what can be found in Ukraine.
Eurovision is the event of such a level that requires only the best, and no country can provide it with all the best - either Sweden, or Britain, or Germany, or Ukraine. So, it means that it's always a mix of the best - the staff and the equipment from many countries.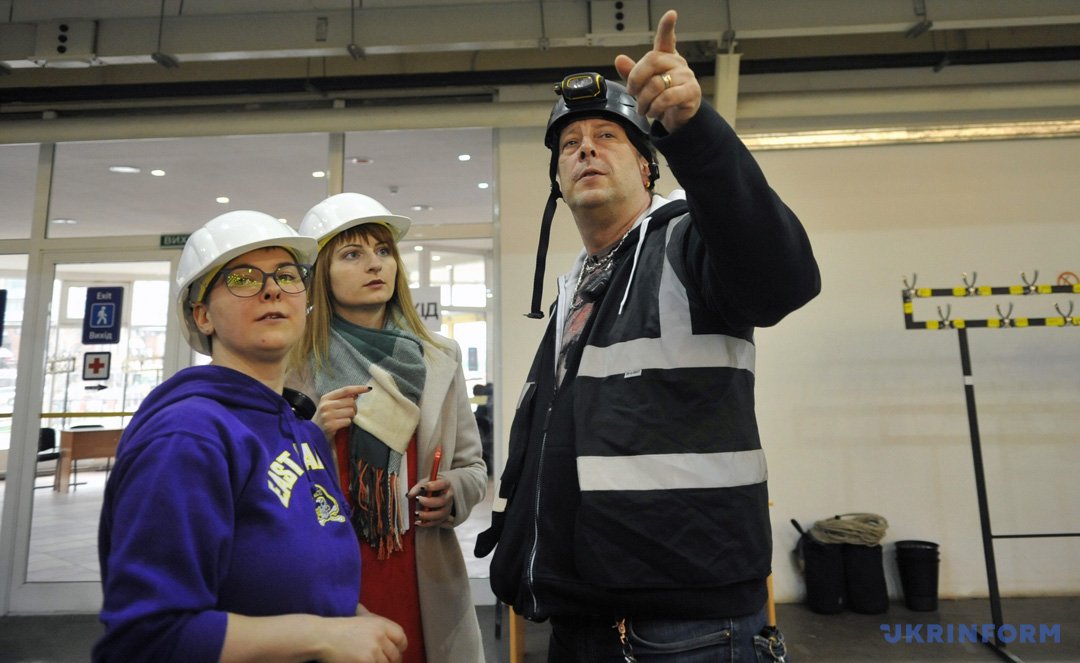 - Does the venue of the International Exhibition Center correspond to the Eurovision requirements?
- The venue is very cool. Here you can place everything you need. As Eurovision is not just a show. It involves thousands and thousands of people - spectators, participants, members of delegations, journalists.
And over there a girder will be hanging - it's a huge number of mounting hangers, which will be attached to everything: light, sound equipment... We're planning to hang up the equipment with a weight of up to 200 tonnes – it's more than last year in Stockholm.
I'm very pleased with the arena. I'm pleased with it most of all, because it's one of the best arenas at which I've worked. There is a very large space inside and outside. And, besides, the roof of the arena has a large range of hanging capabilities.
WHIMS OF ARTISTS - FROM BALLOONS TO PINK PIANO
- Have all the Eurovision contestants already submitted their requirements?
- All delegations have sent special documents that we've developed in order to get requirements from our delegations in which they indicate what they want: which atmosphere should be, whether they have their own video content or these are we who should provide this content. In fact, there are very interesting applications for props - from balloons to pink pianos.
- The performance of which country is the most difficult?
- All performances are more or less adequate (appropriate), and none of the current delegations has asked for anything that would have outweighed the last year's several requirements in Stockholm. Therefore, we all are very glad that there is no such thing.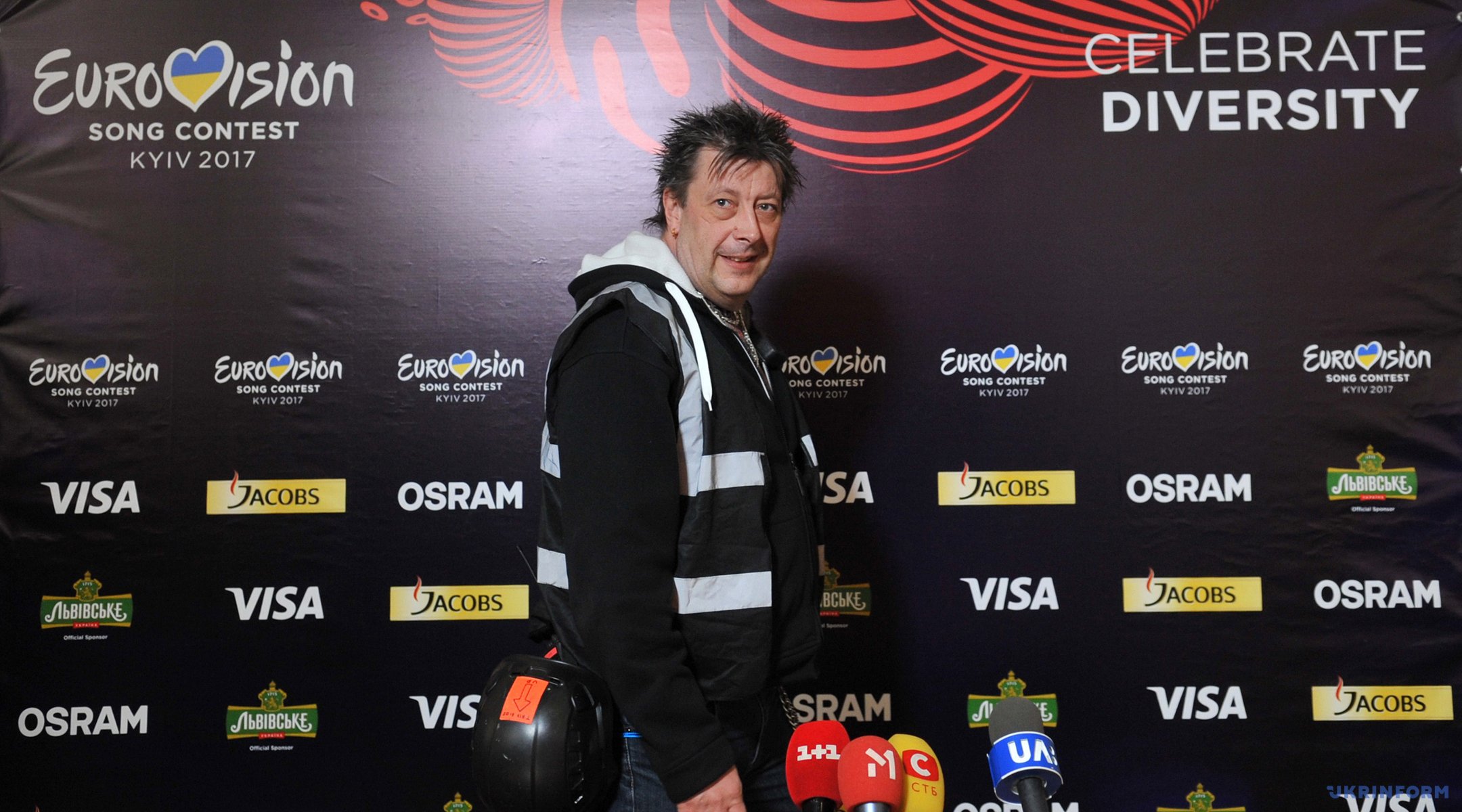 - Will the show organizers focus on the Ukrainian culture? In what way will it be expressed?
- Yes. We already see Ukrainian ornaments on logos. And I know that our show producers want to show the history of Ukraine during all events of this Eurovision, to show how good Ukraine is.
In general, it's my fourth visit to Ukraine. If I didn't like working with Ukrainians, I wouldn't have retuned here after 2005. Ukrainians are very kind, cheerful, affable, generous and wonderful people. I'm very glad that I've returned.
- Are you going to invite world stars, like Justin Timberlake or Lady Gaga?
- Do you need any other stars if I'm already here? (Laughs).
Valentyna Pashchenko, Ukrinform
Photo: Khudiakova Olena
iy