Kristjan Järvan, Minister of Entrepreneurship and Information Technology of Estonia
Using digital signatures saves about 2% of the country's GDP every year
22.09.2022 12:59
Estonia is the undisputed leader in the information technology development in Europe. To date, the country has managed to digitise 99% of its public services. Stable tax legislation and a wide range of electronic services allowed the state to attract multi-million investments and create one of the best environments for doing business in Europe. In this context, Ukraine sees Estonia as a partner in developing its own digital tools. Kristjan Järvan, Minister of Entrepreneurship and Information Technology of Estonia, recently visited Ukraine. Ukrinform took an opportunity to ask Mr. Järvan several questions about the areas in which Estonia and Ukraine are already cooperating, as well as what our country should learn from the Estonian experience in order to take a worthy place among the EU countries in terms of the level of digitalization of public services.
- Estonia is one of the smallest EU countries but you are the leaders in digitalization. How did you achieve this? How come that your country became the world's digital leader and which issues on its way to the digital state should Ukraine take into account?
- Estonia was a young country without essential resources after restoring its independence in 1991. To provide public services all over the country and to all citizens and residents, digital was the only option. Estonia couldn't offer traditional bureaucratic structures because of a lack of money and manpower. At least equally important was that Tallinn had been the home of the cybernetics institute since the 1960s, so some of the required IT talent was already in place. All of this came together in 1994 when the parliament signed the first draft policy on digitalisation. These developments were based on bare necessity as much as a forward-thinking mindset.
Of course, there were also challenges. When Estonia started building its information society about two and a half decades ago, there was no digital data being collected about its citizens. The general population did not have an internet connection, let alone devices with which to use it. It took great courage to invest in IT solutions and take the information technology route.
A turning point came with our law on digital signature in 2002, which established full legal equivalency between paper and digital signatures and led to the widespread adoption of digital signing in both public and private services.
Ukraine is well on its way to becoming a digital state. At this point, you have the architecture and foundation in place, and the challenge is one of executing on the plans you already have for digital transformations across every area of public services at national, regional and local level.
- Does the Estonian e-government save the state's budget and how many? What does this system consist of?
It is understood that going from analogue paper-based services to digital services there is an opportunity to increase the efficiency of service delivery as well as raise the overall level of service provision. It has not been calculated precisely how much of financial resources are being saved, as there is no alternative to compare it to, however over the years some estimates have been made. For example, it has been estimated that using digital signatures saves around 2% of national GDP every year. In addition, as data is being exchanged via X-Road data exchange layer (like Trembita in UA) and 3% of requests on X-Road are submitted by citizen, and assuming that every request saves 15 minutes - those requests have saved 2,391 working years during the previous calendar year. Or in other words one year's working time of 2,391 people. It has been a great benefit to implement important building blocks, like the eID and the data exchange layer in order to move towards a more lean and efficient government.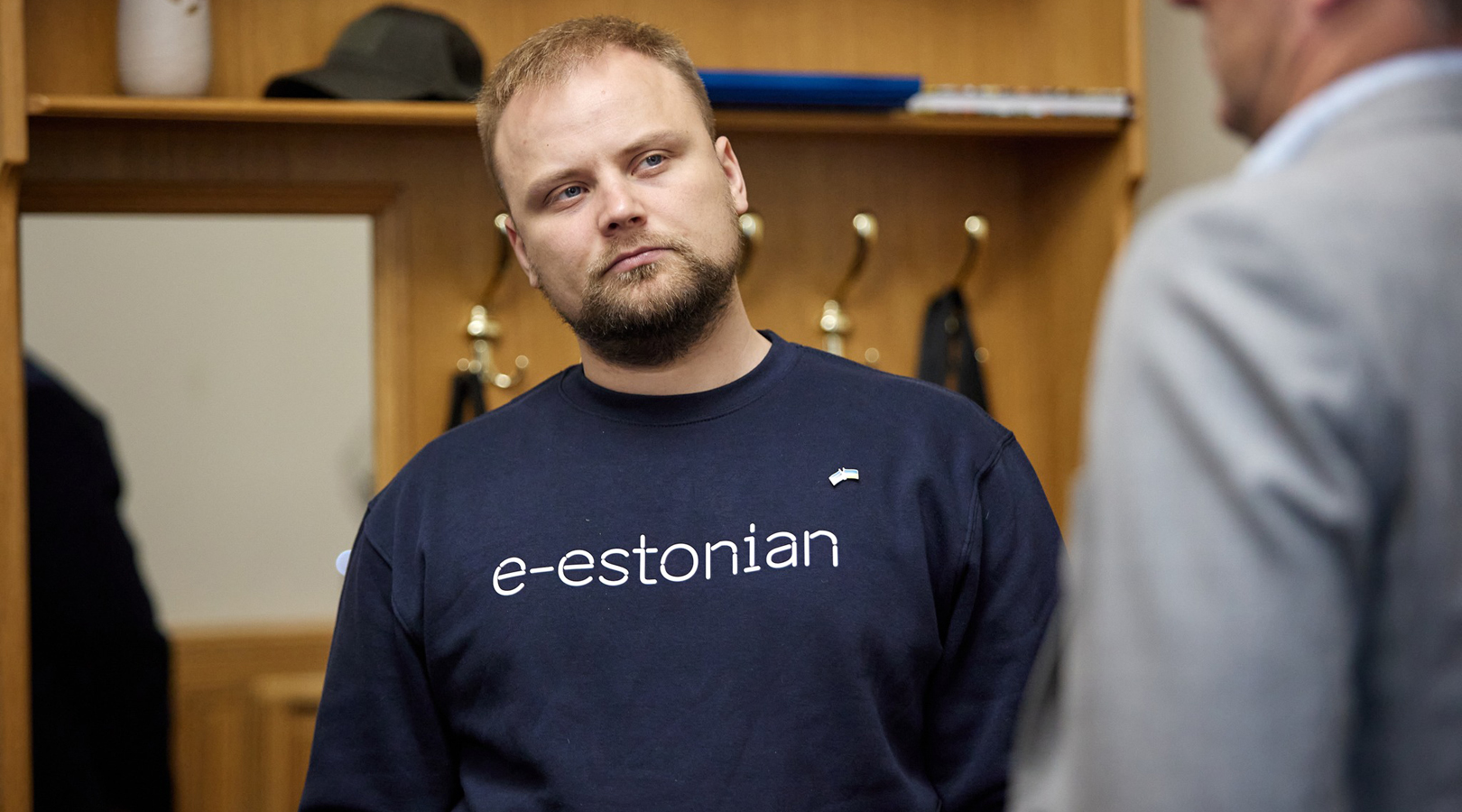 - What difficulties Estonia had on its way to becoming a digital state? Your experience on overcoming it.
The main challenges revolve around people, not technology. Having the right mindset in political leadership as well as amongst civil servants is crucial. Secondly it is important that the legislation, as the foundation, is solid, clear and straightforward. Thirdly it is important to have transparency as this generates trust amongst the wider population, or the individuals that would be using the benefits of digital services and society.
Estonia had a general push for digitalisation in the 1990s due to limited resources and the will to provide government services for everybody on similar terms, meaning that people living further away from urban areas would also have the possibility to use government services without delays. We have amended our legislation accordingly to tackle modern challenges and make the government more efficient with once only principle and digital by default. In addition we have based our digital state on shared platforms which make it easier to integrate various services and registries as well as provide access (like x-Road and eID). Last but not least, in order to grow trust and provide quality services, it is important to focus on service design and be citizen/customer-focused.
- In countries with a low level of rule of law, total digitalization can lead to the so-called Big Brother situation, when the state knows everything about citizens and there is no privacy at all. What countries should do to prevent such risks? Maybe you can give some advice.
- e-Governance is a strategic choice for Estonia that aims to improve the competitiveness of the country and increase the well-being of its people. Our aim is to keep the government working seamlessly 24/7. This is supported by digital identity, secure data exchange, and high-quality databases. The development of the Estonian e-Governance ecosystem has been supported by strategic vision, trust of citizens and cooperation with the ICT sector.
Personal data protection and transparency are the cornerstones of building trust towards e-Government. Citizens have the right to know who is using their personal data. Enforcement of 'once-only' principle means that citizens only have to submit their data once to the government to be used and re-used. Estonia is striving for provision of proactive and invisible services by relying on the efficient use of data which the state already has. In Estonia the citizen owns his or her personal data and the government authorities only handle the data and have to ask for the explicit consent of the owner to share the data with other authorities. We are constantly looking for ways to improve the oversight and transparency individuals have over how their data is being used in public services.
- Tell us please about implementation of e-elections in Estonia? Is it possible to implement something similar in Ukraine? What should our government take into account before starting the process?
- In 2005, Estonia became the first nation in history to offer internet voting in a nationwide election. The groundbreaking i-Vote system allows citizens to vote at their convenience, no matter how far they are from a polling station. i-Vote has been made possible only thanks to the fact that the vast majority of people in Estonia have access to secure digital authentication and signatures.
Estonia decided to introduce i-Voting in order to make participation in elections more convenient for people, so that voting would not depend on time and place. This decision was supported by the technological base and the readiness of the society.
i-Voting has become one of the most popular services in Estonia and also one of the hallmarks for which Estonia is known abroad. Estonians can vote online in municipal, national and European Parliament elections online using their electronic ID card or alternatively the Mobile-ID SIM card. In the most recent election in 2019, 46.7% of votes were cast online.
The Estonian i-voting system is based on the fact that the Estonian ID-card has been an official document for establishing the identity of a person for more than a decade. Most countries do not have such an extensively used digital system for identification and verification. Besides technological solutions, it is also necessary to have a legislative basis and political will.
We have generally been very conservative about recommending to other countries that they pursue online voting, as insecure i-voting is worse than no i-voting. Ukraine is one of the (few) countries where the basic pre-conditions for successfully conducting online voting are in place today. There is also clear value to doing so, given the size of the Ukrainian diaspora and now refugee numbers abroad. We would be privileged to work with you on the topic.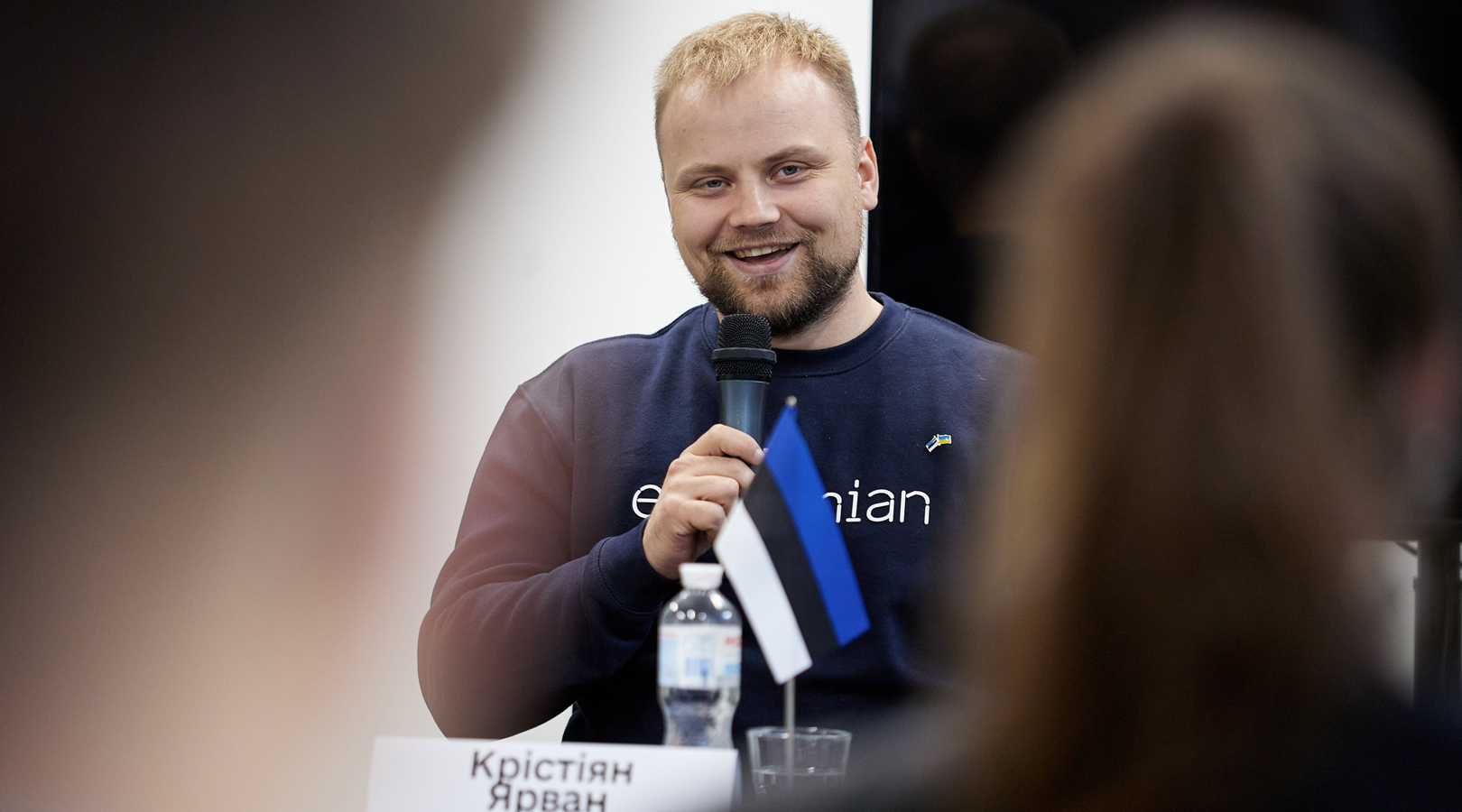 - Estonia and Ukraine signed a memorandum of cooperation. Please, tell us some details. How will our countries cooperate and help each other?
- Estonia and Ukraine renewed their Memorandum of Understanding on Digital Transformation, signed by Estonian Minister of Entrepreneurship and IT Kristjan Järvan and Ukrainian deputy Prime Minister Mykhailo Fedorov. Areas of further collaboration will include:
Mobile and user-centric digital government. Estonia will launch a beta of its citizen app based on Ukraine's award winning Diia application, developed in collaboration between the Estonian and Ukrainian digital government agencies.
Cyber security. Supporting the continuity of digital government services and resilience against cyber attacks.
Collaborating on Ukraine's participation in the Digital Single Market, including through the mutual recognition of digital identity and signatures, as part of Ukraine's European course.
- Please tell us more about the development of Estonian app based on Diia. Will it be this totally different new app or Estonia has just bought a Ukrainian product and plan to launch its copy?
- Estonia will launch a beta of its citizen app based on Ukraine's award winning Diia application, developed in collaboration between the Estonian and Ukrainian digital government agencies. We are looking at Diia on multiple levels - the actual software, but also the use cases, design and the approach to how new services are developed. Exactly how much we copy directly vs re-implementing what you have done will depend on technical deep dives between our agencies in coming weeks. The more we can copy from Ukraine's approach - and avoid duplicating your efforts - the better.
One thing that makes us hopeful is that Ukraine uses the Trembita data exchange layer on the backend of many Diia services, which is based on the X-road used in Estonia. As a result, we are hopeful that many technical choices can be solved in Estonia using the same approach as in Ukraine.
For the time being, at least, we will not be adopting your technical infrastructure for e-ID, as this is already quite mature and developed in Estonia. Nevertheless, what you have done with biometrics and facial recognition as part of Diia ID is impressive and we hope to learn from that for the future.
-What innovative digital projects Ukraine and Estonia are already implementing?
- Ukraine has very well executed the mobile first initiative and developed a government app for smart devices that countries around the world would like to replicate. Similarly Estonia is looking into developing a mobile app based on the Ukraine's Diia app. Additionally Estonia is working on a government virtual assistant called #bürokratt, which would allow a person to get everything they need regarding a service from one device and through a virtual assistant in one communication session. Also, this is aligned with another Estonian initiative which is looking to develop services designed around individual's life events, with the first two life event services being launched already this year.
- Almost 99% of government services in Estonia are digital. How long will it take to have the same digitalization level for Ukraine? In your opinion, what instruments should our government implement first?
- Estonians trust e-solutions and use them every day. Virtually all state-related operations are completed digitally – prescriptions, tax return claims or starting a business. In Estonia, 99% of public services are available online 24 hours a day. Only in the case of marriages and divorce do we require you to meet with an official or a notary - but even in this case, the transactions themselves are fully digital and we are working to improve the user-experience of related services (e.g. new identity documents and change of address after getting married).
For the public sector, seamlessly connected digital services lead to bigger potential for economic growth and a healthier, better living society. For businesses, smart e-solutions are key to save money and to build profitable growth.
Safe, convenient and flexible digital ecosystem helps to increase efficiency in many different areas. For example:
Innovative e-solutions are the core of the Estonian healthcare system. Patients and doctors, not to mention hospitals and the government, benefit from the convenient access and savings that e-services have delivered. Today 99% of data stored by hospitals and family doctors is digital and 99% of prescriptions are done online.
The Estonian school is mostly in the cloud. Today's technology has greatly increased opportunities to use data and analytics to improve teaching. Moreover, our digital solutions ensure the involvement of all social groups in a digital society.
Estonia's Digital Agenda for 2030 aims to build an AI-powered government, where all major public sector services are powered by AI and all government decisions are based on data. To achieve this, we are currently developing and implementing Bürokratt, which is the governments virtual AI assistant. Bürokratt aims to enable the use of public services via voice using any commonly used device. We similarly work on introducing data-driven decision-making within Estonia's government. The aim is to make all the decisions of the state using high quality data and to support it via analytics. In order to achieve this we are introducing data stewards within the government - who are responsible for areas such as metadata, data quality and once-only principle. We are also working on Governments data strategy for 2023-2027.
Our experience has shown that having shared platforms and building blocks (such as eID and data exchange layer X-Road) used by both private and public sectors increase uptake and launching new services. It has also been understood that the legal framework acts like a foundation to build a digital society on, meaning that it needs to support and enable digital transformation and innovation. Each country has it's own pace and strategy to implement digital transformation and the exact time of achieving certain levels is different, however in case of Ukraine, it can be seen that many steps have already been taken and some of the steps that for example Estonia had to take can be skipped due to the advancement of technology as well as cooperating with others.
How long it takes Ukraine to reach the same level is up to Ukraine, but in our experience you are well underway. Given the pace of progress, you could well reach our level (and overtake us) in a few years.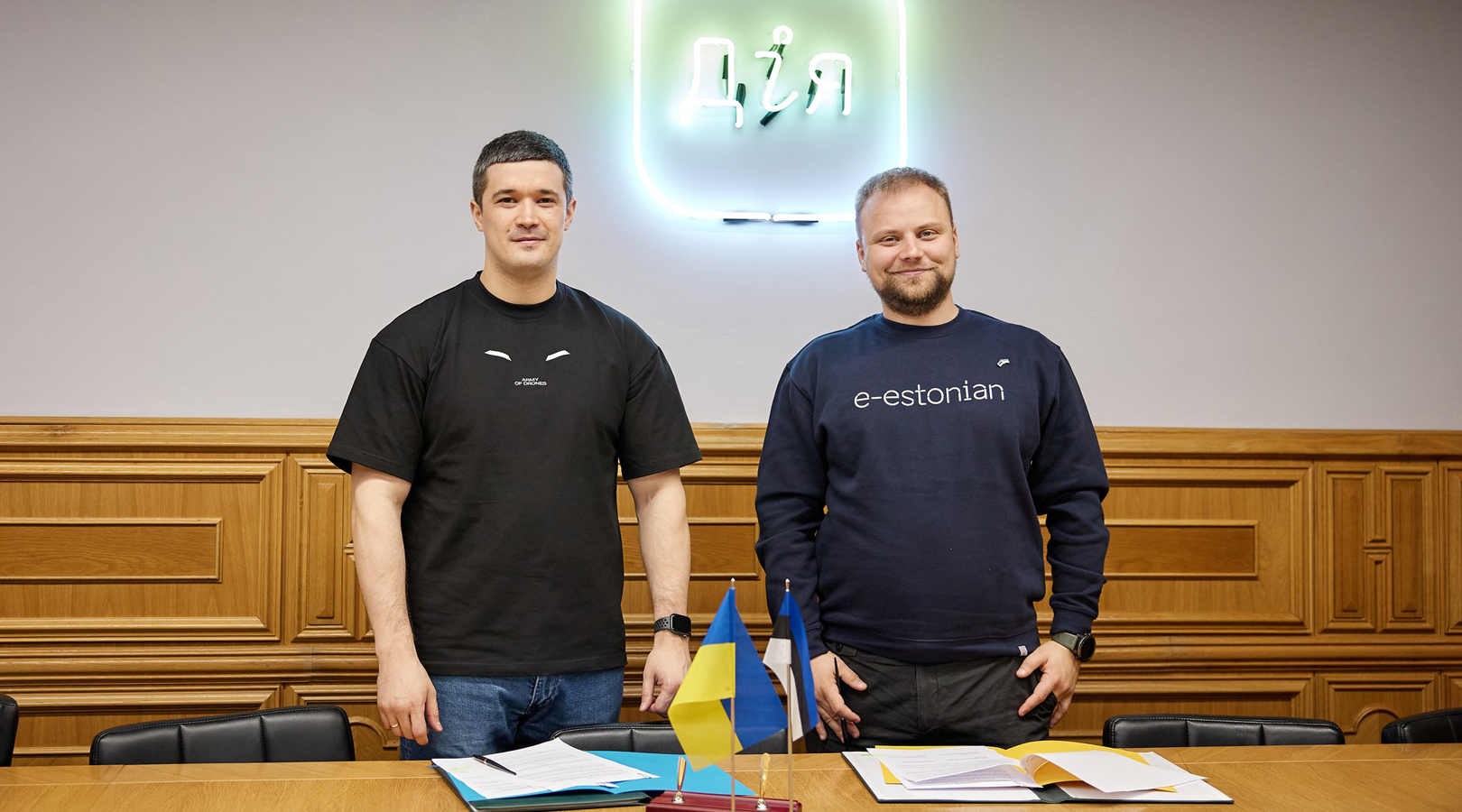 - Right now in Estonia, there are a lot of Ukrainian refugees due to the Russian invasion of Ukraine. Some of them have already got temporary protection. Does Estonia plan to implement new e-mechanisms/ tools, which will help them in everyday life (for example Poland already integrated some documents from Diia to Polish app mObywatel and developed electronic resident permit Diia pl)?
- The Estonian state supports Ukrainian war refugees so that they could adapt here quickly and cope on their own until they can return home. Estonia has granted temporary protected status to over 33,000 Ukrainians, who have been issued Estonian digital identities and access to Estonian e-services.
- Please tell us more about е-⁠Residency in Estonia. At what stage is this project right now? How many Ukrainians are registered as e-residents already? Did the full-scale war in Ukraine affect this tendency somehow?
- Estonia currently has nearly 100 000 e-residents from 176 countries, who have established nearly 23 000 digitally-run companies in Estonia. Estonia is well-known for its start-up scene – almost every third start-up here has been established by an e-resident, so these communities have intertwined into an ecosystem of their own. The e-Residency programme itself has in its 8 years outgrown the so-called start-up phase and is looking at substantial growth opportunities during the coming years. One of the key goals here is to shorten the customer journey, i.e. to reduce the time it takes for a new e-resident from submitting their application to receiving their ID card – ready to set up their Estonian company online, which only takes about 15 minutes. It is a privilege we as a digital country proudly provide to entrepreneurial talents around the world, as it empowers our own economic environment as well. Of course, the more the process becomes streamlined, attracting growing numbers of new e-residents, the more work goes into ensuring security and oversight. E-Residency is a tight government cooperation programme and no shortcuts are taken around thorough background checks, meaning only people with honest intentions are welcome to become Estonian e-residents.
The outbreak of war has significantly intensified the interest of Ukrainians in Estonia's e-Residency programme. The latest data trend shows that almost 1 in 10 new e-residents is a Ukrainian citizen, with Ukraine lately adding an average of up to 100 e-residents per month. Overall, Ukraine has the highest number of e-residents in Estonia, around 6000 people, making up almost 6% of the whole e-resident community. Almost a third of them have set up a company in Estonia, making Ukraine number one country with regard to company formation by e-residents, with leading fields being computer programming, online retail sale and business consultancy. Another effect of the war was stopping accepting first-time e-resident applications submitted by Russian and Belarusian citizens.
- Earlier governmental project е-⁠Residency launched initiative, which helps Ukrainian entrepreneurs to receive refund of registration fee (130 euro). How many Ukrainians already used this opportunity?
As the first and only country in the world that offers foreign nationals a special programme for setting up and running their businesses fully online, we decided that it is our duty to help the Ukrainians any way we can. The reimbursement plan was devised in collaboration with a group of official e-Residency service providers. We decided to jointly compensate Ukrainian citizens for state fees payable upon applying for e-Residency in order to enable them to continue their business activities that were cut off when the war broke out or even set up new businesses, regardless of where they have ended up fleeing.
The Estonian e-Residency programme will reimburse the application fees, amounting to a maximum of 130 euros, to all Ukrainians who have applied for e-Residency since 24 February 2022, and also to those who apply for the remainder of this year. In addition, if they decide to set up a company in Estonia through one of the service providers listed here, the new e-residents will have their company establishment fees, in the amount of 265 euros, paid by the chosen service provider.
As the reimbursement campaign is run through the e-Residency service providers and the campaign is still ongoing, then we will have a complete overview of all the campaign applicants by the end of the year.
- Since the beginning of the full-scale war, Russia has launched countless cyberattacks on Ukrainian critical infrastructure. How does Estonia respond to similar attacks? How does your country help Ukraine to fight in this cyber war?
- Estonia understands that the risk of cyber attacks will always be part of the information society – a risk that must be taken seriously. Being a digital society means exposure to cyber threats. What's important, is to be aware of the risks and mitigate them. You can never be 100% safe from cyber attacks, but you can minimize their effect on your services.
The overall cyber-image has deteriorated significantly over the last few years as cyber-attacks have increased in frequency and impact. Russia's military action in Ukraine has also worsened the cyber security situation in our region even more. We have seen a rapid increase in the intensity of cyber attacks against Estonia, but Estonia has not been uniquely targeted - similar attacks have taken place across Europe, especially against other Central and Eastern European countries that strongly support Ukraine. Estonia has managed well thanks to the additional investments in cyber security. Cybersecurity should not be limited to talking, but should be accompanied by real activities such as investment, raising the basic level of cyber hygiene and preparing for possible incidents. The dependence of the Estonian digital society on communication and information systems and electronic services is high, and therefore we must pay increased attention to cyber security.
Since 24.02.2022, collaboration between Estonia and Ukraine has significantly increased. The Estonian government has been amongst the most active providers of operational support to Ukrainian authorities in defending against Russian cyber attacks. Additionally, Estonia has supported the continuity of operation of Ukrainian digital services in cloud and from outside Ukraine. The Estonian government and tech companies have also provided material support to Ukraine, including in the form of donated ICT equipment.
- In your opinion, how do sanctions affect Russia's economy? Are they enough?
- The impact of the sanctions hasn't reached its full potential yet, since there is a transition period for some already imposed sanctions. Over time, however, it becomes more and more difficult for Russia and its economy. Estonia's position is that as long as the war in Ukraine lasts, the free world must continue isolating Russia and strengthening sanctions. In the European Union, we must also move forward quickly with the next even stronger sanctions package. The flow of tourists from Russia must decrease significantly. We will continue to work together to reach a pan-European solution in this matter, and we are waiting for recommendations from the European Commission.
- What is the capacity of trade between Ukraine and Estonia? What goods/services are in priority? How does the war affect trade between our countries?
- In 7 months of this year, Estonia exported goods worth 64 million euros to Ukraine, and goods worth 57 million euros were imported. These numbers are 5-8% below the level of the same time last year, but here it must be taken into account that both export and import prices have increased significantly. This means that in reality, the volume of goods has decreased significantly. Due to the war, mainly imports have decreased, while export has increased by about half in May and June, for example - a large part of it is medical equipment. The main Estonian export products were animal products (frozen fish), medical and other products, vehicles, prefabricated buildings. Estonia imported larger quantities of wood and wood products, metal products and oils from Ukraine.
- Ukrainian Ministry of infrastructure announced the project of implementing e-transport documents with Estonia. When will it start? What are your prognoses for its realization?
- Ukraine is doing a lot of work in terms of increasing the capacity of border crossing points. This is related to the implementation of electronic border crossing control and I am very happy that Estonian company GoSwift is launching a pilot project of an electronic queue at two border points in the Transcarpathian region. In the vision of the Ukrainian Ministry of Infrastructure, in the future, booking a border crossing queue would be done through a smartphone application, which links all border crossing points. The user chooses in which direction, at what time and at what cost he wants to cross the border. When will the solution be fully used and reach its potential is too early to say.
Valentyn Marchuk, Kyiv
Photos: Press service of Ukraine's Ministry of Digital Transformation