Javier Colomina, NATO Deputy Assistant Secretary General
NATO is returning its physical presence in Ukraine ahead of the Vilnius Summit
31.03.2023 14:20
Ukraine hopes that at the upcoming NATO Summit in Vilnius in July this year, steps will be taken to address Ukraine's NATO membership aspirations and facilitate the process, as this will be the best guarantee of preventing Russian aggression from repeating in the future.
Three months before the summit, to facilitate intensive dialogue between Kyiv and Brussels, NATO is returning its physical presence in Ukraine. Deputy Assistant Secretary General of NATO Xavier Kolomina, who visited Kyiv on March 30, told Ukrinform in a short interview about this, as well as about the Alliance's constant support for Ukraine and the assessment of Russia's nuclear blackmail.
THE RETURN TO KYIV WILL FACILITATE OUR INCREASING DIALOGUE
- What is the purpose of your visit to Ukraine?
- The purpose of my visit is to express NATO's solidarity and support to Ukraine, and to continue our close consultations with the Ukrainian leadership. I am happy to be able to do so personally in the beautiful city of Kyiv, and to express my deep admiration for the bravery of the Ukrainian people. We have never left Ukraine, as we have continuously supported Ukraine, but I am pleased to announce that we are returning with a physical presence to Kyiv to facilitate our increasing dialogue and cooperation in the run-up to the Vilnius Summit.
- What meetings have you had on this trip?
- I met with Deputy Prime Minister Olha Stefanishyna, who is coordinating the work on your Euro-Atlantic integration and with whom we're in regular contact. Then i had a meeting with the Deputy Speaker of the Rada Olexandr Korniyenko, who was also accompanied by the Head of the national security committee. I also met with the deputy ministers of foreign affairs and defence.
NATO-UKRAINE COMISSION IS ANOTHER PLATFORM TO SUPPORT UKRAINE
- NATO Secretary General Jens Stoltenberg recently announced his intention to convene a meeting of the NATO-Ukraine Commission as part of the NATO foreign ministerial April 4-5. He also noted that he has the mandate to convene it, but out of respect for Hungary's position, which has been blocking the NUC since 2017, has not done so yet. Does this mean that Hungary's veto will not become an obstacle for holding such meetings in the future?
- The meeting of the NATO-Ukraine Commission with the participation of Minister Dmytro Kuleba at the NATO Foreign Ministerial next week is a platform for Allies to express their solidarity with the Ukrainian government and people and their commitment to support Ukraine for as long as it takes.
The NUC is also the right format to promote practical cooperation between NATO and Ukraine, including under the enhanced Comprehensive Assistance Package. And to promote Ukraine's ambitious reform agenda, which remains critically important for your county's future as a democratic country, based on the rule of law and respect for human rights and ethnic minority rights.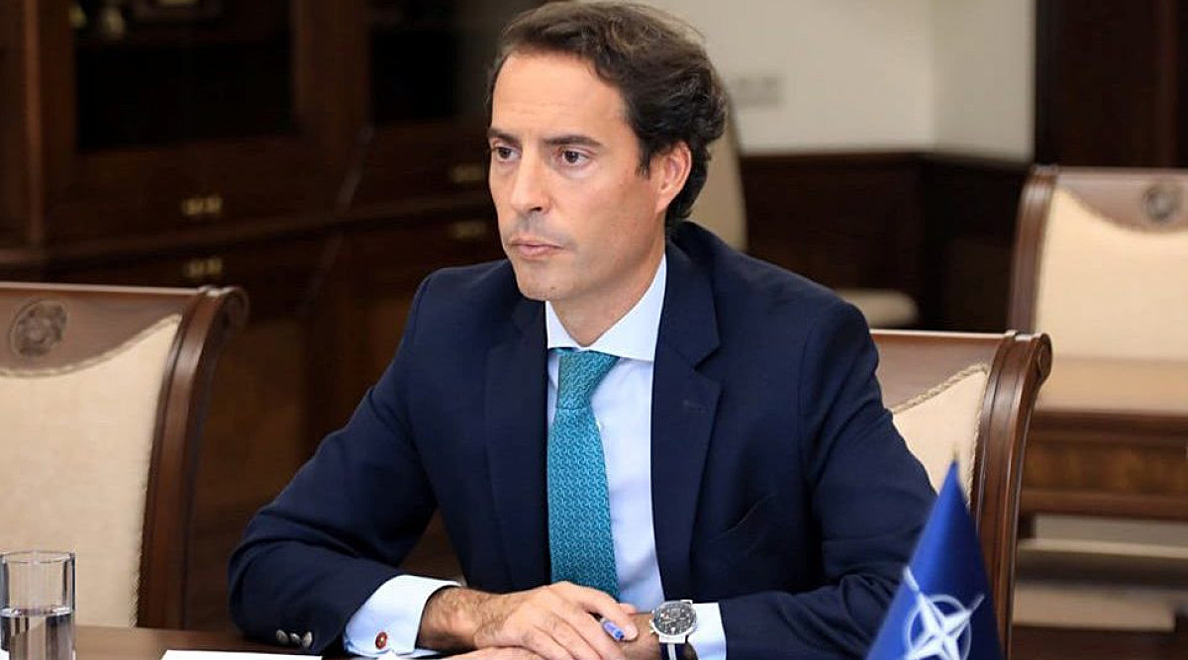 UKRAINE'S FUTURE IS IN NATO
- Long before the full-scale war, Ukraine was told that its contribution to European security was insufficient to receive the MAP. Currently, Ukraine, with the major help of NATO and European partners, de facto performs the function of deterrence, precisely for which the Washington Treaty was signed in 1949. Doesn't this mean Ukraine has earned its place in the Alliance? Ukraine's officials harbor hopes that a significant step toward Ukraine's membership could be taken at the July NATO summit in Vilnius. Are any discussions going on to this end?
- NATO's new Strategic Concept adopted at the Summit in Madrid last year states very clearly that a strong, independent Ukraine is vital for stability of the Euro-Atlantic area. Ukraine is fighting for the very values and principles that have been the foundation of peace and stability in Europe for decades. Ukraine's future is in the Euro-Atlantic family. And Allies stand by their 2008 decision that Ukraine will become a member of NATO and by our Open Door policy.
- Returning to the issue of war, the Alliance criticized russia for its "irresponsible and dangerous" nuclear rhetoric, just a day after russian president vladimir putin announced plans to deploy tactical nuclear weapons in Belarus. Is NATO convinced that these statements remain a tactic of nuclear saber rattling? At the same time, as a rule, the military has to prepare for the worst scenarios... Is NATO working them through?
- Russia's nuclear rhetoric is dangerous and irresponsible. NATO is vigilant, we are closely monitoring the situation. We have not seen any changes in Russia's nuclear posture that would lead us to adjust our own. NATO Allies have made clear that any use of nuclear weapons by Russia would fundamentally change the nature of the conflict, and would be met with severe consequences.
Russia must stop its irresponsible nuclear rhetoric.
And Belarus must stop acting as an enabler to Russia's illegal war in Ukraine.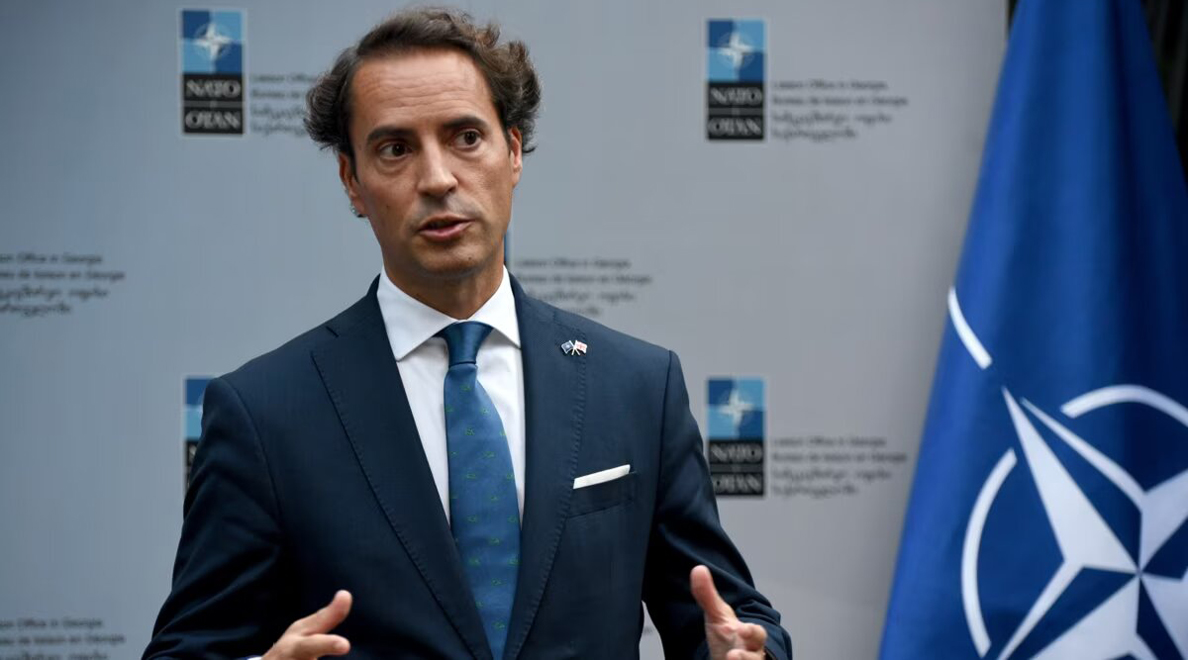 NATO IS NOT A PARTY TO THE WAR WHILE ALLIED SUPOPRT FOR UKRAINE IS UNPRECEDENTED
- NATO consistently pursues the policy of deterring russian aggression in order to prevent the war from spilling beyond the borders of Ukraine and to the territory of NATO allies. But is there an understanding among the allies that in the kremlin's imagination, russia is already at war not with Ukraine, but with all of NATO?
- NATO is not a party to the war and is resolute in deterring any further escalation. NATO's purpose is to protect the security of all Allies against any external threat and to secure Euro-Atlantic stability. In response to Russia's unprovoked war of aggression against Ukraine, we have activated our defense plans and significantly strengthened our military presence in the eastern part of the Alliance. To demonstrate our rock-solid commitment to protect and defend every NATO Allied territory and to avoid miscalculations on the part of Russia in this regard.
And NATO Allies are providing unprecedented assistance to provide Ukraine with the means to defend itself against the Russian aggression and regain territory. This builds on our long-term support to Ukraine, especially since 2014, which has helped the Ukrainian armed forces to be much stronger, better led and better trained than ever before.
Together with their outstanding bravery, commitment, and skills, our support makes a difference on the battlefield every day.
- For 96 percent of Ukrainians, the finale of this war is about the complete liberation of all Ukrainian territories currently occupied by russia, including Crimea. How does NATO see the end of this brutal war?
- The UNGA resolution adopted on February 23, 2023, by 141 countries includes an unwavering commitment to Ukraine's sovereignty, independence and territorial integrity within is internationally recognized borders and demands Russia's unconditional withdrawal and cessation of hostilities. Ukraine has the right to defend itself against Russia's war of conquest and to liberate the territory occupied by Russia. The right to self-defense is enshrined in the UN Charter.
Allies are providing weapons and ammunition to support Ukraine's right to self-defense and to help Ukraine strengthen its position on the battlefield, so that it can achieve a just a sustainable peace.
Ievgen Matiushenko
Photos: APA, NATO