Ben Hodges, former Commanding General of United States Army Europe
U.S. continues to provide military support for Ukrainian Armed Forces
video 07.10.2021 16:44
In the new episode of the program "National Security Council," Tetiana Popova discussed with General Ben Hodges, the former Commanding General of United States Army Europe, an agreement between Ukraine and the United States on strategic defense cooperation.
POPOVA: What do you think about Zelensky's trip to the United States? How successful was it?
HODGES: Well, three things. Number one. Of course, I'm glad that the two leaders met. It was not the ideal outcome but I think it was important that they met. And we should not lose sight of that. Number two. It highlights the need for a strategy for the greater Black Sea region where Ukraine fits inside an American strategy for the Black Sea region. And then number three. It's also important to remember that the United States, including the support of the Congress, continues to provide military support for the Ukrainian Armed Forces.
POPOVA: What is included in this defense cooperation? What does it give Ukraine? What is the use of it?
HODGES: There are two or three key components. Number one. Of course, the United States will continue to provide military equipment that Ukraine requests for land forces, for maritime forces. This is important. Secondly, I would anticipate we're going to see increased cooperation on the defense industry side so that the American-Ukrainian industry is working together. It should include some intelligence-sharing agreements to help each other because Ukrainians will see things that Russia is doing faster than us but, maybe, there are some ways that we can also help the Ukrainian Armed Forces. So, that's what I expect. There is this idea of air and missile defense, supported by the Congress, to provide this system called Iron Dome. I don't know that that's going to happen. I'm not sure it is. There are so many things to get through and, frankly, I don't know that that's the right system that Ukraine really needs anyhow. So, what I hope will happen is in order to show a good policy for military cooperation. Let's get a confirmed ambassador into Kyiv. Let's continue to work on filling all the positions in the U.S. Department of State at the top level so that we can develop the strategy for the region and have the long-term policies that are most beneficial for Ukraine and for the United States.
POPOVA: Do you have a similar agreement with the United States in Georgia, or is Ukraine more advanced here? Because there were some agreements between Lockheed Martin and the Ukrainian Ministry of Defense. But I'm not sure that Israel's protection is the same as that of Lockheed Martin.
HODGES: Of course, it is really a system that the United States has recently purchased and we're not even sure that this is exactly what the United States needs. Either the whole concept of integrated air and missile defense is more than just the rockets of the interceptors. It's about exercises, it's about command-and-control, it's about the radar sensors that have to be out there. That's why I have been reluctant to advocate too strongly for a particular system for Ukraine. Because you have to have the entire package, not just the launcher. And I think that Ukraine has the technology actually to move much of this already, but there must be ways how the United States can help in a key moment. The key moment for air and missile defense is exercising, testing the ground system, sensor on the Black Sea, sensor in the air. And practically integrating them is the only way sure if you can identify the gaps that you need to address.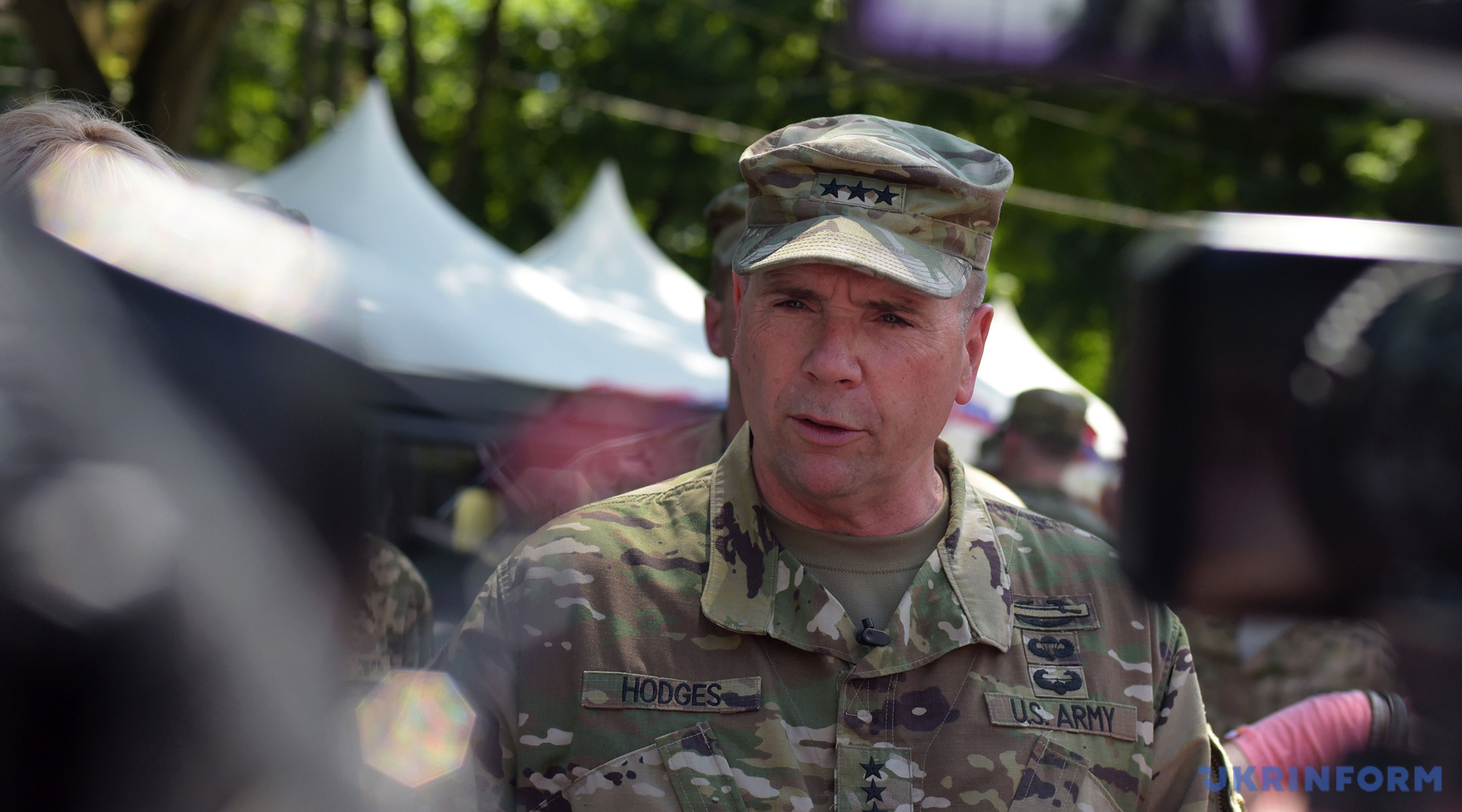 POPOVA: But even in times of Poroshenko, there was a request from the deputies of the Ukrainian parliament to MNNA status in 2014 and Obama did not give it to us then. Why? You, General, said that there is now a consensus in Congress on the granting of this status. That is, there is an application, but we have not been provided with it.
HODGES: I think the Rada actually just voted against this MNNA status as well. So I think even in Ukraine there is no understanding or broad support for it. Look, I think that the United States policy should be that Ukraine, like Georgia, should be on a very clear specific path to NATO membership. Georgia should already be a member. And if I thought it would help to accelerate this, then I would be in favor of this major non-NATO partner status for Ukraine. Because it does bring some things with it but, as some critics have pointed out, Afghanistan also was a major non-NATO partner. So the key is not to focus on these things. The key is to strengthen the overall relationship between the United States and Ukraine in diplomacy and cultural exchange and economic support trade as well as military. And again, the next time President Zelensky and President Biden meet or maybe defense minister or foreign minister meet, I hope the first question will be: the United States, what is your strategy for the Black Sea region and how does Ukraine fit in that strategy? We want to help Ukraine. We want to be a part of this now. The reason I keep emphasizing the need for the strategy is because that's where the priority for resources comes from without a strategy for the Black Sea region. We will never have enough U.S. Navy presence in the Black Sea. We will never get beyond what we're doing right now. You have to have a strategy that sets priorities. That's why this is so important. And so that's why I advocate for making sure that the relationship between Ukraine and the United States is strong and stable. And then we can work together on these things. If U.S.-Ukraine relationship is not strong enough then we will never convince Germany or France or the Netherlands why Ukraine should be in the Alliance.
POPOVA: How do you think relations with Russia will develop by the end of the year? There was a spring escalation, then there were the West exercises, and the rhetoric of Russia in the media, of course, remains quite warlike. The deputies of the already elected parliament declare any nonsense about Ukraine. Maybe this will result in something more significant than statements?
HODGES: Clearly, of course, there's tension. You have Russian troops occupying Crimean sovereign territory and just last week, two more Ukrainian soldiers were killed by Russian-supported, Russian-led, Russian-backed so-called separatists. And this was not an accident, this is a continuing process. And so the United States needs to continue, to reinforce its support for Ukraine both publicly as well as physically. The respect for Ukrainian sovereignty is a priority for the United States as President Biden said it was. Now I'm not happy that we are not doing more. I'm very disappointed that Germany and France and UK and others are not putting more pressure on the Kremlin. The so-called Minsk process, the Normandy format. You know this ceasefire was arranged under that format and yet you still have Ukrainian soldiers dying as a result of Russian aggression. And we have to continue, to push back on this fairy tale that comes from the Kremlin. Now I think that the international community is also increasingly more and more aware and increasingly tired of the fairy tale from the Kremlin. Everybody in the world knows that the election that just took place in Russia was a complete [deception]. Nobody believes that it was a fair, honest and transparent election. And I think that that's part of the reason President Putin also chose not to go to the United Nations this week not just because he's embarrassed that the Sputnik vaccination is not accepted internationally, but also because he knew that everybody would be looking at him as someone benefiting from a stolen election.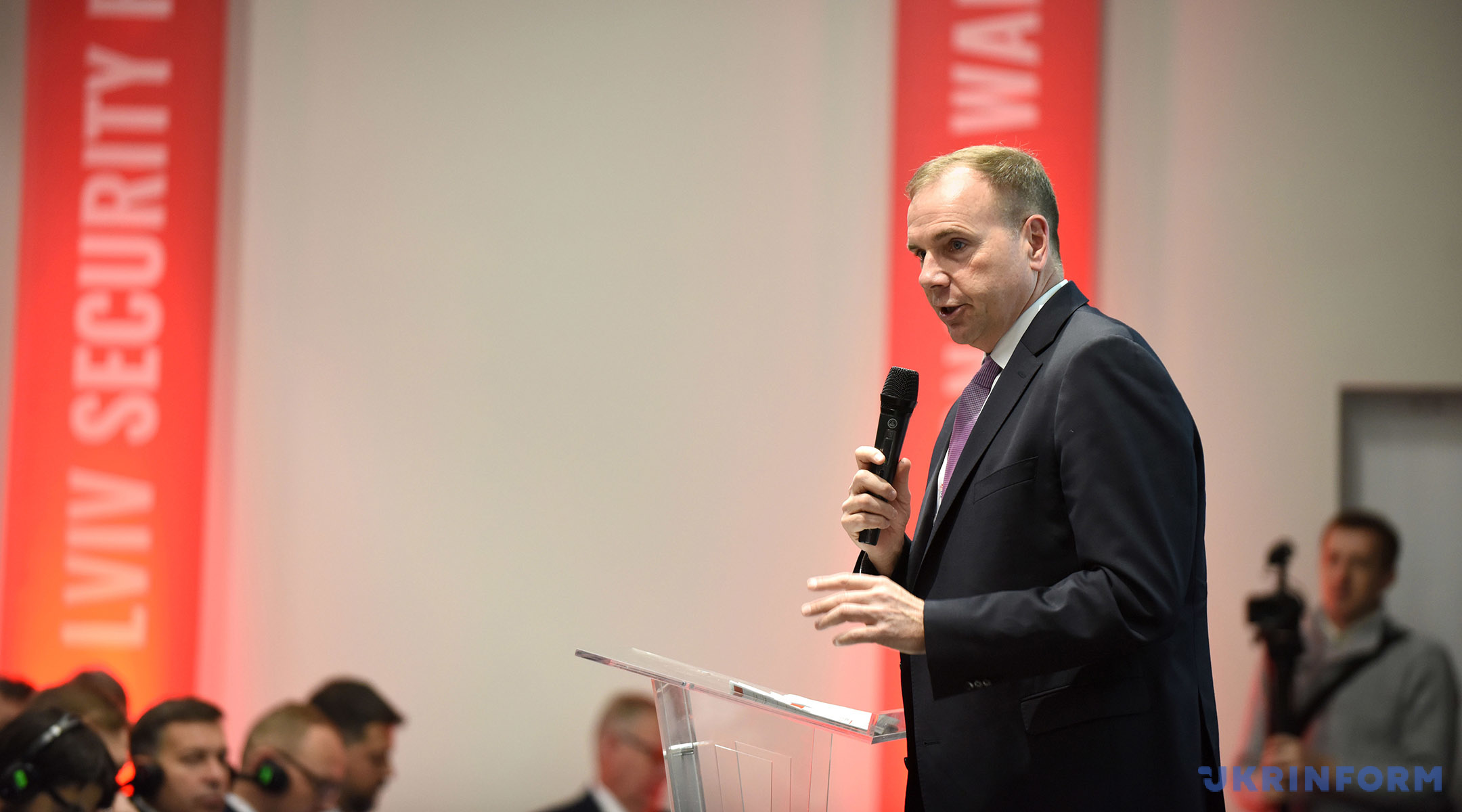 POPOVA: During the elections, Google and Apple complied with the requirements of the Russian authorities and blocked the "smart voting" application. Will the U.S. government influence these companies due to them flirting with authoritarian regimes?
HODGES: I was disappointed and embarrassed that Google and Facebook and organizations like this would give in to demands from the Kremlin. Same thing when the Chinese Communist Party puts demands on the U.S. or other European nations to do things rather than shines the light on their human rights abuses. So, this is disappointing and I'm concerned that the administration is not being firm enough on the Kremlin. This is part of the strategy, I mean the strategy is not just about military, it's about diplomacy, it's about competition in information space and it's about economic pressure, working with allies. And so, the administration is going to have to do a lot more to get not only our allies together but also American business to make sure that Russia is not able, that the Kremlin is not able to put pressure on us the way that they are. It's whether we're talking about gas or digital information this has to be part of the strategy.
POPOVA: A new partnership between the UK, the U.S. and Australia. Why is it necessary? Why is France against it? Just because a contract for nuclear submarines was transferred from France to the United States?
HODGES: Well I think this situation has three or four different components. Yes, of course, the French are unhappy about the loss of the defense industry, the business. I mean that this was important for French national pride, jobs and their defense industry. So, it's natural that they would be unhappy about that. I think that the French also, of course, are unhappy that they feel like they were betrayed, that the United States and the UK and Australia did this behind their back, without consultation. And I think in this case betrayal is too strong but we have to be able to talk about tough subjects. So, this is something that the administration will have to address with France. Of course, France is an important ally not just in Europe but also in the Indo-Pacific region. And the United States is clearly prioritizing bringing together capabilities and allies that can counter China's growing capability in the Pacific region for the benefit of all of us.
Now let me plan definitely. I think that the French response is really dramatic to that total shock. I think they're not totally honest and you know they need to take a step back. Let's look at all the different areas where France has not been eager to see the United States or the UK have a role inside the European Union's defense industry business, for example. So, you know, having allies and relationships requires honesty on both sides. Now you know, of course, we have an intelligence agreement with the UK, Australia, Canada and New Zealand what we call 'five islands.' I think that I could imagine - this is not my area of expertise - but there was a concern about sharing nuclear technology with friends outside of that framework. I mean France never offered its nuclear arsenal for NATO. So there are different layers to this situation.
Tetiana Popova