Sean French, Commanding Officer of the NATO enhanced Forward Presence Battle Group Latvia
We are ready to defend if necessary
06.07.2018 11:20
When Russia occupied Crimea in 2014, NATO had to urgently build up its defense in order to protect its members. Canada then took an important role in maintaining security in Europe by leading one of NATO's multinational battlegroups urgently deployed in the Baltic States and Poland. The United States, Germany and the United Kingdom did the same.
Ukrinform used an opportunity to talk to Commanding Officer of the NATO enhanced Forward Presence Battle Group Latvia, Lieutenant-Colonel Sean French. His 1,150-strong battle group includes approximately 450 Canadian Armed Forces soldiers, as well as troops from seven other NATO member states. It is based at Camp Ādazi, near Riga, Latvia.
Q: You have soldiers from different countries under your command. Do you have issues with cultural differences?
A: The simple answer is yes, we have issues but we work through them. There are nine different nations on this Latvian base, so of course we have cultural differences. But the great thing is that we can learn from them to work with each other and figure out similarities.
Q: There were numerous reports about the efforts of the Russian propaganda machine to target your battle group. How do you deal with it?
A: Indeed there were some information-consultation operations aimed against the battlegroup. But we've actually seen their decrease over recent months. I'm not sure, but the reason for this might be a lack of resources. There were elections in Russia and now they have a World Cup. These events might be distracting. But it also could be that the fake news isn't working. There were a lot of messages dealing with half-truth but I don't think that fake news is working very well. We are dealing with it by being truthful with everybody.
Q: Do you conduct any propaganda awareness course for your soldiers?
A: Our soldiers are aware of what fake news is, we do talk about it a lot. But our bigger concern is the Latvian people. We do outreach with Latvians so that they can directly ask questions posed in fake news. They can take them back to the Polish soldier who helped them clean the town, or the great Albanian soldier they've met at a local fair. That's the way we can battle it as well.
Q: How does the local population react on the presence of foreign troops on their soil?
A: All reactions are very positive. Personally, I didn't hear any negative reactions. Usually they understand why we are here and are thankful for that.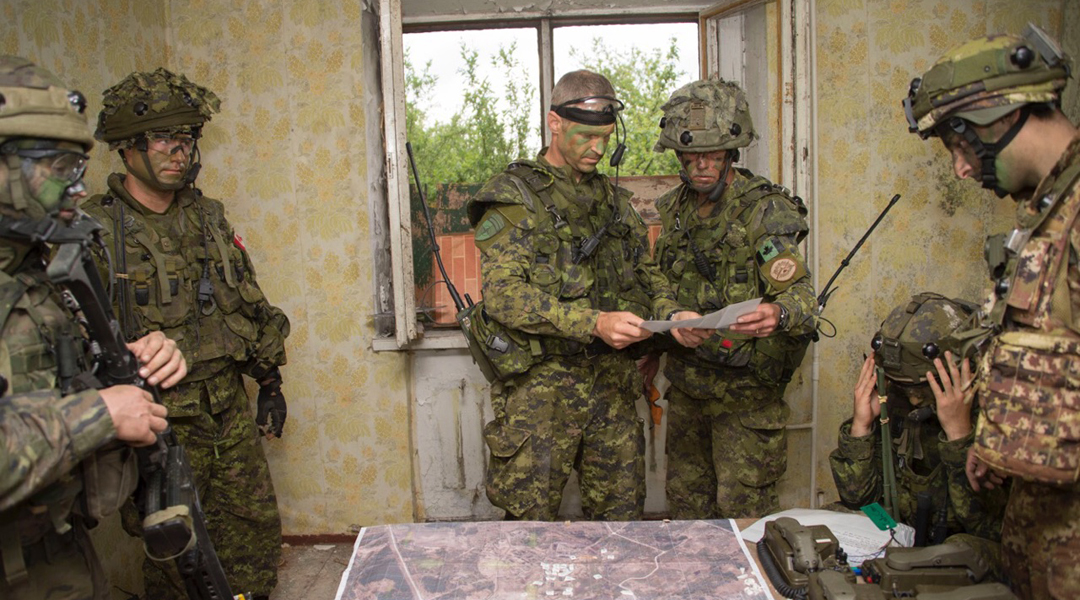 Q: Have you noticed any unusual activities across the Russian border since you've arrived in Latvia?
A: No, no unusual activities since we've been here. Like any nation inside its own borders Russia is welcome to conduct training exercises. To my knowledge, that's what they've been doing routinely.
Q: Let me clarify one thing: the main purpose of your battlegroup being stationed in Latvia is deterring possible aggression against a NATO ally?
A: Exactly. The mission we have here is deter and if necessary defend in order to reinforce our ally and make sure that this area remains stable. Latvia is a very safe, secure and stable nation, but we just want to make sure that there are no miscalculations made in the level of interest that NATO has in Latvia and its neighbors.
Q: Are your people prepared to take a stand against possible foreign aggression?
A: Yes, we are ready to deter and if necessary defend. My boss here on day to day is the Latvian mechanized infantry brigade commander. We are in his chain of command. I am also working very closely with my fellow battalion commanders. So every day I work as I would back in Canada, just having a Latvian boss and being ready to work as part of that brigade.
Q: Do you have all necessary equipment and resources to do your job?
A: We do. One of the advantages of having so many nations in one battalion is that every nation brings different things and together we form a very robust battlegroup. For instance, we have the most tanks in the Baltics right now. We've got a lot of different assets that we can bring to the barrier. We shouldn't underestimate what the Latvian forces have here as well. Obviously all the nations in the Baltics and Poland have very good militaries and we work very hard to make sure we are linking all of them. So to make the long story short: we have what we need to make sure there are no miscalculations.
Q: Logistics must be a challenge for your battlegroup. How fast can it move from one location to another? Is it mobile?
A: I suggest pretty mobile. Another advantage of having different nations is that we have various vehicles. Some of them are tracked, so it takes a bit longer to move around, while other vehicles are wheeled and can move across Latvia and ultimately the Baltics very quickly. Every type of transport has its strengths and weaknesses. What we focus on is being able to deploy away from this camp. Sustainment is always a concern. It's even more of a concern when you have a multinational battlegroup. But during the year that we've been here we figured out efficiencies and ways to work together better so every day the interaction is getting better.
Q: This battlegroup has been in Latvia for a year already. Do you adapt the mission to the current challenges?
A: The mission has been in Latvia for a year, but my battlegroup has been here for five-and-a-half months. No, we didn't adjust it, because we have been assigned to an enduring mission. If we get new tasks - we will adjust it, of course, but right now we have to deter and if necessary defend.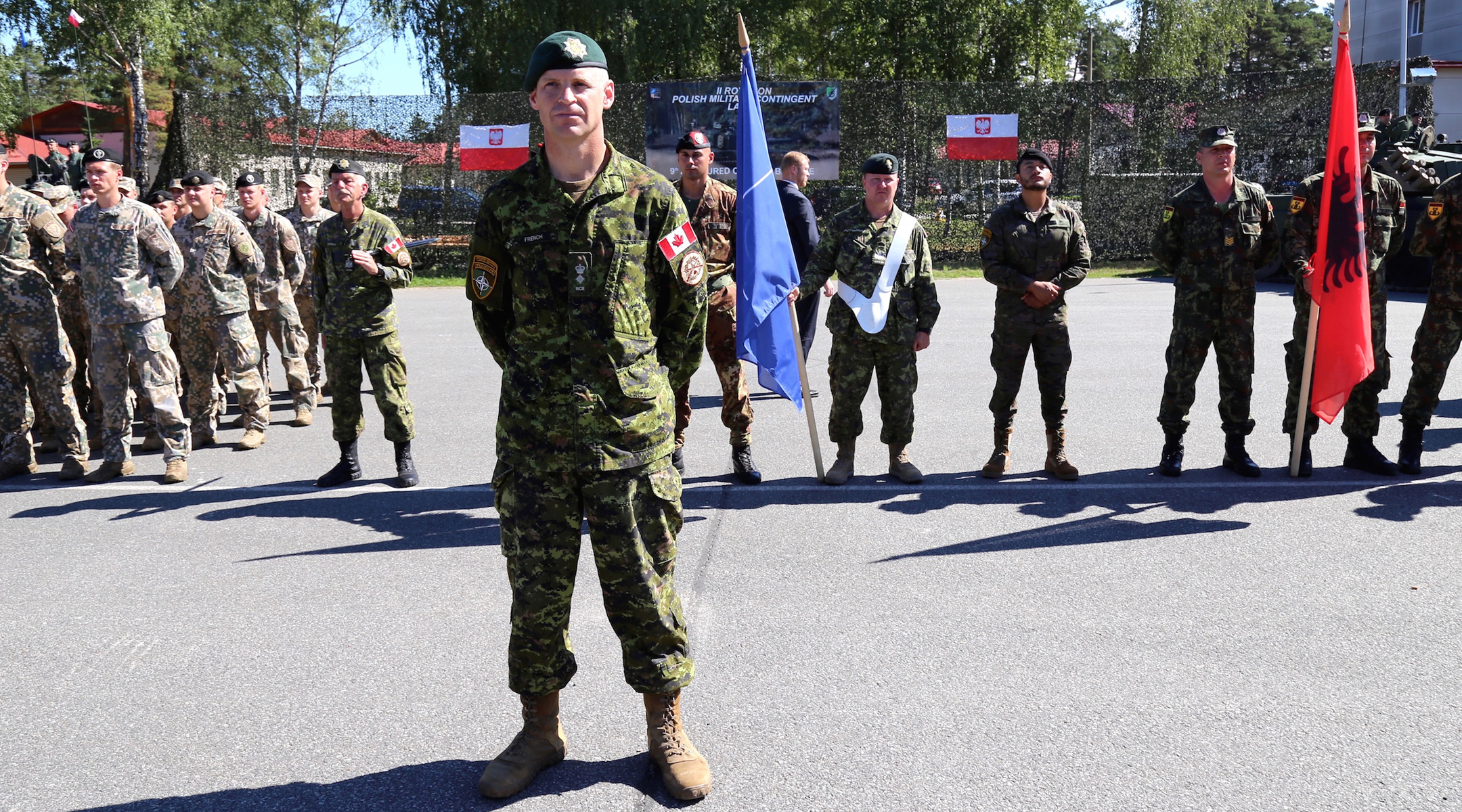 Q: So each consecutive rotation does almost the same as the previous one?
A: Yes. We synchronize everything we do with the Latvian brigade. Nevertheless as a commander, I have some flexibility and the next battlegroup commander might try to focus on something a little bit different, but it's all about integration and having a force that's ready.
Q: So what are your group's day-to-day activities?
A: It's ultimately training and outreach. The two things we focus on daily is training and making sure we are ready for anything that happens. Very early on we had a two weeks integration exercise where we learned how to work in harsh winter conditions. It was a good check for everybody, especially given the fact that we've chosen a very cold week. We also did airmobile and urban operations. Latvians have great training centers for that task. To have people learn from each other we compared different drills from different nations. More recently we were a part of the large U.S.-led exercise Saber Strike. We covered about 80 kilometers of terrain and had a chance to interact with local population. It was a great experience!
Q: So it's mostly different types of training that you do every day?
A: Yes, on a company, battalion and brigade levels to figure out how to work with each other. It also allows our soldiers to reinforce their skills and learn from each other.
Q: Are Canada and NATO able to gain valuable experience during this deployment in Latvia?
A: Yes, it is a great experience. Obviously Canada and NATO have been focused a little bit more on Afghanistan for about a decade and a half so we are refreshing ourselves in a more defensive doctrine. We've got the Spanish, the Italians, the Polish, the Slovenians the Czechs, the Albanians, the Slovaks and the Canadians here - many different nations. And it is good to be learning and in some cases relearning some of the skills in terms of defensive operations.
Q: Do you have an idea of how are you going to use this experience back in Canada?
A: It is actually quite important. When I get back to Canada my battalion is going to be supporting course in training new commanders. So this will be an immediate return that the battalion is going to see. We will be able to help new commanders learn some of the skills and great experience we gained while working with the allies.
Q: Did you get yourself more familiar with the hybrid warfare?
A: Yes, we did and some of the lessons we've learned in Afghanistan are applicable to the hybrid warfare as well. Still we are a battlegroup and we are focused on fighting a larger enemy force. Latvia is a stable nation with effective normal security apparatus like the Armed Forces and the police. We are not filling this role. We are here merely for doing things that a battlegroup does. We are not the first answer for anything, but we are here to make sure there are no miscalculations. We focus probably a little bit less on the hybrid war than we had in the past.
Q: How would you describe your cooperation with the Latvian Forces?
A: We have a great cooperation with the Latvian Armed Forces. We work for the Latvian mechanized brigade here. My peers are the Latvian battalion commanders with whom we do training together on a weekly basis. But we also work with the Latvian National Guard that has four brigades around the country. Whenever they have training and it works with our calendar - we train with them as well.
Maksym Nalyvaiko, Ottawa
Photo: forces.gc.ca, DND-MND 2018, Rafal Lesiecki / Defence24.pl