Oleksii Reznikov, Minister of Defense of Ukraine
Attempts to discredit the military-political leadership are aimed at reducing the trust of partners and then at encouraging them to "negotiate" with Russia
05.09.2023 18:28
What kind of weapons has Ukraine already produced, what are the consequences of corruption scandals in the country for arms supplies, whether Russia will use nuclear weapons, and when Ukraine will be invited to join NATO - read about all this in the second part of a large interview with Minister of Defense of Ukraine Minister Oleksii Reznikov to the Ukrainian National News Agency Ukrinform.
The first part of the interview is here.
OFFICIALLY, 30 MODELS OF DIFFERENT TYPES OF NEW UKRAINIAN DRONES HAVE BEEN AUTHORIZED FOR OPERATION ALONE
- Drones. This is another big complaint from society: why are there so few drones? Why are drones bought with citizens' money, why are they not bought with budget money? At the beginning of the interview, you said that there would be a lot of drones in the fall. As Mykhailo Fedorov recently said, we have 200 Ukrainian drone manufacturers. Can you tell us how many contracts the Defense Ministry has signed with them?
- I am not authorized to tell you about the contracts. I can say that officially, only 30 new Ukrainian drones of various types have been approved for operation: reconnaissance, attack, kamikaze, etc. This includes 10 models of FPV drones. The number of drones produced will depend on the manufacturers themselves. As much as they are able to produce, everything will be ours. We will buy everything from them for public funds. When people say, "Why are only citizens buying?" I will explain. Citizens donate their own money to volunteers' requests, and that's right. Thank God, they help and support us, it's good. But I know all the budgets spent on supplies for the army - those provided by volunteers and officially by the state. I can tell you that the supplies from volunteers from February 24, 2022 to the present day are 3% of everything that has been sent to the war.
A day of war costs us $100 million. And now take the budgets of all the reputable large volunteer foundations and see how much they raise. And the state, which spends $100 million a day in total. Just think about it. Therefore, it is unfair to make claims to the state-the military and political leadership, everyone from local leaders to the parliament, the government, the president-that everything is done by volunteers. This is not true. In fact, this is done by Ukrainian citizens, those who work, because they pay taxes and these taxes go to the budget, and from this budget they go to the army, among other things. The army is the largest consumer of funds today. But funds are also needed to maintain the country as a whole: for infrastructure, for reconstruction, for supporting the socially vulnerable. Therefore, we need to work and pay taxes. Businesses need to be active and support entrepreneurs. And here... When you read the posts of some active experts, the word "margin" sounds like a crime, an entrepreneur is a "huckster," a contract for the supply of something to the state is "definitely a corruption deal." They don't use any other labels. And entrepreneurs are offended. I meet with large associations all the time, speak at their forums, and they say: we are uncomfortable signing contracts with the Ministry of Defense or other government institutions, because law enforcement agencies immediately start bothering us and arresting our accounts, and we are being riveted by activists who have decided that their cross is to fight all "businessmen," as they call them, "rear rats," and everyone in their circle is "corrupt." Wherever you look, everyone is corrupt, there are no decent people in the world.
And from the interesting. The latest. The Ukrainian manufacturers/developers whose UAVs have been tested as of today are 100% utilized. Soon we will reach decent production figures. At the same time, realizing the importance of having qualified pilots, we are launching a military school for operators of FPV drones, reconnaissance UAVs and robotic platforms. The school is designed for highly professional military training and retraining. It is important that military pilots will train military pilots. I cannot give more details yet, but the plans are quite ambitious.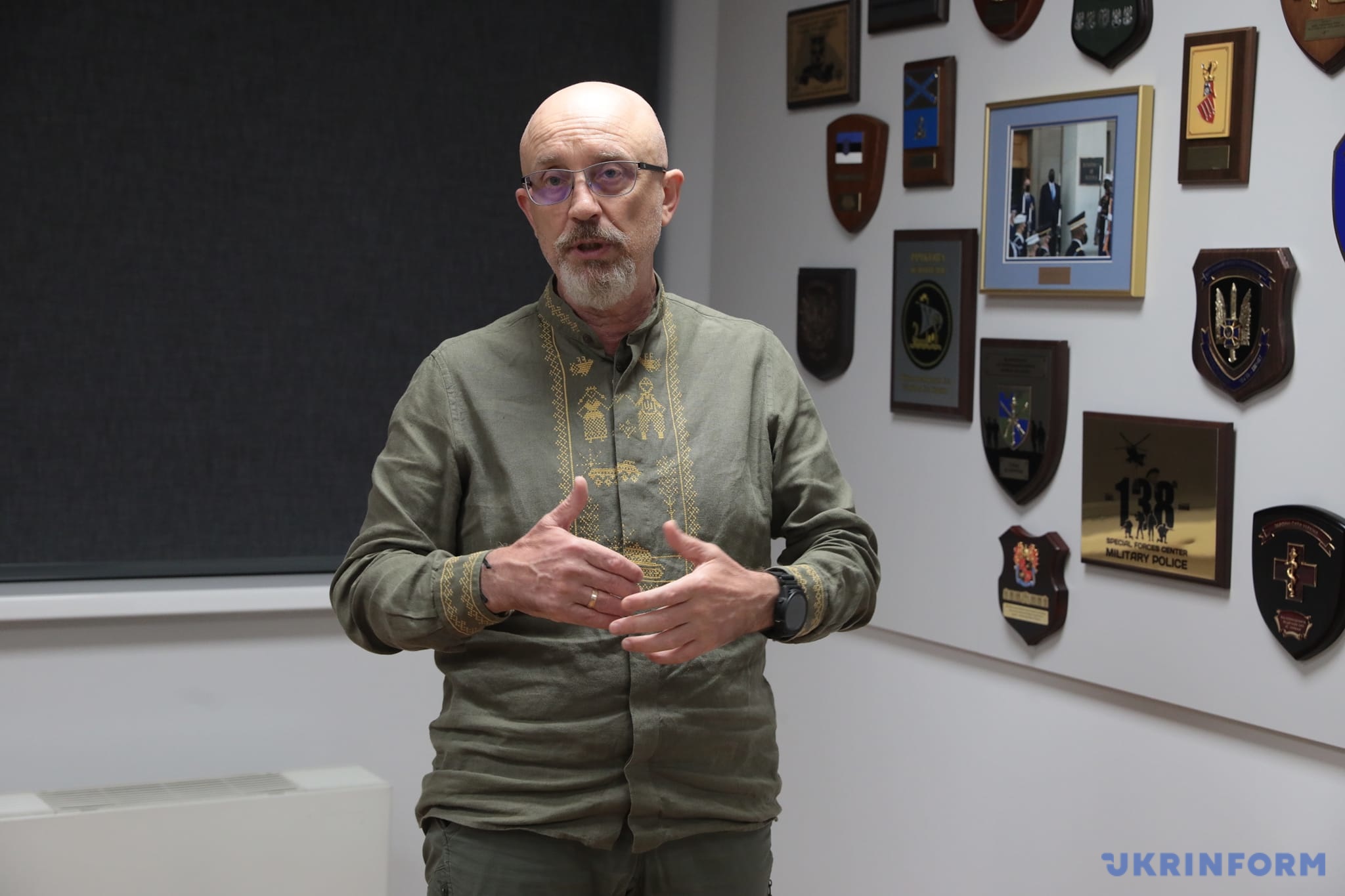 UNFOUNDED CORRUPTION ALLEGATIONS HAVE BECOME AN INFORMATION WEAPON AGAINST THE REPUTATION OF THE MINISTRY OF DEFENSE
- About the fight against corruption and your department. Over the past six months, there have been two major scandals: in the winter, the one related to "eggs at 17 UAH," and more recently in the summer, the one related to "winter/summer jackets," which you explained to journalists last Monday. After these cases, did you order any internal audits? Recently, there was information that the State Audit Service audited you. Its head, Alla Basalaeva, then told the media that the results of the audit of the Defense Ministry were a secret document of 3,000 pages. How do you cooperate? For example, a public anti-corruption council of the Defense Ministry has been created. What is your contact with it? Do you provide all procurement documentation for them to analyze? This year, the Ministry of Defense returned procurement to Prozorro, so we can already assess what results this has led to, what benefits the state has received from it?
- Regarding the audit by the State Audit Service. Back in the summer of 2022, I asked the State Audit Service in writing to appoint an audit of the Ministry of Defense for the last period, after the start of the full-scale invasion. I did this quite consciously because I realized that during a difficult period there would definitely be many documentary violations: unexecuted documents, protocols, etc. We were constantly running forward, no one was sitting in their offices, because the premises of the Ministry of Defense and the General Staff on Povitroflotskyi Avenue were, of course, one of the targets of the missile attack. From the first night of the invasion, there were attempts to penetrate us, an enemy subversive group fired at our office with Valerii Zaluzhnyi. That's why we dispersed all our employees, working from home or in some other premises in small groups. But we have never disrupted even the transfer of payments. No one even understands how we did it, but we did it to make sure that nothing went wrong and that everything worked.
But I realized the need for an audit, so I turned to the State Audit Service last summer. We weren't even on their plan - they changed the plan for this audit. At the same time, I sent a letter to the Accounting Chamber, also asking them to conduct an audit of the Ministry of Defense. Especially, I wanted to know about possible additional nuances of accounting for international technical assistance (ITA), everything that came from the West, from abroad, not for money. At that time, the two heads - Hennadii Plis in the SASU (State Audit Service of Ukraine) and Valerii Patskan in the Accounting Chamber - said: okay, we will do it.
Valerii Patskan wrote letters to his colleagues in the Accounting Chambers of friendly countries to suggest a methodology for checking ITAs, because we have never had such a methodology, because we have never been given ITAs as such. We had a few Javelins back in the day, and that was it. There were no large-scale weapons tests - never in the history of Ukraine's 30 years of independence. And my team and I have put into service about 300 modern models of NATO equipment and weapons. Just think about it. This was impossible in 30 years. No one believed it was possible, but we did it: 300 samples of new modern weapons and military equipment!
And in the fall of 2022, my internal ministerial audit also made certain checks. It did it quickly, not globally. In this regard, in December, I suspended the head of the public procurement department from his duties.
- Mr. Khmelnytskyi?
- Yes, that's right. I made my decision in December. So when the so-called investigations came out later - I say so-called because I can't call them investigations, because I have questions about the objectivity and correctness of the information presented there. They came out the following year on stories that we had already checked and made certain conclusions about, and we sent appeals to law enforcement agencies. This is just my reaction as a minister and my team to possible violations that may contain elements of corruption. Not necessarily corruption. There may be something else. There is negligence, for example, which is also a violation. But when they put an accusation on your head that is not true, it is not true. With the same eggs, it is fake. This is a meme that was made, and it is not true, it is a lie. Never in my life, at least during my tenure as minister, has the Ministry of Defense bought eggs for 17 UAH a piece. And I can reveal a huge secret, but the State Audit Act, which is 3,000 pages long, investigates this fact.
- Why did Basalaeva say that there were purchases at 17 UAH?
- But, you know, I have a question for the head of the SASU, why did she lie in the interview, because the act directly says: "not documented"? This is a quote, it is not secret, I have the right to voice it. In this regard, the Ministry of Defense is challenging the entire audit report and its conclusions in court - according to the law, we have the right to do so. And the Ministry of Defense has prepared a lawsuit separately to refute the false information that defames the honor and dignity of the Ministry of Defense.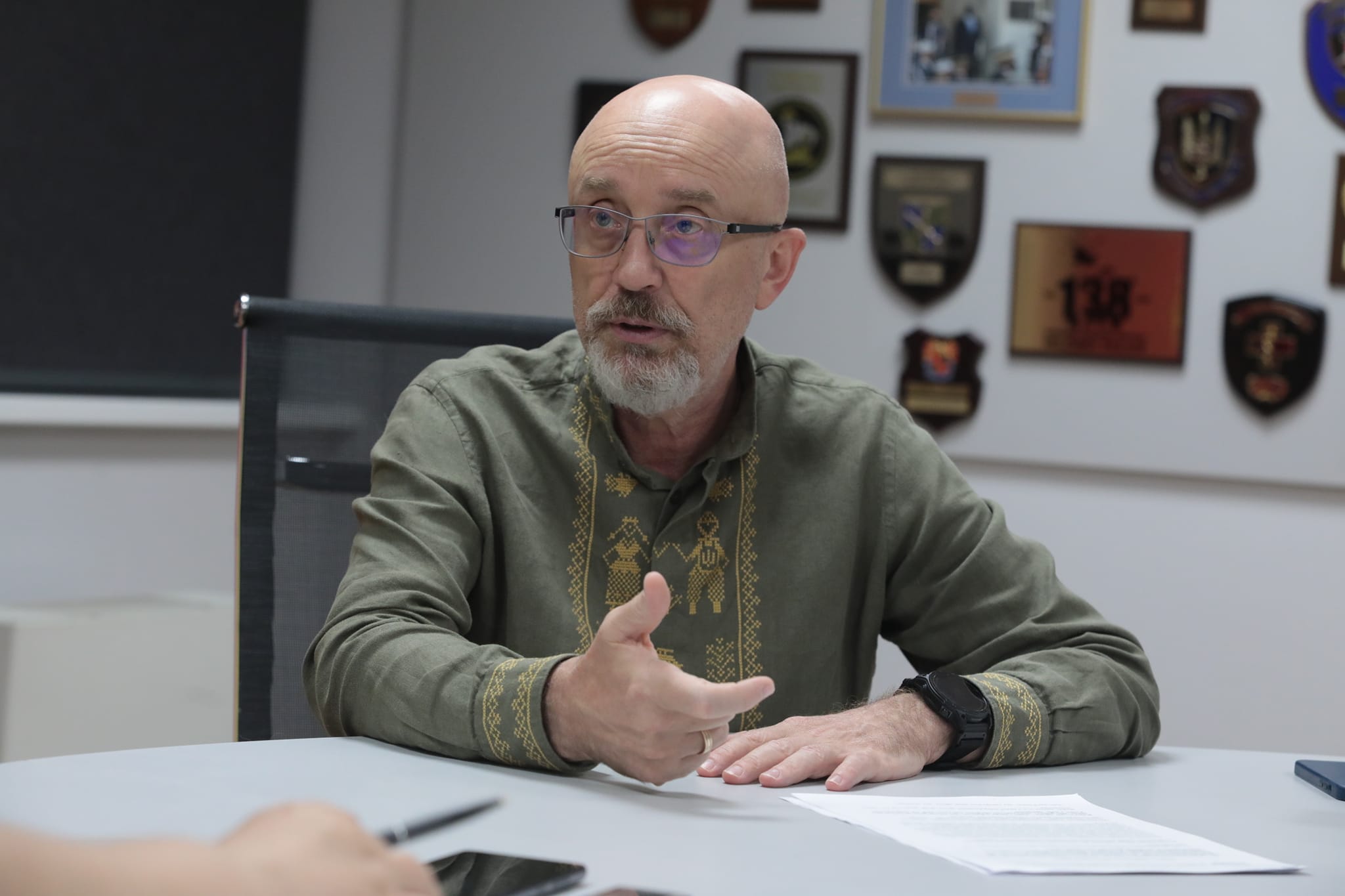 - Have you already filed it with the court?
- Yes, it has been filed. And it will be difficult for the defendant, because we are presenting the act of this particular defendant as evidence - the act of their inspection. They did a counter-check, they checked the documents with the supplier, with the Ministry of Defense regarding the procurement, etc. And they came to the conclusion that it was not documented. That's right, not confirmed, because there was no fact, do you understand? So this is a lie, this is a lie that was used as an information weapon against the reputation of the Ministry of Defense - not just me, but the entire team. If there were violations on the part of employees, law enforcement agencies investigated it, I want it to go to court, and the court will say whether the person is guilty or not. But I'll tell you more: there is not a single criminal case in any law enforcement agency regarding eggs. Because they have checked and see that there is no fact, there is no criminal case, no one to blame, nothing to investigate. The preliminary check was done by the law enforcement agencies that are responsible for this.
- And your deputy, the other one, was detained?
- For bulletproof vests, not for eggs. Once again: there is no suspicion of anyone regarding the eggs. Why? Because there was no such case, you know?
The same applies to whether the jackets were summer or winter. We were accused of buying cheap summer jackets and giving them to the military in the amount of 180,000 pieces in winter under the guise of winter jackets. This is absurd! "Summer jacket" is nonsense and the phrase itself is wild. If we talk about the summer jacket, it looks different, I showed it to the media on Monday. Okay, 40-45,000 sets are still in warehouses, and 135-140 thousand have been sent to the troops. Just think about it: if 140,000 soldiers last winter - it was a fierce, cold winter - would have received summer coats and been told: "This is your winter jacket". Can you imagine the reaction? It would have been not just a scandal, but the whole team would have been thrown out of this building long ago. So I ask myself the question: who benefits from such manipulations and why do they need to do them? I have only one answer - someone really doesn't like the Minister and his reforms. Someone wants to remove him from this position because he is inconvenient to someone. And this minister destroyed several monopolies when he came to this position. The first was a monopoly on food, because one company was feeding the army. I destroyed this monopoly. Even without the ProZorro tender procedures, which was impossible during martial law, the army was fed by 8 companies. And now we have also made purchases through the ProZorro system: both food and clothing. All Ukrainian garments-as they call themselves, light industry-were contracted. That is, there is no monopoly there. Body armor is Ukrainian. The only thing is that one company supplies shoes. It's just that it's the only one in Ukraine, no one else makes the shoes that our soldiers wear. That's why we buy from them, because they have no competitors. I hope there are none yet. I mean, it's a natural monopoly for now, but everyone agrees with it, because these shoes are worn by the Security Service of Ukraine, the National Guard, etc.
You know, I may have already quoted this somewhere, but I'll quote it again. When you have only a hammer as a weapon, everything around you seems like a nail. If you have decided that your mission in life is to be an anti-corruption activist, a fighter, and you have this hammer, then you believe that all nails are thieves, and you need to kill them all. This can also be explained psychologically. It's a war, we have an enemy, but the enemy is behind the front line. We all want to defeat him and fight him. But if we are sitting in the conditional rear, we are looking for enemies among ourselves to fight with. And this is where the distortion of the perception of the world begins: aha - the government, so they are bad, something is wrong there - so it was definitely stolen; sold to private business - so they are thieves, they made a profit. That is, they want everything to be free. And this reminds me of some kind of socialists, if not communists. This is what makes me a little worried, lest we slide into some kind of socialism. I don't want to live under socialism, I grew up under it, I remember it very well.
We created the Anti-Corruption Council. The Anti-Corruption Council under the Ministry was my idea. No one has ever done this before, no other ministry has such a thing. I started it, but it was elected in a completely democratic way, it was formed through an open online vote on another independent platform. There are different people there, with different expertise - journalists, lawyers, economists, anti-corruption activists, civic activists. A powerful team, I think. We often have discussions with them, as some of them say: "we used to fight with the minister," but we have a very constructive working system of interaction. They write inquiries asking for some information. We provide them with everything if it is not of a secret nature, because they do not have security clearance. For example, I tell them right away: don't even ask about weapons, because I won't give my subordinates the right to tell you anyway, because the SBU will come for you right away, and you don't need them. Everything that concerns resource support is unclassified (except for the number and location of units and, most importantly, that you do not reveal the location of the production facility, because a missile will come there; my manufacturers simply say: do not give us away, because tomorrow we will be bombed by orcs) - we provide them with it, they check it, visit the units. We met at several meetings, and they showed me the points where we could work on quality control, for example. We thought of creating procurement commissioners at military units, because there is a lack of expertise there, and so on. There are some very interesting developments. This anti-corruption council is relatively young, having been in place for only 3-4 months. They are also learning. But this is a subsidiary body that helps me as a minister to keep the employees of the ministry in good shape. That's why it was created, and its main mission as an advisory body is to help the minister deal with internal problems and ensure transparency of all processes.
You see, the trust of our partners is very important to me, so that we can be given these weapons and equipment. That's why we launched the LOGFAS system, a NATO system of control, accounting and reporting, and transparency. We are constantly checked by our partners. And there are no questions to us. That is why I am also ready for reporting and transparency on all issues.
Of course, I believe that many different schemes and clans have been established here for 30 years. There are many of them and different stakeholders - businessmen and politicians, everyone is here, there are their people, because there are thousands of souls in the structure. It was impossible to change this since November 4, and even more so since February 24. That's why I set up a change support office to help me. These 2 agencies will now work. Instead of a department, we have created a department for the prevention of corruption and risks. There is an officer there, a former SAPO (Specialized Anti-Corruption Prosecutor's Office) prosecutor who was competitively selected by the public for integrity, and then went to serve. I invited him, and he became the head of this department - Mr. Stepanian. That is, we select people who are willing and able. You have no idea how many interviews I conducted. I invited the people who created ProZorro to head the resource support department, and, accordingly, to take the position of Deputy Defense Minister. One of the authors of ProZorro, who was highly recommended by everyone, came in and said: give me three days and I'll come back. He spent three days talking to military units and said: "Mr. Minister, I can't come to you." I asked: "Why?". He replied: "First of all, everything is organized - we talked about food with him - there is nothing to improve, you provide hundreds, hundreds of thousands of servicemen with high-quality, tasty food, anywhere. I talked to the military and asked them how to help you, what to change. And all the military said that everything is great, there is no need to change anything, because everything will get worse. You will break it." And thirdly, he said: "You have Golgotha here, after a certain period of time I will become an enemy for everyone, I will be harassed in all social media. I don't want to do that."
That is, not everyone agrees to come here, because they are really being harassed. As soon as you come in, get a certificate, you are already a traitor, a criminal, this fallen government. You can't stand it either. And people cannot stand it.
- Or is it possible that the Russians are involved in spreading such narratives?
- I am convinced. My colleagues and I have been monitoring this, and we have a department that monitors the information field in different languages. This is what we saw. Another fake was spread on social media, from TikTok to Twitter, that my daughter has a villa in Cannes and I drive a red Mercedes with gold wheels.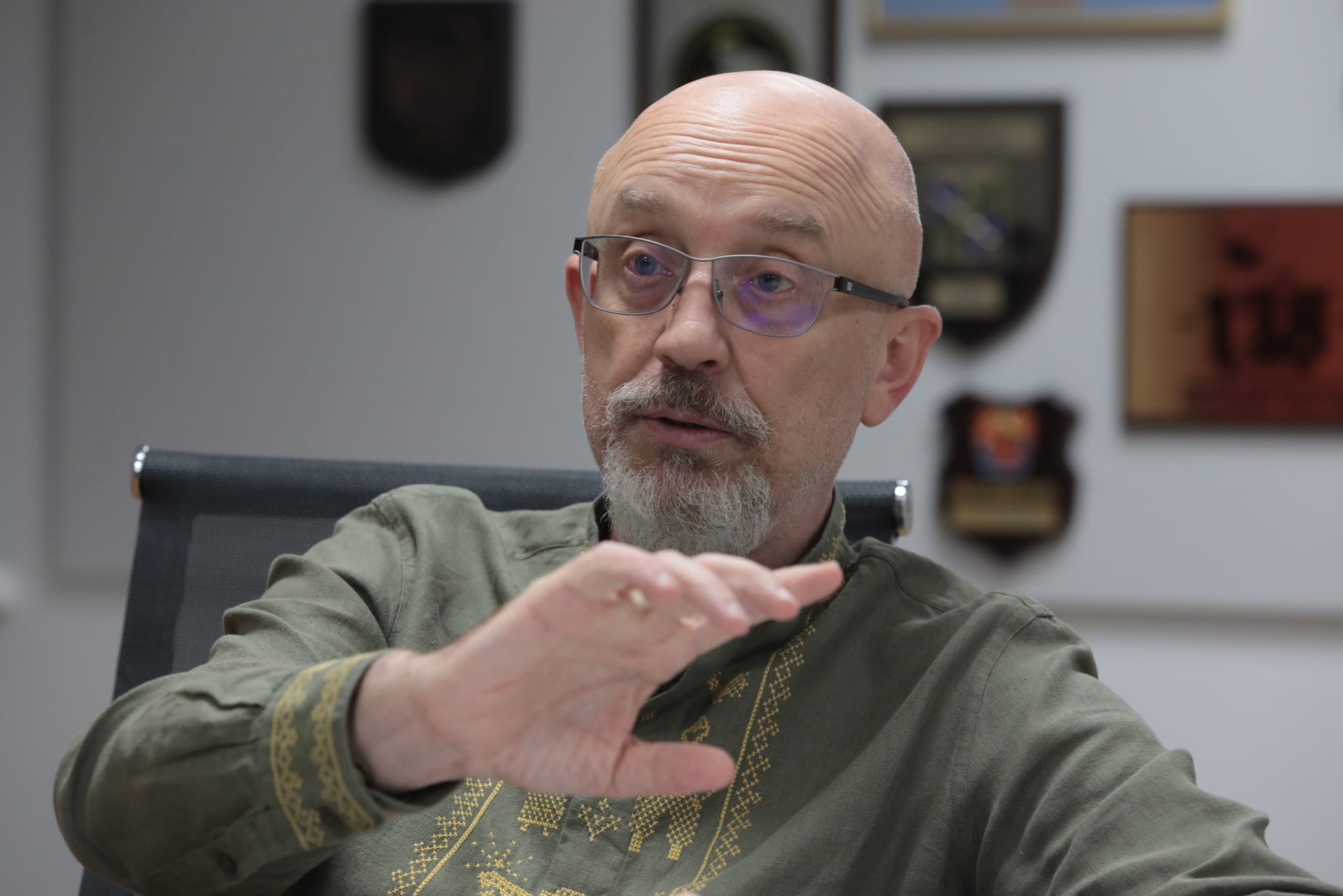 - Oh, I saw this too, but I decided not to even mention it - it's so obviously a fake
- Why? You ask me! We're already laughing with my friends. I say: I'll give everyone the key to my daughter's villa, but we can't find the manager and I can't find the keys to the Mercedes somewhere - everyone is welcome to go for a ride, please. But this is a specially inspired information campaign against me already in European countries, that I am such a thief that I cannot be trusted. And it's a strange coincidence that as soon as the Russians start, information comes out of Russian publics discrediting either me or my team, and at the same time-just a coincidence-our Ukrainian law enforcement officers do the same thing, only with different nuances and aspects. Later it turns out that this is not true, but no one apologizes. I'll just remind you of the story with Liev's passport. He was a very effective manager. He was shot down because he allegedly had Russian citizenship. It turned out that this was a lie, a fake, but it was published in a very well-known, respected publication that I have been reading for many decades, and the apology was on Facebook, a small one from the author, and that was it. No one said: "Really, we got into trouble...". Just like we were accused of buying summer jackets instead of winter ones. Then everyone realized that they were winter jackets, not summer ones. Then they started to write - you bought more expensive, there are cheaper ones. Then everyone found out that there was no cheaper price. But here's the thing - there is a Turkish paper. They show us a piece of paper for the Turkish fiscal authorities, dated when the contract was already completed, which means it has nothing to do with us at all. Well, that's fine. But you bought from a Ukrainian citizen in Turkey. Maybe the founder was a Ukrainian citizen. What does it matter to me when I need to buy 180,000 sets of winter jackets for the Armed Forces of Ukraine? Ukrainian citizens are not forbidden to do business abroad, as long as they pay taxes at home as well. Next, it has to do with politics. Okay, deal with that politician and let him come out and say: "I am politically wrong because my relative did it." He should have caught him, tied him to a post, beat him with gossip and said: "You shouldn't do business because I'm your relative." Was that how it was supposed to be or what?
We refuted all these accusations, but no one apologizes. I have a question: what interest do these individual truth-seekers pursue? Is it hype? Clicks? Maybe they just don't like me? Okay, that's fine. Maybe they have a political struggle, or maybe they have a client who doesn't like me - I'm not the Mona Lisa, I can't please everyone. This is normal. Maybe someone wants to become the head of a ministry. Maybe someone dreams that they will be able to make the deals I stopped here again. It is possible. Maybe it's the influence of the Russians or a coincidence, I don't know. But I'm definitely hindering someone.
But I'm not worried about it. Because I have done everything I would like to do for the Armed Forces of Ukraine during this open part of the war. All the weapons that are now in the army - I put my efforts, my nerves, my energy, my soul, heart, mind, and time into it.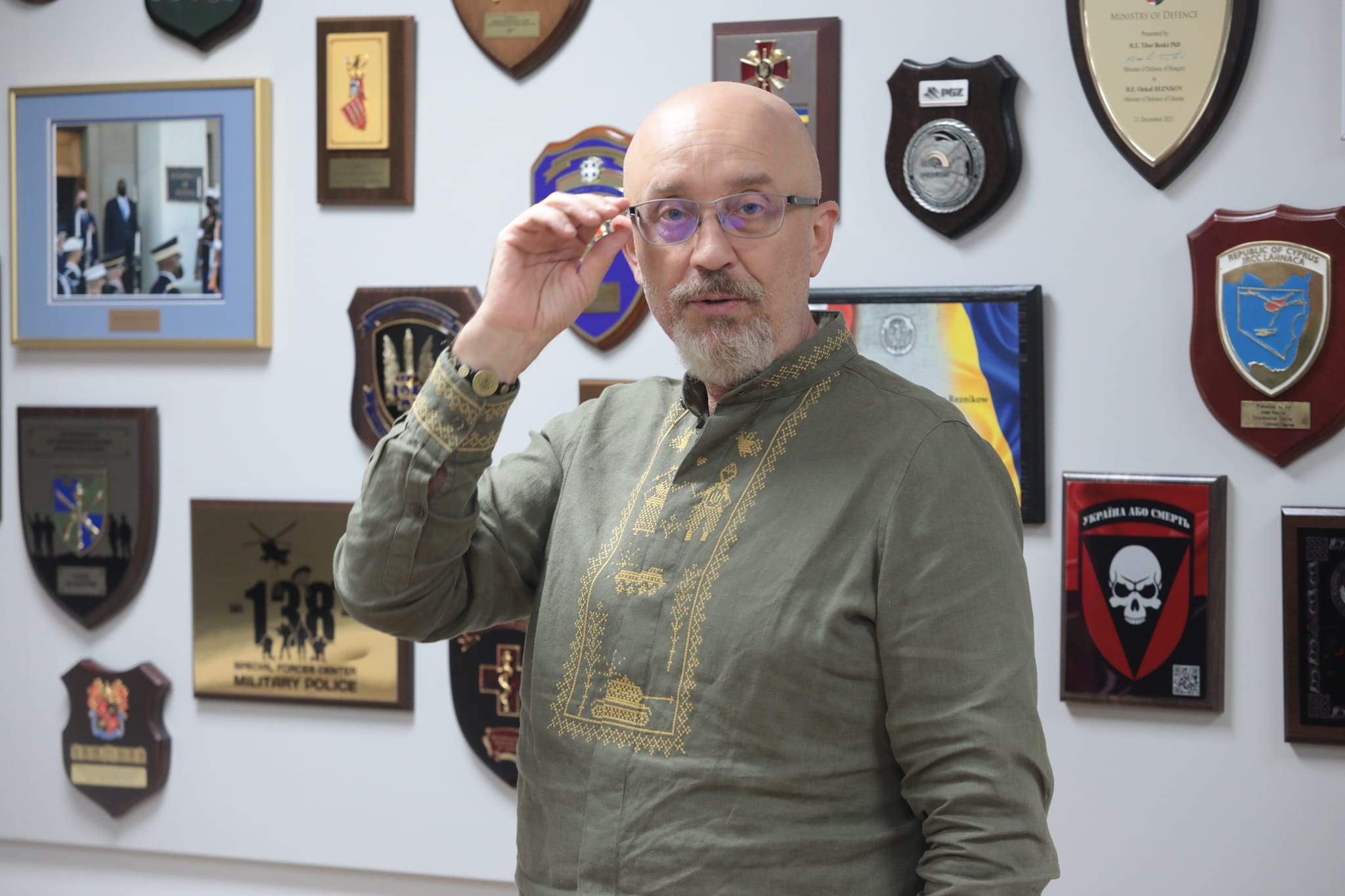 SIX MONTHS AGO, I AGREED WITH STOLTENBERG TO DEVELOP A PROGRAM THAT WOULD INVESTIGATE OUR PROCUREMENT PROCEDURES.
- Please tell me, we, Ukrainians, are not happy to hear about corruption scandals, it undermines society. What is the attitude of our partners? Doesn't this internal corruption affect the fact that we will not receive enough weapons, or will receive less, or will receive them later?
- This may affect us. Remember, I told you that governments and defense ministries make decisions to provide us with aid, but they have to go through the parliament and get approval. Since there is political competition there and those who do not like Ukrainians, those who are pro-Russian or for some other reason simply do not want their governments to be successful, they use this argument and say: "Well, Ukrainians haven't changed. They are just as Soviet and corrupt as they were before. Why should we help them? Let the Russians capture them and that's it, or let them surrender. Why help them, why waste time and resources on them? You see, their activists there say that everything is bad, nothing has changed...".
And these are the arguments they used. And then my partners come to me. I said: "Please, your auditors, come and check everything." Moreover, I proactively agreed six months ago with Jens Stoltenberg, the NATO Secretary General, that they would help us to make a program that would study our procurement procedures and give us advice on how to improve them in terms of transparency, control and responsibility, and clarity for our partners, and it would last about 8 months. They will analyze all our procurement procedures, see where we lack transparency, accountability, etc., and help us modernize them. We will do this. But in principle, we have trust. And partners sometimes ask. "Why are your people doing this in your country, they are shaking you?" - the Minister of Defense asks me. He said: "Oleksii, something is wrong with you there. How can it be?" They start to get suspicious. I answered: "You see, our people have this effect of exhaustion, everyone is looking for enemies anywhere, it's a psychological reaction, so we have to live with it, too, it's society. But the main thing is that this is democracy. We are a democratic country, and this is what we are fighting for." But we have to grow up, otherwise...
By the way, this is one of the reasons why the war can be long. Because the Russians have already clearly realized that we are invincible from their side with weapons, we are invincible from their side in terms of indomitable spirit, courage, desire for freedom and will. But we are easily defeated by internal shitfights. And to split the society internally, to introduce this discord, this internal political instability - that's it, this is their ally. That's why they use the word corruption. But I think I said this at the press conference and I'm repeating it for our interview. In English, the word corruption is primarily translated as decay, spoilage and distortion, including of information. Therefore, when someone manipulates information and uses half-truths and untruths or something similar as accusations, this is corruption, first of all. Information corruption.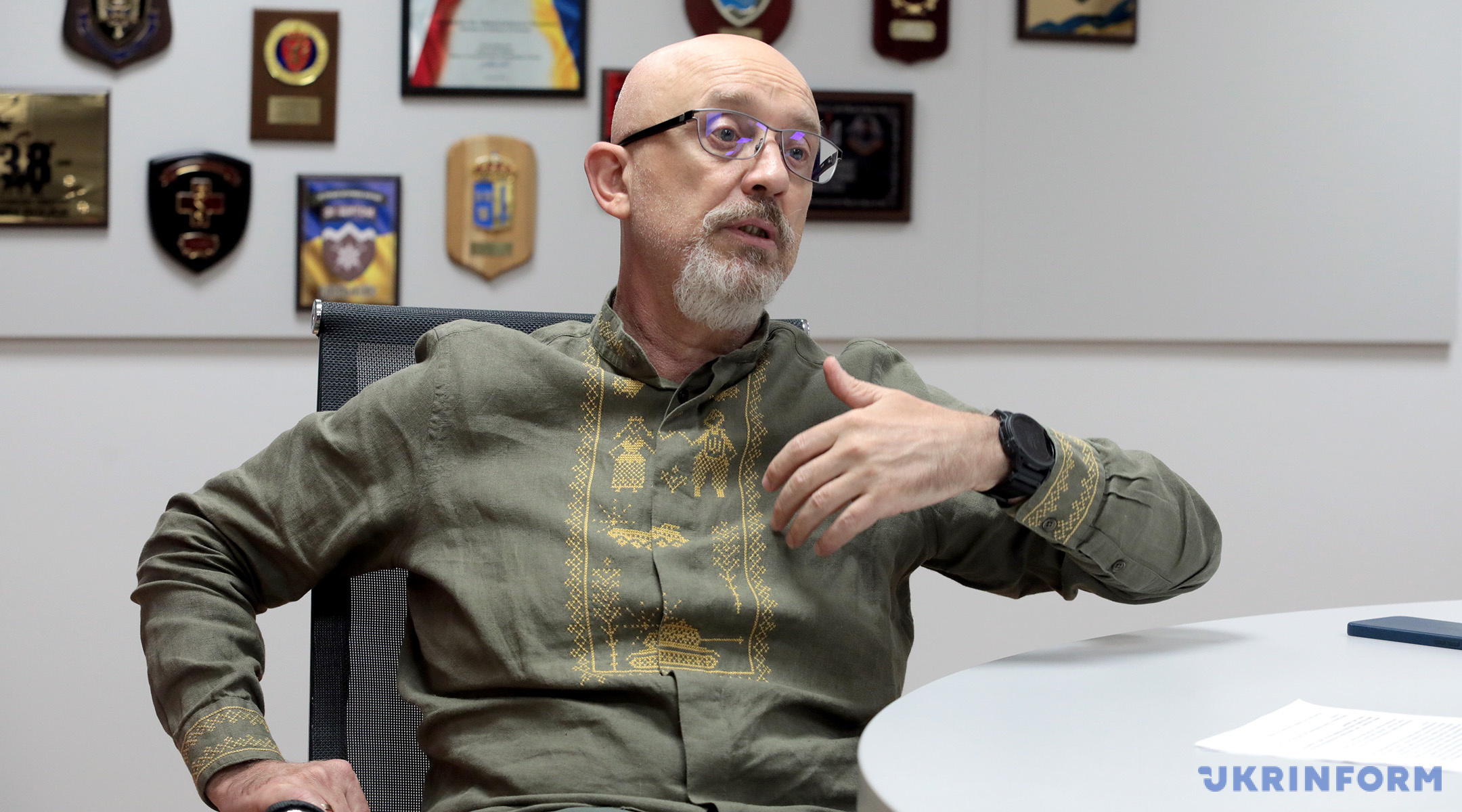 - It's very sad, but maybe there is something else that can minimize all the risks of corruption in the Defense Ministry? And the issue of controlling Western weapons: how do our partners check all this? Because the Russians have been spreading this fake for a long time, that all the weapons you give to Ukraine are sold illegally.
- As part of Western aid, we have developed this NATO LOGFAS system, a serious, powerful system, which we implemented quite quickly, and they have the ability to check online at any time to see if the weapons are there. Or they can come with an inspection - from time to time they come, look, make sure, no questions asked.
But in order for us to feel calm, I will say that we need to think about our own military-industrial complex, the production of our own weapons, equipment, and facilities. This is very important. Remember, there was a peacekeeping call: "Let us beat swords into plowshares"? Today, I would say something different: those who forge swords into plowshares will be plowing someone else's field, so we need to make our own swords-sharp, powerful, strong.
UKRAINE'S DEFENSE CAPABILITIES WERE DELIBERATELY REDUCED FOR ALMOST 20 YEARS BEFORE THE START OF THIS WAR IN 2014.
- I know that there were a lot of problems with this. Last fall, when we ran out of shells for Soviet guns, the military privately said that they did not understand why we could not make them ourselves.
- They rightly did not understand. Because they do not understand what the technology of making shells is. What is a projectile? It is a metal of various components, as well as an explosive part made from the chemistry of certain explosives - TNT, hexogen, gunpowder, etc. But it's not available in Ukraine, there are only three or four countries that produce it: China, Russia, the United States, and somewhere in South America. And in order to produce it, you have to bring it by ship, and the whole world buys it there. China won't sell to us, Russia won't sell to us, and of course, there are only a few countries left, and they have needs all over the world. That is, in order to make different shots, we need to buy a lot of components that we don't have, we don't have the production capacity. And this cannot be done with a wave of the hand, it has been years in the making. What I told you when I came in, when I grabbed my head, is that it turns out that we had more than fifty S-300 divisions with thousands of missiles, we, Ukraine, for the previous 20 years, until 2014, when the war started, we gave the vast majority of these systems to Russia as payment for gas, barter. And now S-300s are flying over our heads in Zaporizhzhia, Dnipro, Kharkiv, and so on. They are ours, Ukrainian. I'm not talking about the number of tanks, armored personnel carriers, infantry fighting vehicles that we scrapped as illiquid property. I have a question about political decisions, because we had been deliberately reducing our defense capabilities for almost 20 years before this war started in 2014.
Is this my claim against previous governments? No, it's not, I'm just saying that we didn't believe that Russia would attack, we thought it was a neighboring fraternal nation, the Budapest Memorandum guaranteed us protection, and that's why we did all this. This is not a complaint against the previous leaders of the country or defense ministers, no, I'm just telling you this as a fact.
But Germany also had 26 brigades in its Bundeswehr 20 years ago, and now it has 6. They have also reduced their army, 20 brigades minus equipment. Everyone thought that there would be no war after the Second World War, that there was a world order. But it happened as it happened, and we were not ready for it either, we as a state, as a people. Therefore, when the military says today that there are no shells, of course there are no shells, because we did not produce them, we do not have a 152-caliber production line, it never existed, it was the Soviet stockpile.
But that's why we made the main decision in the first place, changed the paradigm, and in March 2022, I was in London with Ben Wallace, not even a month had passed since the full-scale invasion, and I said: "Let's train on the 155 mm artillery system." He said: "How? Why? You'll be looking for 152s all over the world." I said: "It will run out, you will not bring as much as we need with this intensity of fighting."
And I convinced him, and I convinced the Americans, and in May we received the first M777s, American 155 mm howitzers.
I did it personally with my team. And we did it, and now we have the main projectile on the front line, the 155, we replaced it, knowing in advance that there would be no 152. I'm not talking about the warehouses that were regularly exploding. The Russians were definitely doing this, they were doing it in Bulgaria, the Czech Republic, and Ukraine, it was deliberate, they were preparing for this war, and these were all old stocks. And most importantly, we did not believe that the Muscovites would attack.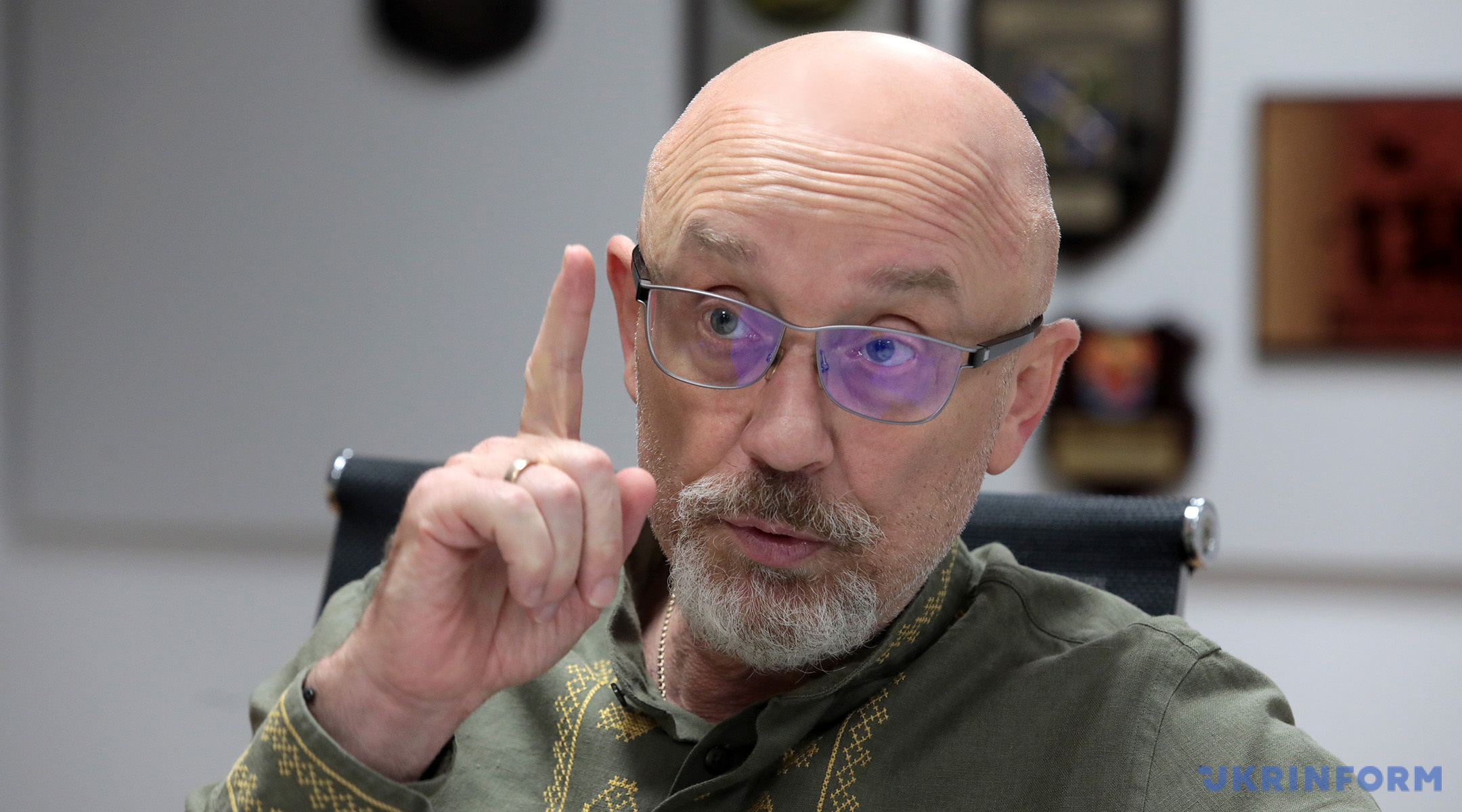 - But now this situation is already improving?
- Now our Ukroboronprom, under the leadership of the Ministry of Strategic Industry, has seriously started to establish its own military industry, including the production of various types and calibers of rounds, from mortar to artillery. And thank God, they have already been able to produce, for example, a 125-millimeter tank shot. We have never made it, it is very complex and very expensive, there are so many elements and nuances. It needs to be developed so that it doesn't explode in your hands, but on the battlefield. We have passed the tests, these are high-tech things. And we have already signed contracts, so now their task is to increase production. Our people make mines and shells of various types, and we will have 155 mm, as the President said correctly. We finally have our own Ukrainian 155 mm artillery, the "Bohdana", and we have signed a contract and will continue to do so. That is, we are growing up, at least in the defense industry. I'm not talking about the Defense Forces - they are already grown up, the best army in the world, I believe.
WE SHOULD HAVE HAD OUR OWN MISSILE PROGRAM LONG AGO, AND MOST IMPORTANTLY, AN ANTI-MISSILE PROGRAM
- In the summer of 2021, Volodymyr Horbulin published a huge article on the need for Ukraine to have its own missile program. And in another article, Leonid Shyman, a developer of solid-fuel missiles, claimed that Ukraine once produced missiles with a range of 15,000 kilometers. What are we doing in this direction?
- Horbulin is an incredibly wise man, a deep person, a figure of Ukrainian history, he did a lot of things and said the right things, but he was not always listened to, especially by those who were responsible for money. We should have had our own missile program a long time ago, and most importantly, an anti-missile program, which we adopted only before the invasion, during President Zelensky's term. But these are billions of dollars that need to be invested in ourselves, in the research of our entrepreneurs, and in testing. This should have been done a long time ago, then we would have had our own air defense. But we had a few S-300s, so no one would attack us. And today we thank our partners for Patriot, NASAMS, SAMP/T, Iris-T, Piorun. Of course, we need to do this, but there is a nuance: we do not need a missile that flies 15 thousand kilometers, we do not plan to fight with partners who are 15,000 kilometers away, we need 1,500-2,000 missiles to cover the territory of the Muscovy, the Orks in the swamps.
- But are we working on it?
- Yes, we are.
- The issue of the shell famine that happened last year. The military complained that, for example, we could respond to ten Russian shots with one or two. Has this proportion changed now, has it leveled off?
- No, it hasn't. First of all, we cannot match the number of shots, because the Russians have huge reserves, but there is a nuance. In order to hit one target with 152 mm, the Soviet standard, you need to make ten shots, the square-nest method in the military. Because they are not accurate. In order to hit a target with a NATO caliber of 155 mm, according to the standard, you need two shots. That is, it is a matter of the effectiveness of the use of weapons, skill, choosing the right target, and then go for it.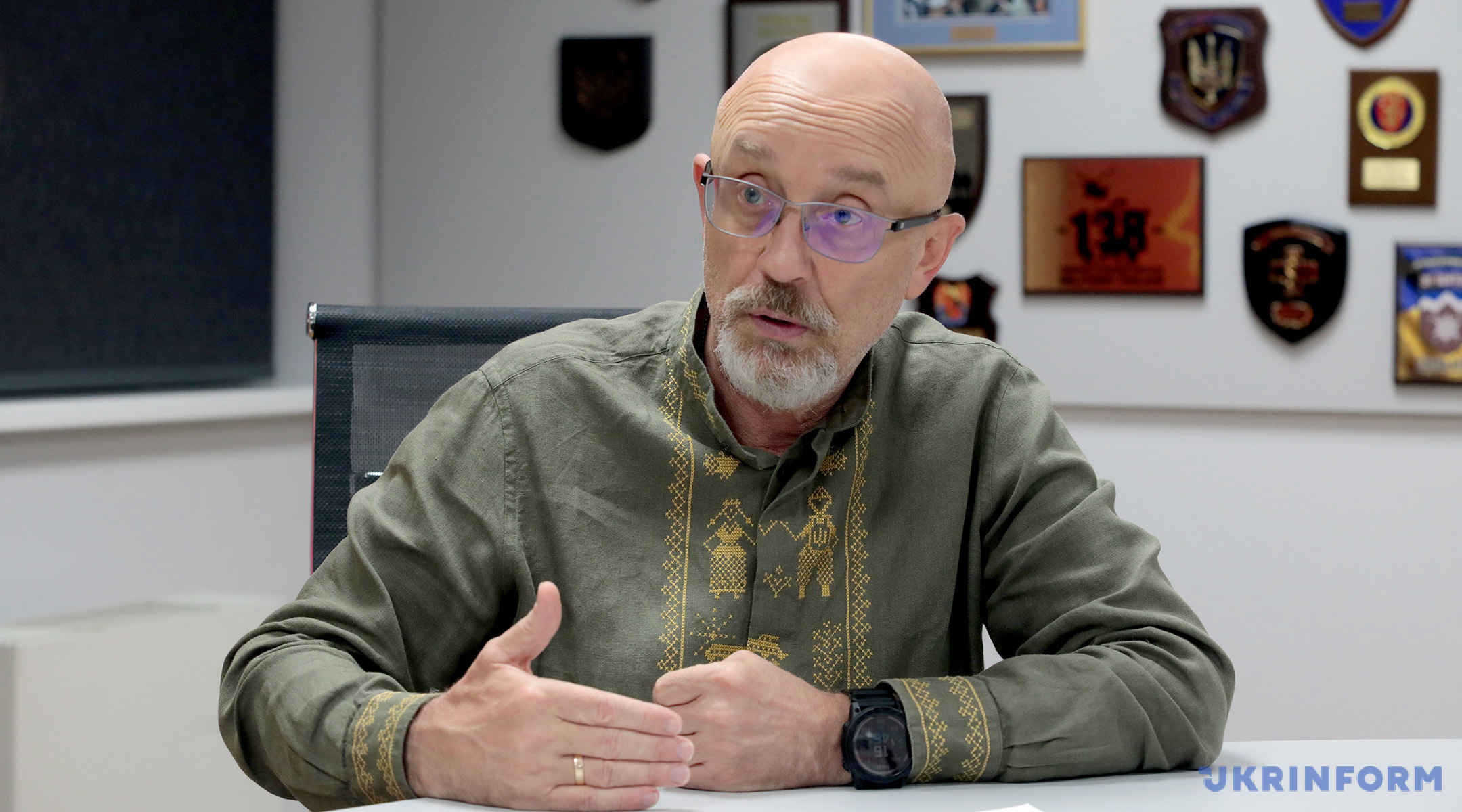 ONE INSTALLATION OR BATTERY WITH ALL PATRIOT RADARS IS A BILLION DOLLARS, PLUS EACH MISSILE COSTS A MILLION
- You yourself mentioned air defense, which we need, because we have no doubt that come autumn, the Russians will start attacking energy facilities again, and will start this cold terror again. Are we negotiating with our partners to secure these energy facilities? Can we count on 6-8-10 Patriot to protect the main power substations?
- We can count on them, but will they be there? We are dealing with this every day, starting with the President at each of his meetings, in conversations, calls, my communications team, everyone is doing this. The Americans who are Patriot license holders are encouraging everyone else in the Ramstein Club to transfer systems to Ukraine. Lloyd Austin is always saying this in his speeches: come forward, tell us who has what, we will help you, modernize it, take it away, we need to transfer it to Ukraine. Today, we have Patriot systems only from the Americans, Germans, and Dutch, and the NASAMS we have today are from the Americans, and we will have them from Norway - Canada paid for them, but they are being made for us. That is, there is a plan, I can't just disclose quantities and deadlines, and maybe not as fast as I would like, but it is in process.
I just want to remind you that one system or battery with all the Patriot radars is a billion dollars, and then you have to provide them with missiles, each one costing a million dollars. So, you know, when partners decide that we still need to provide, say, 40 Patriots, which is 40 billion dollars, someone needs to say that they are ready to pay for it. It's not that easy. Moreover, everyone is scared, they don't want to give away their Patriots, they realize that a Russian missile can come to them, they want to keep their sky, because otherwise their citizens will not understand them. They say: don't give everything to Ukraine, because we will be weaker. Therefore, our partners should tell us to win faster and give us offensive weapons so that we can give less defensive ones.
RECRUITMENT CENTERS AND MILITARY COMMISSARIATS NEED TO BE PROVIDED WITH DIGITAL EQUIPMENT - THIS IS OUR MAIN TASK
- A question about the activities of military enlistment offices. Recently, President Zelensky announced that the National Security and Defense Council had decided to dismiss all heads of regional recruitment and social support centers for military personnel. The President said that "in total, there are 112 criminal proceedings against officials of the 'military enlistment offices' and 33 suspicions." Does the Ministry of Defense have a plan to change this situation?
The recruitment centers are located in the Armed Forces of Ukraine, in the Land Forces. This is not a direct subordination to the Ministry of Defense, it is a military structure, it is the Armed Forces, but this does not mean that we are disengaged, because we exercise democratic control over these processes, and of course we work together, we have no separation here. In the Ministry of Defense, this issue is supervised by the First Deputy Minister, Mr. Oleksandr Pavliuk, who heads a working group that visited all key locations together with law enforcement officers, and the result was the NSDC's decision to develop and amend the legislation. Personnel decisions are at the level of the Armed Forces, and our task is to provide them with technological support, so the main task is a number, more numbers in each office, as they say, and my deputy Vitalii Deinega is working on this, and we expect that somewhere in the middle of the fall, give or take, we will come to a significant improvement. What will it consist of? What is a recruitment center for an ordinary person? These are hellish circles, queues, bullying, and the corruption component of it, because you stand in line and someone is pushing someone else... In order to minimize all these stories, we had to reduce this paper army, remove files with personal files, and digitize them to make everything more comfortable. We introduced a system called Oberig, the program was developed, the software was transferred to the territorial recruitment and social support centres (TRC), and it has been implemented for a year and a half, at the time of my term of office. But imagine an array of papers across the country that needs to be digitized. There are still hundreds of thousands of them, but this is fundamentally less and almost everything in big cities and small towns has already been digitized, a lot of jobs, computers, etc. Now let's move on. Relatively speaking, if someone has a third child, a minor, their status automatically changes. So he had to get a certificate and bring it to the TRC, and now we are making a joint order with the Ministry of Justice to exchange data. Everything that is in the registers of the Ministry of Justice, which are the registry offices, including civil status acts, marriage, birth, etc., will automatically be sent to the recruitment center. And if this Ivan Ivanovich Ivanenko has given birth to a third child, this information will automatically appear in the register. And the military commissar immediately sees that this person liable for military service has changed his status. Or the Ministry of Social Affairs provides a register of people with disabilities, and they have guardians, if the guardian of a mother or grandfather is the only guardian, and there is a person with a disability, the information is automatically entered into the register. Married - in the registry, divorced - in the registry, received a disability - in the registry, convicted, not convicted, sick, addicted - all this will be there and it will immediately reduce the burden on the employees of the TRC to check the data, claims to those who are liable to bring this paper. Because when we checked, almost 90 percent of all citizens of conscription age were violators because they did not bring a piece of paper. Even I realized that when I registered my marriage to my wife Yulia in 2020, I did not submit information to the TRC that I had gotten married, it never occurred to me.
- Was it necessary?
- I had to do it, because they had information that I was divorced, but not that I had remarried. I was basically in violation of the law because I didn't inform them. And the task is to make everything clear, and this will simplify many things.
The second story is related to violations of the TRC in the case of attempts to avoid mobilization of certain persons. It is about fake disability or fake unfitness. And the military commissar himself, who is prone to corruption, is unable to do this, only with a doctor or doctors who are members of the military medical commissions (MMC) . That is why there was a meeting of the National Security and Defense Council chaired by the President, dedicated only to the MMC, read the news. As a result, we have developed a lot of solutions, we have made several new government resolutions, changed the orders of the Minister of Defense, which are 200 pages long, we have conducted testing, issued orders of the Chief of the Army, some draft laws, and now we will have decrees, a large package of regulations that will minimize the possibility of abuse through the MMC. It will also simplify people's lives, depending on whether they are a soldier, a wounded person or a civilian. For you to understand, the majority of our MMC members are mostly civilian doctors. And until recently, these civilian doctors did not receive money for coming to the MMCs - it was an additional job. Only this spring did the state start paying extra for this workload. Of course, if they don't get paid and someone encourages them to do so, that's corruption potential, that's temptation. So, there are challenges in the system, and we are working on them. I am optimistic that we will feel this change in a couple of months.
- The budget process is currently underway, do you have any interaction with the Ministry of Finance, MPs, and the Budget Committee of the Verkhovna Rada? Do you plan to increase spending on the army, do you plan to increase salaries for the military?
- We do interact, we have submitted our budget application to the Ministry of Finance, and they are preparing the government's appeal to the Parliament, and I think it will be submitted soon. We always come to the Budget Committee, explain our needs, and all my previous meetings with the Budget Committee and other MPs have always ended very positively in terms of allocating funds: we are heard, understood, and trusted. Under the chairmanship of Mr. Ruslan Stefanchuk, we met several times in the past with the heads of factions and all deputy groups, and we explained everything to everyone - it was a perfectly normal understanding.
Of course, our needs are much greater than the capacity of the Ukrainian budget, because when you have a war, you never have enough of anything. Once again, thank God, our partners are helping. This war is a war of resources, and if there were no resources from our partners, it would be more than difficult for us. We will ask for an increase in the budget for 2024, and I can repeat once again that 60 or even 70 percent of my budget is cash support, and, yes, I am the largest employer in Ukraine today, in the figurative sense.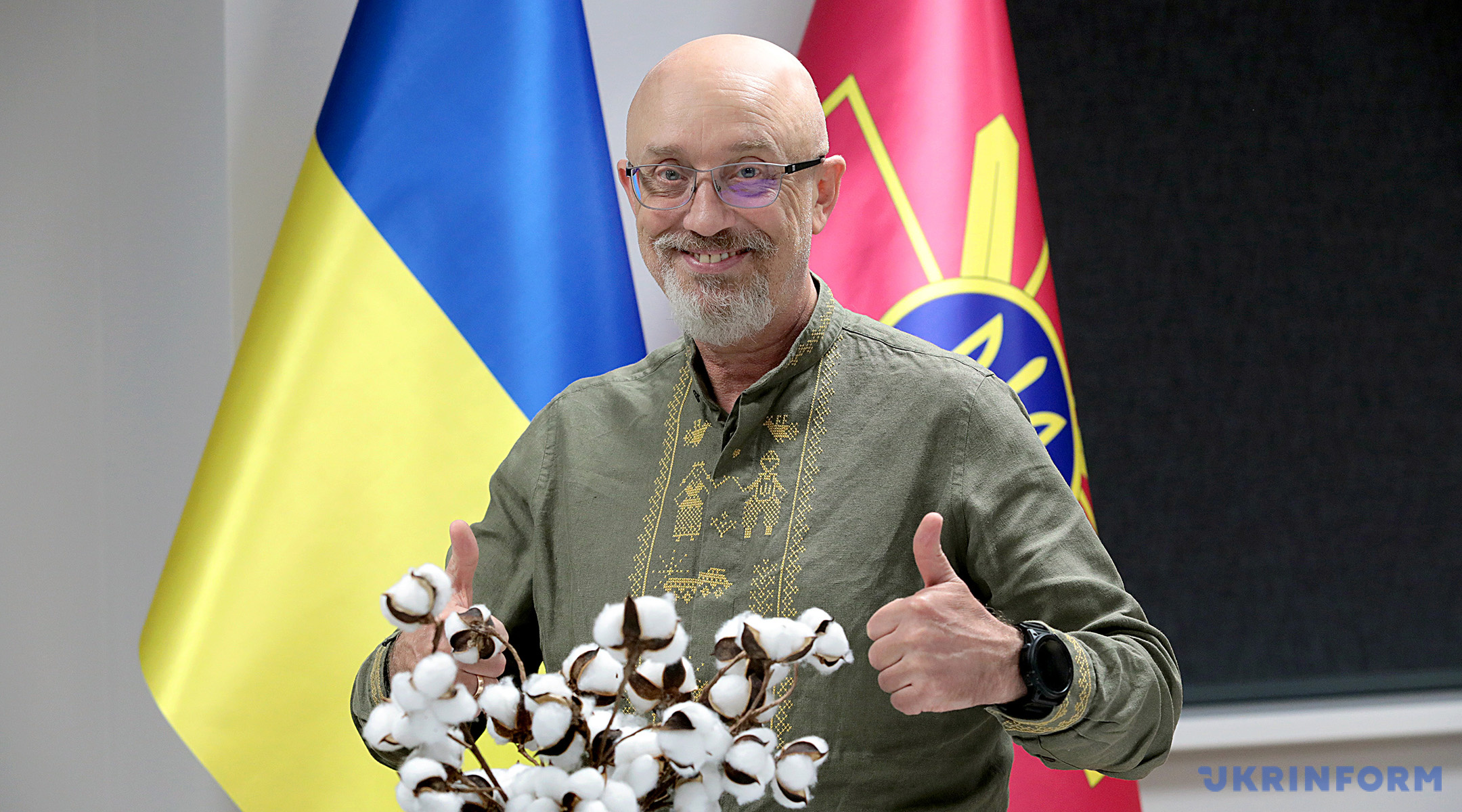 NEITHER I NOR THOSE I KNOW HAVE BEEN APPROACHED DIRECTLY ABOUT NEGOTIATIONS WITH RUSSIA
- A political issue. In expert discussions in recent weeks, it has been said that Russia is imposing the idea that negotiations with Ukraine are necessary. We are advancing, of course, they are losing, and they need to stop this process. Have they approached you with such proposals?
- They have not approached me or anyone I know directly, but you are absolutely right in your question, because I also feel this trend in indirect appeals, for example, in questions from foreign journalists - in almost every interview from almost all countries. While the journalists who work here are already charged with pro-Ukrainian sentiments, they ask more delicately, when I was interviewed in Paris, Brussels, London, Madrid, Athens, Bucharest, and other places I visited on my business trips, the locals asked more openly, because they can also be understood, they have different political currents, and they would like their readers or viewers to hear this question and my answer to it. This happened at different times during this year and a half.
Why I am outraged every time by our internal trends, when they start destroying the reputation of the ministry inside the country, because they definitely help those who want to bring us to the negotiating table - this is the danger. Because this can really help those political forces in the West who would like to return to relations with Russia, to business, to buy their gas, to sell them their champagne, to have their retail stores there, to sell their things, to earn Russian money, etc. It's profitable for them, it's more peaceful. Why spend money on weapons for Ukraine? It's better to let things be as they were before. That is why an attempt to lower the reputation of the military and political leadership in Ukraine is an attempt to lower the level of trust of our partners so that they would give us fewer weapons, and then, as a result, to encourage us to the "negotiating table" with Russia.
- But our leadership has not received a direct proposal "let's sit down for negotiations"?
- Not in my presence, no. And what I heard from the first persons of states, for example, from President Biden when he met with President Zelensky in Vilnius, was "nothing about Ukraine without Ukraine," to put it briefly.
WE WILL WIN, BECAUSE WE VALUE FREEDOM AND LIBERTY ABOVE THE VALUE OF SECURITY
- Mr. Oleksii, you have categorically expressed your confidence, and I am sure that we will win. But what scenarios of our victory do you consider? Does it have to be an armed victory? Or a political victory, or with the help of partners, or are we waiting for some kind of "black swan"?
- Look, there are things that I am sure of because I see certain events developing, maybe the laws are working, some things I just feel. But when I first flew to Washington in November 2021, as a newly appointed minister, and asked for Stingers, I was denied, told it was impossible. I said it was possible and you would give them to us, I was sure we would get them, and we received them in January from Lithuania, but with Washington's permission. And when I asked for 155 mm artillery, I was sure that we would get it. Although we were denied, we were given them. When I asked for MLRS, M270, HIMARS, I was told it was absolutely impossible, but I was sure. I said: you'll give them to us anyway, let's start training our crews now. And we were eventually given them. And so it was with the entire nomenclature - Leopards, Petriots, F-16s - I was convinced and confident that we would be given them, and we were given them, and they are still being given.
I was sure that we would not fall in three days, I was sure that we would not fall in three weeks - and we did, we were all sure of that, we are different. We cannot fail to win this war. If we analyze the Second World War, Hitler entered the capitals of European countries in the vast majority of cases without resistance, it was easier for them to surrender because they valued security more than the value of freedom and liberty. And we value freedom and liberty higher than the value of security, so we go, risking our lives, to destroy the enemy-occupier, we die, we get wounded, we fight and we will continue to do so, because this is the Ukrainian gene, it cannot be changed, it is like this.
And, again, since this is a war of resources, the resources of the civilized world are with us against them. Yes, they are large, powerful, and abundant, but technologically, they are gradually being sucked out as well. Moreover, the Russians have almost lost the personnel backbone of their army, the ground component. We have destroyed them. That is, the overwhelming majority of their marines, paratroopers, those who served for 15-20 years, are killed, wounded or captured. They have a new brigade staff - mobilized people with no experience. This also affects the situation on the battlefield, which is why they could not defeat us. They wanted to come in sneakily.
I personally traveled with General Syrskyi and then with General Nikoluk in Chernihiv and Kyiv regions in the first weeks when they were still standing near Kyiv, but we were already driving along those burned convoys and awarding our guys in the trenches in the Liutizh direction, in Brovary, and I saw with my own eyes the remains of their ceremonial uniforms in their burned APCs, IFVs and tanks. It's not fiction, it's true, they were preparing for a parade on Khreshchatyk.
- Is there even the slightest chance that we will lose? Can anything prevent us from winning?
- Look, there is no chance that we will lose. It means that Russia has regained control and we have become part of the Russian Empire. How can that be?
- And the use of nuclear weapons?
- There are no nuclear weapons that can destroy such a large country, and we have a large territory. Another question is in what condition they have it. In 1998, the Russians conducted the last nuclear weapons test in Kazakhstan at a test site. No nuclear bomb will overcome the resistance of Ukrainians, no. Look, the crimes that they committed in eastern Ukraine and in the south, where the Russian-speaking population predominantly lived - Kharkiv, Volnovakha, Mariupol - where most people spoke Russian, we know that, they hate them, they resist, the guys are fighting because the Russians are enemies, no one will forgive them, no one will give them a gift. Generations are growing up for whom the Russian is the enemy, they are cursed for decades for the whole world, they cannot win, it is unrealistic.
Moreover, look, their internal processes have begun, this whole story with Wagner and Prigozhin is a manifestation of the accumulated internal split. This is the Russian word for "turmoil," and it has been in their history more than once. What did one of their classics say? I remember it from school: "How terrible is the Russian rebellion, senseless and merciless." Therefore, my prediction is that we will see the Russian Empire split into different pieces along ethnic lines. There will be a parade of sovereignties.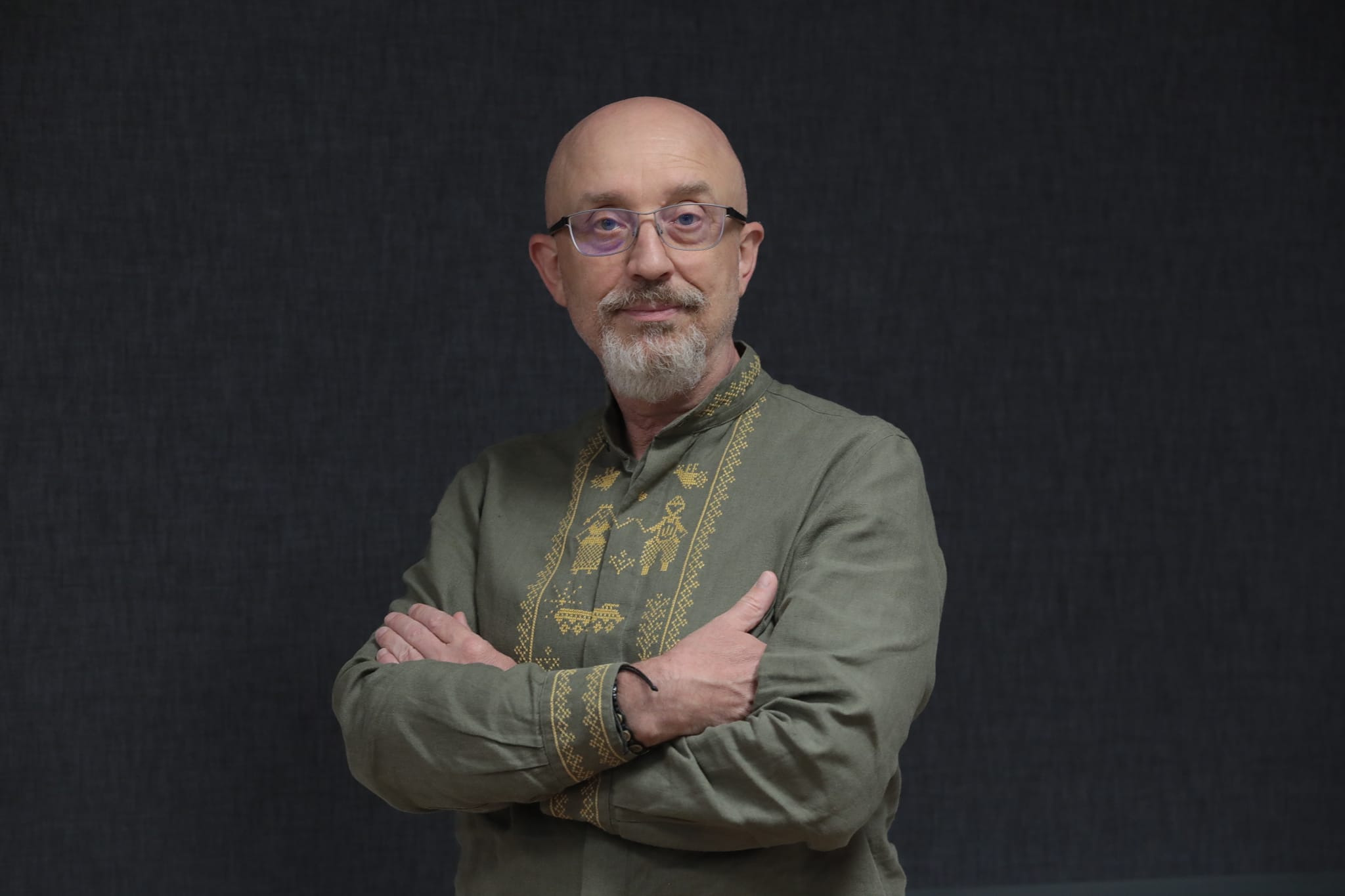 - Are you already thinking about how we will exist alongside them after our victory?
- Yes, and the President has clearly stated this, his peaceful formula, which really means what it says: further guarantee of Ukraine's security by the partner countries. We don't believe in the Budapest Memorandum or its analog, because it didn't work. We need something new, so today we are already talking about two things: first, alliances that may exist, whose members will guarantee our security, but with our contribution, whether it is NATO or bilateral agreements, there may be different options. But today we are a modern army, with the best experience in the world in fighting the Russians, with modern weapons and equipment, and how to use it creatively on the battlefield by building up this new type of weapon in the world, such as various UAVs, drones, etc., and in the future war, everyone will have them. That's why we are already writing today, I and my partners, we call it The concept of future forces of Ukraine or the concept of future defense forces of Ukraine-what will the Ukrainian army look like tomorrow? We are already talking about this with our partners, we are already writing. We are doing research, we will do computer simulations, we have already planned dates and places, and I will talk about this with our partners, the defense ministers. So we are not just thinking, we are already working on what we will be like tomorrow. It is to ensure that our neighbor across the border, across the fence, knows that as soon as he moves, he will get a kick in the teeth. Because we are the real eastern shield of the civilized world, of Europe. Therefore, it is in their interest to invest in us.
Recently, I was interviewed by a correspondent of the German magazine Bild, and he asked me: "Oleksii, please tell me, do you believe that Putin still has plans to seize Kyiv?" And I answered him: "I believe that Putin has a plan to take over Berlin and rebuild the Berlin Wall."
- What was his reaction?
- He got excited. I said: "Just think, if it weren't for us, Putin would already be in your country, in Europe."
- Will we be invited to NATO at the next summit?
- Look, we will definitely be invited to NATO, because it will be beneficial for them. But this will happen after our victory. Then there will be a political vote, because it will be a political decision, not a legal one, because we are already a NATO country by all accounts. Or will it be at the next summit? I would like it very much, at least for purely symbolic reasons.
I will mention two symbols: first, it will be the 75th anniversary of the founding of NATO. NATO was founded on the initiative of the United States, it is a Washington agreement, and the next summit will be held in Washington. Why would it be symbolic to invite Ukraine to the 75th anniversary of NATO in Washington? The strongest army in terms of experience, losses, morale, courage.
And the second symbol. With Sweden's accession, NATO will soon have 32 countries - there are already 31 and there will be more. Next year marks the 33rd anniversary of Ukraine's independence, and Ukraine should become the 33rd member of NATO, it's logical.
- God willing.
***
PS
On September 3, 2023, President Volodymyr Zelensky announced that within a week he would propose to the parliament to dismiss Oleksii Reznikov as Minister of Defense and appoint Rustem Umerov, the current head of the State Property Fund, to the position.
On September 4, Oleksii Reznikov submitted his resignation from the post of Defense Minister to the Verkhovna Rada.
"I have submitted my resignation to the Chairman of the Verkhovna Rada of Ukraine Ruslan Stefanchuk. It was an honor for me to serve the Ukrainian people and work over the past 22 months, the most difficult period of Ukraine's modern history," the Defense Minister wrote on the social network X.
Maryna Syngaivska
Photo by Hennadii Minchenko