Dan Rice, former Special Advisor to CinC Valeriy Zaluzhnyi, President American University Kyiv
Leaders cannot be intimidated by an aggressor with nuclear weapons
21.07.2023 18:20
In the wake of the recent move by the United States to provide Ukraine with cluster munitions to support the nation's counteroffensive against Russia's occupation forces, Ukrinform sat down with Dan Rice, former Special Advisor to CinC Valeriy Zaluzhnyi, who has been President American University Kyiv since March this year. He spoke of his elaborate path of convincing the U.S. political establishment of Ukraine's critical need in this kind of munitions on the battlefield.
THERE WERE NO LOBBYISTS TO HELP
Since summer last year, you've been vocally speaking out in favor of the U.S. sending Ukraine dual purpose improved conventional munitions while the issue was not even publicly discussed or brought up in media. Now we finally saw Biden's administration approve the move. Did you actually believe back then that the U.S. top officials would change their stance on the issue?
Unfortunately I faced a tremendous backlash, from many people, when I started speaking out about the need for cluster munitions. There was much confusion on the subject, intentionally caused by the Cluster Munitions Convention (CMC), and in my opinion by Russian disinformation, that even military professionals, members of Congress, and the press were confused. "Are they legal?" "Are they banned?" "Are they moral?"
In July 2022, I saw combat in the Donbas, and as I looked across the battlefield and saw Russian entrenched in a tree line, I knew it was the perfect weapon, DPICM artillery (Cluster) to beat the Russian army. But this wasn't a novel thought, it was just as we planned for 50 years. I knew to beat Russia, to dislodge them from occupied Ukrainian land that they were now defending, we would need to win support for cluster munitions, so I took it as my cause for over a year, publishing, speaking on CNN, speaking with retired and active Generals, speaking with members of Congress and their staffs, and speaking with the press. These are old, outdated weapons (but they work great), so there were no lobbyists to help, no one was going to make any money sending in 1 million rounds of DPICM that were made in the 1990s. I was the only one speaking about this for the first six months until it gained momentum and that only happened in around March 2023.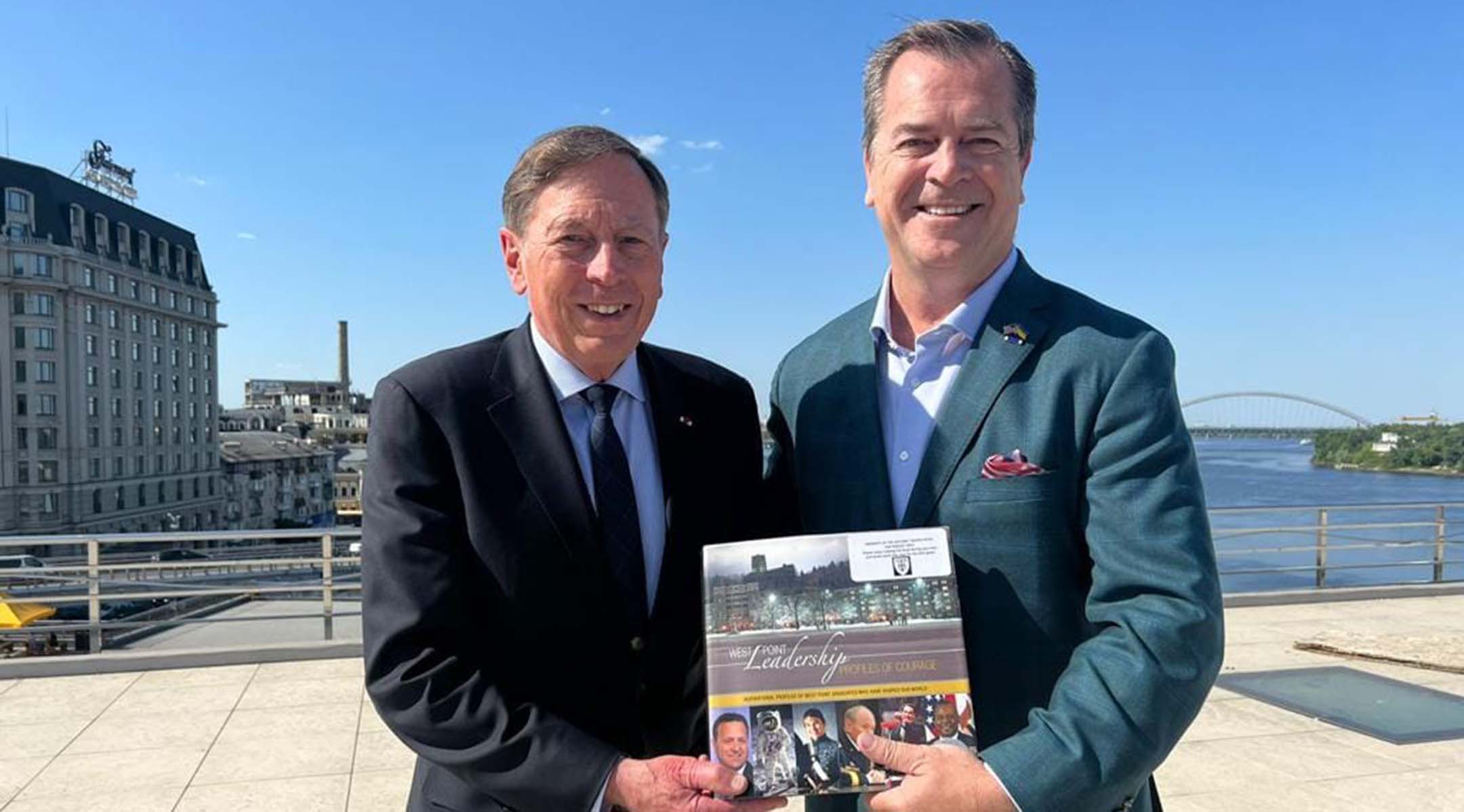 Could you tell us a bit more about the shift that happened in Washington? What contributed to the positive decision to send DPICMs to Ukraine?
I think it's all about leadership. I co-founded a leadership company at West Point called "Thayer Leadership" that teaches corporate leadership. I've spent a lifetime studying, learning, teaching and practicing leadership. When I was appointed Special Advisor to the Commander in Chief General Zaluzhnyi, Dr. Liudmyla Dolhonovska, the Strategic Communications Advisor, told me "if we lose U.S. support we are dead. You need to help us keep US Support." So she gave me my mission. To lead. So that's nearly all I've been doing since May 2022. Focused on leading the effort to keep U.S. support. Unofficially, as a volunteer. And specifically I chose to focus on getting cluster munitions.
Influencing one person at a time. There's a saying "the trend is your friend". Get one person to agree. The second is twice as many. Get the "key" people to agree and the rest will follow, We did this with the key generals, Senators, Members of Congress, key defense industry leaders, and members of the press. Come across a major opponent, ignore and move on. Rally the base, gain a majority and it gets approved.
I've been very fortunate in life and through West Point, have developed a significant network of friends in the military, congress, the press, defense industry, and was able to weaponize and mobilize that network to get Ukraine cluster munitions.
Also, we fortunately never planned to fight a major war with High Explosive artillery rounds, so we didn't have that many. So we started to run out… of the inferior rounds. Which forced politicians to have to approve- if we run out of High Explosive (HE) and won't give DPICM (dual purpose improved conventional munitions), then Ukraine is out of artillery ammo and is dead. So it forced politicians to say "yes" to cluster munitions. Thank God we didn't produce more HE in the past or we would be stuck using it!
Chairman McCaul of the House Foreign Relations Committee really helped when he led the letter to the President in March. The biggest change, in my opinion, was when General David Petraeus came and spoke to the students at the American University Kyiv (where I was appointed President 1 March 2023).
General Petraeus is one of our most respected Generals - he commanded two wars, and the CIA. And when he started promoting the need for cluster munitions, on film, from the American University Kyiv, it helped get middle of the road politicians in the US on board, and very soon after him speaking, cluster munitions were approved by both parties and by the President.
It was a life experience to be a part of the process and I hope it helps Ukraine. I wish it was a year earlier, but nonetheless glad we approved it.
TOPIC OF CLUSTER MUNITIONS IS VERY MISUNDERSTOOD
Give us a little background and context to the cluster munitions issue. Many tend to believe that it is a totally banned weapon and that its use implies potential massive collateral damage, endangering civilian lives, including when the war is over.
It's a very misunderstood topic. And Russian misinformation helps create confusion, hoping the West will not use our primary weapon against numerically superior Russian artillery. A group of well meaning, but naïve country leaders came together in Oslo in 2008. They might as well have been conducting a Russian operation. There is a Russian saying (this isn't me saying it) that they were "useful idiots". Their "pitch" was compelling and passionate- cluster munitions can kill children and woman, long after a war is over. Who wants that? It's horrible! So that alone was able to get a lot of non-professional, non-military leaders on board. Mostly, from countries far from Russia. What they didn't say was that without cluster munitions, most countries would be conquered by Russia, and they would be not only conquered, but would also have unexploded ordnance all over their conquered country for the next 100 years…..killing innocent women and children. That is why countries that border Russia, the aggressor everyone has feared, the reason a defensive pact called NATO, was formed, did not sign this ridiculous convention. Finland, Estonia, Latvia, Poland, Ukraine and the United States didn't sign it. The West's #1 weapon against Russian aggression has always been artillery-delivered cluster munitions. And this asinine Cluster Munitions Convention took that weapon away from the defense of Ukraine, or Poland, or Estonia, or Finland. Why should Belize, Fiji, St Kitts, the Philippines, Iceland, decide what weapons Europe uses to defend herself from a Russian invasion?
Finally we are sending the Cluster Munitions we should have sent years ago to prevent a Russian invasion, never mind, defend against it. Keep in mind, China and North Korea will watch how effective DPICM is. And it already has been. In my opinion it is 50 times more lethal than high explosive. And that is a game-changer.
Russians dropping cluster munitions on civilians indiscriminately should be seen as a war crime. And it should be prosecuted, and there are thousands of cases. The US or Ukraine using precision artillery cluster munitions against known enemy targets, with drone 'eyes' on the target, is not a war crime. It is how Ukraine will win.
IF THE US WAS FIGHTING RUSSIA, WE WOULD IMMEDIATELY FIRE CLUSTER MUNITIONS
If the U.S. ever needed to engage in a conflict in the European war theater, would U.S. generals employ DPICMs? Would they need any particular approval from top command or government to use these munitions on the battlefield?
Cluster munitions have always been the US and NATO planned defense against numerically superior artillery (whether it was a Russian, Chinese or North Korean invader- all of them have doctrine with superior artillery). If the US was fighting the Russian Army, I have 100% confidence we would immediately fire cluster munitions. It is a legal weapon within our arsenal. It is moral. It is not against the Geneva Convention. The use of cluster munitions is delegated to the Combatant Commander, usually a three- or four-star general, as per the guidance provided as recently as March 2022. That is our policy and our doctrine if US soldiers were fighting Russians directly. Why it was different for Ukrainian soldiers fighting an invading force of Russians has been my concern and position all along: it shouldn't be any different! Ukrainian soldiers deserve to have DPICM cluster munitions. And I'm glad we got them- look forward to seeing them soon as our Ukrainian big guns roar with DPICM!
General Mark Milley at his recent press conference reminded journalists that war in real life is different from war on paper. That's how he commented on the slower-than-expected pace of the counteroffensive. How do you think DPICMs could change its course?
The two main artillery platforms supplied to Ukraine starting last summer were 155mm Howitzers (US, French, German and other) and HIMARS M140 launcher/M270 launchers. Both have conventional shells/rockets, and both have cluster munitions. The 155mm howitzers have cluster artillery shells with 88 submunitions with a range of 25km. The rocket launchers have 518 submunitions and 45km range (M26A1). Unfortunately, neither platform last summer was provided with the most lethal munitions- they weren't provided with the cluster munitions.
If both systems had been provided with cluster munitions from the beginning, I believe the war would already have been won. They are that powerful.
What is your assessment of the outcome of the latest Ramstein meeting on July 18?
In my opinion, Putin's primary aim is not to conquer Ukraine. It's to fragment NATO support. The latest Ramstein summit shows he is not accomplishing what he is trying to do. NATO is stronger than ever.
A major portion of the recent Ramstein meeting focused on de-mining. There is no English or Ukrainian word that fully encompasses the enormous problem that exists- not just for Ukraine – but for the world. Russia has intentionally destroyed a huge portion of the world's most arable land. The old techniques of manual demining won't work for 2.5 million hectares.
Within the next year, we will see the evolution of a century's worth of technological innovation, development and deployment in large-scale identification of mined areas, as well as clearing un-mined areas of land, rivers and seas (which is equally important), and clearly techniques that the world has never seen before, on a massive scale.
My two biggest passions in this war are getting Ukraine cluster munitions, and getting a massive international effort to support de-mining. Those might seem like diametrically opposed ideas. One creates unexploded ordnance and the other clears them. Many people oppose cluster munitions because of 'duds', or unexploded ordnance (UXOs). The two are tied together. 1/3 of Ukraine has a massive, unexploded ordnance/demining issue. 100% of the fault of this is due to the Russians. We cannot clear the areas of Russians without cluster munitions. So we need Cluster munitions to De-Russian. Then we can de-mine. For Ukraine Armed Forces on the offensive, they need to both use Cluster Munitions to clear Russians, but also need to demine simultaneously to clear territory for follow-on troops.
NEXT STEP SHOULD BE CLUSTER MUNITIONS FOR HIMARS AND M270
Now that the ice has broken on DPICMs, what about the much-sought F16s? Dou you believe we are at the final stretch toward actually receiving them following pilot training? Could any other obstacles further delay the handover of these powerful fighter jets to Ukraine?
I'm an Army guy, and this is mostly a land war. With today's UAVs, electronic warfare, precision guided SAMS, I don't see F-16s as being a "game changer". Certainly "nice to have", but not "need to have". I'd put more emphasis on artillery. Now that we are getting the cluster munitions for the 155mm howitzers, next we should get the cluster munitions for the HIMARS and M270 launchers. With their increased range, and with 518 submunitions vs 88 submunitions, they become a major strategic weapon- against front line Russian battalions.
We need drones, artificial intelligence, industry, government and NGOs to come together on a scale never seen.
Russia has fired at least 30 million shells, 20% of which did not detonate. All the land on which they are on is contaminated. And some in the West think it is irresponsible to liberate the land firing a small number of cluster munitions that have a 3% failure rate. The moral dilemma is the Cluster Munitions Convention doesn't understand munitions, nor math. We need to liberate the occupied land. That requires cluster munitions. Then we need to clear the land. All of the contaminated areas are the fault of one country: Russia.
WHO CARES WHAT PUTIN THINKS?
How would you comment on CinC Zaluzhnyi's recent statement that no one would stop him from liberating Crimea once he has the means to this end – that's given concerns privately expressed by some Western about how Putin might react once Ukrainian forces enter the peninsula?
My initial thought is "who cares what Putin thinks?" The answer is simple: Kill or capture every Russian, or force them out, until Ukraine regains its 1991 borders. Otherwise, what are Ukrainian forces fighting for?
If some politician in the West is overly worried about what Putin will do if Putin loses a war that Putin initiated, then those politicians need to reconsider their profession. Leaders cannot be intimidated by an aggressor with nuclear weapons. Otherwise, the future is certain: oppression. The West has been overly concerned with Putin's reaction to every decision, and worried about "escalation". He was the aggressor. All aggressors should fear the West's reactions will be extremely powerful, until expelling the invader.
Ievgen Matiushenko