Oleksandr Pavliuk, First Deputy Minister of Defense of Ukraine
Demining Ukraine should not become a challenge for our children
09.05.2023 15:15
The largest war since the World War II poses a challenge for Ukraine and the world to humanitarian demining of thousands and thousands of kilometers. After all, our land needs not only to be liberated from the occupiers, but also to be left safe and habitable for our children and grandchildren. It is unlikely that Ukraine can face such challenges alone, so the architecture of future joint demining work is already being created. Ukrinform asked Oleksandr Pavliuk, First Deputy Minister of Defense of Ukraine, how much and what territories need to be demined, whether there are funds, equipment and specialists for this, how to become a sapper and whether there are women among the sappers.
ONE THIRD OF UKRAINE'S TERRITORY NEEDS DEMINING
- Ukraine is now called one of the most mined countries in the world. According to your data, what are the approximate areas of mined territories, how many specialists are needed to clear them and how long will the demining process take?
- The Russian Federation has really made us steel, but unfortunately, it is not only about the nature of Ukrainian resistance. As a result of Russia's armed aggression, Ukraine has indeed become the most mined country in the world.
Currently, the area of more than 174,000 square kilometers needs to be surveyed, of which 14,000 are marine areas. This is about a third of our country.
This volume includes all the territories where active hostilities were or are ongoing, which are under temporary occupation, and the territories that have been subject to air and missile strikes. The area of the de-occupied territories where the survey is already underway is 45,000 square kilometers, of which 17,000 square kilometers are agricultural land.
The volume and density of explosive contamination is comparable to the scale that affected Europe after World War II. As a result, the need to attract human resources, equipment and budget for survey and demining is significant.
With the resources we have now, it will take decades. We cannot afford this, so the work of all defense agencies in this area is ongoing. Mine clearance in Ukraine should not be a challenge for our children, let alone our grandchildren.
According to the decision of the Ministry of Defense, 5,000 demining specialists are to be engaged from the Armed Forces and the State Specialized Transport Service of the Ministry of Defense alone.
Such an increase in the number of personnel and their proper provision, in particular, with modern means of search, survey and mechanized demining for safer work, will significantly reduce the time required to clear Ukrainian land of explosive ordnance.
But you understand that, unfortunately, this will still not be enough: the war is ongoing, and we are dealing with an enemy that ignores all international conventions and norms. That is why we are working systematically, increasing the number of sappers, setting up training centers with the best practices of other countries, using modern equipment and facilities provided by our allies, and at the same time setting up production of the necessary equipment by Ukrainian manufacturers.
However, we need support and long-term projects with our partners, allies, and friends. Combining efforts, skills, and experience is one of the key ways to accelerate the pace of work.
- In order to train demining specialists, we need a training base, teaching staff, and funds for training. What capacities does Ukraine have and what kind of international assistance will be provided in this regard?
- As you know, our capacities are not enough to cover the need in full. Ukraine has its own educational institutions that train demining specialists, but their capacity is insufficient due to the scale of contamination. Therefore, the Ministry of Defense is constantly working to attract assistance from allied and partner countries.
One of the examples of attracting international experience in the field of training and professional development of deminers is the launch of a joint project by the Ministry of Defense with Tetra Tech, which acts on behalf of the US Department of State.
Our cooperation will result in the creation of a modern training center with a training capacity of 500 humanitarian demining specialists per year. They will be trained in accordance with international standards and will be able to use the most modern methods and equipment for demining.
During my meeting with Tetra Tech representatives, we discussed not only the creation of the center, but also its uniqueness. We had not been able to focus on training humanitarian demining specialists before. The project will create a continuous closed cycle in which people will be trained from the initial level to the highest possible EOD-3+ level.
- A very important factor for demining is the availability of appropriate equipment. Do we have the necessary equipment and to what extent does it meet the needs?
- One of the key needs is modern robotic platforms and machines for mechanized demining. The latest technologies primarily save the lives of personnel, and only then do they serve to increase efficiency.
Croatia's experience in 1996-2020 shows that there was not a single case of sappers being injured using robotic systems. Such machines can clear approximately 4-6,000 square meters per shift. At the same time, manual demining by a single sapper, taking into account the peculiarities of the soil and vegetation, will cover an average of about 50 square meters.
Therefore, it is very important for us to equip our units with the latest and most reliable demining equipment. We receive substantial assistance from our partners and donor organizations: these are modern search and protection equipment and robotic systems, among other things. For example, the Armed Forces of Ukraine are effectively using Slovakian Bozena demining machines, which significantly speed up the work of demining units in Kherson and Kharkiv regions.
However, I would like to emphasize once again that we need more resources to carry out demining activities. At present, the needs of the Armed Forces and the State Service of Ukraine for Emergency Services, which are engaged in demining the de-occupied territories, are only 10% covered by international assistance. That is why we are actively working to find solutions and mobilize resources, including from Ukrainian companies.
For example, I recently chaired the first interagency meeting on the possibilities of producing modern equipment and machinery for demining in Ukraine by Ukrainian companies. We discussed, among other things, a number of UOP's [The state-owned weapons manufacturer Ukroboronprom] developments in the production of demining vehicles based on T-64A tanks, the existing production of armored vehicles for transporting explosive ordnance, and the production of equipment required by various mine action operators: from drones and manual demining tools to trawls and robotic platforms.
This was only the first, basic stage of our work. And we need to involve our enterprises as much as possible, because this is an economic boost and a prospect for Ukraine.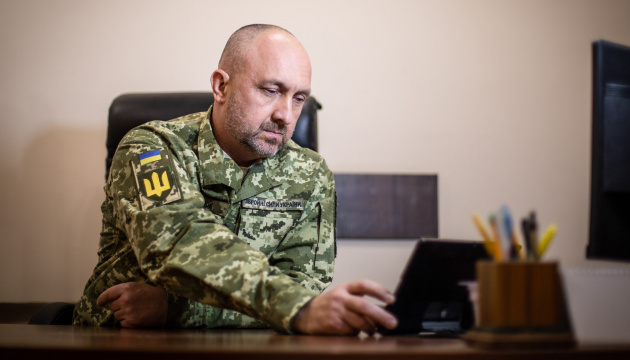 - The work of a sapper is very dangerous and, accordingly, it should be properly paid. How much should a sapper's salary be and how many people would be willing to work in this specialty?
- All defenders, regardless of their specialty, must be properly provided for. In addition, the defense of our country from the armed aggression of the Russian Federation involves risk regardless of the duties performed. Sappers are no exception.
In addition to guaranteed financial support, they are also entitled to remuneration for direct work on the search and destruction of explosive devices. But if a sapper carries out demining activities in accordance with the way he was taught and in accordance with the standards, his work will not pose a threat to life.
However, this is not the case. Every day, our defenders go through severe trials to protect Ukraine. They risk their lives and health, are in extremely difficult physical and psychological conditions, but continue to serve and achieve success on the battlefield. In my opinion, we will not have any problems with attracting specialists, not only sappers. Over the ten years of modern Ukrainian history and the century before that, we have had too many occasions to realize that fighting for Ukraine is the business of every citizen. Otherwise, we simply will not have a country. After all, the defense of our country is one of the few constitutional obligations among all our rights and freedoms.
- How are candidates selected for this job and are there any women among the sappers?
- In my opinion, being a sapper is first and foremost a conscious choice: a person must be psychologically prepared for hard work that involves risk. That's why the first stage is a professional aptitude test. After that, there is training. Those who successfully pass the exam upon its completion will become sappers and will be allowed to carry out demining.
The price of a sapper's mistake is not only their own life and health, but also the fate of other people who work nearby or those who will use the demined area in the future. Therefore, a deminer must be, above all, extremely responsible, attentive, persistent and focused. Technical skills are taught by commanders and instructors.
To perform demining tasks, the main thing is to be a professional in your field and strictly follow the instructions that will save lives. In Ukraine, more and more women are seeking to master the profession of a deminer, both in the Armed Forces of Ukraine and in non-governmental mine action operators.
$16 MILLION OF INTERNATIONAL ASSISTANCE HAS ALREADY BEEN ATTRACTED FOR DEMINING.
- Which countries have so far agreed to help Ukraine with demining and with whom do you plan to hold talks?
- In particular, the European Union, the United States, Canada and Japan are leaders in supporting humanitarian demining today. We have already attracted $16 million in international technical assistance for demining.
Ukraine is implementing joint mine action projects with the OSCE Project Coordinator in Ukraine, the United Nations Development Program in Ukraine, and international organizations that operate mine action (Halo Trust, FSD, DRC, NPA).
Work is also underway to attract international technical assistance, namely modern demining equipment and machinery, training and professional development of personnel involved in demining, with representatives of the embassies of donor states, NORDIC countries, the US Department of State, representatives of the European Union and the Swiss Confederation, the Republic of Croatia, and international organizations (UNDP, the UN Office for Project Services, the Geneva International Center for Humanitarian Exchange, the United Nations Office for Demining and Humanitarian Affairs, and others).
However, the Russian army continues to strike. The danger has not passed, the fighting continues, which means that a lot of resources, equipment, and people are needed to fully return to life. That is why the negotiations are ongoing. We need the help of all our allies to ensure that the deadly Russian iron does not become an additional threat to the lives of our citizens, let alone our grandchildren or great-grandchildren.
- Do you need additional legislative regulation to implement your plans?
At present, no legislative changes are required to build up operational capabilities and the mine safety system. However, it is possible that they will be needed in the future. Thanks to the systematic actions taken by the government before the full-scale invasion of Russia, the mine action system is now fully operational and developing. This allows us to plan activities and involve international non-governmental organizations in demining.
Nevertheless, we are overcoming challenges and gaining experience. Ukraine is now a leading country in terms of updating demining technologies. But you realize that there is always room for improvement.
In my opinion, much attention needs to be paid to streamlining the industry at the level of bylaws and acts of the Cabinet of Ministers. The sector is organizationally and technologically complex, so it is impossible and unnecessary to regulate all issues at the level of law. Therefore, we are actively working in this direction. Our ministry chairs the national body for mine action and is making every effort to minimize the time required to clear our territory of mines.
At the same time, we emphasize that demining should take into account the situation and the plans of the Defense Forces, and should not threaten national security.
DEMINING NEEDS FOR THE CURRENT YEAR AMOUNT TO MORE THAN $397 MILLION
- Is the budget request for the next year already being prepared so that the necessary funds can be allocated for demining? What amounts are we talking about?
- Budget requests are formed in accordance with the Budget Code, and this process is currently underway. First of all, the budget is needed to create and equip new units that will strengthen the Ministry of Defense's demining capabilities.
Spending planning in this area is not linear, meaning that the number of territories does not equal the amount of money. The budget for demining a particular area depends on many factors: from the area of the territory, soil type, vegetation to, most importantly, the intensity of hostilities in a particular area.
The estimated cost of the full range of humanitarian demining activities is $37 billion dollars, and the needs for the current year alone are more than $397 million, according to the World Bank. This cost is not final, but we rely on it in our activities. However, in the end, the amount may either decrease or increase significantly.
Everyone understands that overcoming the scale of explosive contamination, which is being barbarically and systematically increased by Russia, requires an equally systematic increase and consolidation of our efforts and support from our allies.
Returning security to Ukrainian territories means returning it to the whole world.
Iryna Kozhukhar