Ivan Fedorov, Mayor of Melitopol
City services should have been ordered to destroy bridges
05.11.2022 12:30
Melitopol, a city in Ukraine's Zaporizhzhia region with a population of 150,000, has been under occupation literally since the first day of Russia's full-scale invasion of Ukraine. Despite thousands of armed Russian soldiers on its streets, the city remains pro-Ukrainian.
Ukrinform spoke with the mayor of the city, Ivan Fedorov, about the importance of de-occupation, about Yevgeny Balitsky, the main Gauleiter of the region, about the depressing present and much more.
Fedorov, 34, is the youngest mayor in the city's history. He was in Russian captivity during March 11-16. At present, he and his team work in Zaporizhzhia where they manage Melitopol remotely.
STRATEGIC SIGNIFICANCE OF MELITOPOL
- On your social media, I saw the phrase "The de-occupation of Melitopol is a sky without rockets for Zaporizhzhia, Nikopol and Dnipro." Can you decipher it?
- We see today that the Rashists have identified Melitopol as a strategic administrative and logistics center. If we talk about logistics, then this is a historical component. As for the administrative component, the occupiers falsely call the city the center of the Zaporizhzhia region. As for the security situation, it is enough to look at the regularity and types of shelling of Zaporizhzhia. Eighty percent are S-300 missiles that were earlier used only for air defense, but now they are used as surface-to-surface missiles. They are not very accurate, but they are the ones that terrorize the regional center. Their range does not exceed 80 km. That is, the aggressor carries out these attacks from the former Tokmak district or the present Orikhiv district. They come as close as possible to the contact line and shell Zaporizhzhia. If the front line is moved and we liberate Melitopol, then Zaporizhzhia will be safe. Of course, we are not talking about all missile attacks. Another thing is that if Melitopol is liberated, then our Zaporizhzhia nuclear power plant will be in the deep rear, and it is from there that they are terrorizing Nikopol with MLRS. So this is why the liberation of Melitopol is strategically important. We see what missile terrorism leads to: 50% of the population of the regional center is already gone, and this trend will continue. We see what they turned Mykolaiv into, using missile terrorism. The city is disappearing step by step, building by building. This must be stopped as soon as possible.
- In Zaporizhzhia, in early October, the enemy attacked apartment blocks, and they also began to disappear. You now live in the regional center. What did you feel when you saw it?
- The first two weeks of the occupation of Melitopol were such that we went to bed and did not understand where there were explosions and shelling. It's the same in Zaporizhzhia. The main part of our team that left Melitopol stays in the regional center, there are also more than 10,000 IDPs from the Melitopol district, and we -- as those for whom they voted -- are responsible for our citizens. Unfortunately, residents of Melitopol were also killed in the shelling of Zaporizhzhia. Unfortunately, part of our team was in the immediate vicinity of those houses that were completely destroyed. For example, one of my colleagues lived opposite a house on Sobornyi Avenue and it was destroyed. The first thing that comes to your mind when there is a shelling is to find out if everyone is safe. I am grateful to the people of Melitopol who united and went to dismantle the rubble of the building. We live here today and we will overcome all difficulties together. I want to thank residents of Zaporizhzhia for welcoming us.
- What does the remote management of Melitopol look like?
- This is a challenge. It seems to me that 80% of the occupied territories are not managed in any way. Some teams scattered, some teams are not united, one manager went to cooperate with collaborators. Today, we have several goals. The first is to maintain an efficient team, our residents should feel cared for. The second is to ensure the payment of salaries to all our employees (teachers, doctors, social workers), so we should think about filling the budget. We pay salaries to everyone. We almost never turn to the state for help. If we do not pay salaries, there's greater probability that a person will cooperate with the enemy. We also have 11th graders (this is about 700 children) who have to enter our universities, because the state invested in them for 11 years, teaching them, instilling patriotism. So we should try to be together. It's easier when we are together.
- But there are still collaborators...
- Of course. But (!) my team and I can be proud that not a single deputy mayor and not a single department head was a collaborator. Out of 12 heads of utility enterprises, only one turned out to be a collaborator, but that is not a strategic enterprise. Not a single school principal cooperated with the occupiers. Imagine when they bring all the directors together at gunpoint and they all tender their resignation, it is a sign of patriotism. Among the collaborators are those who "got lost": at first, they agreed to cooperate, but now they are running.
- Are there many of them?
- Yes, there are. They get in touch with us, with the security forces. The situation before the fake referendum, when we built a "network" of our people in order to fully control the situation, was illustrative. A huge number of people agreed to work with us. We knew about every step of the occupiers, about everything that was happening during this pseudo-referendum.
- When did you realize that Yevgeny Balitsky would take charge of the occupation authorities?
- We spoke to him when I was in the occupation. I clearly understood that he knows about everything, that he was preparing for this, that he is the one who was waiting for his time. When the city was occupied, we felt that someone was "theirs". We are not theirs. We started looking. Balitsky is an old political enemy and opponent. He is a "Russian agent" who was on our territory, and it was no secret for us. Our team, led by MP Serhii Minko, has been in confrontation with Balitsky since 2014, when he organized provocations on May 9, manipulated events that are sensitive to society, especially the south and east of our state. We wrote a huge number of statements against Balitsky at the law enforcement agencies. When we met with him on the 3rd or 4th day of the occupation, it became clear that he was afraid, but he would be (a Gauleiter).
- What impressed or outraged you the most in that conversation?
- I was struck by the fact that he believed internally that there are Americans who took over our country, there are Nazis or nationalists, as he calls us there. I have known him since my childhood. Melitopol is a small city. And I was trying to figure out whether I am a Nazi and nationalist. But he believed in it. A person who lived in Melitopol and was well aware of what was happening believed that this was a "patriotic war" and that we should be freed. He believed in it, he did not play.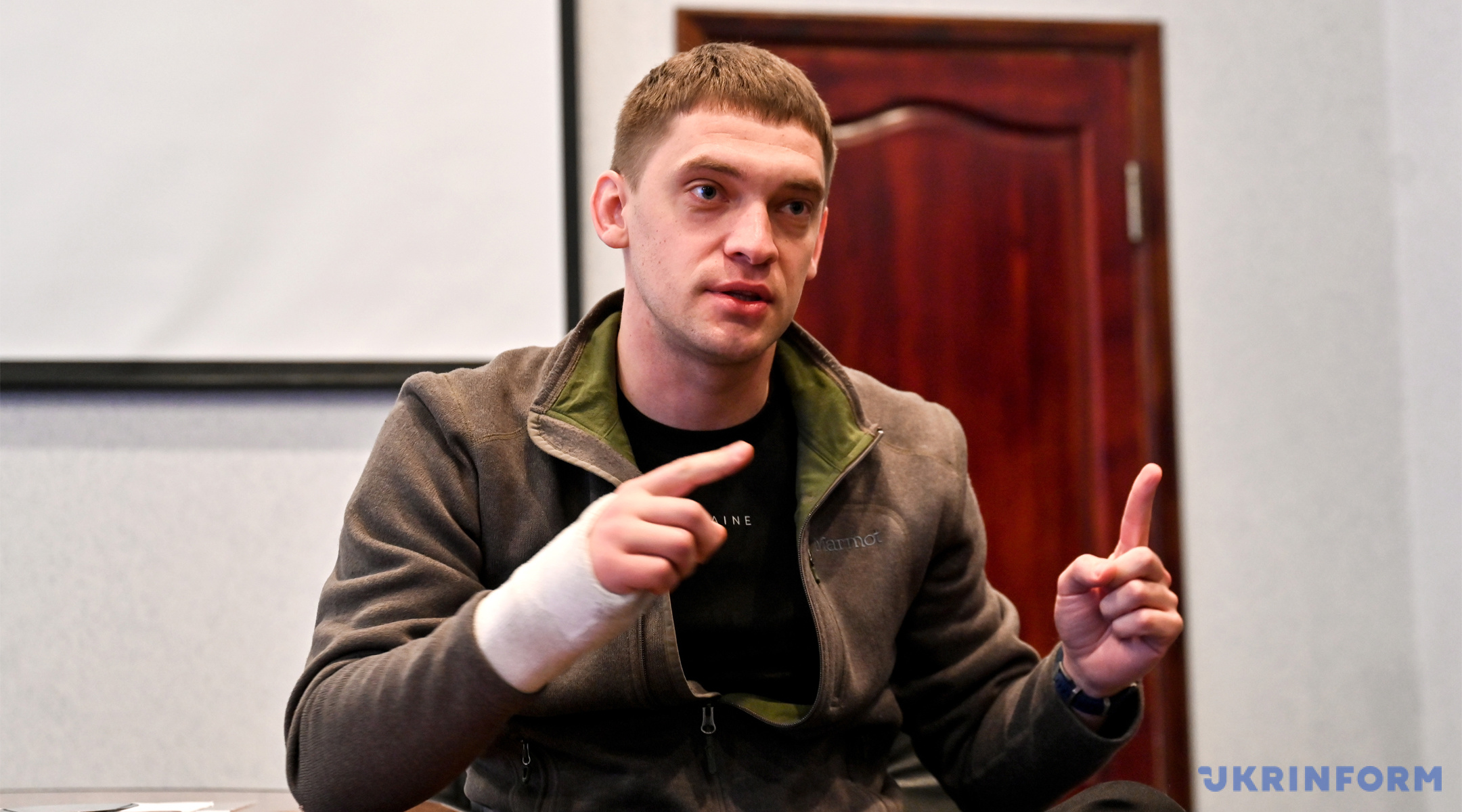 - Then he must be very disappointed by the fact that during the occupation, thousands of Melitopol residents came out to participate in pro-Ukrainian ralies?
- No, he clearly told me: "You are paying for it." He says, "Stop paying them." I say: "I'm not paying anything." And he replies, "But I know how rallies are organized." He continued to say that we are transferring funds from America to people. He believes in it. When 3,000 residents come out for rallies under occupation, it's a surprise for me, it's extremely dangerous, extremely unpredictable, and he say, "Well, you paid them, and they went out."
- Did you expect that this would be the case in a city that has always been considered to be "separatist"?
- On February 28, 2014, Serhii Minko became the secretary of the city council, acting mayor, and then -- in a short period of time -- I became his deputy. On March 3, there was a "Russian Spring" rally, attended by 4,000 residents. I will say that there was an extremely difficult situation in Melitopol at that time: the Rashists tried to say that there was anarchy in the city and it was necessary to take power into their hands. I am not offended when people talk about pro-Russian sentiments. Apparently, every second family has a relative in Russia, because our main enterprises have been closely cooperating for many decades. But in 2014, Melitopol withstood and became one of the pro-Ukrainian cities of our region. It happened because the authorities in Melitopol did more than they promised. Imagine: 2014 - 4,000 residents go to a "Russian" rally, despite the presence of Ukrainian security forces, 2022 - the Russians have completely surrounded the city, are guarding it, but not a single person came to a "Russian" rally, not a single one. But a Ukrainian rally was attended by 3,000. This is a choice.
LIFE UNDER OCCUPATION AND THREE WAYS OF EVACUATION
- What is the situation in the city now, in short?
- Depression and despondency. The Rashists are trying to drive the city into a situation in which Donetsk and Luhansk found themselves for eight years. People leave en masse, there is no work and no money. But the resistance offered by the residents is heroic. For eight months, the occupiers have been unable to "kill" the hryvnia, and it still "walks" in Melitopol. Gauleiters check price tags in stores. Well, that's funny! People cannot leave. Unfortunately, the state cannot provide everyone with housing and sufficient funds. We help our residents move to Bulgaria, Romania. We organize it, and they are met there, accommodated in three-star hotels, and they have three meals a day. We not only encourage them to leave, but also help them find a place to stay. In Melitopol, people do not communicate with each other because they do not understand who their neighbor supports. You and I can criticize the government, and that is normal, but this is not the case there. One of the main problems is that people are in an information vacuum. We are thinking about how to convey information, given that the occupiers are checking phones on the streets. There is almost no way out, except to encourage people to communicate with each other, to call relatives who have left.
- Evacuation is currently almost impossible. If we are talking about leaving the city through Vasylivka, then everything depends on the conditional mood of the occupier and on the condition of a dirt road near Kamianske. If we cannot influence the first, then can we do something about the road?
- Building a road is not a problem. We can build it well and quickly, but we must understand that the enemy regards the improvement of this road as the fact that tanks will use it tomorrow. As soon as we try to do something there, the occupiers immediately block it. Therefore, it is the "road of life", but there is no other way than to wait for good weather and use it.
- Is there any other way to leave Melitopol, except for Vasylivka?
- Via Crimea, then to Georgia or European countries. A trip takes about five days, but a huge number of residents of the occupied territories use this route as the main one. Another way is through the "DPR" (Mariupol - Novoazovsk), but it is extremely difficult mentally. There are thorough checks there, there are "DPR" soldiers. It is the most dangerous route. So we have three ways: Crimea is the most popular, Vasylivka is in second place, and the most dangerous is the third - Novoazovsk.
- Are there many people left in Melitopol?
- When we talk about the number of people, there is an interesting thing here. Are there many people in Melitopol? Yes, there are many. Are there many residents of Melitopol? No, there aren't. According to our estimates, less than 50% (no more than 50,000-60,000) live in the city. But a lot of people came from Mariupol, the Donetsk and Kherson regions. A huge number of city residents also arrived from different regions, because we understand that our region is a comfortable place to live. The occupiers rob apartments. All my houses are already occupied. But I don't think about it. The apartments of my friends, family, and relatives are also occupied.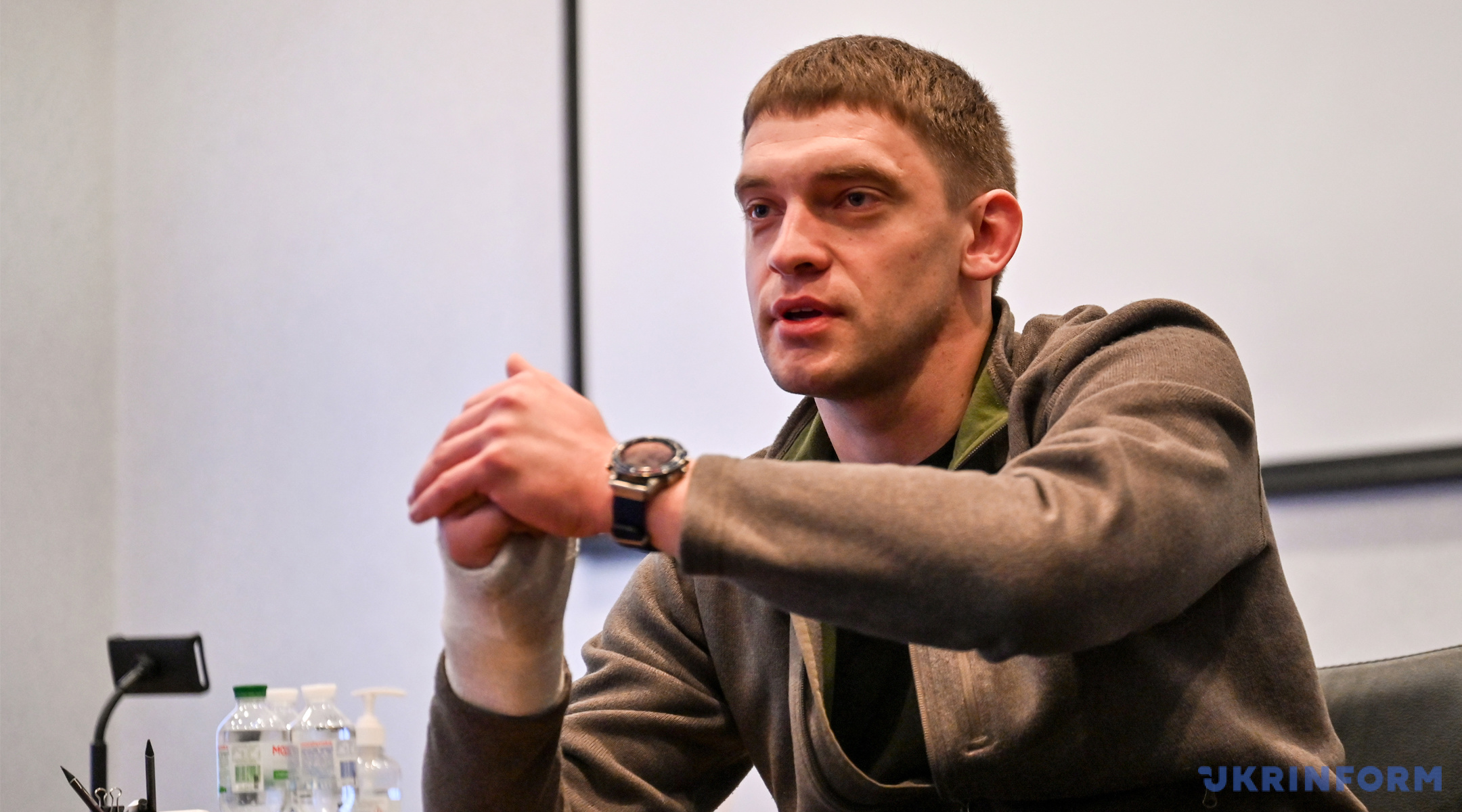 CITY OCCUPATION AND BRIDGES NOT DESTROYED IN TIME
- The occupation of the city happened very quickly. We watched it on social media. You saw it with your own eyes but couldn't do anything about it?
- My job is to ensure the household, social, and educational needs of residents. I can't stop a thousand enemy troops, that's not my job. You don't even have to try to do that. What is my reaction? I informed all the relevant agencies in a rather rough way. The other day I was abroad on a business trip and met with the command of our military base that was stationed at the Melitopol military airfield. This is our first meeting since February 24. Before that, we talked on the phone. Local self-government in Melitopol was coordinated much better than other agencies. This is war, and we have to admit it. We must be united for victory, and then all collaborators and traitors must be punished. I hope that there will be appropriate decisions by our law enforcement agencies. We must also punish those who have not seen Balitsky as a traitor since 2014. On February 24, we could not do anything. A decision had to be made: go or stay. This offer was "on the table". The team chose, not me. I did not have the right to be responsible for everyone. I offered everyone. No one left.
- Did you think about leaving?
- No, I didn't. We worked out back-up options, we thought about where we could hide and then leave, but nobody thought about just leaving.
- There was no fear because there was adrenaline?
- Yes, I understood it clearly on the third day after I was captured, when I had no sleep for several days. Adrenaline is gone - and you start soberly thinking about what could have happened to you. And when you're in the process, you can't think straight. Fear? No, there was no fear.
- Let's go back to the events of February. What was the first meeting with the Russian military?
- I cannot talk about the details, because the investigation is still ongoing. I was alone, and there were six of them. These were the FSB, intelligence, Russian Guard - the military. I asked them to take off their masks and told them that otherwise there would be no dialogue. I'm without a mask. They did so. I was not in a position of weakness in that conversation. I said that we have conditions: the state flag is on the central square, and the Russian flag must be removed from the building of the executive committee, and then the city will have light and heat, and we will not influence the military situation, but this is not in our power. They captured the city. Well, ok. What can I do? Stop them by force? The next day, the Russian flag was removed, the Ukrainian flag was on the central square until I was taken captive. Every day I did livestreams, and there was a Ukrainian flag in the video. They came to me every other day and said: "Well, maybe not against the background of the flag." And I said: "No."
Now I am not recording it and showing it, if you look at the chronology of events, it was like that. It happened that they came to our emergency department at night, stole a ladder truck and tried to remove the flag from the central square, but failed. In the morning we figured out why it was necessary. We are at home, we were not in a position of weakness, we defended the city as best we could. It was extremely important for the residents that the Ukrainian flag remained. This is identification.
- I remember your streams. It was clear at the time that you were looking for places that would say that Melitopol is Ukraine. But it seemed to me that you were looking around...
- That's true. You say it, and I've got goosebumps. Not only did I try to make Ukrainian symbols visible in the video, but I also live-streamed from new places so that people would believe that I was in the city, because back then there was already fake news that I had allegedly left. Once we live-streamed against the background of the administrative center, and when it was not yet over, a huge convoy of Russian vehicles began to drive through the city, and then I understood that they could easily open fire. They would not figure out who is filming and what. That was scary. We quickly finished the recording. But tens of thousands of residents were waiting for these streams. And if we did not live-stream, I received hundreds of messages saying "What happened?"
- I remember your stream on Facebook, when you first said that the city was occupied. At that time, there was no official comment from Ukraine's General Staff. How difficult was it for you as a mayor to pronounce the phrase: "The city is occupied"?
- You don't want to believe it, but we can't describe black as white. For a long time no one believed that Melitopol was occupied, but it was a fact. It was actually occupied on the evening of February 24, and the city was encircled on February 25. What is an occupied city? That's when there is no law enforcement officer, but there are thousands of Russian soldiers, it is difficult. We understand that wars are started and ended by politicians, and any decision will be made by politicians. But no, this did not happen.
- If you could rewind time?
- Everything would be different. There are three things that would be done. At 05:00 on February 24, I would call on all residents of the city to leave. The second thing is that all utility and road services would go to destroy the bridges, and the third thing is that I would leave myself. It is dangerous for the mayor to stay in the city, it cannot be done. The control point must be moved away, and you cannot be encircled. You have to honestly tell people that you will be back in a week if everything is okay, and you have to destroy the logistics immediately.
- To destroy, no matter how difficult it is?
- Building is easier than getting thousands of enemy vehicles seven hours after they pass Chonhar. We had to order our services to destroy all the bridges, three of them. Would this solve the issue of war? No, but it would add hours, maybe even days, that could make all the difference.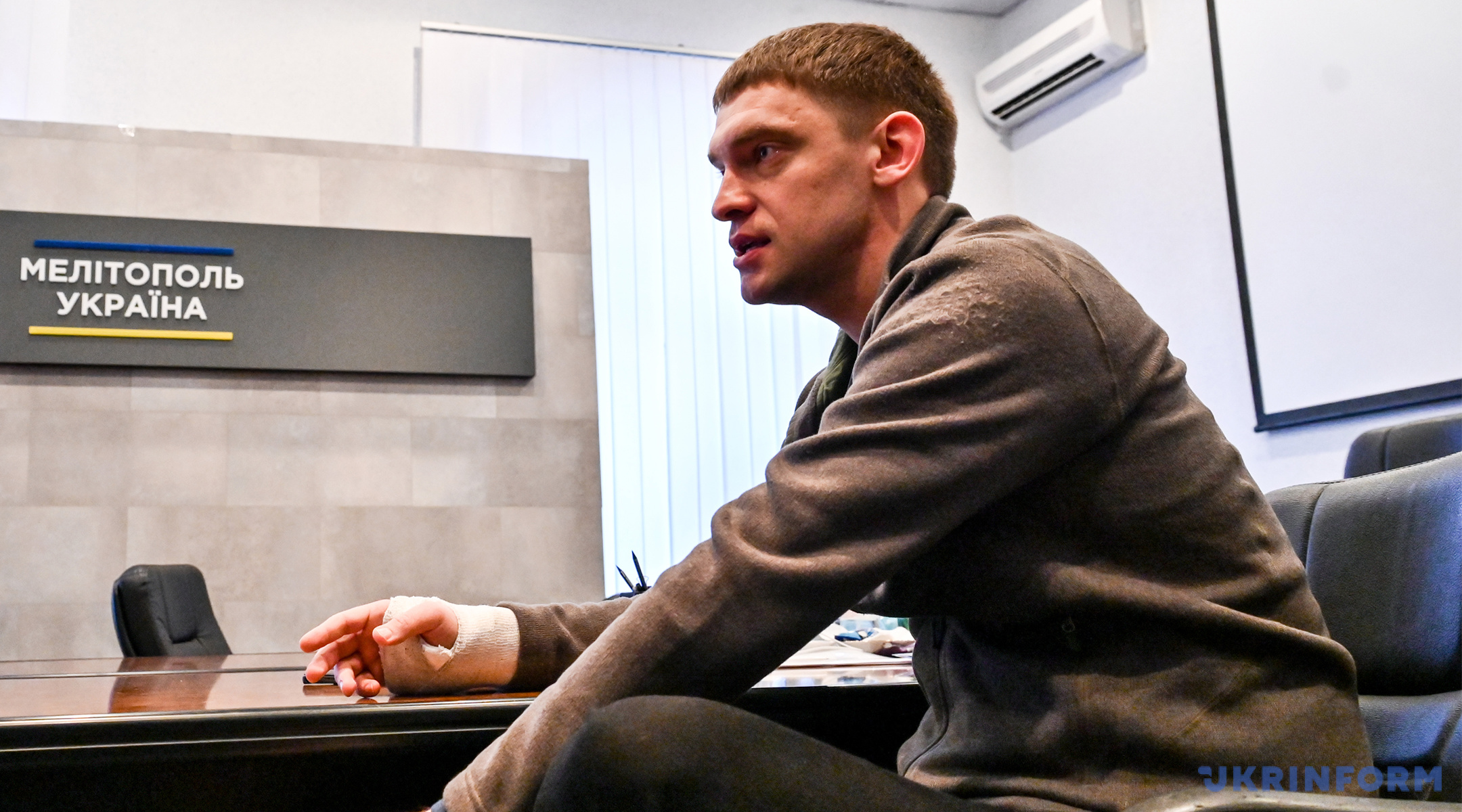 ABOUT CAPTIVITY
- Were you mentally prepared for the fact that sooner or later they would come for you, that you would be captured?
- No, I was ready that they would come and say: "From now on, you are no longer the mayor, and that's it." And I would have nothing to oppose. I did not think that I would be captured, but I had a premonition: on the evening of Thursday (March 10), I went to my parents and asked them to leave, but they refused. Our team got together and I said that I don't like what is happening. But we decided to stay.
- What was the most difficult thing in captivity?
- The first day, when you are not ready for what is happening, you have never been in such conditions. Then you understand that nothing depends on you, you understand that friends, relatives, loved ones are fighting for you now and will definitely not leave you, and you just have to believe, not lose faith - and that's it.
- What was the first thing you did after captivity?
- I came to my mother and father. I met with my team. I thanked them for not leaving. Thanks to them, I stayed there for six days, not six months.
- Did you become more aggressive after captivity?
- To the Russians? I do not treat them in any way. But yes, I became tougher. My friends notice it. There is no right to make a mistake, sentiments.
- Why don't they exchange the mayor of Dniprorudne, the first deputy mayor of Enerhodar?
- We dealt with this issue. We tried to help. Why are they not exchanging them? There's no answer. These are non-standard solutions, non-standard negotiations conducted by many subjects. Why aren't releasing them? They want more money, more people, they want something more.
- How many residents of the Melitopol district are in captivity?
- Daily statistics change. More than a hundred Someone is already in a pre-trial detention center in Moscow, someone is digging trenches near Huliaipole. They are looking for partisans, but cannot find them.
BUSINESS OF LIFE
- After the de-occupation, Melitopol will be a completely different city. Are you ready to return to it as a mayor?
- I will be returning to a different city with different people, with a different history. It's not about buildings, it's a trifle. I will be returning to a different society, which will be divided into those who stayed, who betrayed, left, returned. And this is the main thing, and we have to understand how to punish those who betrayed, and to reconcile those who stayed and did not betray with those who left and returned. It will be an extremely difficult process. Melitopol is the intercultural capital of Ukraine, and it is 112 nationalities and minorities living in the city. We managed to reconcile everyone. Melitopol was a conditional "reserve", where no one terrorizes anyone and everyone has the opportunity to develop. Building a house takes a year, and reconciling society takes a decade, and how to solve this math is another question.
- What will you do first after victory?
- I will raise the flag of Ukraine over my native city. We have already written out everything. We will definitely go back there. First, there will be an audit/assessment of the situation. According to the law, all collaborators must answer. Melitopol was and will be the best city. The hardest thing is to bring people back.
- After the captivity, you visited many countries and took part in various international events. Why did you do it and did you get the result you expected?
- My main goal is to make sure that the residents of Melitopol and occupied territories are not treated as traitors. We must give truthful information about the real situation. We must say that the residents of Melitopol, despite the fact that they speak Russian, are Ukrainians, they want to live in Ukraine. Due to the lack of this information, we lost Donbas, Luhansk. Our task is to make the residents of Lviv feel responsible for the liberation of Melitopol, because without the liberation of Melitopol, Kherson, Berdiansk there will be no state of Ukraine, it is hard to believe, but it is true. We have to say that we did not betray, we were captured, that Melitopol is now not treated as a "separatist city", and this is important.
- Contact the guys from the Melitopol territorial defense. They all thought that they would defend the city, but it didn't happen so.
- On February 24, at 16:00, they received an order to leave the city. The commander called me and told me about it. We have a close relationship with the military. We go to them, we do everything so that our soldiers get better uniforms, cars, and means of communication. All this is also being done so that they can return home faster. A rehabilitation center has been created for those who have nowhere to return. We all have one goal of returning home.
- What is your heaviest loss during the war?
- The city is the business of my life. I gave up my personal life, business, where everything was always good for me, I gave up rest in order to build a city that is comfortable, where I want to go, where people feel safe. I lost the business of my life... I lost it temporarily.
- What is the first city you will visit?
- Melitopol. I don't want to go anywhere else. It is fundamental for me to be close to my people.
Olha Kudria, Zaporizhzhia
Photo credit: Dmytro Smolienko