Ihor Skybiuk, Commander of the 80th Separate Air Assault Brigade
If I prayed to anyone in Bilohorivka, it was our artillery
22.07.2022 20:55
In May 2022, Russian troops spent a week making unsuccessful attempts to force a crossing over the Siverskyi Donets near such villages as Dronivka, Serebrianka and Bilohorivka, Luhansk Region. Despite the prevailing forces, namely in terms of firepower, the enemy failed to build a crossing at that time – so powerful and professional was the resistance of Ukrainian forces. The battles near Bilohorivka have already entered the history of the Russo-Ukrainian War as one of its most heroic chapters. About the impact of this operation on the situation on the battlefield, the role of artillery, the feat of soldiers who were holding the bridgehead, as well as the defense of southern Ukraine, liberation of Voznesensk and the war that does not allow us to be weak, we talked to Commander of the 80th Separate Air Assault Brigade, Colonel Ihor Skybiuk.
"Over the past several months, we have forced the enemy to change tactics"
The atmosphere on the eve of Russia's full-scale invasion was very tense. At that time, the brigade was deployed in southern Ukraine. Of course, we did make preparations. We expected provocations; we assumed there would be an escalation in the Joint Forces Operation (JFO) area. But, I personally wanted to believe the enemy would not dare to start full-scale aggression. I did not expect such a scale.
On the night of February 24, 2022, the brigade received a combat alarm signal, and we immediately started to complete the designated tasks. Already that day, the enemy aviation was working against us.
Initially, Russians were using a blitzkrieg tactics – they entered in large formations, battalion- and even brigade-level columns. They attempted to advance fast, knocked our defensive screens down, bypassed strong points, used aviation actively. We tried to counteract this. In general, over the past several months, we have forced the enemy to change their tactics. Now they act more with firepower, armored vehicles, artillery. Now the enemy does not move forward without having prepared the area for infantry. They can advance only after long, painstaking and bloody battles. And even after that, surprises await them: our artillery, infantry, mines. The enemy has a hard time, let's say so.
Talking of the most significant operations carried out within the control area of our brigade, I would highlight three of them. Firstly, it is the defense of Mykolaiv Region's Voznesensk in March 2022. The brigade units prevented the enemy from capturing that settlement and crossing the Southern Bug. I believe this did not allow Russians to implement a plan for the seizure of Odesa and Mykolaiv. We broke up the Russian offensive, exhausted the enemy units, which played a big role in southern Ukraine.
Secondly, the May battles near Luhansk Region's Bilohorivka, where the enemy attempted to force a crossing over the Siverskyi Donets. It was a very challenging operation, where everything depended on many criteria and factors, and even luck. Bilohorivka became a serious lesson for Russians. As long as we stayed there, they did not risk making any further attempts to build pontoon crossings.
Thirdly, the defense of the village of Berestove was of great importance. The enemy brought their strike group there – the 76th Air Assault Division. There were not many of our forces there, but the steadfastness, bravery and skillful maneuvering of our fighters, who were defending Berestove, disrupted the enemy's plan. They lost combat capabilities, which allowed us to buy time in order to build a powerful defense and deploy additional units.
"Success in Voznesensk was facilitated by the effective work of intelligence and huge support from local residents"
We started the defense of Voznesensk in the far reaches of the city. The covering force units were deployed; mine-explosive barriers were created; our artillery was moved to forward positions. I must admit at first the enemy advanced rather effectively. In general, the battles for the city lasted about two weeks. The most challenging were the first two days, when the enemy tried to take the initiative.
The first attack by Russians was powerful. Their assault units entered the city, and the assault on the Bolharka district started. In that battle, a big role was played by the fact that the enemy's advanced units got into a fire pocket, were restrained by mine-explosive barriers. In addition, we managed to blow up a bridge. This episode, by the way, is a vivid example of human heroism and self-sacrifice. At that moment, the detonation system was disrupted due to the enemy tank fire, and we were unable to control it. But, a brave deminer ran to the bridge and did everything manually. The bridge exploded, having blocked enemy units. The enemy ended up trapped in the streets, where they had nowhere to turn around.
Our success in Voznesensk was facilitated by the effective work of intelligence and huge support from local residents. I would like to note the heroism of fighters from Vosnesensk Territorial Defense Forces, who fought bravely in close combat and burnt Russian tanks with everything they could. We launched surgical strikes, accurately on a column. Eventually, the enemy began to suffer losses and lost the initiative. Their units spread along the coast, where they were met with our small-arms fire, anti-tank weapons. During the assault on Voznesensk, Russians did not manage to gain fire advantage. The enemy did not even have time to deploy their artillery – our intelligence reported this in advance, and we opened massive fire on them, as they started to deploy it. It was an epic picture: the artillery systems broken, the Grad systems turned over. The enemy also attempted to make a large landing in the rear of our forces – the 11th Air Assault Brigade from Ulan-Ude. Let's say, if they had acted more accurately, we would have had big problems, as [enemy] units could have stormed the city and encircled it. But, they lacked synergy, coordination and, after all, fortitude. Just so you understand, the enemy was making a landing practically on our artillery positions. Hence, our artillerymen were first to accept a battle. They turned the guns, blocked the enemy's actions with machine guns and small arms. Then, the air and assault units came. Our guys made a good showing in that battle. The enemy's landing party was defeated completely.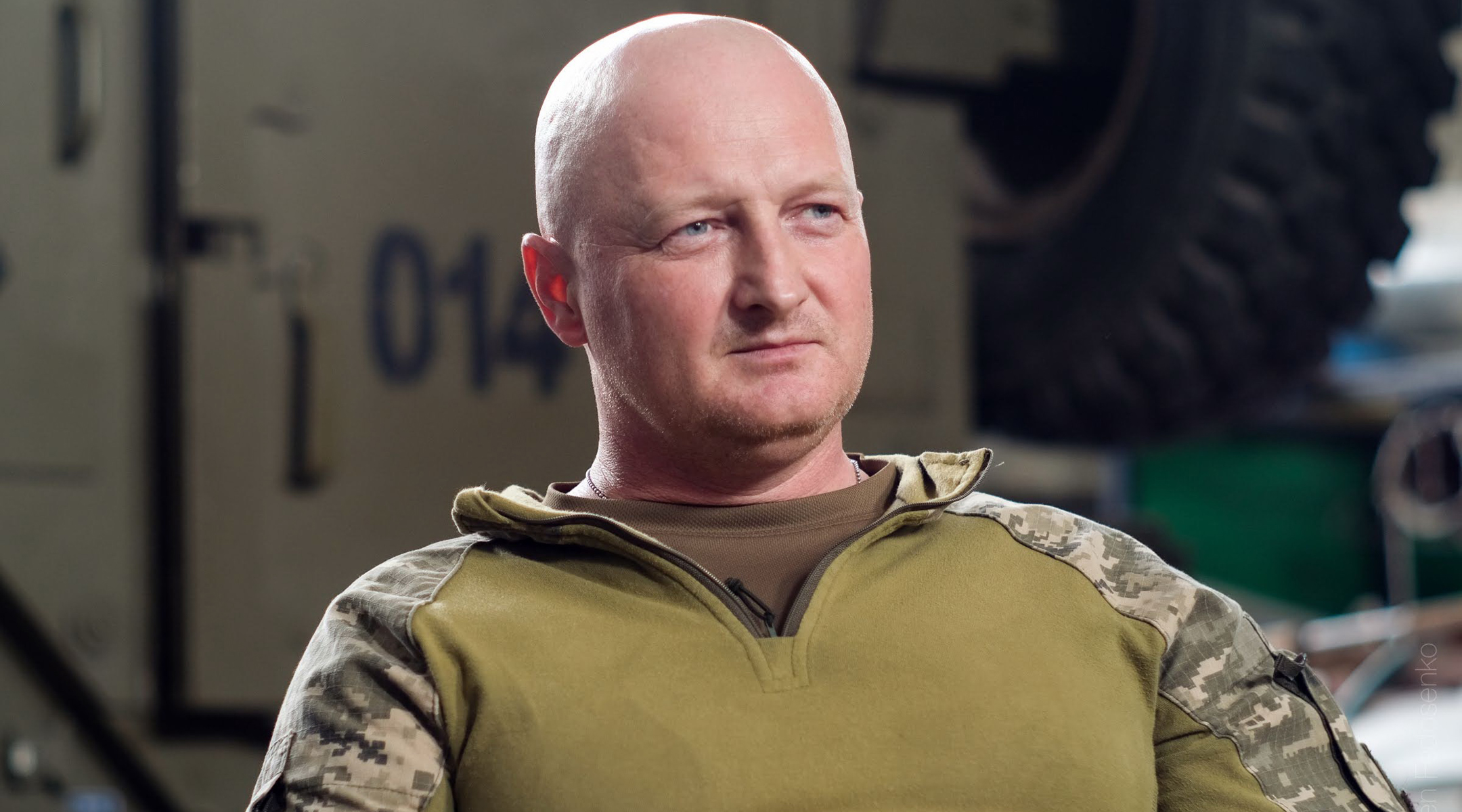 "In Bilohorivka, there was a solid wall of fire. I do not even know what to compare it with…"
The battles near Bilohorivka are a separate story, covering several 'plot' lines, layering of events and information. But, in one word, it is a feat. The feat of both infantry and intelligence that conducted surveillance there, and artillery. Honestly, if I prayed to anyone in Bilohorivka, it was our artillery.
The enemy's artillery fire was very powerful. They prevailed not in terms of quality or accuracy but the massiveness of strikes. In Bilohorivka, there was a solid wall of fire. I do not even know what to compare it with… The enemy used artillery, Uragan MLRS, tanks, 2S19 self-propelled howitzers, mortars. Our battle formations were hit in depth, from frontline positions to the rear. There was no calm place anywhere. They were persistently approaching us. We saw them and beat them, saw them and beat them…
It was necessary to quickly decide where to shoot first. Either at a column approaching, or directly at a crossing, or at the units that had already crossed and were fighting with us. A second to assess, a second to decide on priority targets, a second to give a command…
Once, Russians managed to take about 20 tanks across and get out of the forest near the river. Our infantry met them face-to-face with anti-tank weapons in hands. Tanks were advancing; our infantry were gradually withdrawing until they took a frontier, which was tactically beneficial to us. Then, we again moved forward to clear the area and push the enemy away. In a short time, the enemy lost five or six tanks in close combat. This 'haunted forest' is full of their equipment.
These were tough battles. It is difficult even to contemplate these events. Honestly, it was the Kursk Salient… But, we had no right to retreat, as the bridgehead was of strategic importance. We talked to the prisoners, studied the seized records: Russian units were instructed to storm the river, push us back, enable their main forces to cross the river and reach the frontier of Sloviansk. Thus, we had to hold back their offensive, no matter what. Our guys accomplished that task. We did not allow Russians to enter the operational area.
In general, within our control area, the enemy attempted to build a crossing nine times. Indeed, the bridgehead itself was small – up to 2.5 kilometers. But, the fire was extremely dense, and the enemy's manpower numbers were much higher.
I would like to note the heroism of the 1st and 2nd companies of the 1st battalion and the 2nd company of the 3rd battalion in our brigade, Sasha 'Zenit' who twice destroyed the crossing, and our legendary artilleryman 'Vorskla'. In addition, we were helped by very cool guys: tank operators from the 30rd Brigade, the 26th Artillery Brigade units, the 15th battalion of the 128th Brigade.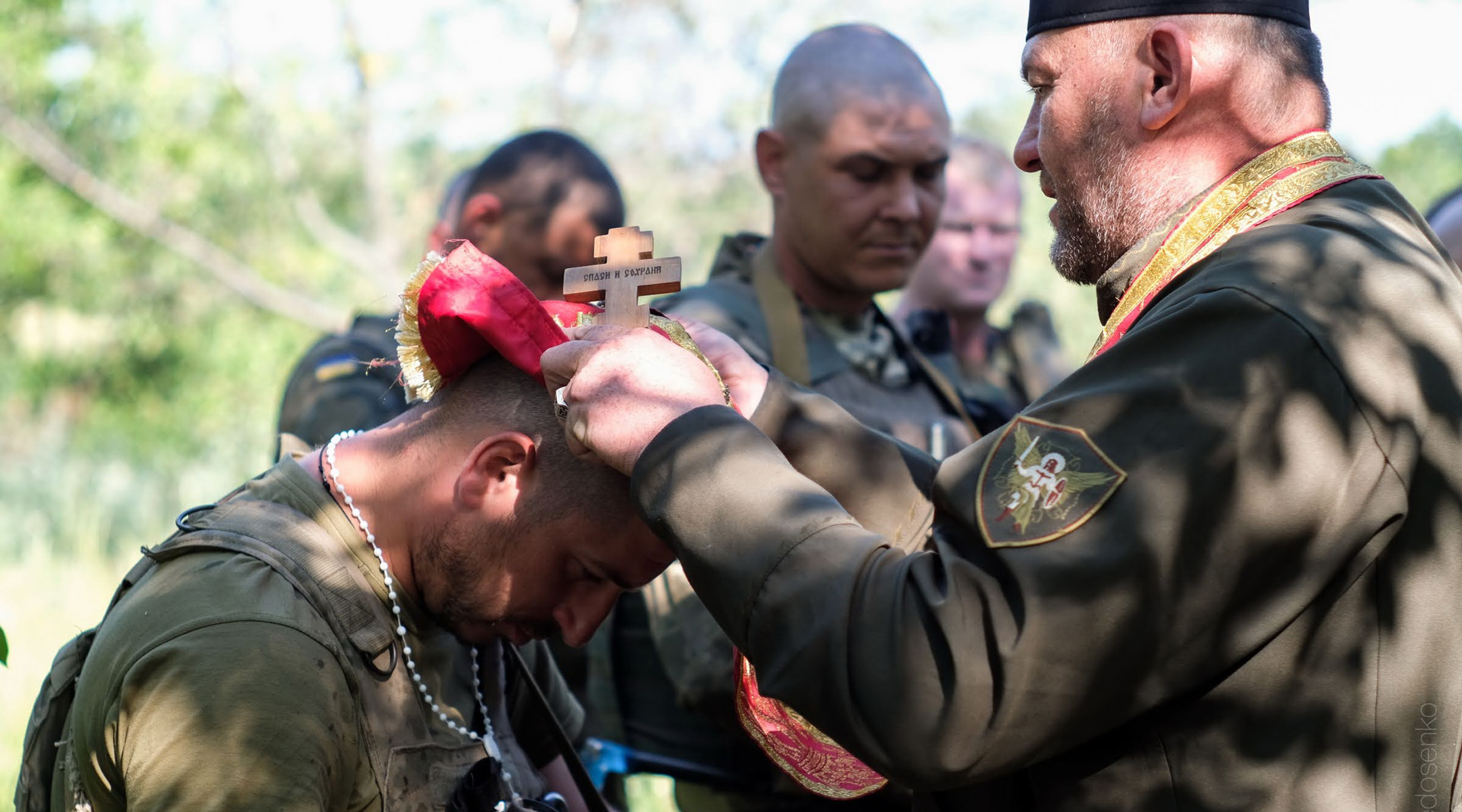 "Each of my fighters is worth a separate story"
In my brigade, there are many heroic guys: soldiers, sergeants, officers. I am proud of and admire them, as they make superhuman efforts and do not spare themselves, defending the country. Each of them is worth a separate story.
I have already mentioned the deminer who ran under tank fire and blew up the bridge in Voznesensk.
We also have a modest man, the APC operator, who evacuated 10 injured fighters in one battle, and then, when the enemy tank took fire control over the road, he said over the radio: "I will act as a decoy". Although the commander forbade it, he began to maneuver, provoking the tank to open fire. As a result, the tank began to shoot at the APC, moved forward, and this allowed anti-tank gunners to burn it down. Do you understand how he took a risk?!
We have a guy from the 4th company. During the battle, a bullet hit him in the head. The fighter lost consciousness, and Russians thought he was dead. When he came to his senses, he took the weapons and radio sets left there, got into the swamp and stayed there for a day. And then, he got out of encirclement and reunited with our forces, cheerful and ready to complete combat missions.
We had Lieutenant Khomenko. Unfortunately, he was killed… So, as the battalion was leaving the encirclement, some guys got lost and were late to reach an assembling point. Khomenko, despite enemy fire, stayed there with his APC to wait for that group. He had spent several hours under fire, encircled by enemy troops. Guys did come, and he took them out of encirclement.
We have ordinary anti-aircraft gunners, who stand under air strikes, shoot down planes, helicopters, cruise missiles.
We have guys who take a grenade launcher and go against the tank one-on-one.
We have artillerymen who withstand colossal loads. They barely finish their work, as enemy artillery strikes them in response. But, they stand to the end, complete a task, provide support for infantry, and only after that they allow themselves to get out of fire.
"I want to see Ukraine cheerful. And Ukrainians – free and happy"
What is my dream? I want our victory to be maximum, complete, and the way to it to not take us long. I want us to find all guys who went missing – I am continuously thinking about that.
I want to see Ukraine cheerful. And Ukrainians – free and happy.
And also… When the war is over, I want to forget about it immediately. Absolutely. War is pain, human grief, destroyed fates, death of comrades. Every day I check the brigade reports. Every day there are losses. You realize that you have known someone, that someone's destiny, dreams have got interrupted, that families have left without father, son. It should not have been like that… In the developed, modern world, such a terrible war…
But, despite everything, I have never felt empty or weak. Perhaps, it is anger and hatred for the enemy that helps. We have no right to be weak after what Russians are doing to our country, our people. We must defeat the enemy, as we carry responsibility for peace in Ukraine on our shoulders. This is what gives strength.
Alina Lohvynenko, Serhii Lysenko
Photo by Arsen Fedosenko