Mustafa Dzhemilev, leader of the Crimean Tatar people
I believe in a favourable outcome of the war for Ukraine, together with the deoccupation of Donbas and Crimea
16.03.2022 17:13
The Diplomacy Forum held in Antalya from March 11 to 13 gathered representatives from more than 70 countries. The organizers prepared the program of the forum long before the war that Russia started against Ukraine. After the beginning of the Russian aggression, President of Ukraine Volodymyr Zelensky had to refuse to participate in the forum. Prime Minister Denys Shmyhal addressed the participants of the forum via videoconference. War against Ukraine that Russia started became a top topic of discussion at the forum in the context of the regional and global security system.
Just as last year, leader of the Crimean Tatars Mustafa Dzhemilev participated in the Antalya Diplomacy Forum. In an interview to Ukrinform, Mustafa-aga who has great authority in Turkey spoke about participation in the Diplomacy Forum, Turkey's support for Ukraine, the sentiment in Crimea, and the hope of Crimean Tatars to deoccupy the peninsula.
TURKEY RESPONDS QUICKLY IN TERMS OF PROVIDING ASSISTANCE AND SUPPORT TO UKRAINE
Q: "Recoding diplomacy" was the topic of the Antalya Forum. Please share your impressions of meetings and discussions…
A: Currently, the interest in Ukraine, the number of its sympathizers is constantly growing, both internationally and in Turkey. My recent interview with Haber Türk scored a record number of views per day, which indicates the increased attention to the topic of Ukraine and the war started by Russia. And this is very symbolic, because Turkey, like other countries, has a lot of problems of its own. Such attention to what is happening in Ukraine, to Russia's aggression against our country shows that the whole world is disturbed. I came to the forum at the invitation of Turkish Foreign Minister Mevlut Cavusoglu. I also met and spoke with Turkish President Recep Tayyip Erdogan. More subjective talk with him is planned for the near future. We are grateful to Turkey for being consistently moral and not just supporting us. Bayraktar drones contribute greatly to our ability to shoot down columns of Russian military vehicles and tanks.
Now I really like the decision-making process in Turkey regarding Ukraine. I will not go into details, but we now feel considerable support and see that even issues that were bureaucratized during the peacetime are much easier and faster to resolve thanks to the will of the political leadership and individual companies. Everything happens very quickly. In addition to that, Turkey constantly sends humanitarian convoys, which is very important provided that Russia deliberately creates humanitarian crises and acts against the civilian population in violation of international law.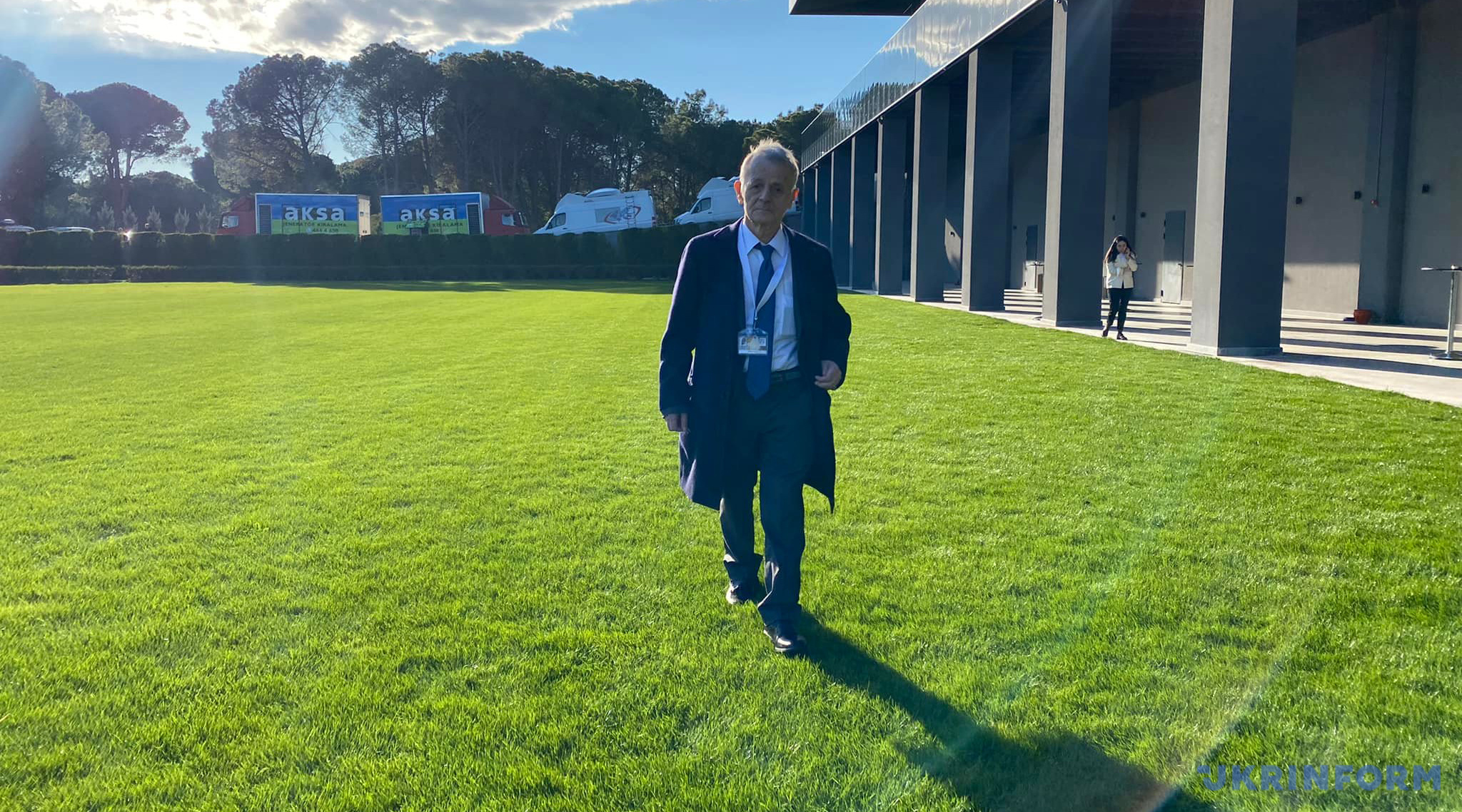 BY HELPING US, THE WORLD HELPS ITSELF IN THE FIRST PLACE
Q: In his speech at the forum, President Erdogan said that if the reaction of the West in 2014 after Russia's occupation of Crimea was as effective as now, this war could have been avoided…
A: The President of Turkey said the right thing. The reaction of the West, adequate reaction to the events is too slow. If the reaction in 2014 was like we currently see, there would not be these terrible days. Moreover, if such sanctions had been imposed in August 2008, when Russian troops entered Georgia, they would not have been able to occupy Crimea in the future. There is very little understanding in the West that we are fighting not just for ourselves, but for them as well. By helping us, they help themselves in the first place. We shouted all over the world that we were almost unarmed, asking to give us weapons. Germany said that it had a policy of non-proliferation of war and would not give us their weapons. The willingness to give us these weapons appeared only when they started to kill us.
Q: Turkey takes an active stand and tries to help with a ceasefire and a settlement as soon as possible. However, at the same time, it does not support the imposition of sanctions, arguing that it holds a window for dialogue.
A: There are objective reasons why Turkey cannot join the economic sanctions. The trade turnover between Turkey and Russia is about USD 40 billion. If the ties are severed immediately, the situation for the Turkish economy will be catastrophic. Turkey reduces the consumption of Russian gas every year, but it receives about 35% of gas from Russia. Turkey maintains the position (and this was advised by the United States) that it should not completely break up with Russia, because there must be some channel for communication. Clearly, any war ends at the negotiating table, and Turkey is the best place to hold them. Turkey should not be offended here, as this is the position and there are measures as well.
THE END OF THE WAR WILL BE BENEFICIAL FOR UKRAINE
Q: Now we say that the turning point in Russia's war against Ukraine has already passed, but it takes time to win completely. In your estimation, when will this happen?
A: I think the end of the war will be favourable for Ukraine. Almost a third of the 150,000 Russian armada have been neutralized, either killed or wounded. And this process will continue, because the Ukrainian army and people are very motivated. They are defending their homeland. This reminds me of ancient times, when the Spartans fought against the army of Cyrus, the ruler of Persia. Currently, Ukraine has the similar situation. I think that this war will result in the complete deoccupation of all territories previously occupied by Russia, including Crimea and Donbas.
Q: Will the deoccupation of Crimea and Donbas depend more on political will, the success of the army or the support of the allies?
A: Russia is no longer able to dictate something to anyone, its position will continue to weaken. According to many experts, the sanctions imposed on this country will put Russia by June-July in such a state that it will not be able to feed even its soldiers. And then it itself will ask to sit down at the negotiating table and decide on the implementation of all international agreements, including the latest UN General Assembly resolution on restoring the territorial integrity of Ukraine, approved by a historic majority of votes. Here I agree with President Erdogan, who said that we cannot speak about an effective world order when a resolution is adopted almost unanimously, but one state opposes it and is not going to implement it."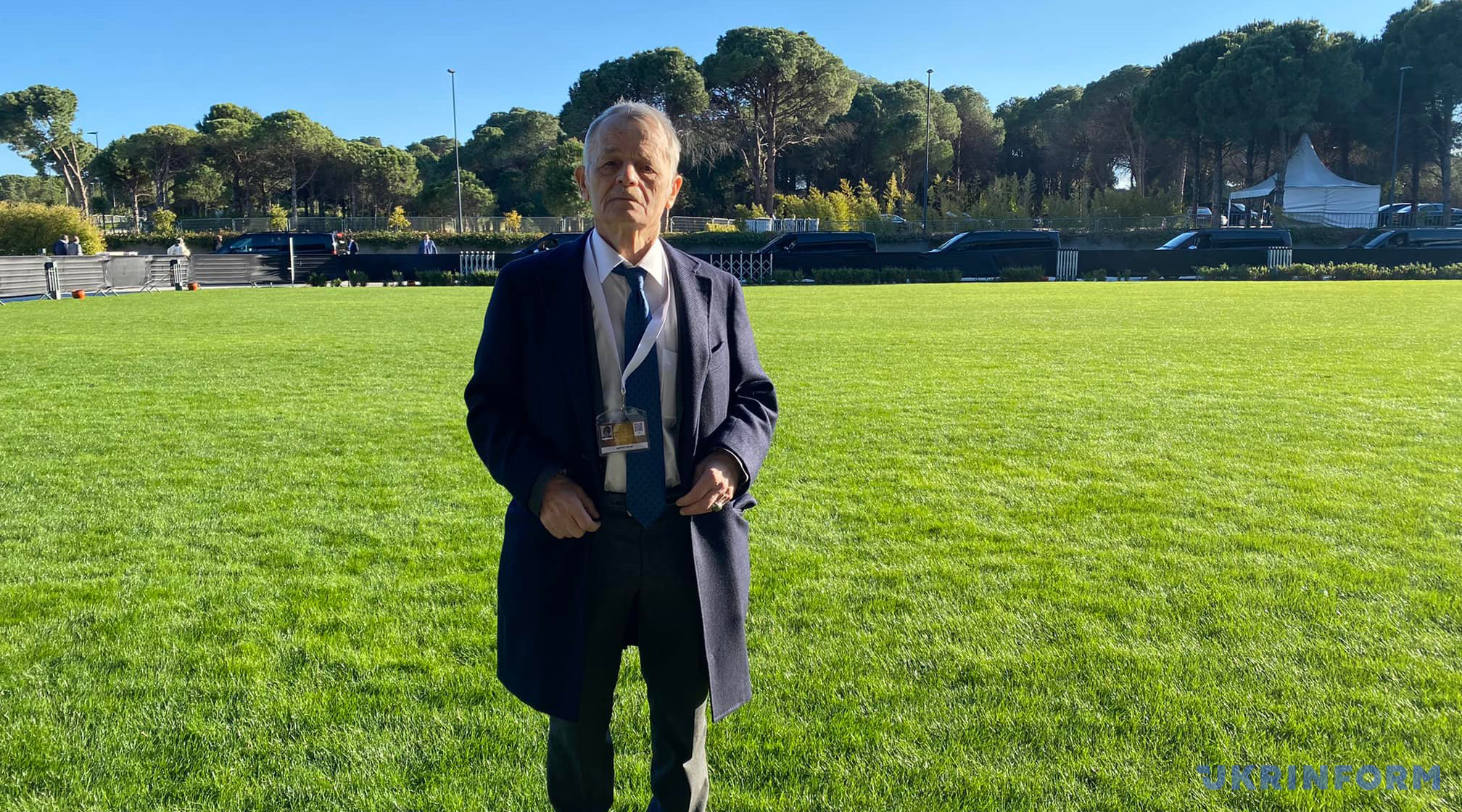 Q: You said that Russia will be ready to sit down at the negotiating table in June-July, but the bombing continues every day, there are attacks on civilian targets and the population. How do you assess the chances of closing the sky?
A: Support for Ukraine, closing the sky [creating a no-fly zone] is important and necessary right now. So far, unfortunately, we do not see any preconditions for closing the sky. This conclusion is based on realism, but it is very optimistic. I raised this issue in a conversation with NATO Secretary General Jens Stoltenberg, and I was able to express my opinion. Ukraine suffers losses. Civilians die. Every effort should be made to stop this. Russia is losing catastrophically both from the economic and human resources points of view. However, it is their own choice; it is the war they started. Russia is depleting day by day, and its ability to perform gansterism the way it is doing now is limited and will be limited day by day.
WHILE RUSSIA CONTINUES TO LIE ABOUT ITS ACTIONS IN UKRAINE, CONSTRUCTIVE DIALOGUE IS IMPOSSIBLE
Q: The Antalya Diplomacy Forum started with a tripartite meeting of the foreign ministers of Ukraine, Turkey and Russia, but "recoding diplomacy" on the issues of ceasefire and the opening of humanitarian corridors could not be achieved.
A: The level of hypocrisy and lying in Russia is already outrageous and has exceeded all possible limits. The Russian leadership and the Russian media lie in such a way that they started to believe in their own impudent lies. At a meeting in Antalya, Lavrov said that the Russian military does not attack civilian objects. Like everyone else, he repeatedly states that strikes are carried out on strategic and military targets. Since when have maternity hospitals, schools and kindergartens become strategic objects? The whole world sees the results of these attacks on civilian objects and civilian homes. But they continue to lie impudently and have lied so much that even if they tell the truth, no one will believe them. As long as this lie continues, there is no need to talk about any constructive talks.
Q: Russia has already hinted at the possibility of using nuclear weapons. How real do you think this is?
A: As for nuclear weapons and their use, I am unequivocally convinced that it is 99% blackmail. They believed that this might work. Nuclear weapons are not just about pushing a button and missiles flying. There are seven to eight stages of decision-making. I am absolutely sure that at one of these stages, even when you press the button, the launch procedure will be stopped. Such an action could lead to the destruction of the whole world, in particular, Russia. They are crazy, but not suicidal.
Q: Earlier there was information that nuclear weapons were deployed in Crimea. Is that so?
A: Immediately after Russia occupied Crimea, intensive work was carried out there to restore the nuclear depot in Kyzyltash, and Crimean Tatars also worked there. We kept track of what was going on there. They really restored it as a nuclear depot. In 2015, when the work was nearing completion, all Crimean Tatars and even all Crimean residents who worked there were removed. Only specialists sent from Russia began to work there. My relative lives nearby and said that at the end of 2015 this depot was surrounded by a triple chain of protection. They go there with dogs, check the level of radioactivity with Geiger counters. Two independent sources reported that there were six nuclear warheads are located there. NATO and US intelligence also say it is very likely. However, there is no exact information, although some evidence exists.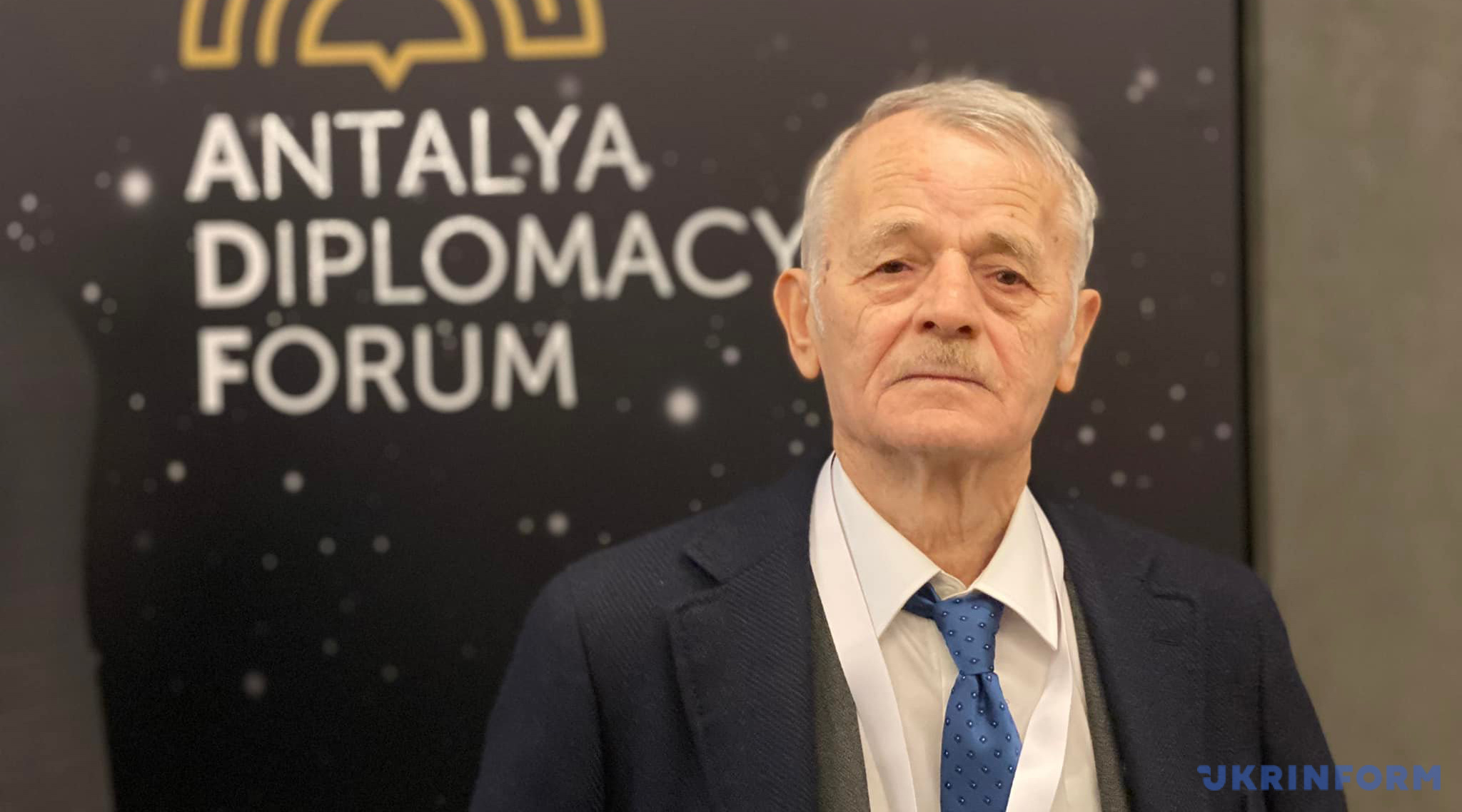 WHAT IS HAPPENING IN UKRAINE INSPIRES CRIMEAN TATARS WITH THE PROSPECT OF DEOCCUPATION OF CRIMEA
Q: What is the current sentiment of Crimean Tatars in Crimea?
A: They began to draft all young people, in particular Crimean Tatars, with the intention of sending them to Ukraine. Refat Chubarov, the chairman of the Mejlis of the Crimean Tatar People, has twice addressed our compatriots and warned that if they come to Ukraine, they will become murderers or corpses. Therefore, the best decision now is to refuse service in the Russian army. Yes, Crimean Tatars were forced to obtain Russian passports, otherwise it was virtually impossible to survive. Therefore, no matter how it sounds, just refuse to be drafted into the army and go to prison. And the vast majority do just like that. However, he has already received a signal that the drafting of Crimean Tatars has been abruptly stopped recently. Actually, it was stopped. However, they continue to go from house to house, especially houses of activists, threatening them not to respond to Ukraine's calls. I am amazed by the tone of speech of our compatriots, who even on the phone, knowing that they are being listened to, oppose Russia, express faith and hope for the liberation of Crimea. What is happening in Ukraine -- this war -- has inspired many of our compatriots. They saw the prospect of liberation from occupation.
Q: If this happens, what are the prospects?
A: Earlier in Ukraine there was no systemic policy on the issue of Crimea. And all our ideas often met with blind resistance. The recognition of the Mejlis of the Crimean Tatar People, the reformatting of the Crimean autonomy to the national-territorial autonomy on the basis of international law and the definition of indigenous peoples had to be done in the 1990s. However, we were all told that they did not want to irritate the Russian-speaking population. Even when we talked about the need to restore historical toponymy, this idea did not receive much support. Currently, it may be different. At the initiative of President Zelensky and with his support, a law was passed recognizing the Crimean Tatars as the indigenous people of Crimea. There are also draft laws on the status of the Crimean Tatars in Ukraine and the reformatting of the Crimean autonomy into national-territorial autonomy. We said that it should be done in one package, but decided to do it in stages. Now there are two new laws, and I think they will be adopted - then the situation will change a lot.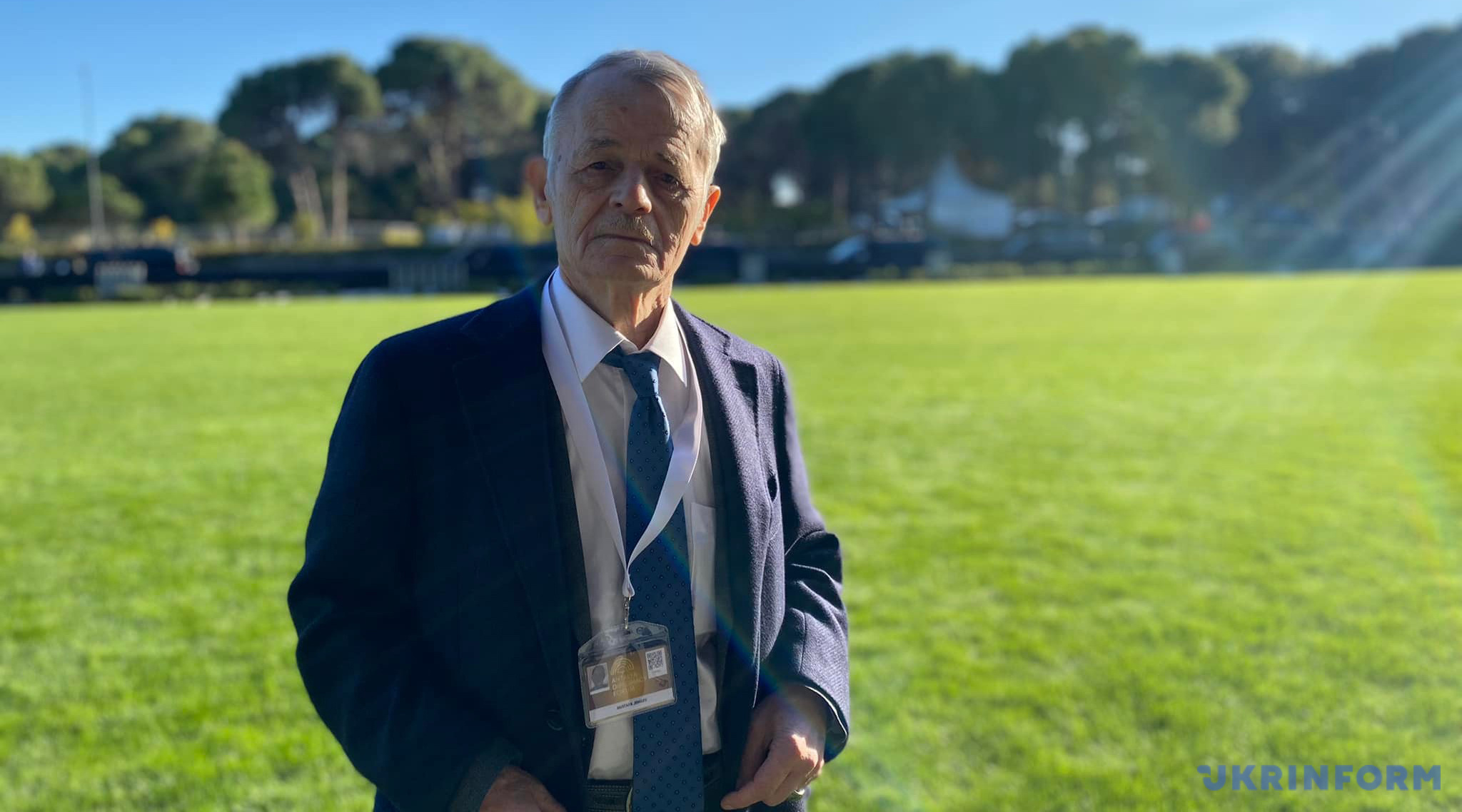 DETERMINATION OF RUSSIAN CONTRIBUTIONS FOR THE RESTORATION OF UKRAINE IS A MATTER OF TIME
Q: Russian aggression has already caused damage to Ukraine in the amount of USD 119 billion. What can you say about the prospects for recovery?
A: Work is already underway in this area. Ukraine appeals to an international court and it is a matter of time before contributions will be determined for Russia. We are also counting on something similar to the Marshall Plan after World War II for Ukraine to rebuild our country after destruction by Russia. President Zelensky was right to say that there is no doubt that Russia will compensate for the damage with gas oil or other resources.
Q: Due to the war, the project of building residential buildings for Crimean Tatars, which Turkey was going to implement, is on pause. Crimean Tatars, who once moved to different cities of Ukraine, are forced to escape from Russian aggression again…
A: Crimean Tatars, who moved to mainland Ukraine after the occupation, did not stop in Kherson. A small number of them live there, about 7,000 to 8,000, and about 12,000 including Zaporizhzhia and Melitopol. However, these are mostly Crimean Tatars who once came to Crimea under Soviet rule, but were expelled and never returned. Most returned to Crimea after Ukraine declared its independence, but several thousand remained for social reasons, as there was no housing. After the occupation in 2014, according to our estimates, about 30,000 Crimean Tatars left, mostly for the western regions of Ukraine and Kyiv. There are about 10,000 Crimean Tatars in the capital of Ukraine. When the question arose about the apartments that were going to be built with the help of Turkey, I could not convince President Zelensky that this project should be implemented where Crimean Tatars currently live instead of Kherson. Zelensky believed that a garden city should be built as opposed to what the Russians were doing in Crimea. But I warned that it may happen that no one will live in this garden city. Of course, no one will refuse the keys to the new residence. But there is a great risk that people will start selling them the next day to move where they have already settled. As we discussed this, President Erdogan proposed doubling the number of apartments: 500 would be built where planned, and another 500 would be built where Crimean Tatars already live. So far, the issue of land allocation in Kyiv remains unresolved. I hope it will be resolved after the war. But I believe that as a result of this war we will not need apartments in mainland Ukraine, and we will return to Crimea.
Olha Budnyk, Antalya
Photos by the author