Yönet Can Tezel, Turkey's Ambassador to Ukraine
We expect that Free Trade Agreement will be signed during the coming months
15.04.2017 11:56 700
The deepening of the strategic alliance between Ukraine and Turkey is on the agenda of both countries for a long period of time, despite of foreign and domestic challenges Kyiv and Ankara always face. Though not very fast, but we are confident enough to deepen our cooperation in all areas - from political to tourist one.
In an exclusive interview with Ukrinform, Ambassador of Turkey to Ukraine Yönet Can Tezel told about achievements and priorities of the Ukrainian-Turkish partnership, Turkey's relations with the EU and NATO, and whether we should expect changes in the foreign policy of the country after the referendum, which will be held this weekend.
- Mr. Ambassador, in recent years, Ukrainian-Turkish contacts at different levels have been quite active. How would you assess the current state of bilateral relations?
- I was just in Ankara and in Istanbul with Prime Minister of Ukraine Volodymyr Groysman who was on an official visit to Turkey and I saw again a very good level of relations in political, cultural, tourism sectors and promising in economic one. We still have to use more of the potential we have. Because of the events of the last three years, especially the crisis in Ukraine, our trade has come down, unfortunately. But we want to increase its volume. Our Presidents have adopted the target of 20 billion dollars. We are now around 4 billion dollars. We have to work on it, we can do it. We should also increase investments into Ukraine. Turkish companies believe in the future of Ukraine as our government does. Of course, there maybe some problems and some risks, but we are encouraging them to invest more. So I am sure there is big promising future for us.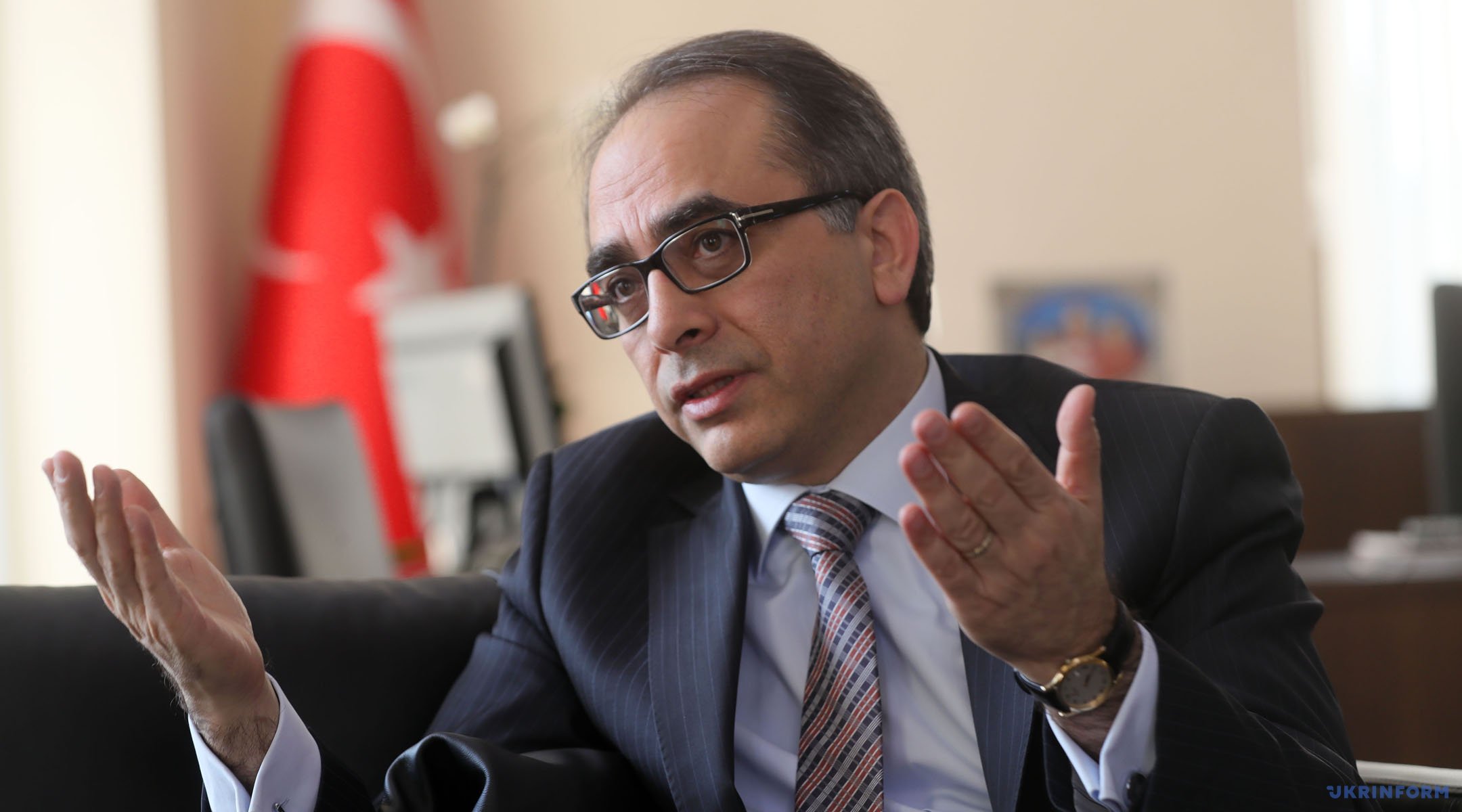 FTA IS NOT JUST ABOUT TRADE, IT IS ABOUT INVESTMENTS
- During this visit of Ukrainian Prime Minister Volodymyr Groysman to Turkey, he agreed with his Turkish counterpart that Ukraine and Turkey are planning to harmonize the Free Trade Agreement by the end of 2017. How do you evaluate this prospect, do you have any calculations of how can bilateral trade increase?
- Both sides declared that they want this Free Trade Agreement. On the Turkish side, we really want it, Turkish business sector is especially keen. Turkish businessmen and companies look for the same things in Ukraine as other international businessmen and investors do: a reformed and more efficient system, friendlier environment for investor, better relations with international organizations. But Turkish businesses also want something extra: the Free Trade Agreement. For them the Agreement is like an official seal of mutual trust by both sides. The trade agreement is not just about trade, it is about bringing investments. Turkey has concluded more than thirty free trade agreements with other countries. So we are quite accustomed to such cooperation. The Free Trade Agreement we are working on does not include full liberalization in every area; the same with all other agreements we have concluded. We can start with such a format and broaden it later. Our teams certainly are negotiating and we hope it can be concluded. I cannot give any date. President of Turkey is expected to visit Ukraine in a month or two. It is rather difficult but maybe the negotiations will be completed by then. Both countries need this agreement and both countries will benefit from it.
- You mentioned about the visit of Turkish President Recep Tayyip Erdoğan to Ukraine. Can you clarify a more accurate date?
- The visit is going to take place soon. It is a part of the annual exercise we have been doing since 2011. It is part of the cooperation mechanism, which is called the High Level Strategic Council. Every year the two Presidents pay a visit to each other's country. Last year Mr.Poroshenko was in Turkey. Two years ago Mr.Erdogan was here. And now President of Turkey will again come with several ministers, and a lot of issues will be discussed. This will probably take place in a month or two. The exact date is not fixed yet.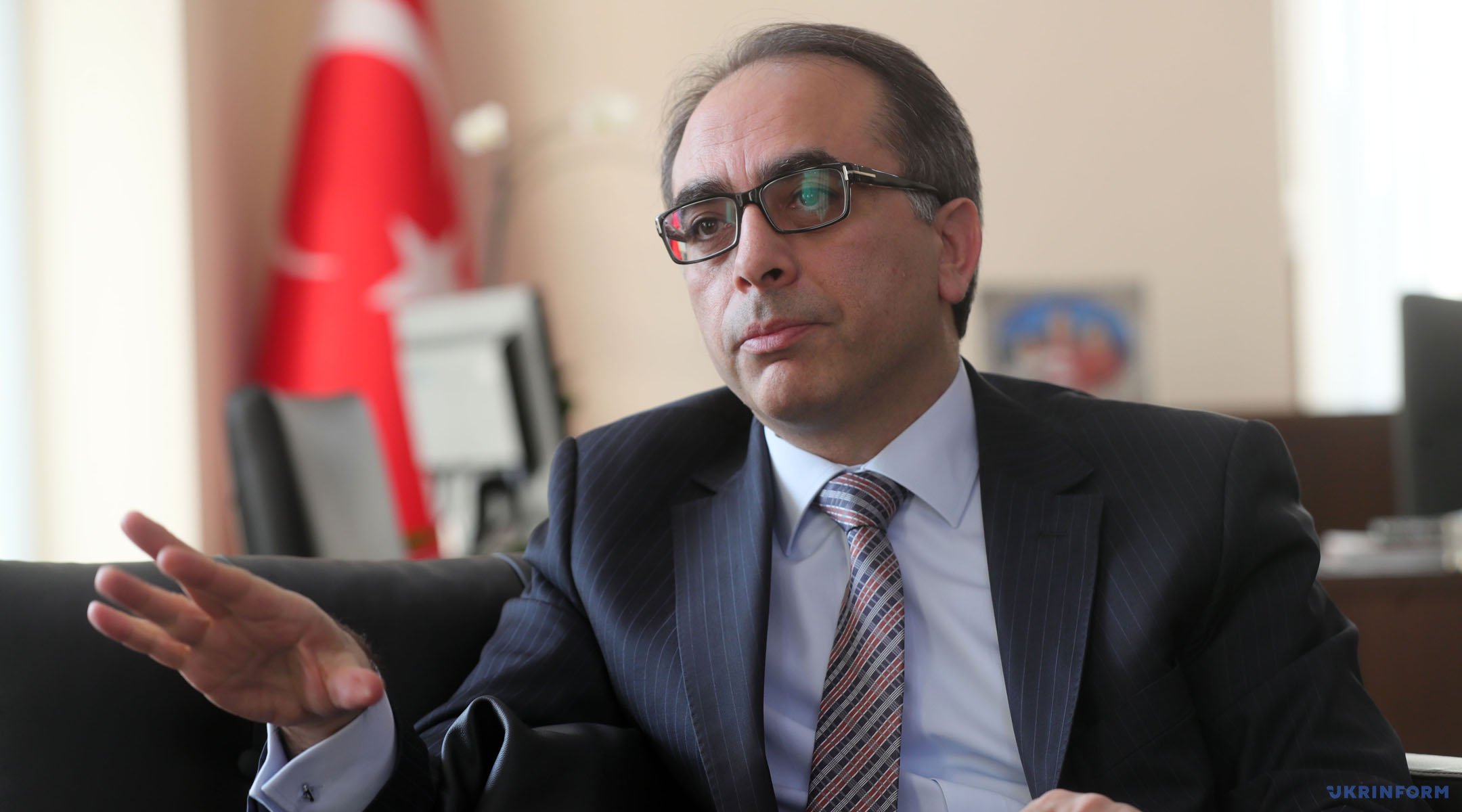 FOREIGN POLICY WILL NOT CHANGE SIGNIFICANTLY AFTER REFERENDUM
- If constitutional amendments are approved during the referendum in Turkey on April 16th, should we expect changes in Ankara's foreign policy? Which ones?
- One should not expect big changes, because Turkish foreign policy rests on established interests, principles and traditions. But at the same time the world is changing. So all countries have to adаpt to it. The Turkish foreign policу would not change just because of the system is becoming presidential. Meanwhile it is important how the whole world is facing challenges and adаpting to them. The biggest political party in Turkey believes that the proposed constitutional changes in Turkey will be easier to adapt. Style, procedures may change but you can expect policies, principles and traditions of Turkish foreign policy to continue.
TURKEY-EU: SCENARIO IS RIGHT WHEN BOTH SIDES WIN
- Recently, tensions between Turkey and some EU countries have heightened. In your opinion, what can and should be done by Brussels and Ankara to ease the existing tension?
- There always have been some tensions in Turkey's process with the EU. But that tension has mostly been not because Turkey is against the idea or project of European Union, but because in the past Turkey has been disappointed with double standards, moving of the goal posts in the middle of the game. Despite everything both sides worked a lot and achieved success The EU helped us to reform and the accession talks started in 2005. Some groups in Europe always had negative views about Turkish membership. But they were not mainstream. Things have changed in the EU since then. Earlier concerns have today turned into serious social, cultural even philosophical problems within the EU. There is something wrong with Europe. This affects the way how Turkey is seen by some parts of the EU. That's why the problems in Turkey-EU today relations cannot be understood only by looking at Turkey. Yes, Turkey has serious problems and challenges; including political problems and democratic shortcomings. We will work on these. In the past Europe was able to help us constructively. But now its moral power seems to be weakened. Yet, Europe has the capacity to rectify itself. Exclusivist, extremist, discriminatory tendencies should not be consolidated in the EU. Both sides can work to build that atmosphere when win-win scenarios were tangible.
One breaking point in perceptions was when the EU failed to stand by Turkey firmly and quickly at the time of the failed coup attempt of July 15. For many Turks across the political spectrum, Europe let them down; the EU which had helped to strengthen democracy in Turkey was now not standing by the principles it was advocating. And now more recently we see Turkey being made a negative campaign item in European elections. We all need to be wise and leave this behind us. Turkey has to work on its challenges and the EU has to work equally as much.
OUR MORAL OBLIGATION İS TO CARE OF SYRIAN REFUGEES
- How much did the refugee crisis influence Turkey-EU relations?
- We adopted an open-door policy toward the Syrian refuges, how could we not; millions of people were running away from bombs and killings. We eventually became the country with the largest number of refugees in the world. Meanwhile some European countries were debating how many hundreds of refugees they could take or not. We've spend 15 billion dollars from the central budget and another 10-11 billion through local administrations and Turkish NGOs; so the total is around 25-26 billion dollars. The EU promised to contribute with 3+3 billion dollars. Only around 700 million dollars of that has been disbursed so far. It is unbelievable. We didn't create the problem in Syria. The EU began to talk to us seriously only when the refugee crisis erupted. Under normal Turkish-EU relations we should have started to deal with this much earlier when we started to warn them; when refuges started coming to Turkey 5-6 years ago; but we do have an agreement now. We should work openly, constructively, rather than using slogans. We cannot give up.
- An issue of internally displaced persons is very topical for Ukraine now. According to the agreement with the EU, Turkey has already accepted more than 3.5 million refugees from Syria and Iraq. How does Turkey resolve these issues?
- Turkey hosts people from Iraq, Afghanistan, but mainly, of course, from Syria. We all have experienced the big crisis in Ukraine. Around 10 thousand people died here. It is a tragedy. In Syria possibly 20 thousand children died, just children. It is impossible to overestimate the scale of the tragedy.
We received more than 3 million people. They need housing, they need hospitals, food, children need schools. And we do as much as we can. It is not easy. 200 thousand Syrian babies were born in Turkey; 840 thousand operations were conducted in Turkish hospitals, 500 thousand Syrian children are being schooled in Turkey. More services are needed. And unfortunately, the international community has not done enough yet.
- Are there in Turkey any ways to help refugees adapt to the new place of living?
- There are agencies in Turkey which try to integrate them into the society. Most Syrians live in Turkish cities now, not in camps. The Turkish society has not lost its collective sense and it is one of its the greatest social strengths. Family and society are very important in Turkey. Even in the past, when social security system was weak in Turkey, family and community's care of those in need. I can say the same about Syrian refugees. These social fabric and dynamism work again. Visiting Ankara and Istanbul, I saw Syrians doing some small jobs there. Unfortunately, they are not in the best conditions, but it is something. There are isolated incidents but the overall picture is positive. Some of Syrians have already started successful businesses, I wish it is possible to do the same across Europe.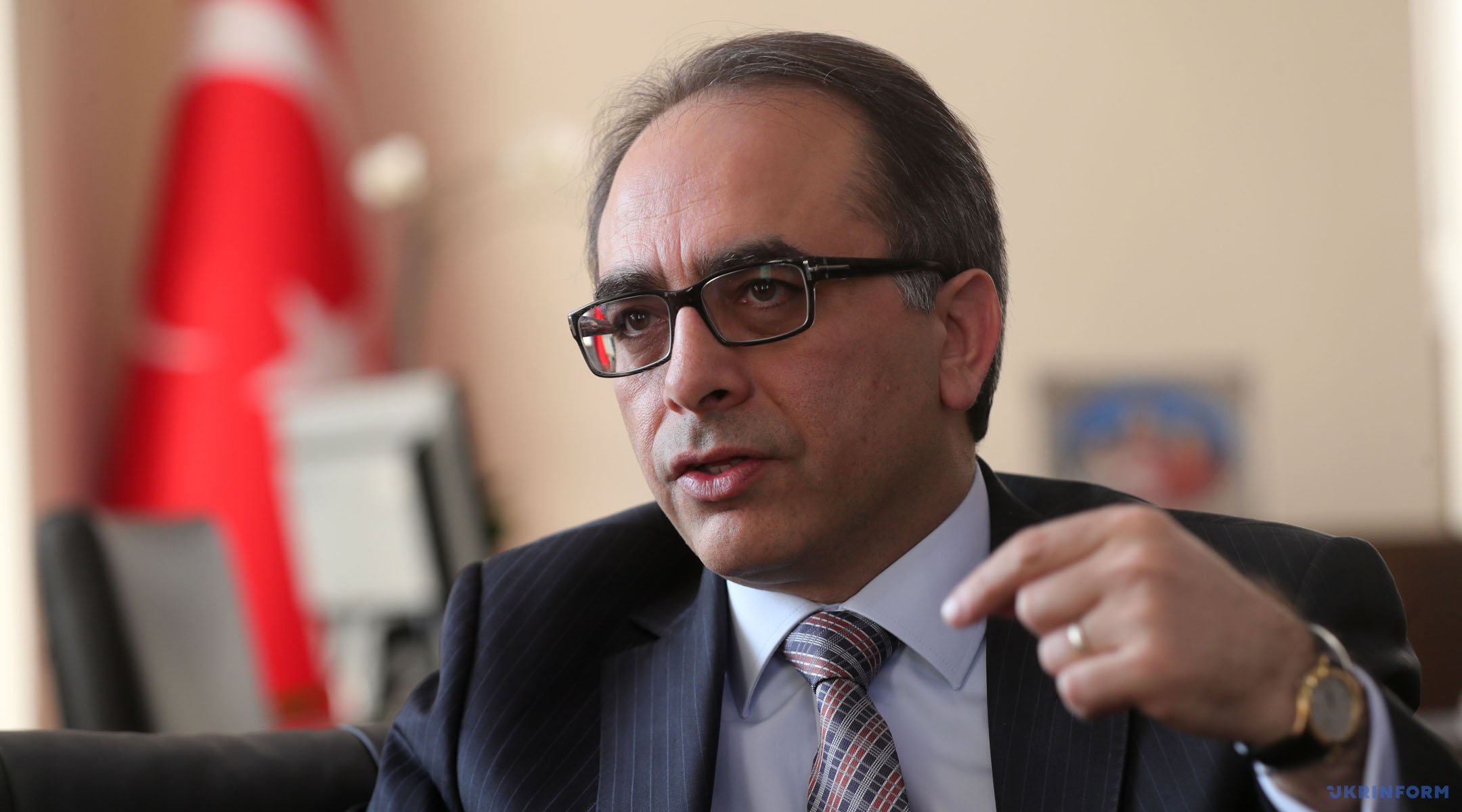 MEMBERSHIP IN NATO IS THE BASIS OF SECURITY POLICY OF TURKEY
- Let's move from the EU to the Alliance. How is the position of Turkey in the international security sphere, namely in terms of cooperation within NATO, changing? How does Ankara assess the first statements made by new US President Donald Trump on the Alliance, especially on the need to increase defense spending by NATO countries?
- American expectations about burden-sharing in the Atlantic Alliance have a long history. The USA wants Europe to take more burden. And this has a logical basis. After the Cold War we all thought that defense spending would decrease for everybody. But Turkey, given its problematic neighborhood, was not able to benefit from this "peace dividend". Now, there are serious security challenges for the Alliance. That is why NATO allies have agreed to increase defense spending to 2% of their budgets. The US reminds allies of this commitment. NATO is an effective alliance. It will find the solutions, after discussing things thoroughly.
The Alliance has been one of the most successful institutions during the post war period. It continues to be a pillar of our security.
UKRAINE IS A RECORD BEAKER IN THE TURKISH TOURISM SECTOR
- What are the image and understanding of Ukraine and Ukrainians in Turkish society today?
- One of the unfortunate consequences of the 20th century geopolitics is that Ukraine has been left somewhat in the shadow for many countries, including Turkey. I can see that Ukraine is also revisiting its history, rewriting its national narrative, reconstituting its identity. In this process it is also discovering that the relationships with Ottomans Turks had not been as conflictual as they thought before. There is a joint historical, cultural heritage. There are a lot of historical sights reminding us about that, for example, castles. Unfortunately, many of them remained in Crimea. We recently published a voluminous book about those places and buildings. We want to bring out this joint historical heritage, for example, through historical tourism.
Turks know Ukrainians to be down to earth, likable, modest people. We have many overlapping values as a society. We have many mixed marriages.
- Turkey is undoubtedly one of the most popular tourist destinations for Ukrainians. What can you say about influence of tourism to bilateral relationship?
- Tourism in general is a very good way to know each other. Last year we broke a record. Tourism all over the world has been suffering. We also experienced decrease in the number of tourists visiting Turkey last year. But the number of tourists from Ukraine to Turkey has increased by 48%. This is a record and we are proud. The Turkish tourism industry worked well, the Turkish Culture and Tourism Ministry worked well. And The Ukrainian tourists are well-informed and realistic They know Turkey; they know quality of facilities and services and the competitive prices. Most importantly they feel welcome and comfortable in Turkey. Even after the failed coup attempt last July , the number of Ukrainian tourists did not decrease. The human to human, society to society contacts are very important.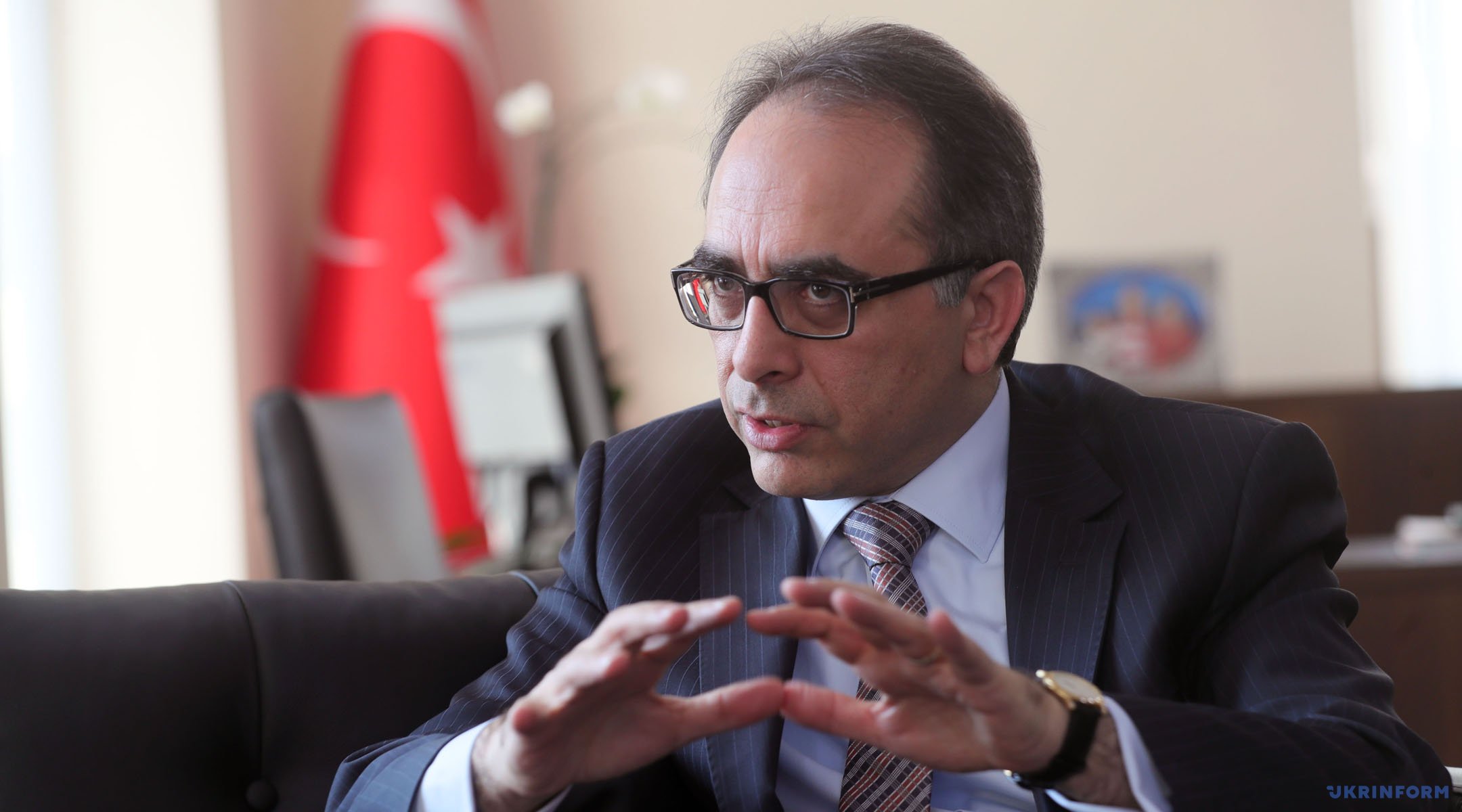 - In your opinion, what might be interesting in Ukraine for Turkish tourists first of all?
- As I mentioned common historical heritage is very important. Ukraine can create some tourist routes which are interesting for Turkish people. For example, Odesa. This is region where old Ottomans' forts are situated, like Akkerman. Another place is Ochakiv where ruins can be restored. There are such places in Western Ukraine too. Even around Lviv, in Ivano-Frankivsk region we have, Turkish military cemeteries from the First World War, where Turkish soldiers are buried. These attract Turkish tourists . Cultural and historical tourism is important in Ukraine. The Carpathians are very wonderful too. And skiing. In Ukraine as in Turkey you can swim and skiing at the same time. There is a big potential for Ukrainian tourism. It should be developed. And also we can help. Lately we had a meeting in Antalya, where on the level of vice-ministers we discussed cooperation in tourism. They were talking about Turkish experience and possibility to use it in Ukraine. Normally 40 million of tourists come to Turkey every year. We have some "know-how" which we happily share with our Ukrainian friends.
- At the exhibition TRAVELEXPO 2017 ANKARA, Ukraine presented Kherson region, inviting tourists from Turkey and Turkish travel agencies to cooperate in the area of green tourism. Turkish participants admitted that now in the country there are many tourists and only few places to stay alone with nature, emphasizing the uniqueness of Ukrainian landscapes. Is it really so? Can this direction be interesting for tourists from Turkey?
- It could be. We have our a wonderful nature in Turkey, but sometimes there are also many buildings, different constructions in cities. For example, people in Istanbul. They are looking for a place out of the city where they can go, because it is so big. Since they know the Turkish country side and touristic regions, they appreciate change. During last ten-twenty years the income of Turkish people have been increasing, so people became able and started to spending more on discovering this world. And we have a visa free regime with Ukraine. That's a great asset. Besides, two governments made an extra step, so that people can visit each other's country with the new type of internal passports (ID cards), This will be also give an extra push to visits.
- Do you have any assessments how traveling by using ID cards can increase the number of tourists from Ukraine to Turkey and vice versa?
- Please note that we are talking about the new generation of ID cards with microchips. Ukraine has started issuing them to its citizens, and we also started. The agreement was signed during Prime Minister's visit to Turkey recently and in practice should start working in May after all technical preparations.. But we will not see be a big explosion right away, will make a gradual difference as more people acquire the new generation ID cards.
Olga Budnyk, Iryna Yashchenko, Kyiv.