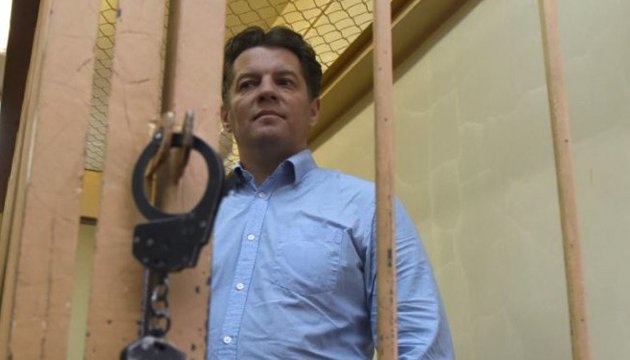 Activists during rally in Moscow call for release of Sushchenko
In Moscow, Igor Yasin, co-chair of the independent Russian Journalists and Media Workers Union, during the rally "Society Demands Justice" spoke in support of Ukrainian journalist Roman Sushchenko, illegally convicted in Russia to 12 years in prison.
The relevant report was posted on the organization's page on Facebook on Monday.
"We defended [Russian journalist] Ivan Golunov. This became possible only due to solidarity and powerful mobilization of the community of journalists and all those who were outraged by the police lawlessness. Therefore, today Ivan is free... In regions, cases against journalists have been fabricated for a long time and often little is said about this... Ukrainian journalist Roman Sushchenko was sentenced to 12 years for allegedly spying," Yasin said.
He also noted that there are even cases when "journalists are accused of participating in the activities of banned terrorist organizations, like Crimean journalist Remzi Bekirov and other civilian journalists in Crimea".
As reported, Ukrinform's Paris-based correspondent Roman Sushchenko was illegally detained on September 30, 2016 in Moscow, where he arrived on a private trip. On October 7, 2016, he was charged with "espionage." Russia's FSB claimed that Sushchenko is a member of the Main Intelligence Directorate of the Ukrainian Defense Ministry. The latter denied this allegation.
On June 4, 2018, the Moscow City Court sentenced Sushchenko to 12 years in a high-security penal colony. The Supreme Court of Russia upheld the verdict on September 12.
On November 7, the Russian Federal Penitentiary Service (FSIN) informed Ukraine's Embassy in Moscow that Sushchenko had been transferred to Penal Colony No. 11 of the FSIN directorate for the Kirov region (the town of Kirovo-Chepetsk, the village of Utrobino).
iy