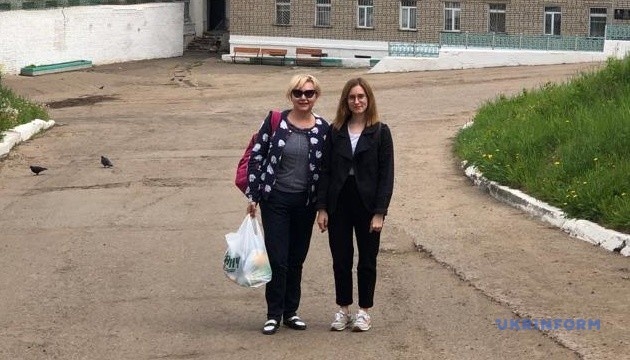 Sushchenko's second meeting with relatives: what has changed?
A three-day meeting of Ukrainian political prisoner Roman Sushchenko with his relatives
The wife and the daughter of Ukrainian journalist and prisoner of the Kremlin Roman Sushchenko have visited a Russian penal colony in the Kirov region for the second time in four months after the previous date. Ukrinform publishes the impressions of Roman's daughter about the trip.
Yulia Sushchenko: Our three-day meeting at high-security colony No. 11 (VK-11) in the village of Utrobino began on May 29. The trip seemed difficult, despite the fact that the weather conditions at the end of spring were much more favorable than in the severe January when my mother and I came to my father for the first time.
Kirov itself met us with a dense fog, through which the roads could hardly be seen, and air temperature of nine degrees Celsius. In this region, only dandelion and lilac are beginning to blossom at this time of the year. Strawberries and cherries, which we wanted to bring to our father, cannot be mentioned at all, because it was not a season for these berries.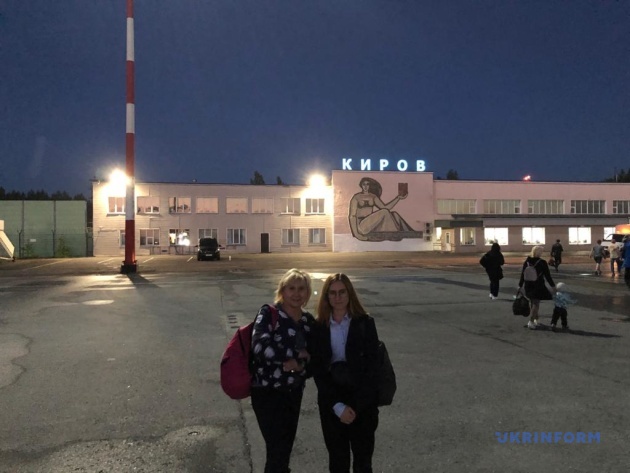 As in the past time, a family meeting was held in a special section for long dates. It includes ten rooms for the stay of prisoners and their relatives, shared kitchen and bathroom, and separate men's and women's water closets. Our non-welcoming roommates this time were five more families. Among them, we were again the only foreigners.
The room that was allocated to us for a long date looked like a corridor - narrow and long. It had a barred window, a double bed and a bench that turned into another sleeping place, a table, chairs, a locker, a TV, and a fridge. As we were told, all the furniture was created by prisoners.
Some of my and my mother's personal belongings were seized by prison employees - money, documents, watches, a mobile phone, and even a deodorant (because it was liquid). They also seized letters and leaflets with the words of support from the friends and colleagues of our father that we brought with us.
We were told that they would be given to him a little later - after the investigators examine the texts. However, this did not happen, and letters were returned to us after the date when we left the colony. The impression is that the prison administration is doing its best to prevent the father from contacting the outside world.
My father feels more or less fine. More or less, because he occasionally has dental problems that cannot be finally resolved in prison conditions. Sometimes he also has high blood pressure. He has not yet received the medicines that were sent in a parcel.
In general, my father looked a little better than four months ago. I was surprised that he entered the room very warmly dressed, with a few sweaters and a jacket, the same number of trousers, and high boots. When we asked him why it was so, he replied that it is cool in the stone walls of a prison cell, there is no much space for walking, and it is often not sunny in Utrobino, so the prison building cannot be heated well.
His mood was joyful since we finally managed to see him, hug him and talk to him. My father said that he was still in a so-called "safe place," in a prison cell with a neighbor, separate from other prisoners.
The information vacuum in which he constantly stays suppresses him. My father does not have the opportunity to receive relevant news about Ukraine.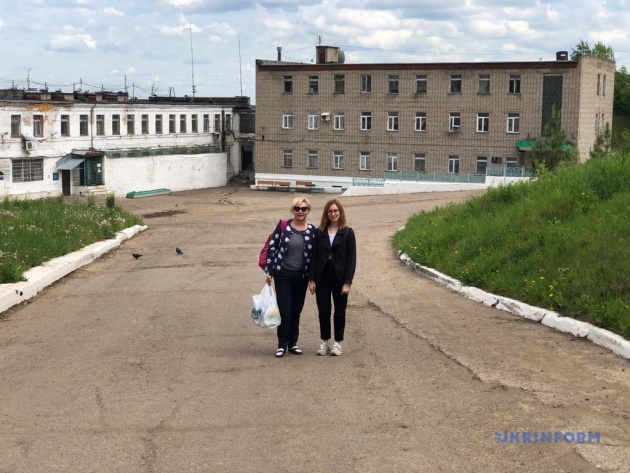 The situation with sockets in the cell has not been resolved – there are no plans to put them there. The timetable has also not changed – he gets up at 05:00, does exercises, has breakfast, walks in the street for an hour, has lunch, dinner, and goes to bed at 21:00. Once a month, if he is lucky, he is taken to the shop to buy some food and necessary household items.
Only one parcel can be passed every three months due to high security in the colony. He has received only two parcels since the beginning of his stay in the colony. The consul also visited him twice. A lawyer comes to my father every month to transfer current news from Ukraine and to provide moral support.
By the way, it turned out that a letter that the father sent back in March disappeared and still did not come to us. It was special because it contained a picture of the Turkish city of Istanbul. My father was very sorry about its disappearance, as he put a lot of time and effort.
In general, nothing has changed dramatically in his life, because staying in a colony is like a day of a marmot - the same thing every day. My father lives from meeting to meeting with us, the consul and the lawyer, from call to call, from letter to letter and waiting for his return home.
He asked us to convey greetings and gratitude for the support of everyone who is not indifferent about his fate. He separately thanked for organizing an exhibition of his works in New York, which took place on May 28. This news brought him a great surprise and joy. He said he could not even imagine that his drawings would be exhibited in America.
My father also announced a lot of new works, without disclosing details, in order not to spoil the effect of the first impression.
June 4 was already a year from the day the Moscow City Court sentenced Roman Sushchenko to 12 years in a high-security colony.
June 27 will mark 1,000 days since the father's arrest.
I would like to urge once more all those who are not indifferent about his fate to spend a little bit of their time and write a letter to Ukrainian political prisoner Sushchenko. After all, each line and a good word give him joy and adorn the days spent in imprisonment.
Here is the address at which you can write to Roman Sushchenko:
Penal Colony No. 11 of the FSIN directorate for the Kirov region,
village of Utrobino, Kirov region,
Russia 613043
All letters should be sent in Russian, otherwise, they will be censored.
Yulia Sushchenko, Kyiv
Photo credit by the author