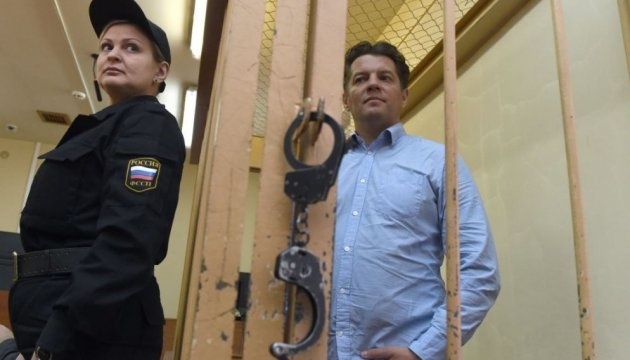 Ukraine's Union of Journalists demands to free Sushchenko and other prisoners of the Kremlin
The National Union of Journalists of Ukraine (NUJU) stands in solidarity with the persecuted colleagues and calls on international organizations and diplomatic missions to support its demands and step up pressure on Russian authorities in an effort to immediately release Ukrainian journalists and bloggers arrested in Russia, occupied Crimea and Donbas.
The corresponding statement was approved at an expanded meeting of the NUJU Board in Kyiv, NUJU head Serhiy Tomilenko posted on Facebook.
It is noted that citizen journalists and bloggers play an important role at a time when the activity of Ukrainian journalists in the territories of Ukraine, which are occupied by Russia, is impossible. The criminal prosecution of journalists and bloggers on part of Russian security officials, Russian authorities and courts, pro-Russian "administration of the occupied territories" is a direct violation of the freedom of speech and the right of people to impartial information, the statement says.
"The journalistic community of Ukraine demands to release Roman Sushchenko, a correspondent of the Ukrainian National News Agency "Ukrinform" who was illegally sentenced to 12 years in prison in the Russian Federation, to stop the persecution of Mykola Semena, a journalist of the Radio Liberty's Crimea.Realities project who was banned from leaving the peninsula and being engaged in journalistic activities, as well as Crimean Tatar citizen journalists Server Mustafayev, Nariman Memedeminov and other Crimean Tatar activists and bloggers of the Crimean Solidarity association, whom the Russian authorities are holding in places of detention. We urge to use all levers of influence on the de facto authorities of the illegal "Donetsk People's Republic" grouping in the temporarily occupied Donetsk to free Radio Liberty journalist Stanislav Aseyev and freelance journalist of Radio Liberty Oleh Halaziuk," reads the statement.
The pressure exerted on these journalists and bloggers has been repeatedly condemned by international institutions, including the International Federation of Journalists, the European Federation of Journalists, the OSCE Representative on Freedom of the Media, and the United Nations Human Rights Monitoring Mission.
The NUJU also expressed hope that the issue of release of illegally detained and arrested journalists and bloggers, as well as other Ukrainians who have become victims of aggression, will be one of the priorities of newly elected President of Ukraine Volodymyr Zelensky.
ol