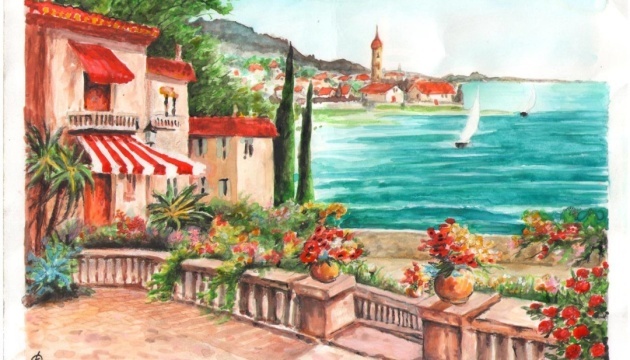 Sushchenko sends new picture from prison
Ukrainian journalist Roman Sushchenko, illegally convicted in Russia, has sent a new picture – a landscape of the Croatian resort town of Makarska, Ukrinform reports.
He wrote on the back of the picture: "Roman Sushchenko. 2019. Makarska Riviera. Croatia: paper, watercolor, pencil."
According to the journalist's daughter, Yulia Sushchenko, the picture came from the colony together with a letter. The Ukrainian political prisoner writes in the letter that for the first time in a long time he went out for a walk, because he had his nasal passages inflamed. The prison administration does not give him the medicines purchased by his lawyer.
Ukrinform's Paris-based correspondent Roman Sushchenko was illegally detained on September 30, 2016 in Moscow, where he arrived on a private trip. On October 7, 2016, he was charged with "espionage." Russia's FSB claimed that Sushchenko is a member of the Main Intelligence Directorate of the Ukrainian Defense Ministry. The latter denied this allegation.
On June 4, 2018, the Moscow City Court sentenced Sushchenko to 12 years in a high-security penal colony. The Supreme Court of Russia upheld the verdict on September 12.
On October 8, 2018, it was reported that Sushchenko had been transferred to a penal colony. On November 7, the Russian Federal Penitentiary Service (FSIN) informed Ukraine's Embassy in Moscow that Sushchenko had been transferred to Penal Colony No. 11 of the FSIN directorate for the Kirov region (the town of Kirovo-Chepetsk, the village of Utrobino).
op