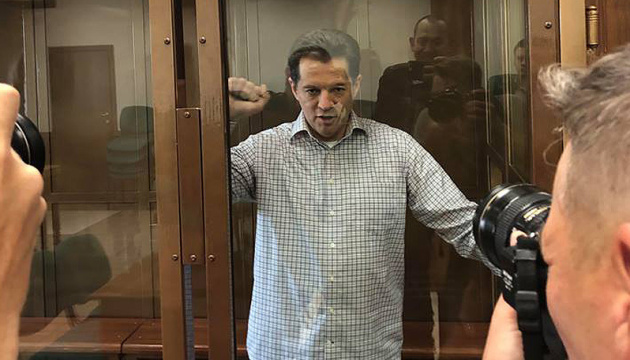 Sushchenko marks 50th birthday
Ukrinform correspondent Roman Sushchenko, illegally imprisoned in Russia, marks his 50th birthday on February 8.
He is celebrating his holiday in a Russian prison for the third year in a row - the first two in Moscow's Lefortovo Prison and this year in a high-security penal colony in the Kirov region.
Only public defender Mark Feygin will visit the Ukrainian political prisoner on that day. He will convey greetings to Sushchenko from his colleagues, friends, and relatives.
According to Feygin, Ukraine's consul in Moscow Albert Cherniyuk is likely to visit Sushchenko in mid-February.
On February 8, at 15:00, Ukrinform will host a meeting titled "The birthday of Roman Sushchenko - a journalist, artist, political prisoner." During the event, all interested persons will be able to see the updated exhibition of Sushchenko's drawings "Art From Behind Bars." All attendees will be able to sign greetings cards for the political prisoner.
The meeting will be attended by First Deputy Chairwoman of the Verkhovna Rada and Ukraine's Representative in the Humanitarian Subgroup of the Trilateral Contact Group Iryna Gerashchenko, State Secretary of the Ministry of Information Policy Artem Bidenko, Sushchenko's daughter, Yulia, Director General of Ukrinform Oleksandr Kharchenko, and representatives of the Orthodox Church of Ukraine.
In the middle of January, Sushchenko was allowed for the first time to have a long meeting with his wife and daughter.
As reported, Ukrinform's Paris-based correspondent Roman Sushchenko was illegally detained on September 30, 2016 in Moscow, where he arrived on a private trip. On October 7, 2016, he was charged with "espionage." Russia's FSB claimed that Sushchenko is a member of the Main Intelligence Directorate of the Ukrainian Defense Ministry. The latter denied this allegation.
On June 4, 2018, the Moscow City Court sentenced Sushchenko to 12 years in a high-security penal colony. The Supreme Court of Russia upheld the verdict on September 12.
On October 8, it was reported that Sushchenko had been moved to a penal colony.