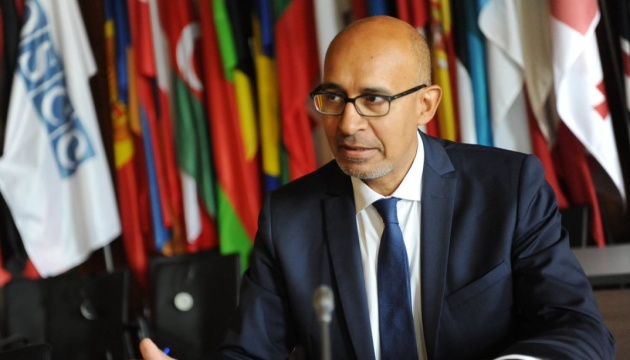 OSCE calls on Russia to free Sushchenko
OSCE Representative on Freedom of the Media Harlem Desir has again called on Russia to release illegally imprisoned Ukrainian journalist Roman Sushchenko.
He said this in an exclusive commentary to Ukrinform on the sidelines of a meeting of the OSCE Permanent Council in Vienna on Thursday.
Desir said he was calling for Sushchenko's release, as he did many times last year. He also added that he would continue to monitor this situation.
According to Desir, he is very concerned about the situation surrounding journalist Sushchenko, who continues to remain in a Russian jail. He said he had repeatedly raised this issue during meetings with representatives of the Russian authorities, as well as the issue of Mykola Semena in Crimea and other journalists.
Desir stressed that there should be no situations in the OSCE region when journalists are prosecuted and imprisoned.
He recalled that OSCE member states had undertaken to promote a free flow of information and ensure journalists' work, even if there is a conflict.
It is very important to ensure this freedom of information and prevent journalists from being responsible for situations that are political, Desir added.
As reported, Ukrinform's Paris-based correspondent Roman Sushchenko was illegally detained on September 30, 2016 in Moscow, where he arrived on a private trip. On October 7, 2016, he was charged with "espionage." Russia's FSB claimed that Sushchenko is a member of the Main Intelligence Directorate of the Ukrainian Defense Ministry. The latter denied this allegation.
On June 4, 2018, the Moscow City Court sentenced Sushchenko to 12 years in a high-security penal colony. The Supreme Court of Russia upheld the verdict on September 12.
On October 8, it was reported that Sushchenko had been moved to a penal colony. On November 7, the Russian Federal Penitentiary Service (FSIN) informed Ukraine's Embassy in Moscow that Sushchenko had been transferred to Penal Colony No. 11 of the FSIN directorate for the Kirov region (the town of Kirovo-Chepetsk, the village of Utrobino).