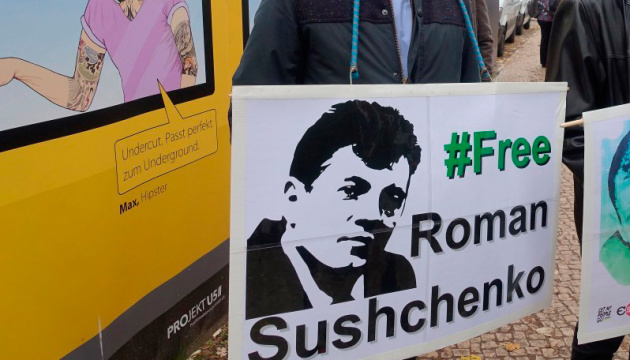 Sushchenko diagnosed with high blood pressure, could be examined
Ukrinform journalist Roman Sushchenko, who was illegally convicted in Russia, has been diagnosed with arterial hypertension and prison doctors recommend that he be taken to another city for examination.
The journalist said this during a phone conversation with his family on Friday, his daughter, Yulia Sushchenko, told Ukrinform.
"Prison doctors have set for my father a preliminary diagnosis of arterial hypertension. He is advised to undergo an additional examination. However, since there is no necessary equipment in the Utrobino prison, my father needs to be taken to another city and undergo inpatient treatment for a week. This will probably happen after the New Year," Yulia Sushchenko said.
According to her, Sushchenko has not yet received a blanket, which he bought a month ago in a local store. As for boiling water, the Ukrainian gets it once a day, and without giving a chance to drink, he is immediately sent for an outdoor walk.
In addition, the issue with permission for Mark Feygin, Sushchenko's representative in the European Court of Human Rights, to visit his client remains unresolved.
The daughter of the Ukrainian journalist also said that correspondence comes to the colony once a week or so.
As reported, Ukrinform's Paris-based correspondent Roman Sushchenko was illegally detained on September 30, 2016 in Moscow, where he arrived on a private trip. On October 7, 2016, he was charged with "espionage." Russia's FSB claimed that Sushchenko is a member of the Main Intelligence Directorate of the Ukrainian Defense Ministry. The latter denied this allegation.
On June 4, 2018, the Moscow City Court sentenced Sushchenko to 12 years in a high-security penal colony. The Supreme Court of Russia upheld the verdict on September 12.
On October 8, it was reported that Sushchenko had been moved to a penal colony. On November 7, the Russian Federal Penitentiary Service (FSIN) informed Ukraine's Embassy in Moscow that Sushchenko had been transferred to Penal Colony No. 11 of the FSIN directorate for the Kirov region (the town of Kirovo-Chepetsk, the village of Utrobino).