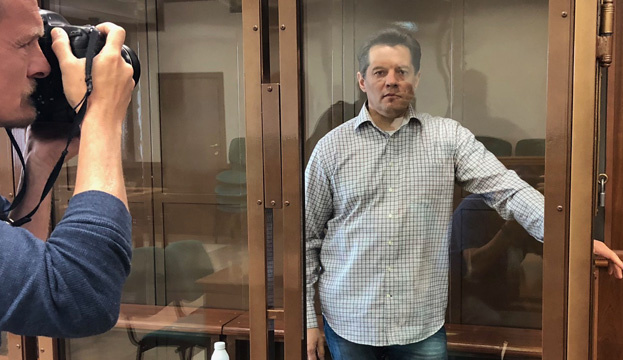 Gerashchenko apologizes to Sushchenko for failing to get him out of prison
The Ukrainian president's envoy for the peaceful settlement of the situation in Donbas, Verkhovna Rada First Deputy Chairwoman Iryna Gerashchenko, has apologized to Ukrainian journalist Roman Sushchenko, who was illegally convicted in Russia, for failing to get him out of a Russian prison for two years.
She said this in a video address on the second anniversary of the illegal arrest of Sushchenko, which was made available to Ukrinform.
"Excuse me, dear, for failing to get you, your companions in misfortune who are held in Russian prisons, out of this occupation for so long time. I want to say that it is very painful to your family and to all of us who know you. At the same time, I am convinced that [...] all these tests are not in vain. They will surely temper you, your beautiful family that is fighting for you, but also make us angrier and tougher in protecting the national interests of Ukraine, in protecting every Ukrainian in the sense what is good and what is evil," the politician said.
Gerashchenko noted that a daily rally in support of Ukrainian political prisoners was being held outside the building of the Russian Embassy in Paris in these days.
"Every day, French journalists, politicians, artists, among them those who know you well, are on hunger strike, supporting Oleg Sentsov, other political prisoners of the Kremlin, and, of course, you. At all international meetings, during all negotiations, in all interviews, the Ukrainian president, the Ukrainian authorities, all of us call for pressuring the Kremlin, pressuring Putin with one demand - the release of Oleg, the release of Roman, the release of all political prisoners of the Kremlin, and those guys who are illegally held in the occupied territories of Donbas and Crimea," she said.
The first vice speaker also mentioned the picture "Flowers" presented to her, which Sushchenko drew in the Lefortovo jail.
"You will be free, we are sure about that. I have your gift on my table - a wonderful picture in a beautiful frame. I want your personal autograph on this picture. I want it to happen as soon as possible. Roman, don't give up! Everything will be fine!" she said.
Ukrinform's Paris-based correspondent Roman Sushchenko was illegally detained on September 30, 2016 in Moscow, where he arrived on a private trip. On October 7, 2016, he was charged with "espionage." Russia's FSB said that Sushchenko is a member of the Main Intelligence Directorate of the Ukrainian Defense Ministry. The latter denied this allegation.
On June 4, 2018, the Moscow City Court sentenced Sushchenko to 12 years in a high-security penal colony. The appeal against the sentence was filed on June 5. On September 12, the Supreme Court of the Russian Federation upheld the verdict of the Moscow City Court.