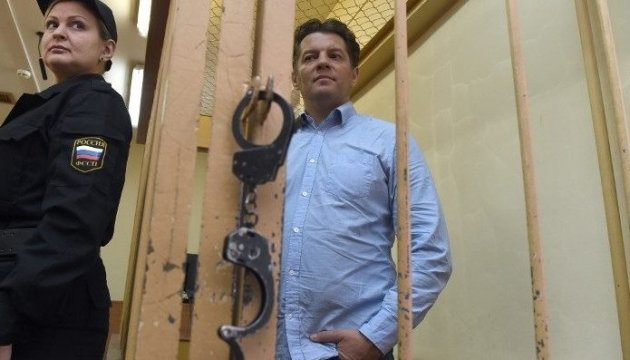 Members of Congressional Ukraine Caucus call for release of Roman Sushchenko
Co-chairs of the Congressional Ukraine Congress have called for the swift release of Ukrinform correspondent Roman Sushchenko, who was illegally arrested in Moscow.
This is said in the statement, released on the website of Democratic Party congresswoman from Ohio Marcy Kaptur.
"Freedom of the press is a fundamental principle of democracy, transparency, and the rule of law. The wrongful treatment of journalists like Roman Sushchenko is part of a larger trend of politically-motivated persecution and violation of fundamental human rights by Russian authorities. We join the international community in calling for their swift release," the statement reads.
Members of the Congressional Ukraine Congress pointed out that they remained troubled by the targeting and detention of journalists by Russian authorities for no crime other than seeking the truth.
It is noted that the statement was signed by Congressional Ukraine Caucus Chairs, Reps. Marcy Kaptur (D-OH), Andy Harris (R-MD), Sander Levin (D-MI), and Brian Fitzpatrick (R-PA).
As a reminder, Marcy Kaptur is the author of the H.R.5859 Ukraine Freedom Support Act of 2014.
As reported, Ukrinform correspondent in France Roman Sushchenko was arrested in Moscow on September 30, where he arrived on a private visit. He was accused of "espionage", allegedly being a member of the Main Intelligence Directorate of the Ukrainian Defense Ministry. The Ukrainian Main Intelligence Directorate denied allegations of the Russian Federal Security Service.
The Russian court ruled at its closed hearing on October 1 to arrest the journalist for two months.
October 7, the Russian Federation officially charged the Ukrainian journalist with spying. Sushchenko denied any guilt.
The Main Intelligence Directorate of the Ukrainian Defense Ministry confirmed that Ukrinform correspondent Roman Sushchenko is not a staff employee of the Defense Intelligence.
The Lefortovsky District Court of Moscow has repeatedly extended pre-trial detention term of Roman Sushchenko.
September 25, the pre-trial detention term of Sushchenko was prolonged until November 30, 2017.
Roman Sushchenko works with the Ukrainian National News Agency Ukrinform since 2002 and is agency's own correspondent in France since 2010.
ol