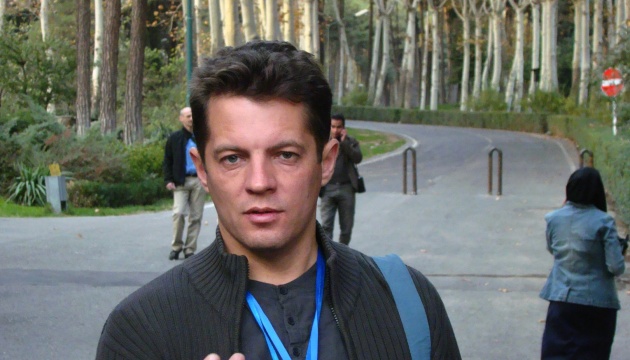 Sushchenko hopes for France's support in his release - Le Monde
French daily newspaper Le Monde has reported that Ukrinform journalist Roman Sushchenko, who was illegally imprisoned in Russia, hopes for the support of France's top political leadership in the question of his release.
"Ukrainian journalist Roman Sushchenko, who is imprisoned in Russia, hopes for support from France," writes Benoit Vitkine, who met with Roman's wife, Anzhelika Sushchenko, in mid-November.
According to Anzhelika, her husband experiences serious "psychological pressure" on the part of the FSB, and visits for his family members are very limited.
According to the journalist's wife, this is done so that Roman himself, under pressure, admits to being a "spy."
Le Monde recalls that Sushchenko was detained by the Russian Federal Security Service in Moscow on September 30, 2016. Since then, Ukrinform's journalist, who has been working for the agency since 2002 and has been its correspondent in Paris since 2010, is in Lefortovo jail.
"He is held hostage... My ten-year-old son has not seen his father for more than a year," Anzhelika Sushchenko told the French newspaper.
Le Monde recalls that Roman is one of several dozen Ukrainian citizens who became hostages in Russia and Crimea.
"But in the absence of direct contacts between Kyiv and Moscow, except for peace talks in Minsk, the family of the journalist and the Ukrainian leadership want to rely on French support, and the liberation of the Crimean Tatars allows us to hope for such a perspective when the agreement was reached through direct negotiations of Turkish President Tayyip Erdogan," the author of the article writes.
The newspaper also cites Sushchenko's lawyer, Mark Feygin, who says there is no hope for the justice of the Russian judicial system.
"Therefore, we can only rely on diplomatic processes and possible exchange of prisoners," Feygin said.
op