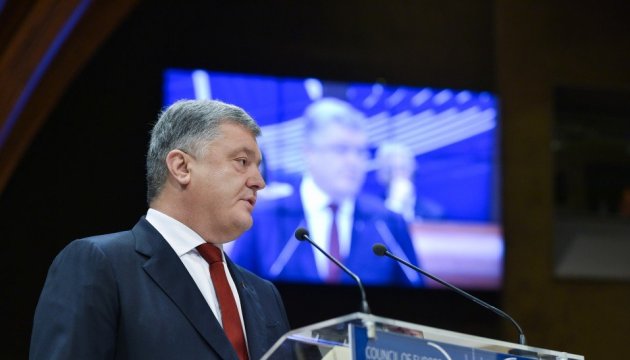 President mentions Sushchenko, other political prisoners at PACE session
Russia continues to block the release of Ukrainian hostages and political prisoners, in particular, film director Oleh Sentsov, activist Oleksandr Kolchenko, Ukrinform correspondent Roman Sushchenko, and many other people, Ukrainian President Petro Poroshenko has said.
He stated this at a plenary session of the Parliamentary Assembly of the Council of Europe (PACE) in Strasbourg on Wednesday, an Ukrinform correspondent reports.
"The issue of releasing hostages and political prisoners is also not moving. I cannot help but mention Oleh Sentsov, Oleksandr Kolchenko, Roman Sushchenko, and many others," Poroshenko said.
He also said that for more than two years the Ukrainian side had been struggling to free 63-year-old Ihor Kozlovsky, a well-known religious scholar who remained in occupied Donetsk to look after his sick son.
"28-year-old Stanislav Aseyev, a journalist who was not afraid of writing the truth about life in the occupied Donbas and was imprisoned in Donetsk, is also in captivity. And there are more than a hundred personal stories of Ukrainian hostages," Poroshenko added.
He said that the number of hostages in Donbas was only growing: "People are deliberately captured, because they are citizens of their Ukrainian state. And they are captured for cynical purposes - to blackmail Ukraine, which will never leave its citizens, neither in Crimea, nor in Donbas, nor in Russian prisons."
op