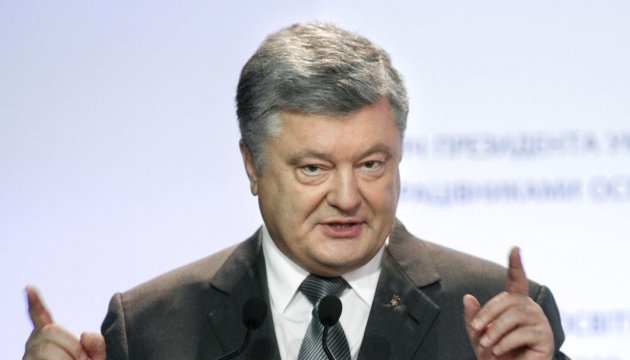 President hopes for progress in Sushchenko case this year
Ukrainian President Petro Poroshenko has said he is ready to do everything in his power to ensure that Ukrinform journalist Roman Sushchenko, who has been illegally held in Russia for a year, returns home.
The head of state said this in Kolomyia on Friday, while answering a question from an Ukrinform correspondent.
"I am ready to do everything in my power so that a great Ukrainian Sushchenko returns home. I raised this question in my conversation with [French President] Emmanuel Macron. His wife, Brigitte, addressed [Russian President Vladimir] Putin with this issue. And I am confident that our coordinated efforts will help return him home," Poroshenko said.
He also suggested that by the end of the year "we will get positive information on this issue."
As reported, on September 30, 2016, Ukrinform's correspondent in France, Roman Sushchenko, in violation of international rules, was detained in Moscow where he arrived on a private visit.
On October 7, 2016, he was charged with "espionage." Russia's FSB stated that Sushchenko was a member of the Main Directorate of Intelligence of the Ukrainian Defense Ministry. The latter denied this statement
The period of Sushchenko's detention was extended until November 30.
On the first anniversary of the illegal arrest and detention of the journalist, Ukrinform held a performance and launched flashmob #FreeSushchenko in support of Roman.
op