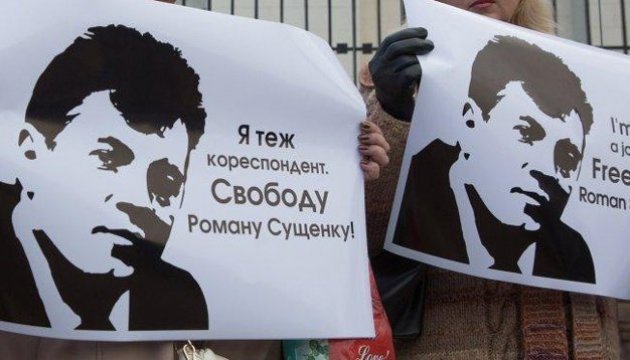 Russia should free Sushchenko if it cannot present trustworthy evidence against him – EANA
The Board of the European Alliance of News Agencies (EANA), ahead of the first year of Ukrinform journalist Roman Sushchenko's imprisonment in Russia, has again called on the Russian authorities to release the journalist if convincing evidence of his guilt is not presented.
The EANA Board said this in a statement signed by EANA President, CEO and Editor-in-Chief of Sweden's TT News Agency Jonas Eriksson and EANA Secretary General Erik Nylen, which was obtained by Ukrinform on Friday.
"The Board of the European Alliance of News Agencies (EANA) repeats its concern regarding the detention of Ukrainian journalist Roman Sushchenko. On September 30, 2017, it is one year since he was arrested when on a visit to Russia with Russian authorities accusing him of espionage. He denies any guilt," reads the statement.
It also notes that the "Russian authorities must release more details explaining the detention of Roman Sushchenko." "If trustworthy evidence against him cannot immediately be presented, he should be released and allowed to return to his home country," the statement says.
EANA made a similar statement on October 3, 2016, after Sushchenko's detention was reported.
The European Alliance of News Agencies was founded in 1956 and currently unites over 30 leading news agencies in Europe. Ukraine is represented at the alliance by Ukrinform, which has been a member of EANA since 1995.
Roman Sushchenko has been working at the Ukrinform Ukrainian National News Agency since 2002, and has been the agency's correspondent in France since 2010.
On September 30, 2016, he was detained in Moscow, where he arrived on a private visit.
On October 7, 2016, he was charged with "espionage." Russia's FSB stated that Sushchenko was a member of the Main Directorate of Intelligence of the Ukrainian Defense Ministry. The latter denied this statement.
op