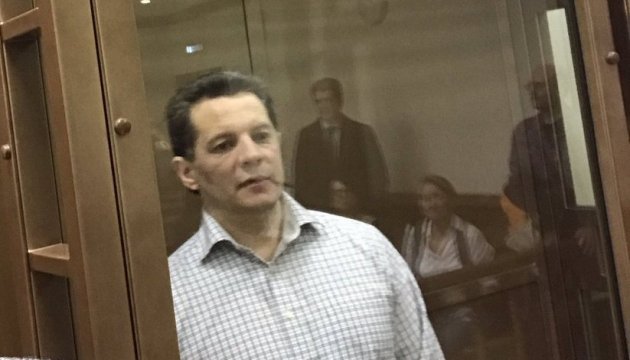 MEPs call on Moscow to release Sushchenko, resume exchange of political prisoners
The Russian authorities should release Ukrainian journalist Roman Sushchenko from the Lefortovo detention facility and guarantee him safe return to Ukraine.
This is stated in an appeal by a group of deputies from three factions of the European Parliament, which was published on the day of the Moscow court decision to extend Sushchenko's arrest for two more months, an Ukrinform correspondent reports.
According to the statement, Russia and Ukraine should also resume the exchange of political prisoners in accordance with the Minsk accords, as well as to ensure international monitoring of the conditions of detention and the physical and mental condition of prisoners.
"The case of Roman Sushchenko, which is waiting for the court decision to be made on the 30th of September, is one of the issues of big concern for the Members of the European Parliament," MEPs said.
They said that according to the investigation of international independent organizations, the cases of other Ukrainian political prisoners, including Oleg Sentsov and Oleksandr Kolchenko, were also trumped-up.
The European politicians recalled that the negotiation process between Ukraine and Russia on the release of political prisoners had been frozen in late May 2016.
"Since then none of the prisoners has been released or exchanged. We consider such a situation as a deterrent to fulfill the Minsk Agreements, in particular the art. 5, 6 and 7 of the document mentioned," reads the statement.
MEPs said that the "release of Roman Sushchenko gives the chance to restore possible negotiation process regarding the exchange issues, as to restore the negotiation process regarding the other humanitarian issues, foreseen in the Minsk Agreements."
The deputies paid attention to the need for "more extensive and detailed monitoring on the situation of political prisoners of Ukraine," in particular the attention of the international community to the "Sushchenko case."
In this context, European politicians urged Russia to release Ukrinform's correspondent in Paris, Roman Sushchenko, from the Lefortovo detention facility and give him an opportunity to return safely to Ukraine. They also insisted on speeding up the comprehensive and objective investigation into the cases of Ukrainian political prisoners and arranging legal circumstances for the international rapporteur to be able to come to their places of imprisoning to monitor their physical and mental health. MEPs also called for the support of the resumption of talks on the implementation of articles 5, 6 and 7 of the Minsk Agreements during the next meeting of the Trilateral Contact Group.
The appeal is addressed to Secretary General of the Council of Europe Thorbjorn Jagland. The appeal was signed by MEPs Michal Boni, Pavel Svoboda, Eduard Kukan, Carlos Coelho, Tunne Kelam and Michael Gahler from the European People's Party, Helga Stevens, Mark Demesmeaker and Monica Macovei from the Alliance of European Conservatives and Reformists, and Rebecca Harms from the Greens/European Free Alliance group.
op