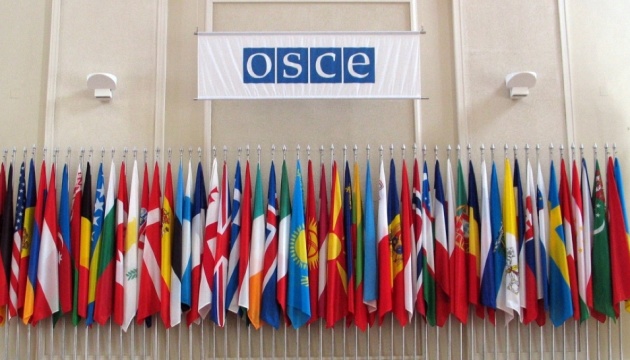 OSCE demands Russia free journalists Sushchenko, Semena and Aseyev
The Office of the OSCE Representative on Freedom of the Media has demanded that Russia release illegally detained Ukrainian journalists Roman Sushchenko, Mykola Semena and Stanislav Aseyev.
OSCE Representative on Freedom of the Media Harlem Desir said this in an exclusive commentary to Ukrinform on the sidelines of the OSCE Human Dimension Implementation Meeting in Warsaw on September 12.
"Of course, we are following these cases on a daily basis. We are working with the Russian delegation in Vienna to ensure that Russia resolves these cases. It is a priority for us," he said, when asked to comment on the OSCE's next steps in the release of Ukrainian journalists illegally held in Russia and in the occupied territories of Crimea and Donbas.
Desir said that the case of Ukrinform correspondent Roman Sushchenko was one of the first that he encountered after his appointment as OSCE Representative on Freedom of the Media.
"I am well aware of the situation with Roman Sushchenko. My office was informed about it, and we are following this very closely. This was one of the first issues I paid attention to after my appointment to the post," he said.
He noted that he had received a letter from Ukrainian Foreign Minister Pavlo Klimkin concerning the situation surrounding the Sushchenko case.
"My office called for the release of this journalist, because he was on a private visit to his family and was arrested there. I think that the OSCE members' commitment to this issue is unambiguous - journalists from the OSCE member states can travel freely within the OSCE. Of course, there can be no grounds to arrest Sushchenko - a journalist from another OSCE member state, even if there is a conflict between your states," Desir said.
He also noted that he has information on the case of journalist Mykola Semena who was arrested in Crimea.
"It's a fact that he criticized the annexation of Crimea. However, it's not the reason for the arrest of the journalist. We called on Russia and the people who have power in this territory (Crimea) to free Semena," Desir said.
He also drew attention to the case of Stanislav Aseyev, who was abducted three months ago and who is held by separatists in the Donbas.
"There are no grounds for that. This is unacceptable. We are demanding that Aseyev be released, since it is clear that a journalist has the right to write in the conflict zone and cover the situation there. A journalist there must be protected and carry out his work normally, regardless of who controls the territory," Desir said.
He added that this is stipulated by the UN basic principles and the international obligations of countries on ensuring the rights of journalists.
In July 2017, Harlem Desir replaced Dunja Mijatovic as the new OSCE Representative on Freedom of the Media.
op