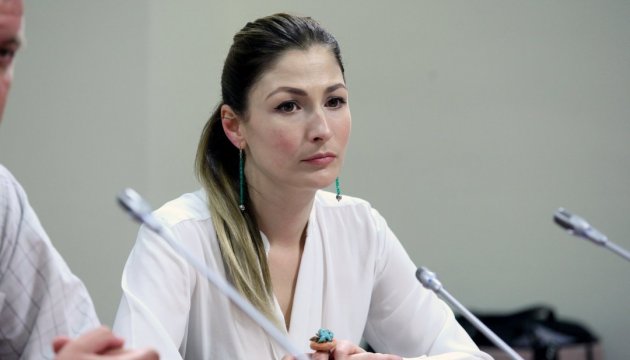 Emine Dzhaparova spoke about Sushchenko, Semena at OSCE conference in Warsaw
The Russian Federation violates international law, distorts historical facts, interferes in the policies of other states, Ukrainian First Deputy Minister of Information Policy Emine Dzhaparova has stated.
"This is modern Russia that creates the image of Ukrainian citizens as terrorists, radicals, nationalists, Nazis, spies and enemies of the state. Several victims of this language of hatred – Mykola Semena, Roman Sushchenko, Stanislav Aseyev and other political prisoners, and more than 40 political prisoners in Crimea," Dzhaparova said during the OSCE annual human rights and democracy conference, speaking at the panel discussion on media freedom and journalists' safety, in Warsaw on September 11.
Dzhaparova stressed that Russia violates international law, distorts historical facts, creates myths and interferes with the policies of other countries. She also noted that it is precisely modern Russia that occupied Crimea and Donbas, and now spreads propaganda in these territories.
"This Russian regime has blocked access to more than 60 Ukrainian websites in Crimea and more than 130 in Donbas," Dzhaparova said.
The OSCE's Human Dimension Implementation Meeting 2017 (HDIM) will last till September 22 in Warsaw.
iy