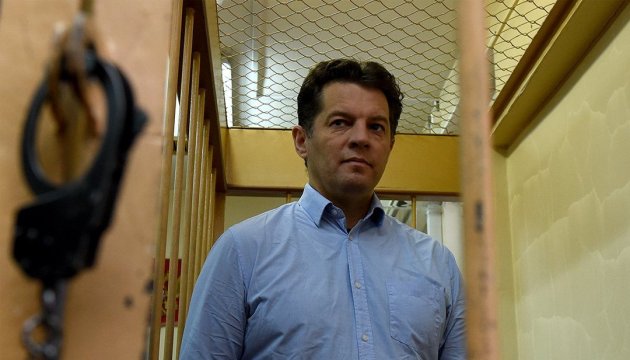 Ambassadors, representatives of Ukrainian authorities and international organizations attend presentation of film about journalist Sushchenko
The presentation of the film "Prisoners of the Kremlin", dedicated to Ukrainian journalist Roman Sushchenko who was illegally arrested in Russia, was held at the Club of the Cabinet of Ministers of Ukraine.
The representatives of the diplomatic corps, Ukrainian authorities, and international organizations attended the presentation, an Ukrinform correspondent reports.
As Ukrainian Parliament Vice Speaker Iryna Herashchenko noted, the event is held on the eve of journalist's birthday, February 8.
"Roman is an excellent journalist. He covered all the events in France, in Paris over next few years. I am proud to know this courageous man, a real professional," she said.
Ukrainian Information Policy Minister Yuri Stets, in turn, said that the Ukrainian side was making every effort to free journalist Sushchenko and return him to Ukraine.
Director General of the Ukrainian National News Agency "Ukrinform" Oleksandr Kharchenko noted that the world community had no right to a weak response to Russia, which illegally detains Ukrinform journalist Roman Sushchenko, as it is actually the intimidation of all the journalists, who are not loyal to the policies and actions of the Kremlin.
The guests of the event also had the opportunity to attend the exhibition of photos taken by Roman during his work as an Ukrinform correspondent in France.
As reported, Ukrinform correspondent in France Roman Sushchenko was arrested in Moscow on September 30, where he arrived on a private visit. He was accused of "espionage", allegedly being a member of the Main Intelligence Directorate of the Ukrainian Defense Ministry. The Ukrainian Main Intelligence Directorate denied allegations of the Russian Federal Security Service.
The Russian court ruled at its closed hearing on October 1 to arrest the journalist for two months – until November 30.
On October 7, the Russian Federation officially charged the Ukrainian journalist with spying. Sushchenko denies any guilt.
Roman Sushchenko works with the Ukrainian National News Agency Ukrinform since 2002 and is agency's own correspondent in France since 2010.
ol