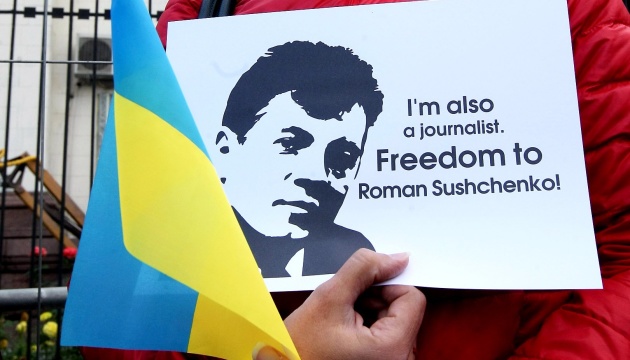 Group of MEPs asks Mogherini to assist in releasing journalist Roman Sushchenko
Group of MEPs has appealed to EU High Representative for Foreign Affairs and Security Policy Federica Mogherini with a request to assist in releasing Ukrinform journalist Roman Sushchenko, who was illegally detained in Moscow.
Sushchenko's lawyer Mark Feygin posted the text of the letter dated November 7, 2016 on his Twitter page.
"We, Members of the European Parliament and members of the EP group of Friends of European Ukraine, call for the release of Roman Sushchenko and we ask you as the High Representative of the European Union to call for his release and demand Russia to respect the Ukrainian citizens' rights," the letter says.
The letter, signed by MEPs Nathalie Griesbeck, Petras Austrevicius, Zigmantas Balcytis, Michael Boni, Anna Maria Corazza Bildt, Mark Demesmaeker, Anna Fotyga, Ana Maria Gomes, and Tunne Kelam, also reads that Ukrainian journalist Roman Sushchenko has been illegally detained by the authorities of the Russian Federation since September 30th.
"Last September 30th, Roman Sushchenko was arrested by the Russian authorities while on a personal vacation in Moscow. Since his arrest, he has been held in the pre-trial detention center of Lefortovo on espionage charges," the MEPs describe the chronicle of Sushchenko's detention.
At the same time, they insist that the arrest and accusations towards Sushchenko are "totally unfounded and arbitrary."
"We are shocked by this arrest and more generally we are worried about the multiplication of unlawful arrests and unlawful detentions in Russia," the MEPs say.
According to them, the case against Sushchenko is nothing more than "further illegal act towards Ukrainian citizens, made by the Russian Federation."
As the MEPs note, detention of Sushchenko is yet another example of Russian police of intimidation and prosecution.
The MEPs warn that the case of Sushchenko is a very worrying signal for any potential visitor to the Russian Federation, "where everybody can be accused of espionage and be detained."
As reported, Ukrinform correspondent in France Roman Sushchenko was arrested in Moscow on September 30, where he arrived on a private visit. He was accused of "espionage", allegedly being a member of the Main Intelligence Directorate of the Ukrainian Defense Ministry. The Ukrainian Main Intelligence Directorate denied allegations of the Russian Federal Security Service.
The Russian court ruled at its closed hearing on October 1 to arrest the journalist for two months – until November 30.
On October 7, the Russian Federation officially charged the Ukrainian journalist with spying. Sushchenko denies any guilt.
ol