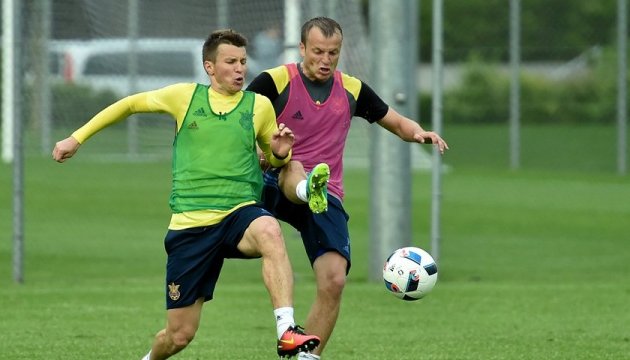 Ukraine national soccer team holds first training for Euro 2016 in Switzerland
Ukraine national football team held its first training in the Swiss town of Ascona, where the team began their second preparatory camp on the eve of Euro 2016 soccer championship.
The press attache of the national team Oleksandr Hlyvynsky said the team players initially all ran cross and then continued their warm-up.
"Afterwards, those players who played no more than one half or not played at all out in a friendly game with Romania (4:3), participated in a rather intense training series," the report says.
Earlier, Ukrinform reported that on June 3 Ukraine national team will take on Albania in another sparring match. The first official game at the 2016 European Championship in Group C head coach Mykhailo Fomenko's players will play against the current world champion Germany on June 12 in Lille, France.
tl