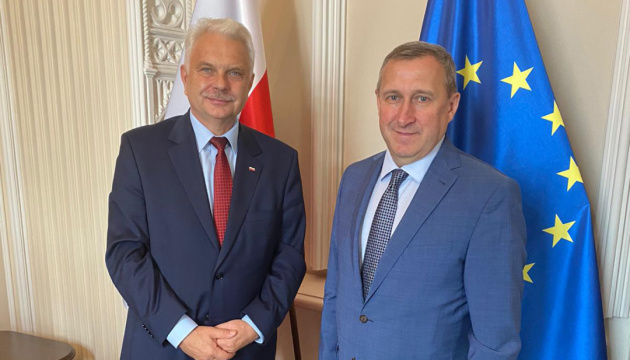 Deshchytsia, Kraska discuss possibility of entry of vaccinated Ukrainians into Poland
Ambassador of Ukraine to the Republic of Poland Andrii Deshchytsia has met with Acting Minister of Health of Poland Waldemar Kraska, according to the Twitter account of the Embassy of Ukraine in Poland.
During the meeting, the parties discussed the restoration of the possibility for vaccinated citizens of Ukraine to enter Poland for personal and tourism purposes.
They also talked about the mutual recognition of COVID-19 vaccination certificates, as well as the supply of vaccines from Poland to Ukraine.
Ukraine recorded 1,247 new coronavirus cases on August 11, bringing the total number of confirmed COVID-19 cases to 2,262,601.
A total of 7,008,448 doses have been administered in Ukraine since it launched a vaccination campaign, with 4,427,896 people receiving their first dose and 2,580,552 people receiving both doses (two people received their first dose abroad).
ish