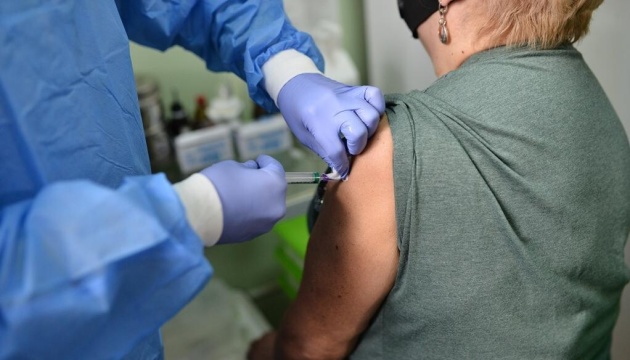 Over 38,000 people get COVID-19 jabs in Ukraine on Aug 1
A total of 38,080 people were vaccinated against COVID-19 in Ukraine on Sunday, August 1, the Ukrainian Health Ministry has reported on Facebook.
"As many as 38,080 people were vaccinated against COVID-19 on August 1, 2021. Some 27,722 people received their first dose, and 10,672 people were fully vaccinated," the report reads.
According to the ministry, 207 mobile vaccination teams, 430 vaccination sites and 277 vaccination centres were operating across the country in the past day.
A total of 5,632,783 doses have been administered in Ukraine since it launched a vaccination campaign, with 3,599,167 people receiving their first dose and 2,033,616 people receiving both doses (two people received their first dose abroad).
The COVID-19 vaccination campaign started in Ukraine on February 24, 2021. Anyone over the age of 18 can be vaccinated against COVID-19. Priority is given to vulnerable groups, including those over the age of 60 and people with underlying medical conditions. Priority groups also include doctors, educators, social workers, and the military who come into contact with large crowds.
Employees in the field of health care, education, social sphere, military, employees of state security agencies, critical infrastructure facilities, public authorities and local governments at all levels, as well as groups of more than 50 employees willing to get the jab are offered to undergo vaccination at their respective offices.
All COVID-19 vaccines used in Ukraine have been approved by the World Health Organization for emergency use. They are safe and effective. The following vaccines are currently used in Ukraine: AstraZeneca (including SKBio and Covishield), Coronavac/Sinovac-Biotech, Comirnaty/Pfizer-BioNTech, and Spikevax/Moderna.
op