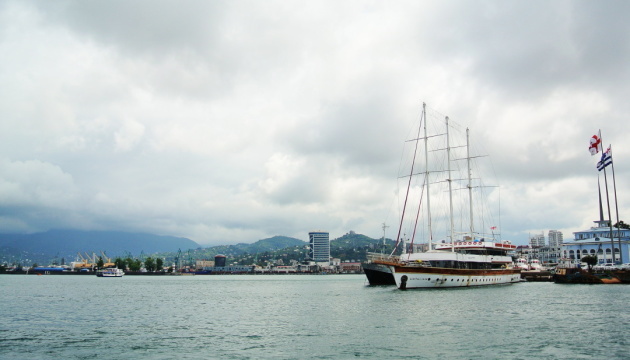 Georgia releases convicted Ukrainian yachtsmen
Georgian authorities release two Ukrainian yachtsmen convicted of illegal border crossing.
That's according to News-Georgia, as reported by Ukrinform.
The yachtsmen were pardoned by Georgian President Salome Zurabishvili, Mtavari TV channel wrote.
At the same time, the convicts did not apply for pardon, the report elaborates.
The convicts were freed from custody on the day of Ukrainian President Volodymyr Zelensky's to Georgia.
Today, July 19, he arrived in Batumi to take part in an international conference on EU integration. Earlier, at a meeting with his Georgian counterpart in Kyiv on June 23, Zelensky personally discussed the issue.
President Zelensky has confirmed the release by Georgia of Ukrainian yachtsmen, Yuriy Khomych and Volodymyr Diachenko, who were earlier sentenced to four years in prison, Ukrinform reports.
"Since November 2020, we have been working on the release of Ukrainian yachtsmen Yuriy Khomych and Volodymyr Diachenko, detained in Georgia. Today, Georgia released them from prison. I am grateful to the Georgian side for the decision, which is in line with the spirit of strategic partnership between our countries," the head of state wrote on Twitter.
Background
In late November 2020, Georgian border guards seized a Turkey-bound yacht off the coast of Georgia. On board were citizens of Ukraine Volodymyr Diachenko, Yuriy Khomych, and the yacht's owner, Georgian national Mykhailo Baturin.
The court later ruled to remand all three in pre-trial custody on the illegal border crossing charges.
However, the sailors' families, as well as their lawyer, claimed that the Ukrainians had committed nothing illegal, and accused the Georgian authorities of unlawfully detaining Ukrainian citizens on the high seas, citing purely political reasons behind the move.
On July 14, Georgia's Batumi City Court sentenced Ukrainians to four years in prison.
im